Printable PDF sewing patterns are becoming increasingly popular among people who sew, and most independent designers now offer patterns in PDF format. PDF patterns are usually more affordable than their factory-packaged counterparts and are easy to reprint if you need a new size or modification.
As we know, though, the pattern stash tends to grow very rapidly and become increasingly difficult to organize. Patterns printed on computer paper are bulkier than commercial tissue patterns, so finding a designated space for the pattern pieces and the instructions can be tricky.
Here are a few space-efficient ways to store and organize your printed PDF sewing patterns!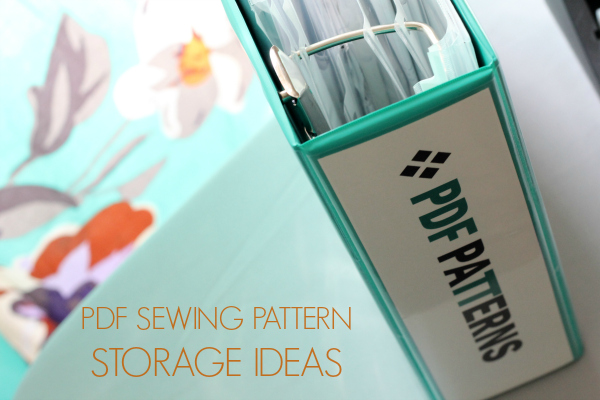 Solution #1: Binders
My favorite storage solution for printed PDF patterns is a large three-ring binder that fits standard letter-sized documents. Multiple binders can be used for different types of patterns for extra organization (i.e. by garment type, adult's and children's, home accessories, etc).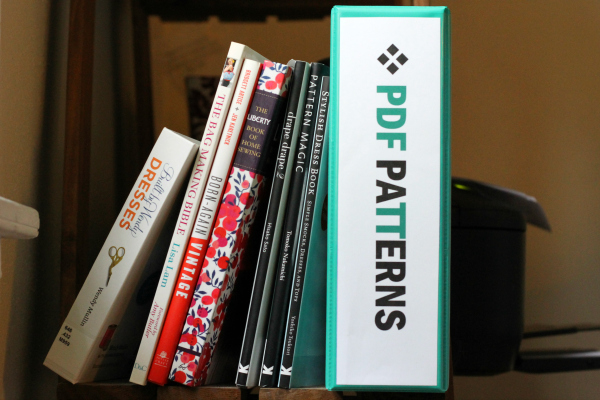 To hold each pattern, I fold all the pieces and place them in clear plastic sheet protectors with a side zip closure. All the pattern pieces remain secure even if the binder accidentally falls over. The sheet protectors expand and can hold quite a bit.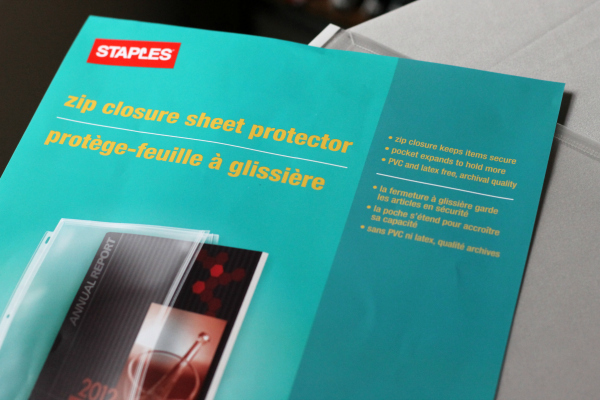 Though I don't always print the full instructions with each pattern, I usually try to include at least the first page or some other descriptive sheet in the front. This allow me to quickly identify the contents.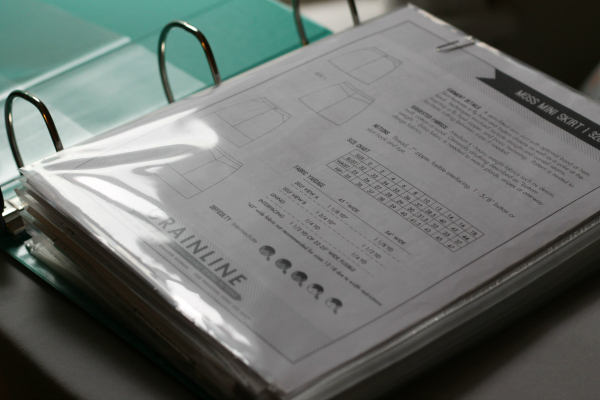 You could also place PDF patterns in an accordion-style binder with separate compartments. Insert labels to identify each pattern. This would help you avoid having to continually purchase sheet protectors like you do with a three-ring binder.
Solution #2: Folders or envelopes
You can also contain all pattern pieces in their own folders or envelopes and place them in a basket, file cabinet, storage box or drawer. Manila folders bought in bulk are generally the cheapest option, though you may prefer something that is see-through, has a secure closure or has room to expand.
Try using clear plastic envelopes that tie shut, though these are relatively expensive if you're planning on storing a lot of patterns this way (a set of five in this brand costs over US$10).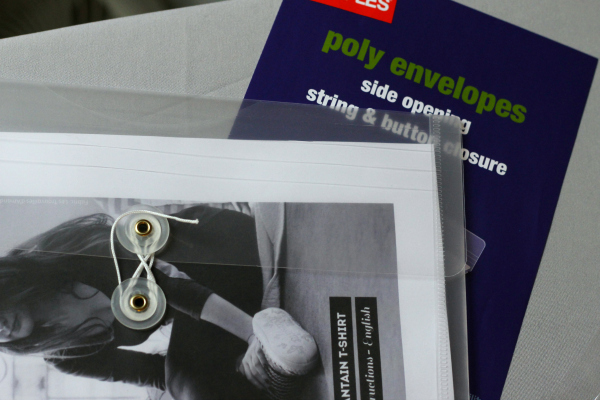 I chose to store them sideways in a basket that is placed on a shelf in my sewing room. This method is particularly useful for storing bulky patterns, such as those with multiple traced versions, long sets of instructions or pages that have yet to be taped together and cut.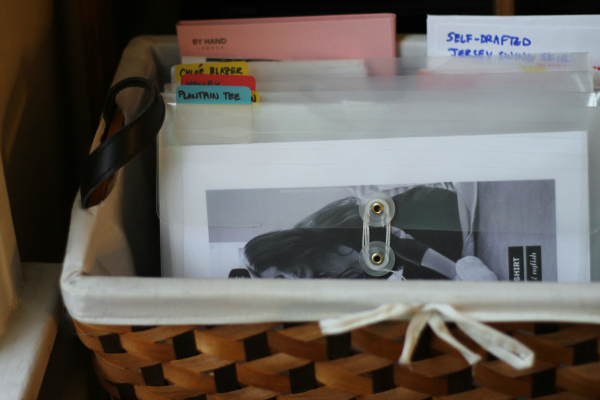 Label each envelope for easy identification. I like using stick-on tabs that can be re-positioned if I ever swap the patterns out.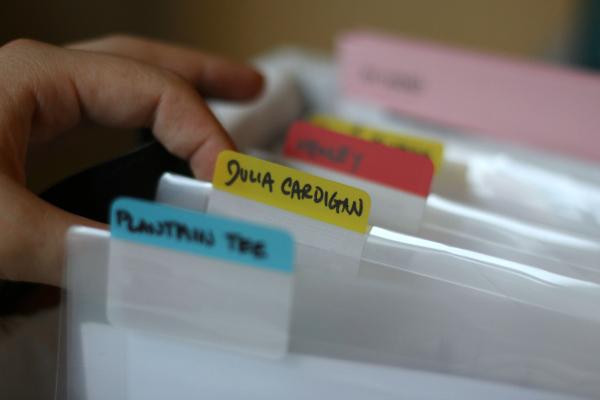 If you don't have too much extra shelf space or tend to print patterns with relatively small pieces, you can purchase 6″ x 9″ mailing envelopes that are approximately the same size as commercial pattern envelopes. This way you can keep all types of patterns together.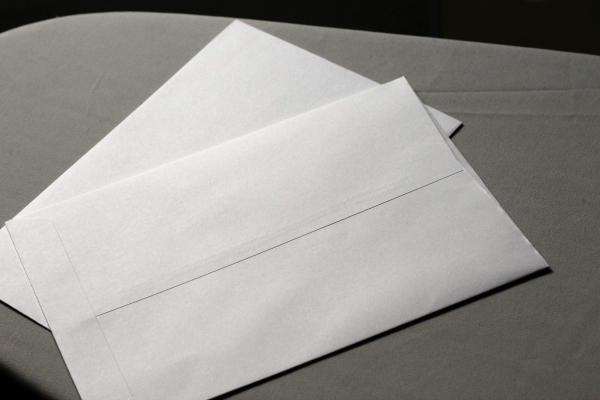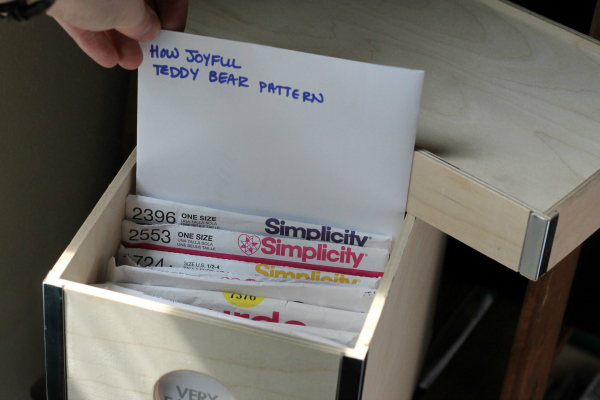 Solution #3: Pattern hooks or hangers
Professional patternmakers and designers often hang their finalized patterns on pattern hooks. This is a handy tip for home sewers who print a lot of sewing patterns and have some closet space or a garment rack to spare. It is also a useful method if you want to avoid creasing your pattern pieces, or if you have traced your PDF sewing patterns onto a sturdy material such as oak tag or poster board.
Pattern hooks are difficult to find in common craft stores but can be purchased online. I hacked my own version by using a tie rack, key rings and safety pins. I punched a hole through all the pattern pieces and hooked them through the safety pins onto the rings for hanging: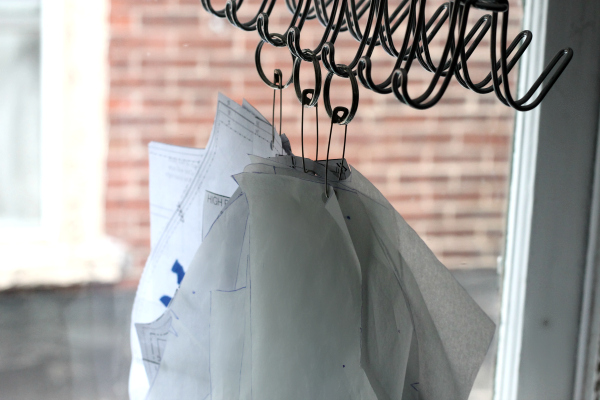 This may not be the best option for patterns traced onto delicate material such as tissue paper, as the pieces may rip off the hook if shoved around too much on the rack.
Solution #4: Rolls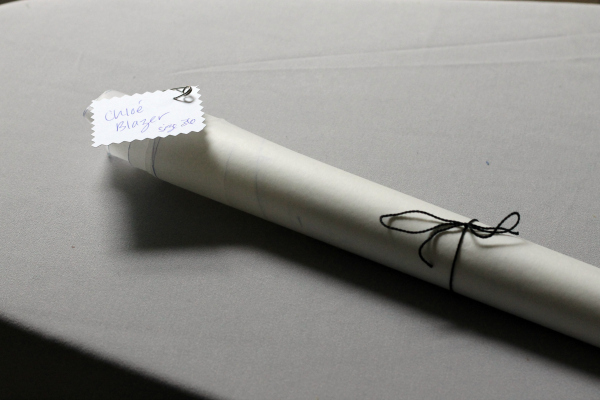 If you don't want to fold all your pattern pieces or have yet to cut your pieces from the taped pattern layout, another option is to roll everything up and secure it with a tie, band or clip. Wrap the pattern around salvaged paper towel or wrapping paper rolls, so they are less likely to be smashed. Hook a label onto the end so you know which pattern is which, then store the rolls in a decorative basket, a tall shelf or against a wall in the corner of your room.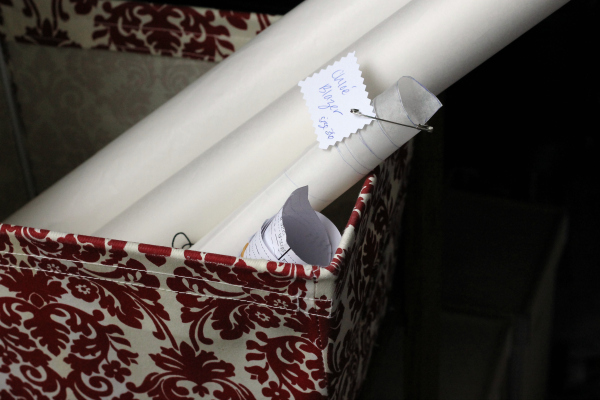 Now that you know it's possible to keep a PDF pattern stash organized, check out Craftsy's extensive pattern library and find some new projects to tackle! If you need help working with PDF patterns, check out this post on printing, assembling and tracing PDF patterns for a step-by-step guide through the whole process.
What method do you use to store your PDF sewing patterns?