No matter where you live, you've probably had a little snow this year. What better way to spend a cold winter's day than making and decorating cookies?
Beautiful decorated polar bear cookies are the perfect way to celebrate the season.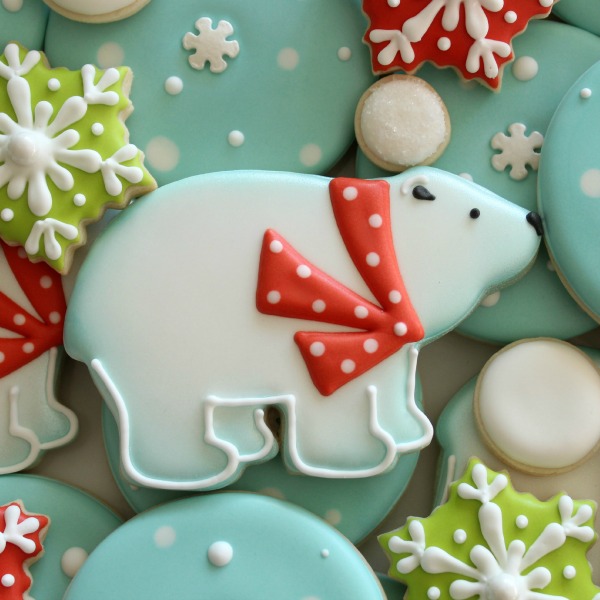 To make these cookies you will need:
Polar bear shaped cut-out cookies
White piping and flood consistency royal icing
Blue Sheen Airbrush Color (optional)
Red piping and flood icing
Small amount of black piping icing
Disposable decorating bags
Icing bottles
Couplers
#2 and #1.5 decorating tips
Airbrush (optional)
Step 1:
Use a #2 pastry tip to outline the cookie with white piping icing.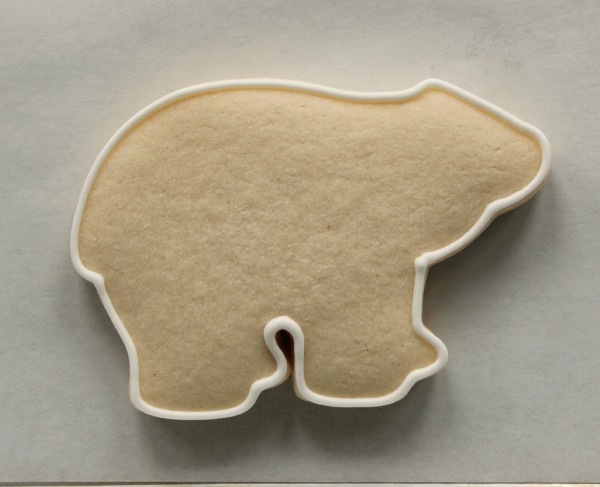 Step 2:
Fill an icing bottle with white flood icing and use it to fill the outline.  Before moving to the next step, let the icing dry. This can take anywhere from four to twenty-four hours, depending on where you live.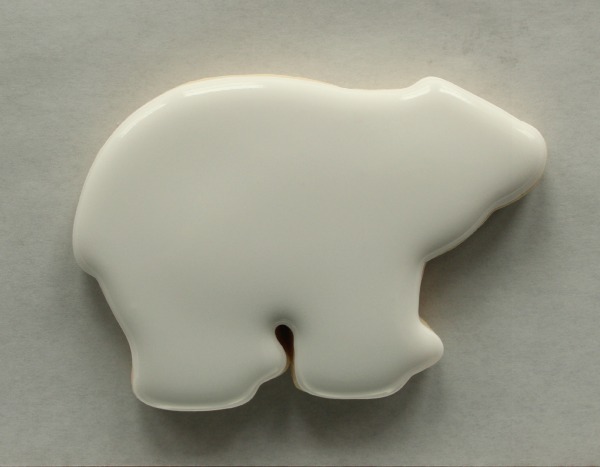 Step 3:
If you have an airbrush, use it to apply blue sheen to the outer edge of the dry cookie. This is a great way to add dimension and depth. If you do not have an airbrush,or skip this step altogether.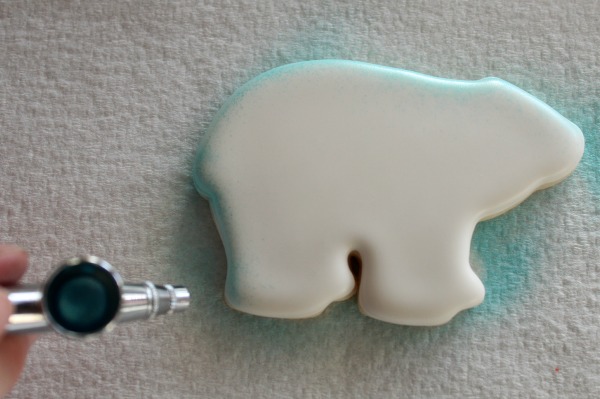 Step 4:
Use a #1.5 tip to pipe a scarf outline.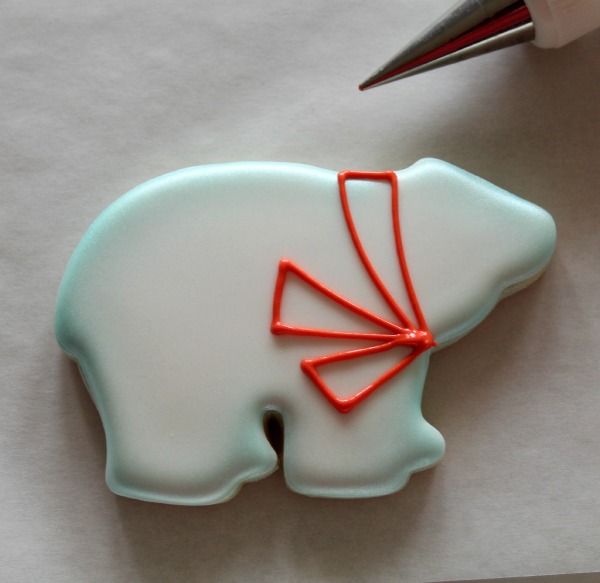 Step 5:
Quickly fill the scarf outline with red flood icing. The more quickly after piping that the outline is filled, the less visible the seams will be.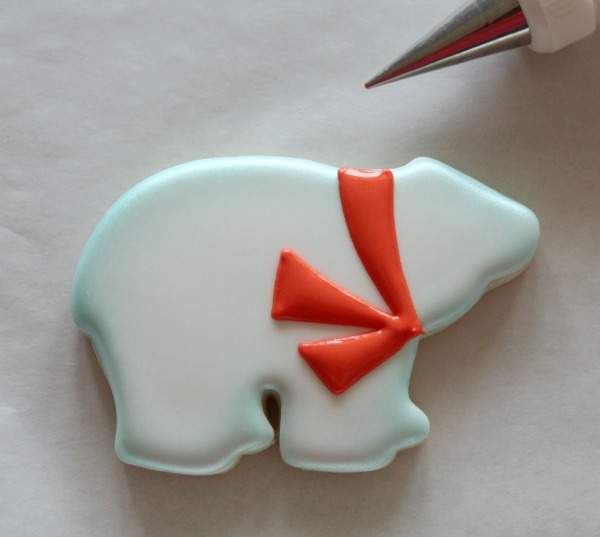 Step 6:
Immediately after filling, use a #1.5 tip to drop small white polka dots into the wet icing.  It is important to do this before the red icing sets so that the white dots will be flush with the rest of the scarf.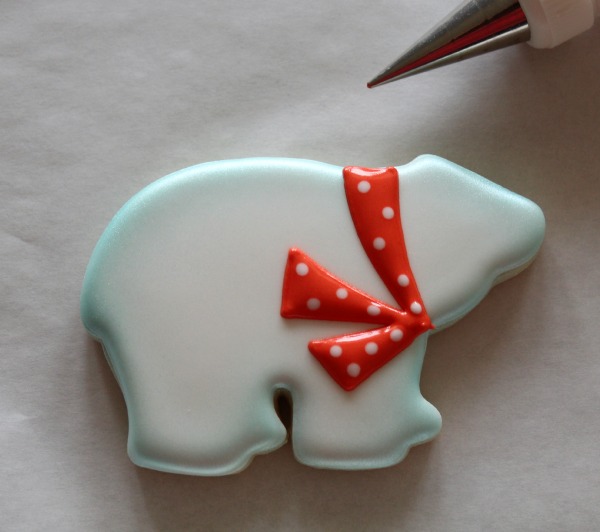 Step 7:
Use black icing and a #1.5 tip to pipe a simple nose, eye, and inner ear detail.
Step 8:
If your cutter is like mine, you'll need to add a few final accent lines to give the cookie a finished look. I used white icing and a #1.5 tip to outline each of the polar bear's legs along with the top edge of the ear.
As always, it's up to the artist to add their own unique flair to a design, so feel free to experiment with ideas, colors, and designs that appeal to you.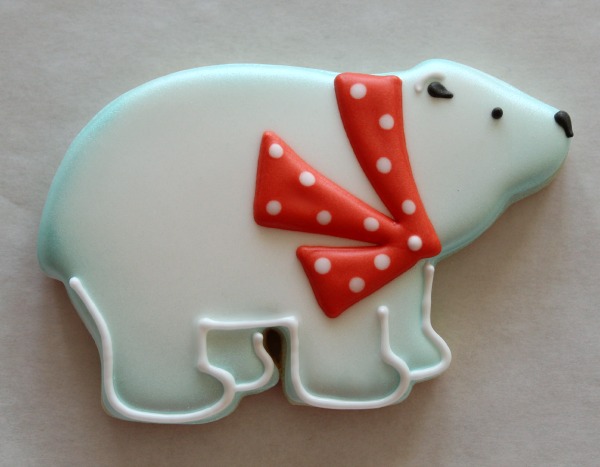 Step 9:
Package the cookies or present on a platter with coordinating cookies to add texture and visual appeal.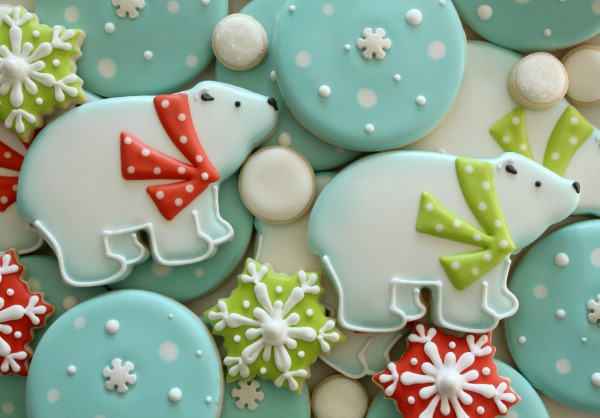 Two pro tips:
If you do not own an airbrush, you can still create a shaded effect with products like pearl dust or aerosol spray colors. Many of these products can be found online or in your local craft store.
Use an oscillating fan or food dehydrator to dry decorated cookies.  Not only will give the icing a nice sheen, it speeds up the drying process, therefore reducing decorating time, and prevents common problems like color bleed.
Learn new royal icing techniques for inspired cookie decorating.
Achieve antique effects, fabric-inspired looks, wet-on-wet flowers & much more! Enroll here now »