Crochet and knitting are creative acts — which means things get messy. To reach your peak of creativity, you may need to get organized. That's what this week's Spring Cleaning challenge is all about!
Each day, we'll challenge you to organize one part of your knitting or crocheting stash. Along the way, we'll share some of our best ideas and patterns to help. By the end of the week, you'll have no clutter and less stress, so you can create more!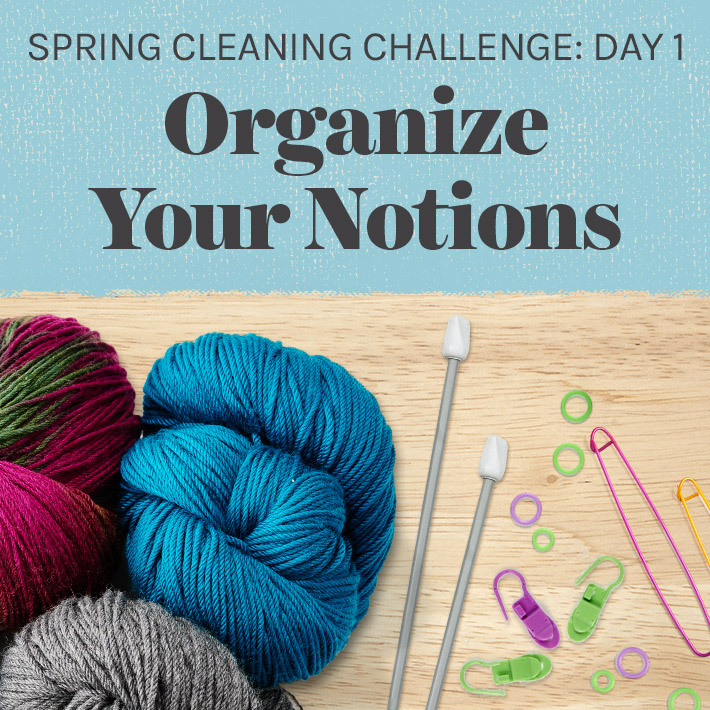 The first challenge in the series? Getting all those pesky notions — your knitting needles, crochet hooks, measuring tapes, stitch markers and more — in order. It may sound like a drag, but there are many creative, fun ways to organize your notions! Here are some ideas to get you started.
Put your hooks and needles on display
Your organizing should be functional, but it can also be beautiful. Consider displaying special items, like a set of luxury knitting needles or a collection of cherished vintage scissors.
Function vs. beauty
Which is more important? This will effect your design. If function comes first, organize your hooks by size in pretty vases, so that you can always easily grab the hook size that you want. If you're going more for aesthetics, you might put all of your aluminum needles in one vase, bamboo needles in another.
Here are some of the best ideas for beautifully displaying your crochet hooks and needles: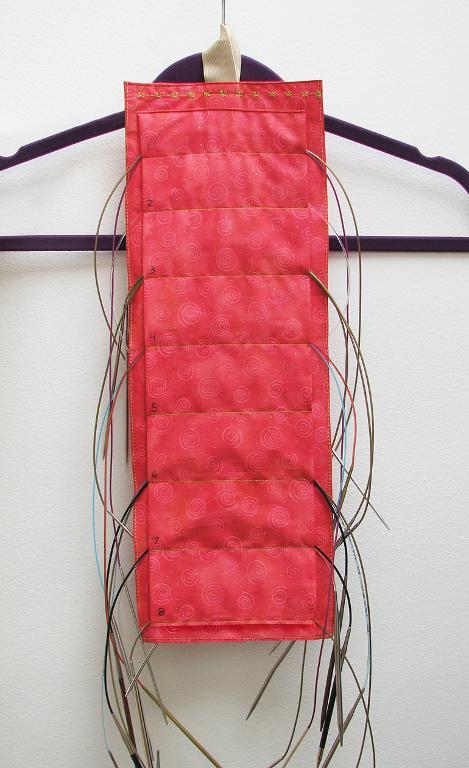 1. Hanging needle organizer
Circular needles can be displayed beautifully using a handmade hanging circular needle organizer, like the one shown above.
2. Ice cream sundae glasses
Crochet hooks and straight knitting needles can be organized by size, color or material and put into individual ice cream sundae glasses (or another cute container) to create a charming mantle display of your yarn craft tools.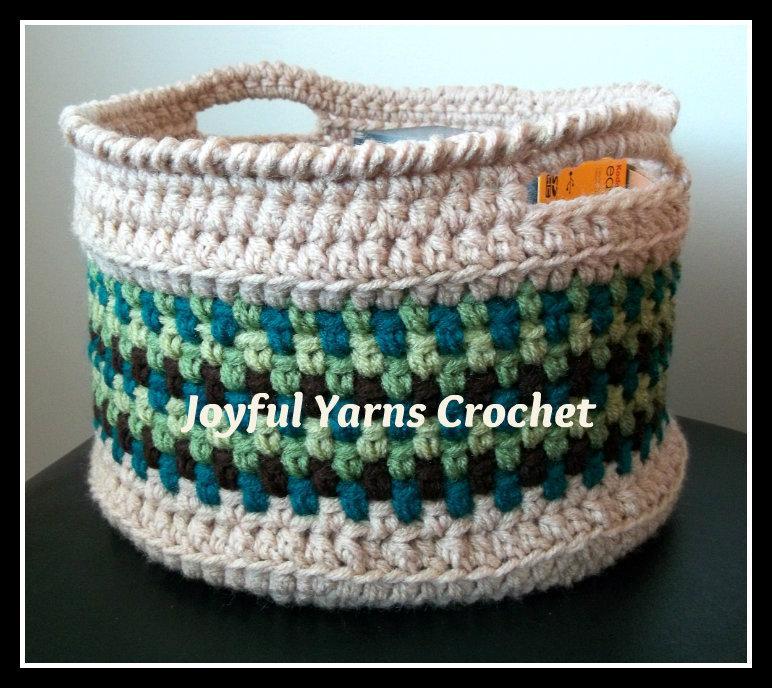 3. Pots, baskets, and bowls
Large bowls and baskets are perfect for circular knitting needles and can also hold other notions. Nesting bowls are terrific for holding items of varied size. You can even crochet or knit yourself a basket.
4. Vases and Jars
Vases of all shapes and sizes can hold your hooks and needles. Purchase a matching set at your favorite store or collect eclectic vases from thrift shops, travels, and conventions. Place these on bookcases, mantles, shelves or tables.
5. Embroidery hoop holders
One beautiful display is to sew knitting needle holders onto fabric then frame them in embroidery hoops and hang them on the wall of your craft space — check out this tutorial. This creates miniature works of art that hold your tools!
6. Hook or needle stand
Want your hooks and needles to stand up on display? Make a stand! One great example is the Tower of Bable Hook Stand, which is a free crochet pattern by Eleanor Howe.
Organizing hooks and needles for storage
Beautiful displays are wonderful, but if you have limited space and/or lots of tools, then you might also need to store some hooks and needles out of sight.
You can opt to organize your notions any way you like — maybe you'll keep same size needles together or store needle sets together. If you like to take projects on the go, you might want a portable option. If your containers are opaque, label them so that you can easily see what each one holds.
Here are some good options for functional storage: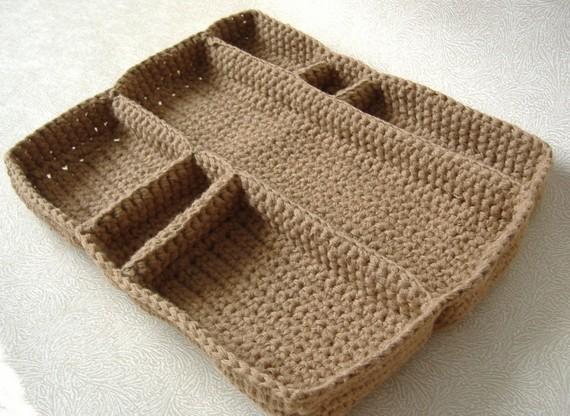 1. Handmade hook and needle cases
You can sew, crochet or knit them yourself or purchase these from other artisans. Select the sizes and styles best suited to your specific tool collection. Here are 10 terrific free crochet hook case patterns.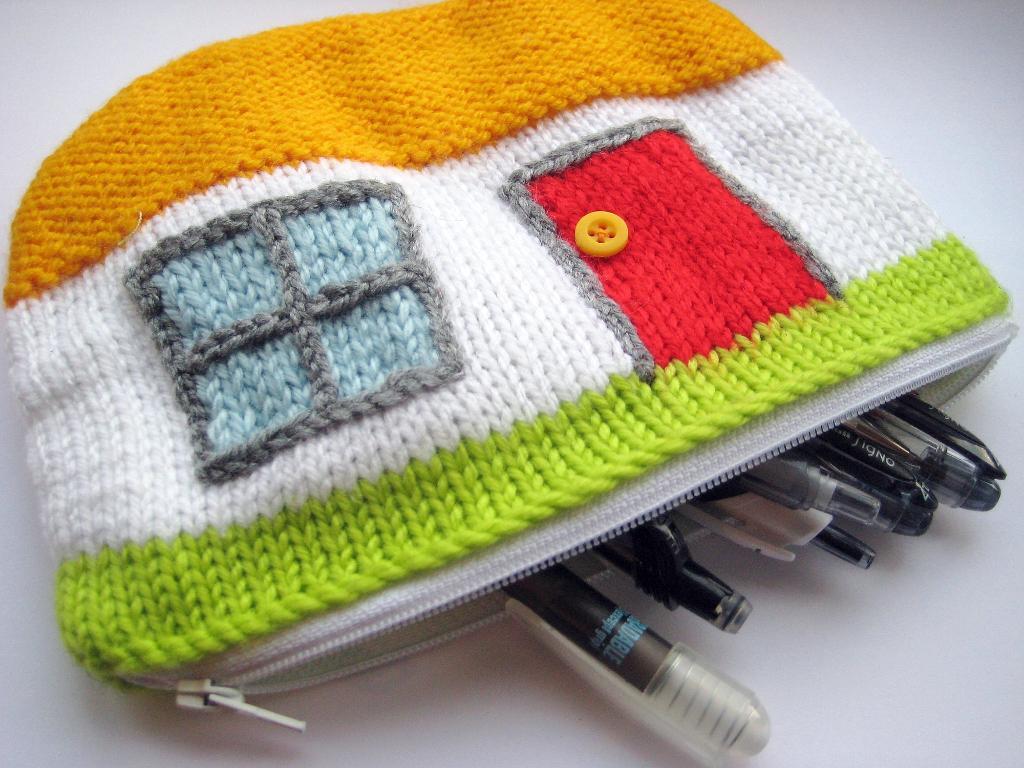 Cottage Case knitting pattern by Amanda Berry
2. Pencil cases
Don't limit your search to patterns made specifically for notions. Cases for pencils, glasses, and crayons are the right size for crochet hooks and often also for knitting needles.
3. Tupperware
Large, oblong Tupperware containers can safely store your hooks and needles.
4. Tall containers
If you prefer to store your hooks and needles upright, choose tall containers rather than flat ones. You could go with Tupperware, although another popular choice is to up cycle food packaging (like powdered drink mix, coffee tubs, etc.) for storing tools.
Organizing additional notions
Your crochet hooks and knitting needles are likely the items that you need to get most organized. However, you probably have some other notions to store as well, including: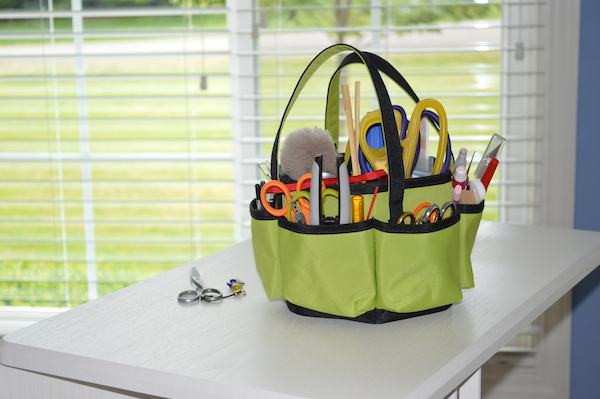 Craft tote via Craftsy instructor Kimberly Einmo
Stitch markers
These can be stored in plastic bags, small containers, little dishes, jewelry boxes or even on a corkboard.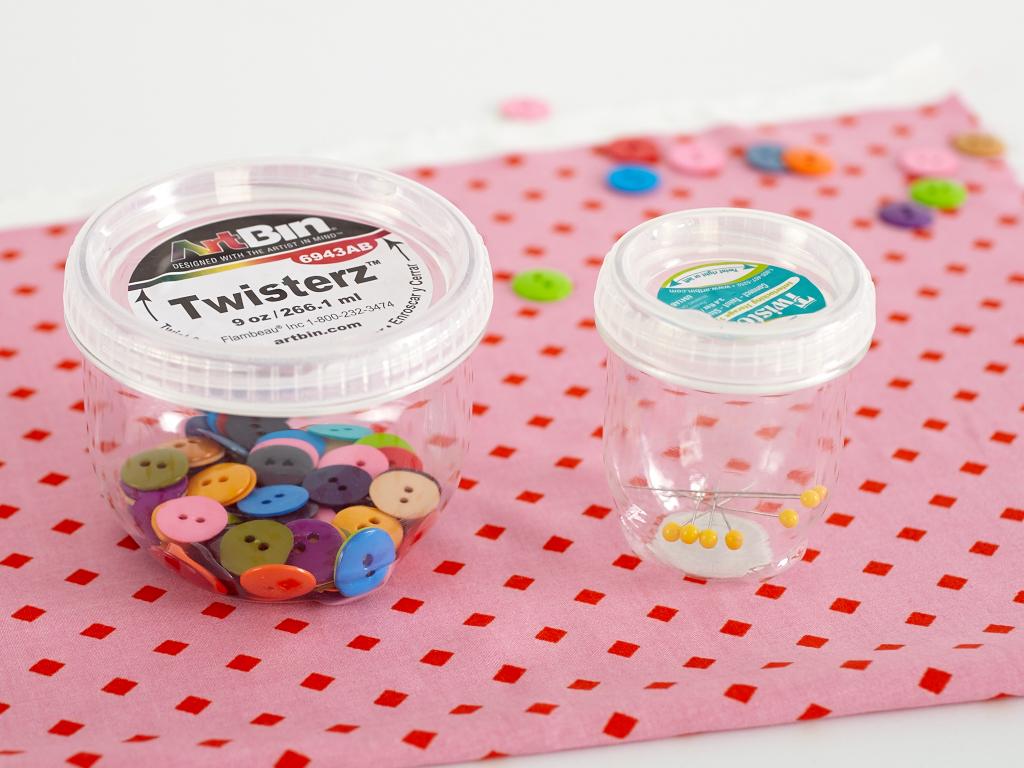 ArtBin Twisterz Storage Jars
Buttons
Jars are ideal for organizing buttons of all sizes.
Tapestry needles
These are best stored in a pincushion. You can sew, knit or crochet your own!
Scissors
Smart scissors storage ideas include magnetic displays, hanging on mug trees and organization in small drawers.
You can also use craft caddies and organizing totes to store all of these things together in one place. Vintage suitcases, tackle boxes and picnic baskets are other cute items that can easily store notions in one location for you.
Our best tips for organizing craft notions
Finally, here are some additional tips for getting your hooks, needles, and notions organized:
Declutter and sort. The less you have, the less mess to organize. Take out everything you own and assess what you really need; donate the rest.
A place for everything. Take the time to truly find a spot for everything in your stash. If it has a home, you will be more likely to put it there!
Browse storage solutions online. Take the time to check out what other people are doing to find the solutions that appeal to you the most.
The most important thing is that you do what's right for you. Don't be afraid to try different organizing options until you discover the method that is perfect for your needs.