Have you ever looked at your sewing space and wished you had a better system to organize all of those fabrics, threads, rulers, cutting tools and other quilting supplies?
We thought so. That's why we're turning to Craftsy's talented sewing and quilting instructors uncover some expert advice.
The next time you can't find your replacement rotary cutter blades, favorite ruler or seam ripper, keep these sewing room storage tips in mind!
Photo via Craftsy instructor Kimberly Einmo
First up, a tour of Kimberly Einmo's sewing room:
Kimberly, what's your top tip for keeping your sewing space in order?
I declutter — often. It is important for me to keep things organized with a minimum of clutter and mess so I can find things easily. I throw out what I honestly don't need or won't use, or I redistribute these items to my guild or quilters who can and will make good use of them.
As for my fabrics, they are all sorted and stored by color or type of fabric. For example, I have a storage cabinet for all my batiks. My print fabrics are sorted by color in other cabinets and I keep all my solids separated and stored by color on the color wheel. Pieces that are less than 1/4 yard are folded and stored in bins for easy access for small or scrappy projects.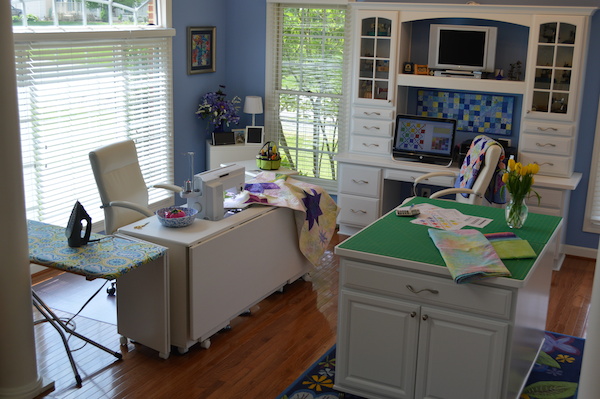 Photo via Craftsy instructor Kimberly Einmo
I keep my ironing board right next to my sewing machine cabinet (I'm right-handed, so the ironing board is to my right-hand side) and at the same height as my cabinet so I can pivot in my chair and go from stitching on the machine to pressing and back again with efficiency and ease.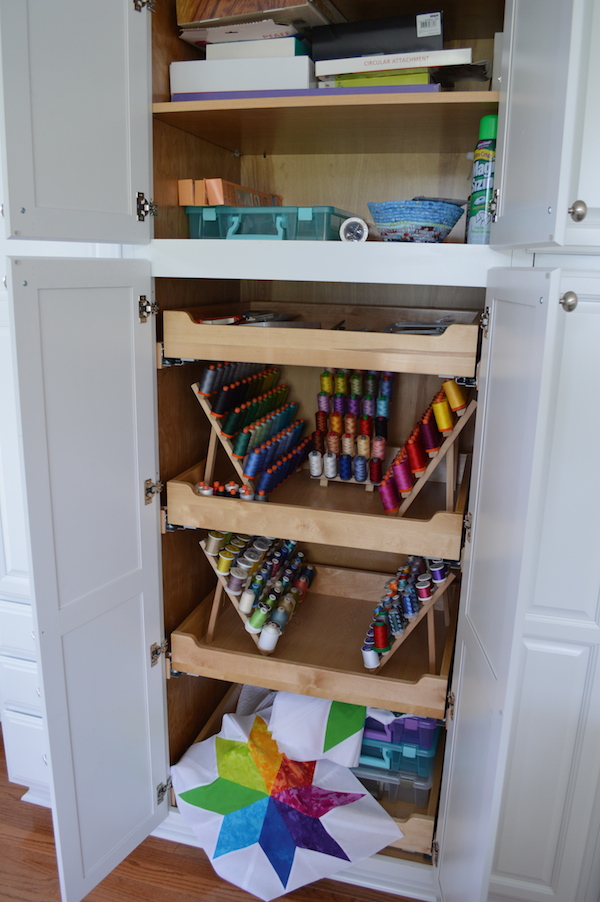 Photo via Craftsy instructor Kimberly Einmo
I use lots of pizza box-size plastic storage containers to keep each of my projects in for tidy storage, easy access and tote-ability!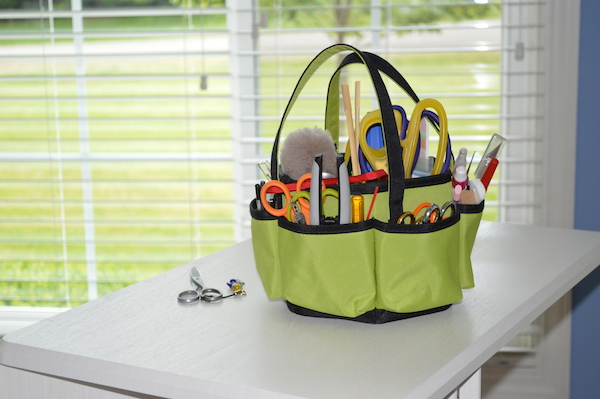 Photo via Craftsy instructor Kimberly Einmo
I keep a little storage tote with all my favorite tools right next to my sewing machine. It has snips, scissors, seam rippers, a stiletto, point turners, a Hera marker and FriXion pens. I also keep all my rotary cutters and scissors in separate drawers. A stash of new rotary blades is kept in the same drawer for easy access.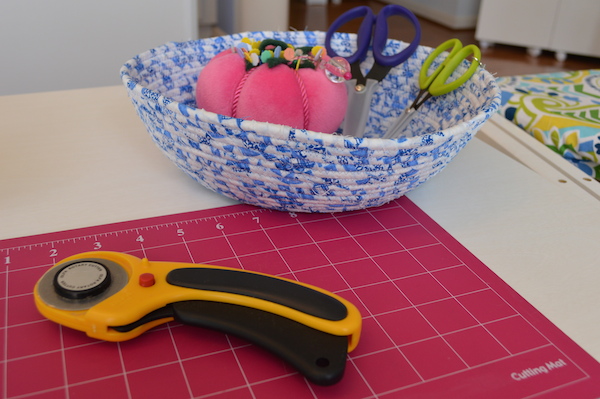 Photo via Craftsy instructor Kimberly Einmo
I also keep a large, overstuffed pink velvet pincushion next to sewing machine at all times. It even goes with me to the Craftsy set for class shoots! I think every sewing room needs a pink velvet pincushion!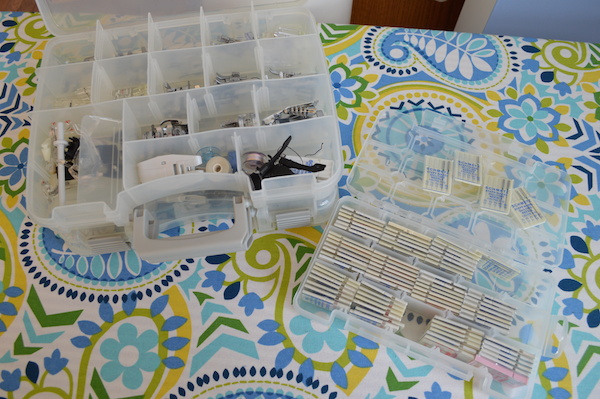 Photo via Craftsy instructor Kimberly Einmo
I also keep clear plastic storage boxes similar to fishing tackle boxes handy with a hefty supply of new sewing machine needles of every size and type plus my sewing machine accessories.
– Craftsy instructor Kimberly Einmo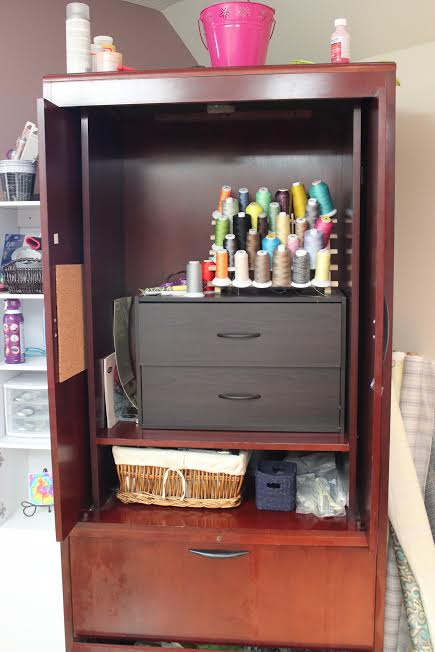 Photo via Craftsy instructor Angela Walter

Next, let's learn how to keep that thread collection under control!
Honestly, I don't have a large fabric stash….gasp! Most of the fabric that I have is stuff that I have designed so it's all on bolts and on a shelf. Nice and organized. What I do collect a lot of is thread. I often joke that quilting is my therapy and thread are my meds! To help keep it organized, I have a thread holder that I keep on top of a small set of drawers. On the thread holder, I keep my most-used thread colors. In the drawers, I keep unopened thread and thread that I don't use as often. Such as thicker threads that I use for teaching classes.
– Craftsy instructor Angela Walters
I am a thread hoarder of the most extreme kind! The good news is that I actually do use all these threads, but this means I need quick access to them as I'm working. There are multiple work stations in my sewing room. There are tables with machines where I sit to piece and quilt and other stations where I use my embroidery machines and I need quick access to all my threads from all of these positions. I've found the best way is to sort all my decorative threads by color into gigantic ziplock bags. It's easy to pick up hundreds of spools at once and carry the bag to where I'm working and I can see where all the bags are positioned from every work station. I tried sorting them by drawers into small carts on wheels, but this has been a more practical solution for me.
– Craftsy instructor Patsy Thompson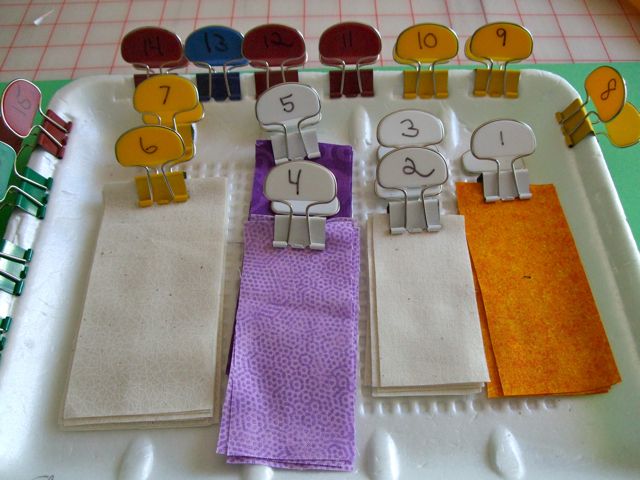 Photo via Craftsy instructor Carol Doak
What's next to your sewing machine at all times?
When I am cutting fabric pieces for a paper-pieced project, I place the labeled fabrics on a Styrofoam tray so I can then take them to the sewing machine easily. I label the pieces with numbered binder flags.
– Craftsy instructor Carol Doak
For me, it's been really important to have my iron nearby my sewing table. Most of the time, my ironing board is right behind me in my sewing room, so I can swivel around to it any time, but oftentimes if I'm paper piecing or doing some other kind of work that requires a lot of ironing, I'll actually twirl my ironing board around to create an L shape with my sewing table.
– Craftsy instructor Elizabeth Dackson
What's the best way to organize fabric?
I love to store fabrics in wire baskets by color.  Because I care much more about the color of a fabric than anything else, I will often set the whole basket of, say, teal, on my cutting table and easily pull dark, medium and light shades from the basket. If I end up with extra cut pieces or strips, I fold them back into the rest of the fabric. That way if I just need a small piece of a light teal, when I open that fabric, I find pieces I can often use! For my style of quilt, this works SO much better than a scrap bin.
– Craftsy instructor Ann Petersen
I keep my scissors hanging on a little IKEA rod and hook system right by my sewing machine. That way it's easy for me to grab my snips to clip loose threads that might get caught while stitching. I also put everything away at the end of every sewing day. It helps me to feel "done" for the day, and it's always refreshing to walk into a clean space the next morning.
– Craftsy instructor Amy Alan
Storing my fabrics by color really boosts my creativity and gets me thinking outside the box in terms of color and print combinations.
– Craftsy instructor Amy Gibson