Building her quilting empire on quick-piecing techniques, savvy stitcher Eleanor Burns popularized the term Quilt in a Day. Through her many books, quilt patterns and videos, she teaches time-saving methods for quilters, which can shave not only hours, but days off of the quilting timeline!
Whether you are a beginner, intermediate or advanced quilter, you too can finish a quilt in a day.
So go ahead and channel your inner Eleanor Burns, and check out these quick-to-piece patterns.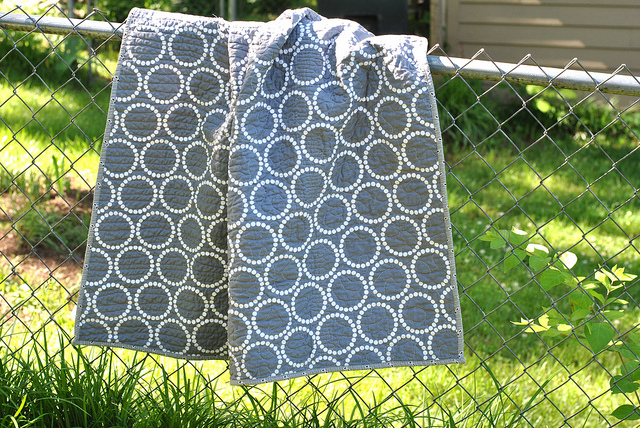 A whole-cloth quilt is a great option for finishing a quilt in a day. This project from my blog, Lindsay Sews, is almost a whole-cloth quilt, which uses minimal strip piecing on the back side. Once the quilt sandwich is ready, making this quilt is as simple as machine quilting, trimming the edges and binding. In fact, it took me longer to shop for the fabrics than it did to assemble the quilt top and back — the entire quilt was assembled in just a few hours.
For an even quicker finish, you can follow the stitching diagram at and finish your quilt like a duvet cover.
Find out how to take your pieced or whole-cloth quilts to the next level by adding beautiful finishing touches in the class Design It, Quilt It: Free-Form Techniques with Cindy Needham.
A 2-hour baby quilt is a great class offering for quilt shops and sewing schools. If you want to piece and sew an entire quilt in a day, it's best to go with a basic pattern, like large squares. Julie at Home Made shares a baby quilt that can be made in just 2 hours from start to finish. Although she says her first quilt wasn't timed, she hopes to remake the design, avoiding all possible distractions, watching the clock as she sews.
Do you think it's possible to make a baby quilt in just a couple of hours?
For more patterns and project inspiration, check out our roundup of 7 Quick Baby Quilt Designs.
If you're looking for a spin on the popular Jelly Roll Race quilt pattern (sew a roll of pre-cut fabric strips together as quickly as possible), we think you'll like this variation. Mary Claire Allen guest blogs at The Modern Quilt Guild about her guild's contest. She added a 2 1/2" gray fabric square in between each jelly roll strip rather than mitering the strips together. Although she didn't win the race, Mary says the quilt top took just over an hour to piece! Pre-cut strips are a great option for quilt-in-a-day projects.
For more fun ideas for using pre-cuts, enroll in Camille Roskelley's class Pre-Cut Piecing Made Simple.
And let's not forget the power of a quilting bee when it comes to finishing a quilt in a day! If you hope to accomplish a more complex quilt pattern than just squares or strips, grab a few friends and multiply your efforts.
The Arizona-based quilter's guild seen above took a Wednesday afternoon to join forces in piecing a charity quilt top for a child abuse awareness and prevention group. Each white pinwheel represents a child who lost their life to child abuse.
You might also enjoy these simple quilting ideas for easy blocks and this roundup of 5 quick quilts to make in a weekend.
Are you ready for fall? We are! Come back to the Craftsy blog tomorrow to celebrate autumn's arrival with us. We'll be sharing great seasonal recipes and fall-inspired craft ideas all day long!
Have you ever made a quilt in a day? What's your best tip for saving time in the sewing room?