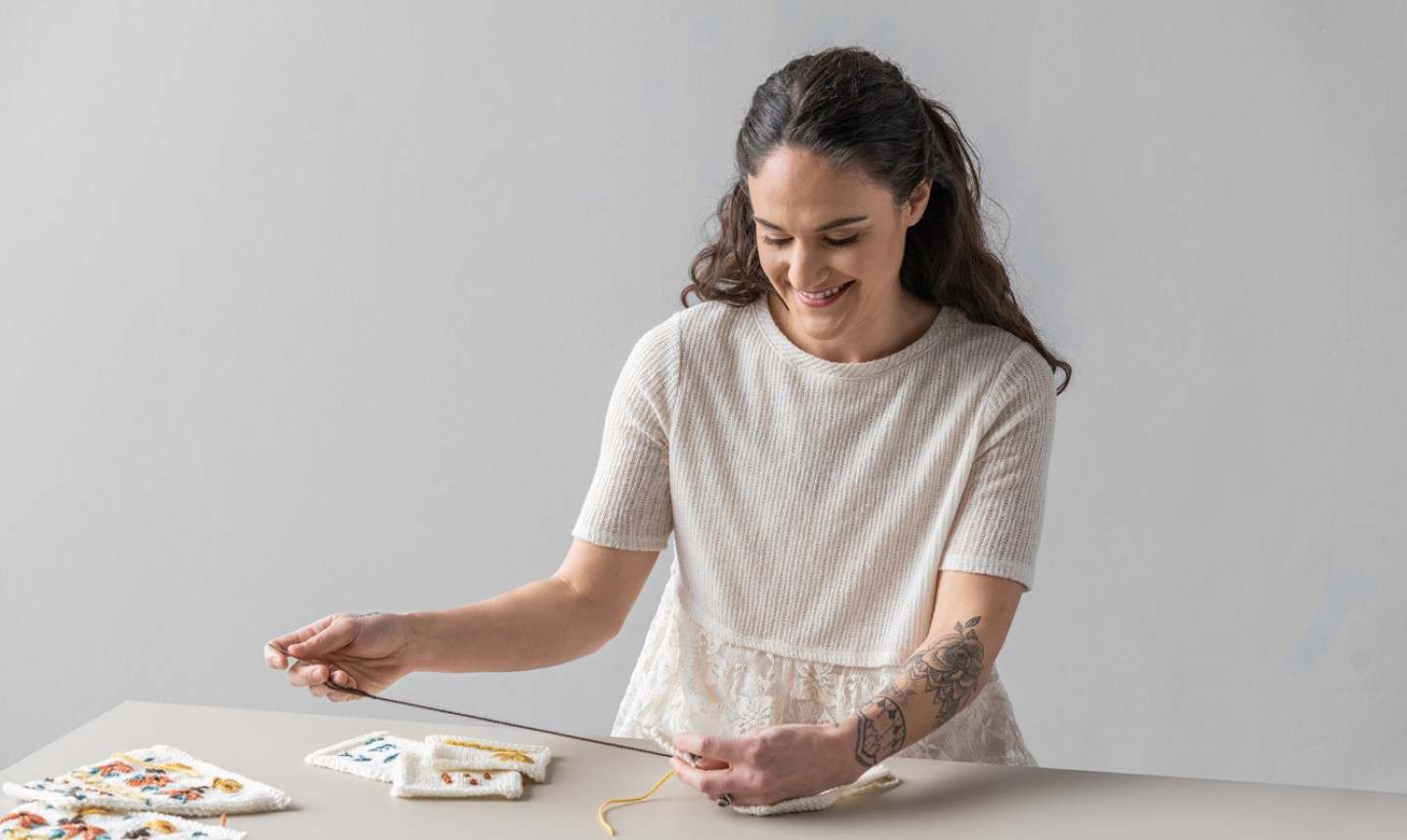 No matter how many scarves and cowls you have under your belt, knitting your first sweater can be totally sweat-inducing — especially if the pattern you've chosen is riddled with a gorgeous (and intricate!) embroidery design. But knitting queen Annie Lupton, who teaches Boho Style: Embroidered Sweater, wants you to kick those first-time jitters to the curb. She gave us her best tips for overcoming any hesitations, dished on how she started blurring the lines between crafts, and shared her top secrets for knitting novices who want to begin their love affair with fiber.
The sweater pattern in this class is a really good project for a first-timer. Do you remember your first sweater? What do you wish you knew before you got started?
You're right, it's a great beginner sweater because it is knit in one piece and requires no seaming. And you can try it on as you go to check the fit!
Like a lot of knitters, my first couple of sweaters did not turn out well at all. I made the mistake of not making a gauge swatch, so the sizing was way off and they didn't fit right. My number-one piece of advice is to get gauge before you begin, then just take your time and read through the pattern slowly. You should have no problem at all!
This design incorporates embroidery into knitwear — what inspired you to start blurring the lines between one craft and another?
I love how combining crafts makes for a really unique finished piece. I started my design career with a shawl that combined knitting with crochet edging because I couldn't find a knit lace pattern that was what I was envisioning. I have since revisited combining those two crafts several times.
For embroidery, I was inspired by artists who work hand embroidery onto ready-to-wear clothing. I played around with embroidering on hand knits and loved the overall effect. I've also had a design with a macrame tied edging, and would like to explore that combination more in the future.
Any advice for knitters who want to dive into designing their own patterns?
Knit as many patterns as you can from different designers, so you have a good idea about how garment construction works. Then find a good book or class, like Craftsy's Handknit Garment Design, that walks you through the design process and just go for it! Designing is definitely something you have to practice to get better at, but it isn't as mystical or complicated as you might imagine.
Before you started designing, you were handspinning your own yarn. How did that influence your design work, and your knitting in general?
I think spinning yarn gives you a deeper understanding of fiber in general. Sheep breeds have different qualities and the way a yarn is spun (worsted vs. woolen) changes its feel, texture and drape. Drawing from that knowledge base has helped me better understand yarns and has given me more confidence to choose the right type for a specific design, as different yarns can be used to highlight specific techniques and attributes in a design.
What's your favorite fiber to knit with?
I'm not the biggest fan of super wash wools. I prefer working with natural fibers; I particularly love the wool breeds Rambouillet and Cormo. For summer designs, I really enjoy working with linen and silk.
If we took a peek inside your knitting bag right now, what would we find?
Right now I'm working on a few sweater designs for this winter. I'm really excited about an upcoming holiday design that, like my Boho Style class, will feature an all-over embroidered yoke!
Which Craftsy class are you currently watching?
I love cooking healthy food for my family, so I've been turning to A Week of Healthy Dinners, Everyday Healthy Eating and Fuel Your Body, Feed Your Soul to find yummy new recipes!
This interview has been edited and condensed for clarity.