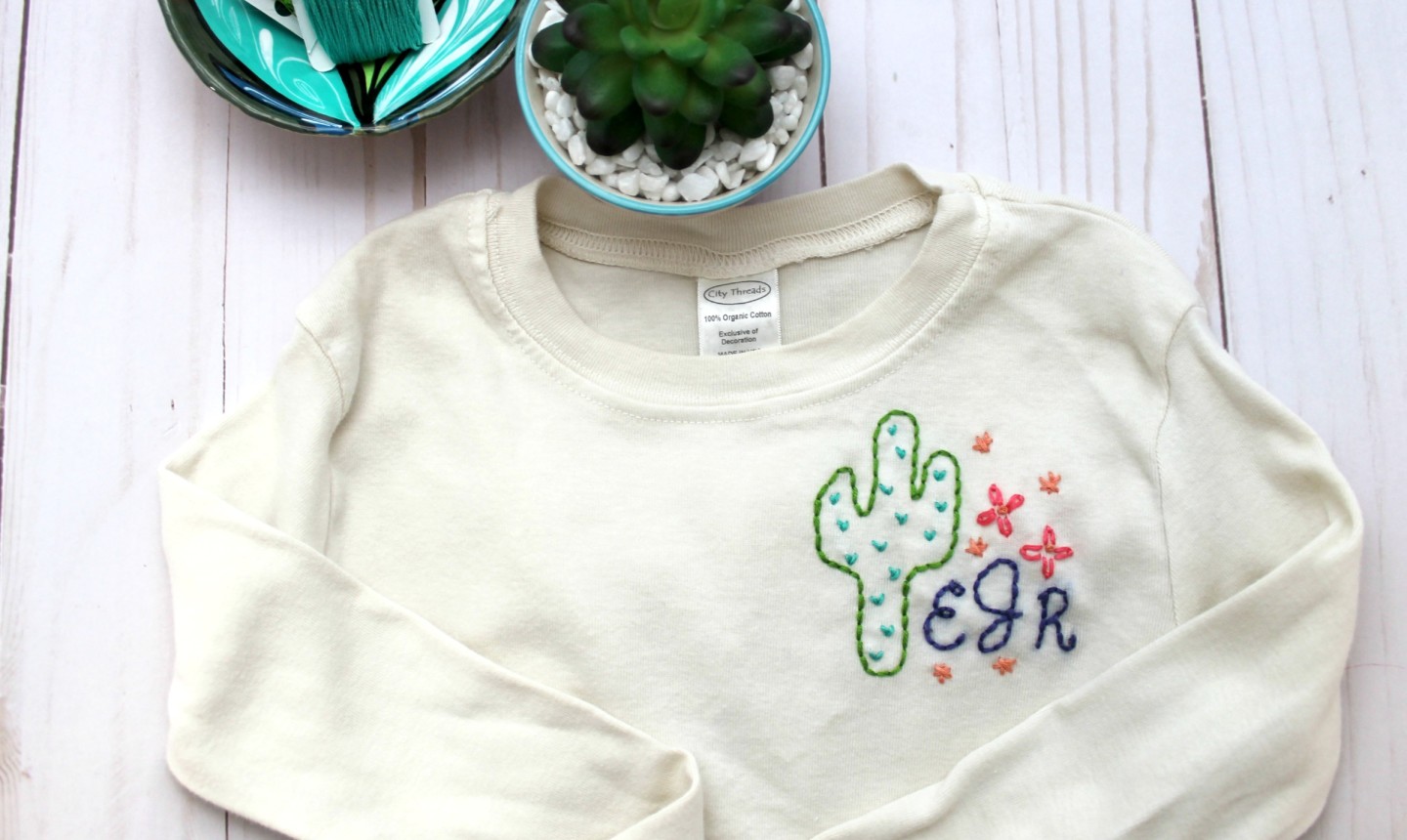 The holidays are the ultimate excuse to dress your family in matching pajamas. These monogrammed PJs keep your whole fam cozy in style, and they only require basic embroidery stitches — hello, perfect holiday gift!
DIY Monogrammed Pajamas
Level: Easy
What You Need
Solid colored cotton or knit pajamas
Sheet of Fabri-Solvy Stabilizer
Five colors of embroidery floss
Embroidery needle
Embroidery hoop
Scissors
Pen
Instructions
1. Design the Monogram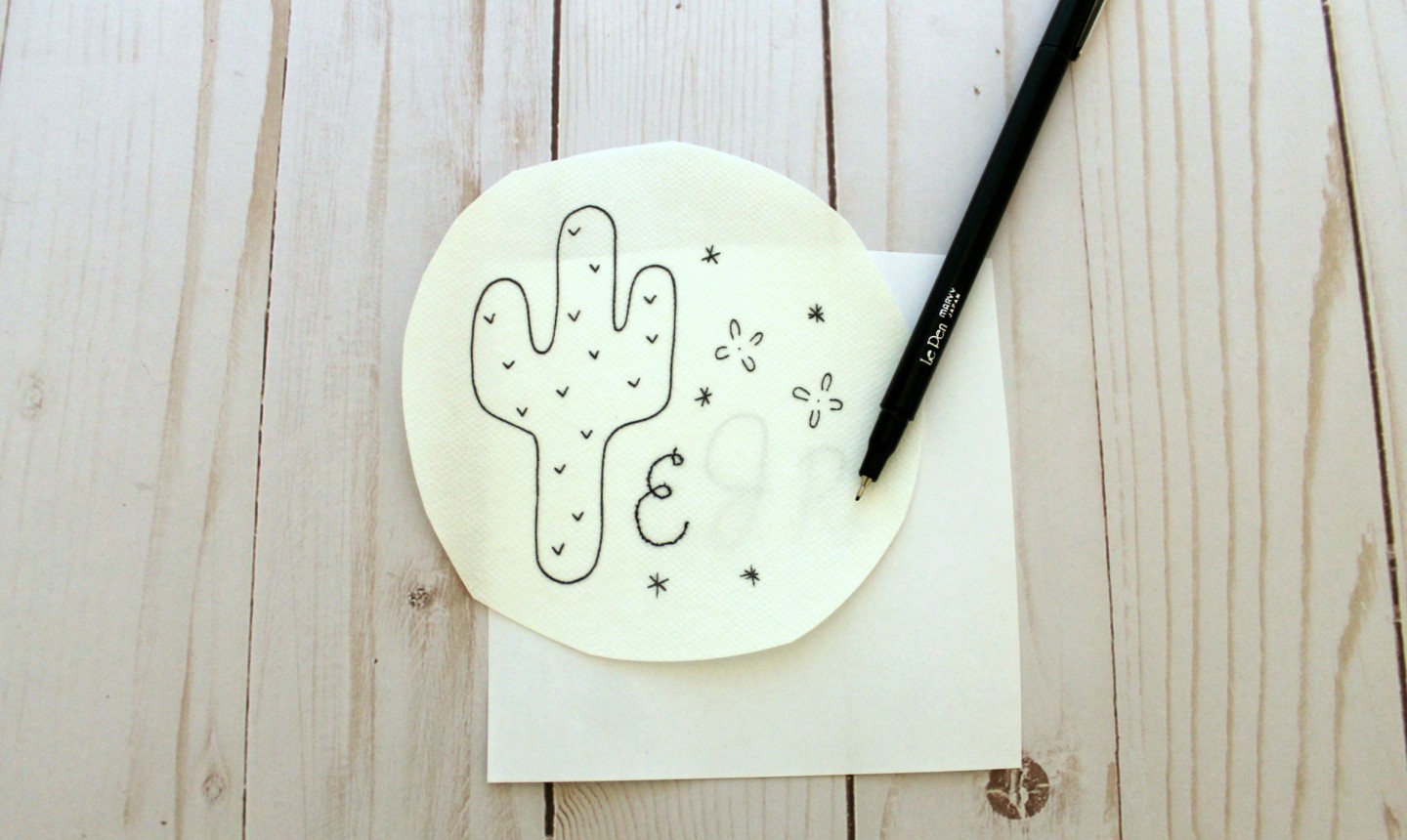 Download the cactus pattern and print it out on Sticky Fabri-Solvy paper. Once you have your design ready, hand draw your monogram initials in the space between the stars. You can go freehand, or use your computer to print the letters in a font you love and trace it on.
Cut around your Fabri-Solvy design, peel off the backing to reveal the sticky side and stick it to the top of your pajamas, either to the right or left of the center.
Fasten your hoop onto the jammies with the design in the center.
2. Grow Your Cactus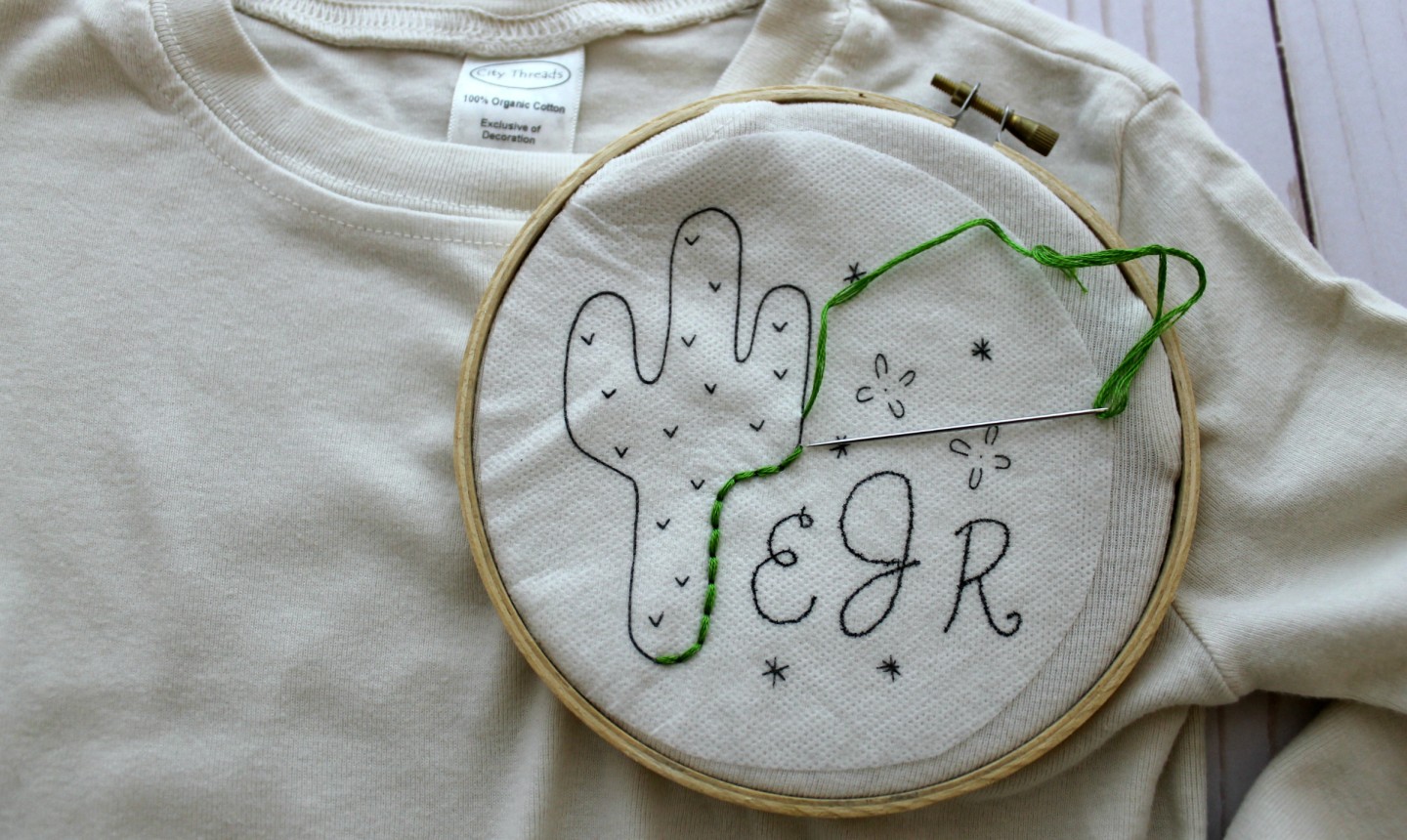 Using thick, 6-ply green embroidery floss, back stitch around the outside edge of the cactus. When finished, make a knot on the back side and trim off any excess floss.
Now to add a little detail: Choose a different shade of green from the cactus outline and stitch the little Vs. Start with the Vs that are closest together and make your way across the cactus until all are completed.
3. Stitch Your Initials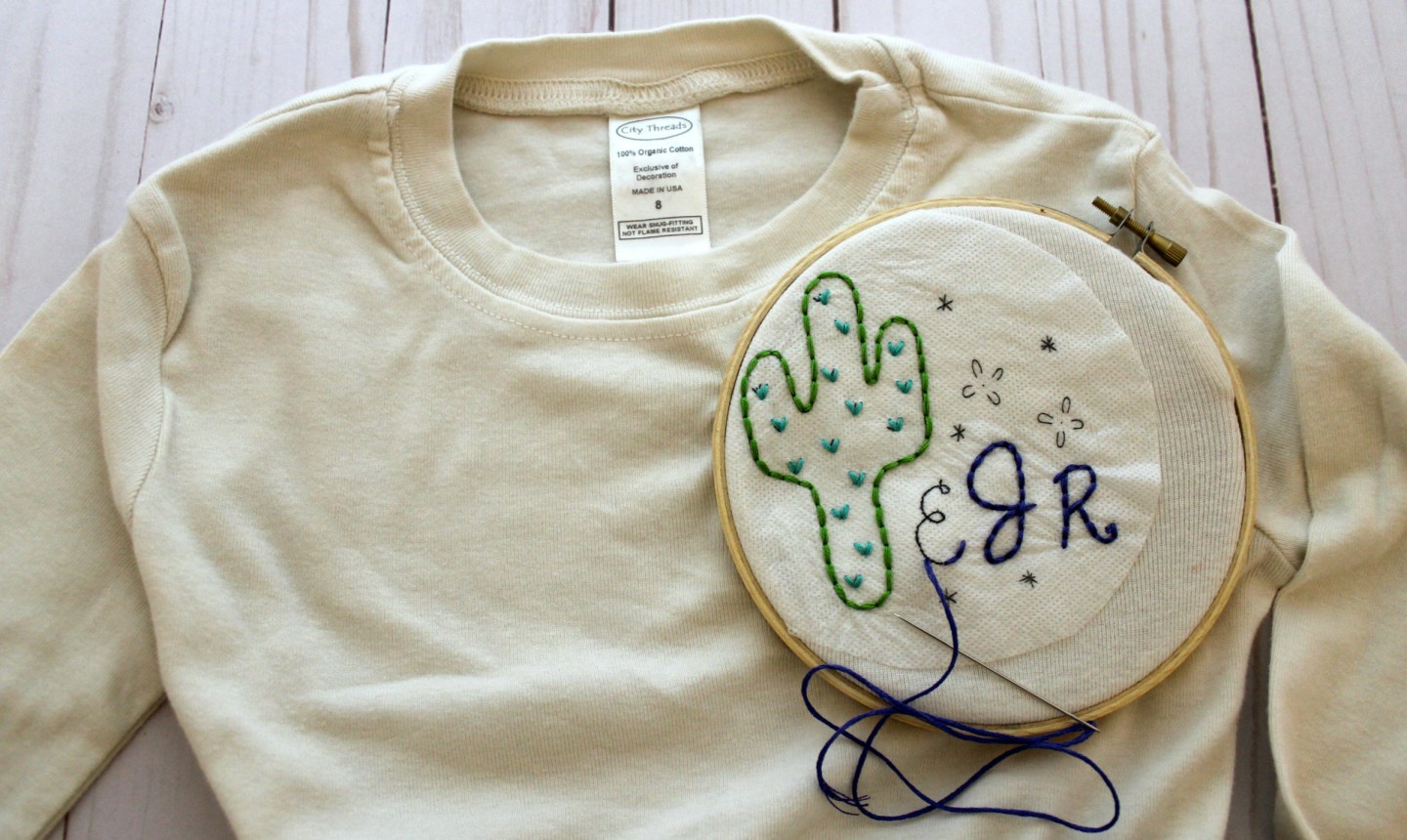 Choose a different color of 6-ply embroidery floss. Once again using the back stitch, complete the monogram initials. If you want a thicker line, you can always double up your back stitches on the outside edges. This will really make your initials stand out.
4. Add Accents and Details
For the last few stitches, use a contrasting floss color that really pops. Because we used cool colors in our cactus and initials, we're going warm for the design's little accents. First, make some star stitches.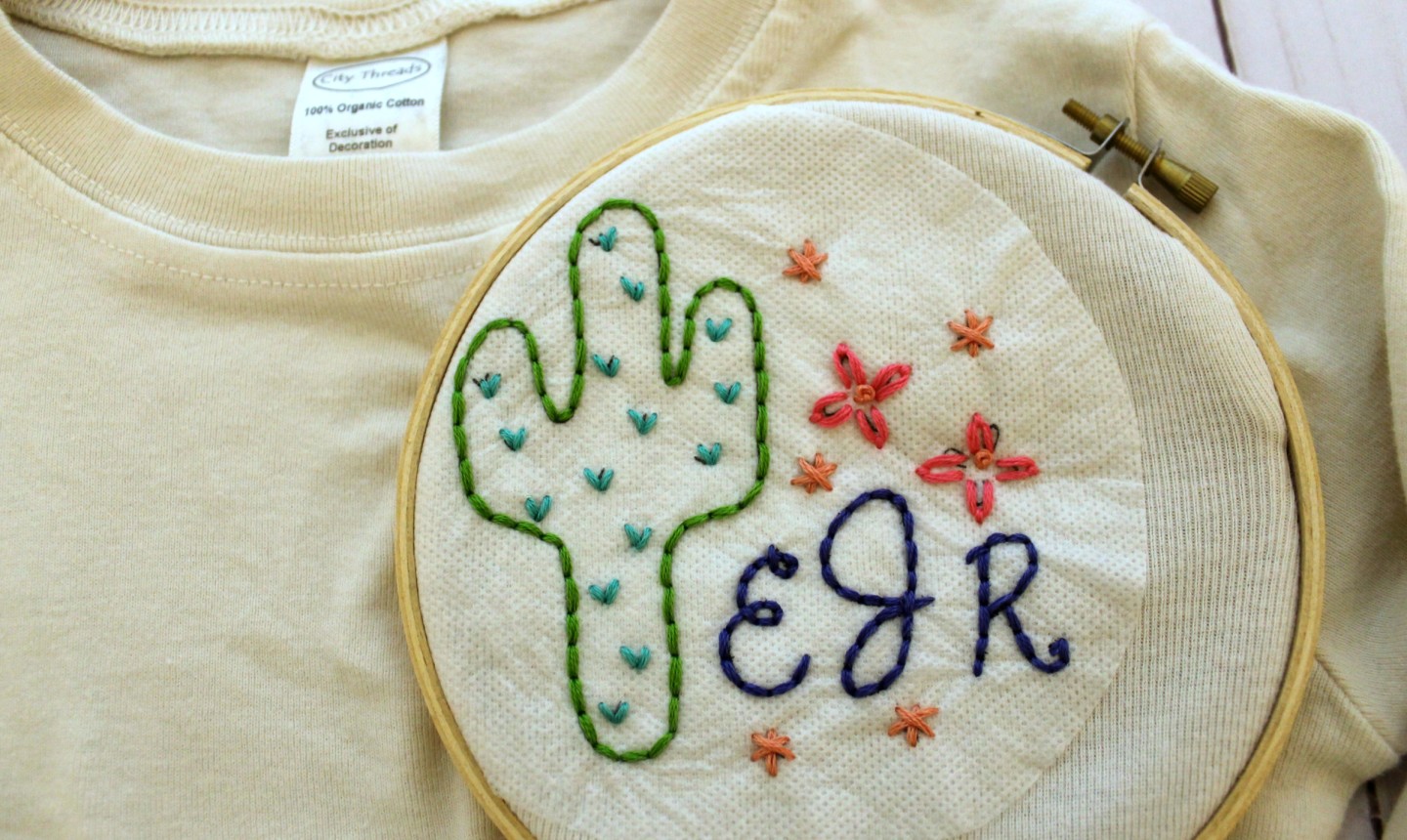 Once you finish your star stitches, make some lazy daisies with a French knot in the center to complete your design.
5. Wash Away the Stiffness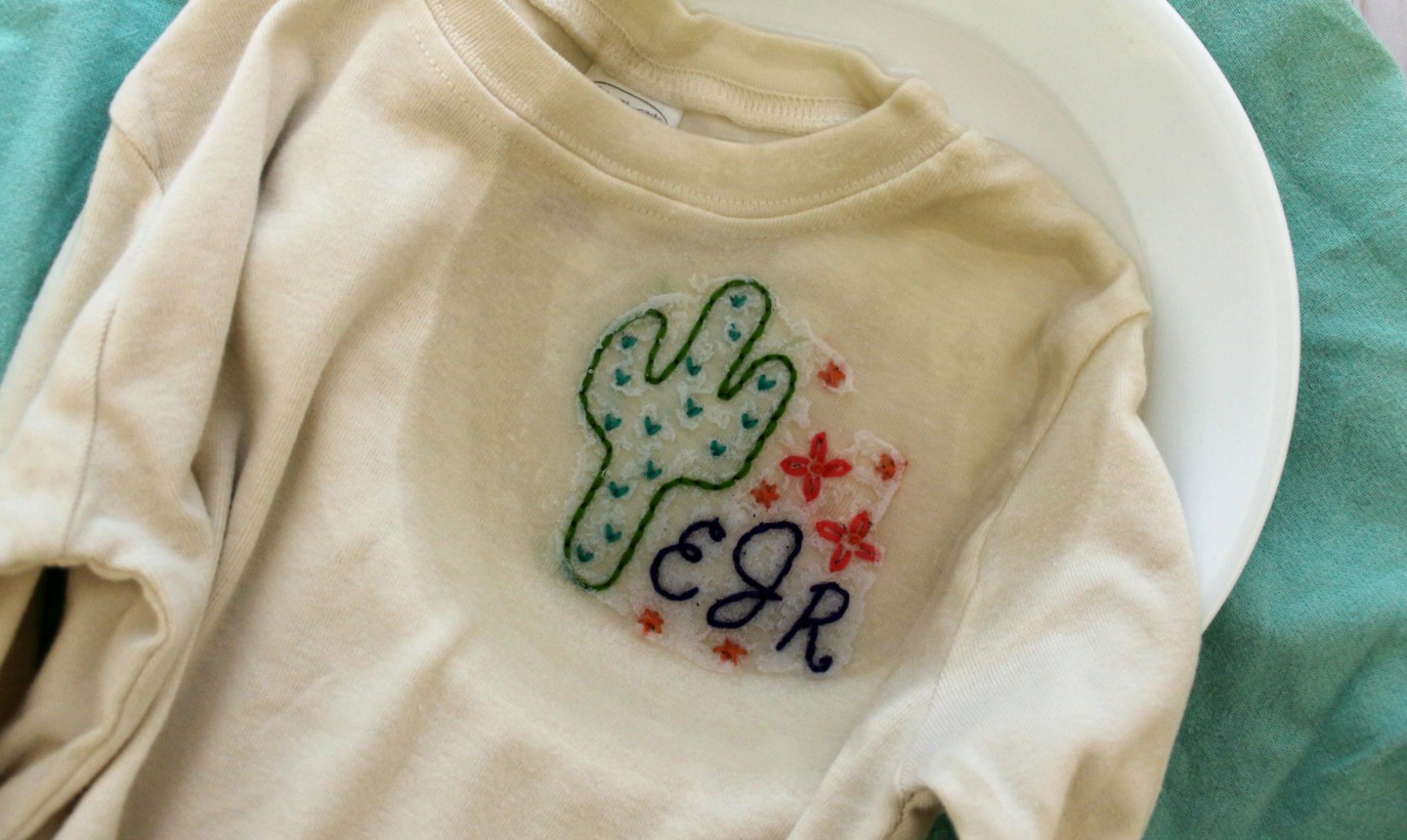 Wash away the Fabri-Solvy by soaking or placing your project under a gentle stream of warm water for two to three minutes, until it's thoroughly rinsed. You can allow your embroidery to air dry, or throw it in a dryer for a few minutes.
(If there's any stubborn stabilizer and stiffness left after rinsing and drying, just repeat these steps until your jammies are nice and soft.)
Photos by Jodie Rackley.