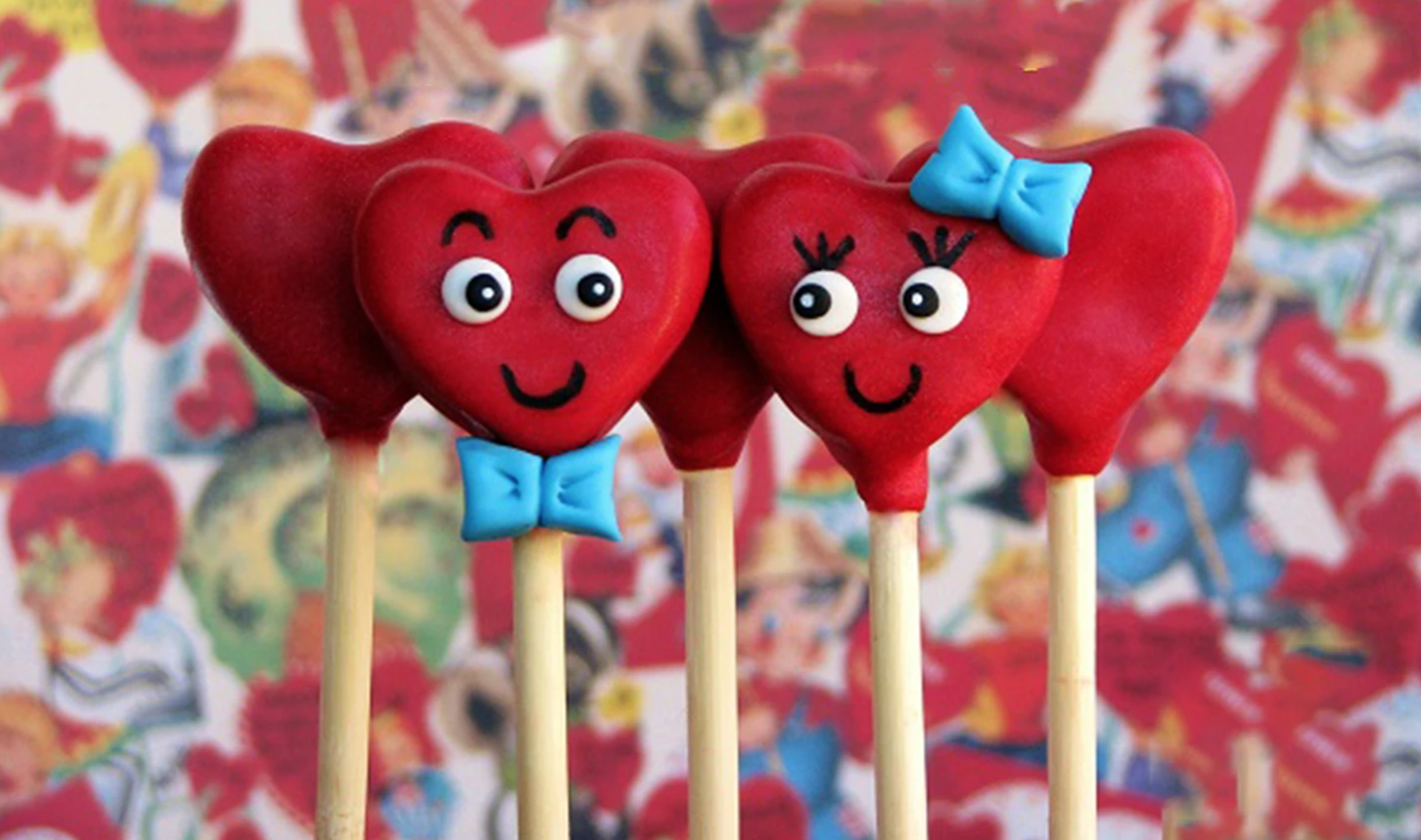 It's almost Valentine's Day, meaning love is in the air and your cake pops. Make a batch of these cuties and gift to your sweet-toothed sweetheart.
Valentine Hearts Cake Pops
Level: Easy
What You Need
Cake batter (use your favorite recipe)
Icing (buy it or make your own)
Red candy melts
Lollipop sticks
Small heart cutter
Black, white and blue fondant (buy it or make your own)
Food-safe brush
Fondant rolling pin
⅛" guide rings
¼" wooden dowels
Round piping tips (we used #7 and #12)
Knife tool
White soft gel paste
Toothpicks
Black edible marker
Styrofoam block or cake pop stand
Instructions
1. Make the Cake Pop Batter
Mash up a baked cake (you can use any recipe you love) and combine with buttercream. For every 2 cups of cake, use 1 tablespoon buttercream. Adjust this ratio as needed until you have a doughy consistency.
2. Shape the Hearts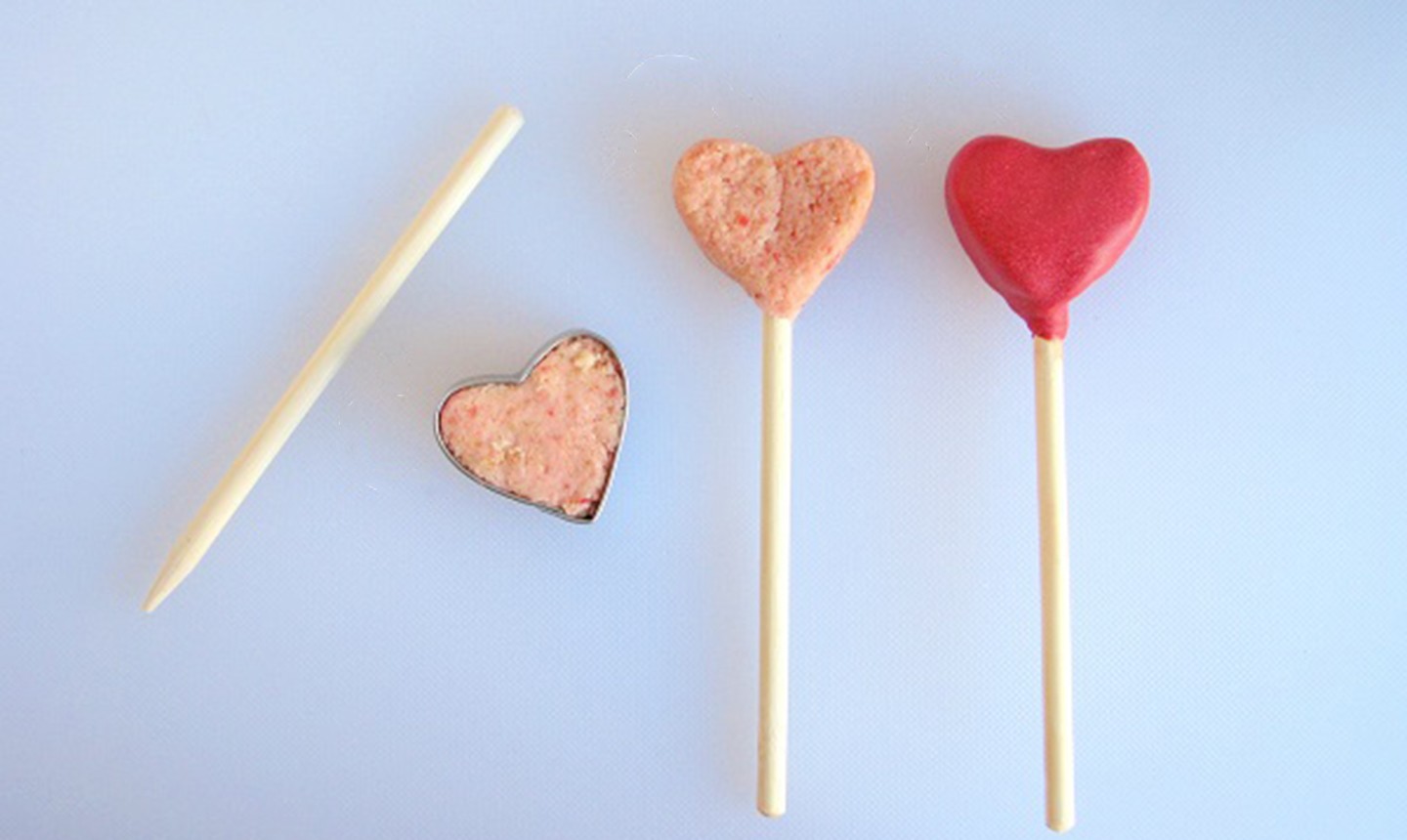 Roll the cake pop batter into a ball and insert it into the heart cutter. Remove any excess.
3. Insert the Sticks
Melt the red candy melts into a small bowl. Dip one tip of a lollipop stick into the candy melts and push it into the bottom of your heart. Repeat for every cake pop and place them in the freezer for 5-10 minutes.
4. Dip
Once chilled, remove the cake pops from the freezer and let them sit for a few minutes. Dip each one into the candy melts, allowing any excess to drip off, then place in a styrofoam block or cake pop stand to dry. Try to make this candy base smooth for decorating.
5. Make the Eyes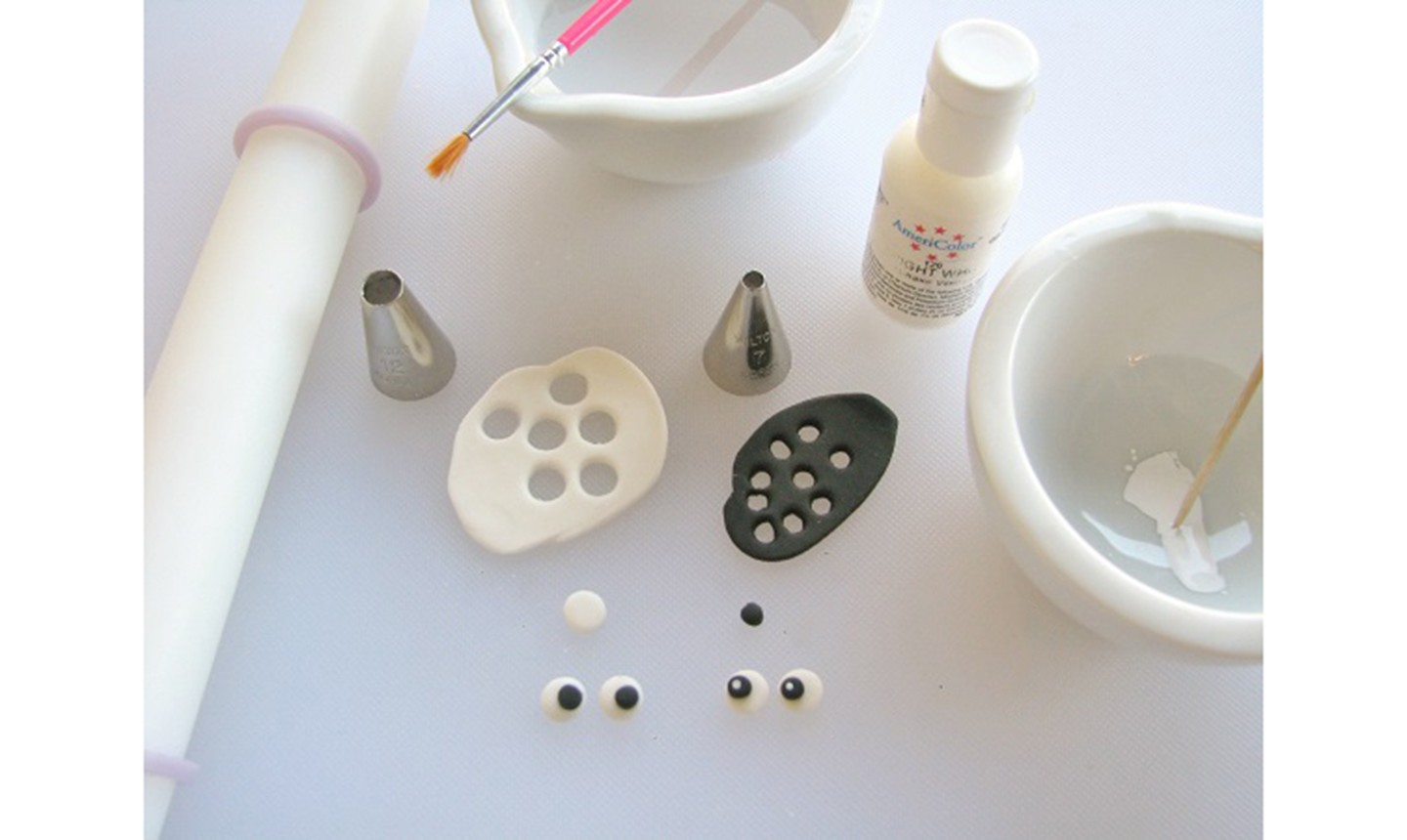 Roll out white fondant with the rolling pin and ⅛" guide rings. Use the round piping tip #12 to cut out four circles. Then roll out black fondant in the same way, and use the round piping tip #7 to cut out four circles.
Glue the black and white circles together with edible glue to create two sets eyes.
Pro Tip: To make it seem like your cake pops are looking at each other (and totally falling in love), glue the pupils of each pair on opposite sides of the white circles.
Dip a toothpick in white soft gel paste and dab it onto the edges of the black circles to give your eyes a bit of life.
6. Give 'Em Bows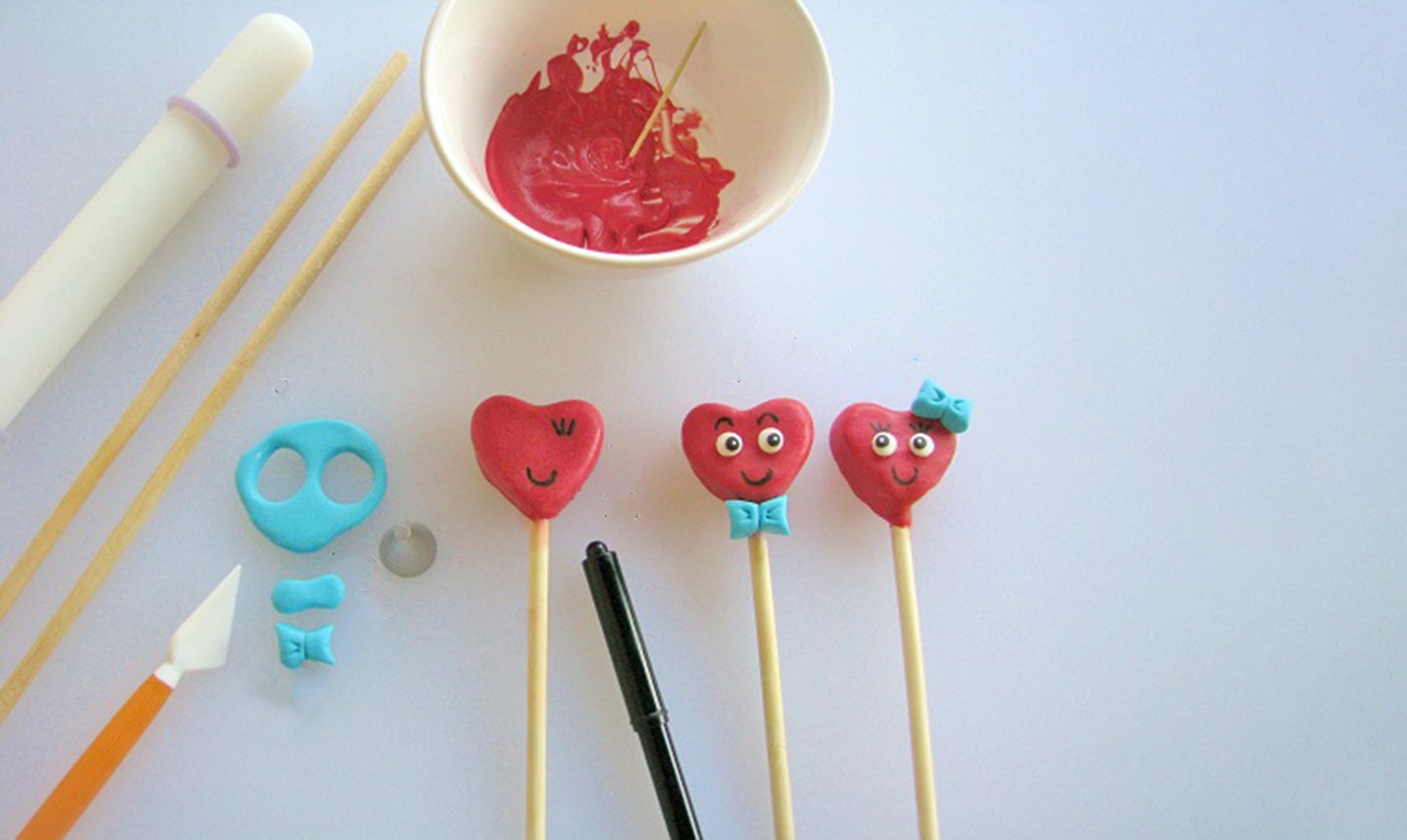 Roll out light blue fondant with the rolling pin and wooden dowels as guides. Cut out two circles with the bottom of piping tip #7. Shape the circles into ovals and pinch the centers inward. Then pinch the four corners to begin molding the bows.
Use the knife tool to indent a vertical line across the center of each bow. With the tip of the knife tool, make small indentations to form creases at the center of the bow on each side of the vertical line.
7. Add the Final Details
Once the dipped cake pops are dry, use the black edible marker to draw on smiles, eyebrows and eyelashes — whatever you want to punch up the personality.
If your excess candy melts have hardened, heat them to re-melt. With a toothpick, use a small amount of candy melts to secure the eyes and bows in place. Then you're done!