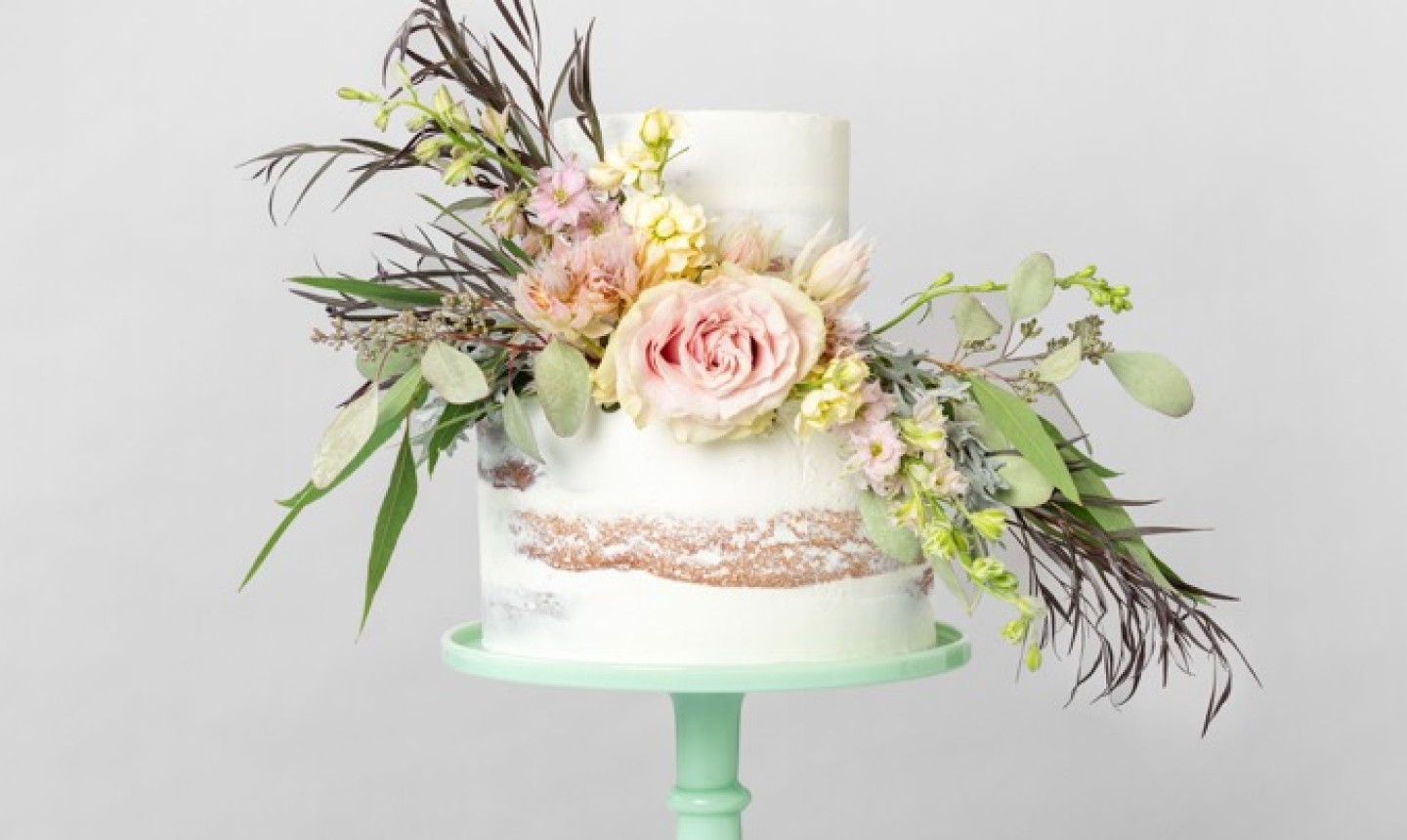 While there's something delish about a good buttercream flower on cakes, these days fresh flowers, due to their unfussy and colorful qualities, are blooming on cakes for birthdays, holidays, weddings and beyond.
"When I first started decorating in the 1990s, cake flowers were still very formal and fairly complicated," says Katherine Bates, pastry chef at Wheat & Bee Bakery in St. Petersburg, Florida. "While they remain incredibly popular on cakes, most are much more casual in style, even in their techniques."
Which is why the natural touch of edible flowers fits. And for certain occasions, it can actually make financial sense to forget about going faux.
"For wedding clients, it can be fairly cost-effective to employ fresh flowers because they're already used in bouquets, centerpieces and aisle pieces," says Elizabeth Swail, owner of Sweet Treats Bakery in Austin, Texas. And if you know where to look, edible flowers can also be affordable for birthdays and other at-home events.
But how do you make edible flowers safe to use, and how do you source the most stunning and cost-effective blooms? The pros share their best secrets so you can safely decorate on your own.
1. Know Which Flowers to Use (and Skip)
First things first: "If the flowers are to be eaten, choose only truly edible flowers and make sure they are organically grown," Bates says. Most of the time, labels will say the blooms are either food grade, edible or organic, Swail adds.
Here are some of the most common flowers worth considering — along with ones you should definitely avoid.
Edible Flowers
Begonia
Carnations
Chamomile
Cornflower
Chrysanthemum
Day Lily
Elderflower
Geranium
Marigold
Lilac
Pansy
Primrose
Queen Anne's Lace
Rose
Sunflower
Violet
Toxic Flowers
Baby's Breath
Bleeding Heart
Calla Lily
Daffodil
Foxglove
Hydrangea
Iris
Lily of the Valley
Mistletoe
Morning Glory
Oleander
Peace Lily
2. Team Up With a Florist or Flower Vendor
When sourcing your flowers, it's often helpful to search online for "edible flower vendors near me" or "organic flower farms near me." From there, you can consult with the flower vendor to confirm the blooms you're planning to use are safe to consume and haven't been treated with pesticides. If Google isn't pulling up the right intel, try crowdsourcing from friends who share your cake decorating interests, or talk to local chefs, as they often have tips about local farms that will have organic, seasonal selections available. These farms will be able to lend insight about which are safe for consumption, Swail says. And don't be afraid to dig into online reviews, or ask a company directly about sourcing and storage. You don't want any flowers that have been sitting in buckets of water with chemicals or life-extending agents, for example, and they should be able to tell you right away how their product is harvested, treated and stored.
3. Double Check Budget-Friendly Buys
To ensure you can match your event colors and decor — or simply get flowers in your preferred color scheme — it's common for people to seek out more affordable (yet still high-quality) floral, Bates says. Supermarkets like Trader Joe's often have a solid selection available, and farmer's markets may be worth perusing, but you want to be extra sure any flowers you choose are organic before you buy. Double (and maybe triple) check what's listed on the label, or ask the store's staff for guidance.
4. Bring a Field Guide
Harvesting wild flowers is another viable sourcing option, as most probably have a lot less bacteria than your phone, Bates says. (You could also grow some in your garden!) But if you're searching on your own, she says it's best to search away from main roads, as any found roadside can be affected by dirt and pollution coming from vehicles. It's also important to refer to a field guide when searching. "You have to be reasonably confident in your identification of the flower to ensure you haven't accidentally found a poisonous plant," Bates says. If you have any doubts and suspect the plant may be toxic, use a space barrier technique on the cake.
5. Space Things Out
If your vendor can't confirm whether your edible flowers were grown with pesticides, or if you're unsure whether it's safe to eat, Bates suggests creating a space barrier between your cake and its flowers with toothpicks or skewers. To do so, trim the stem close to the base of the flower, then insert a toothpick or small skewer into the cut part of the stem. "Sometimes, I wrap tape around the stem and toothpick for extra security — usually for the flowers with a drippy sap, like ranunculus," she says. "When it's time to serve the cake, you can simply remove the flowers, which never really touched the cake at all."
6. Consider Stripping the Stems
On the flip side, if you know your flowers are edible and fully safe for consumption, it's likely they can be served right alongside your slice. "Most edible flowers are able to be fully eaten, from the stem and leaves to the seeds," Bates says. (However, that isn't the case for all edible flowers, so it's very important to double check, she adds.) That said, you may want to consider stripping the flower of the stem regardless. "The only real concern is the mouth feel," Bates explains. "Often stems and the base of flowers are tough and woody, so they aren't particularly pleasant to eat." (On the other hand, edible flowers can be particularly tasty when sugar-coated and candied .) Whatever portion you decide to serve (or just use as decor and remove before slicing), Bates says to give the flowers a rinse to help rid any bacteria — and dip stems in vinegar to help prolong the life of each bloom.
7. Prevent Allergic Reactions
If any of your pals who might savor a slice has seasonal allergies, it's a wise move to adjust your edible flowers accordingly. "It's often the pollen that causes the problems for those with seasonal allergies," Bates says. The good news: pollen — aka coarse powder found in the center of most flowers — can be removed carefully with tweezers.