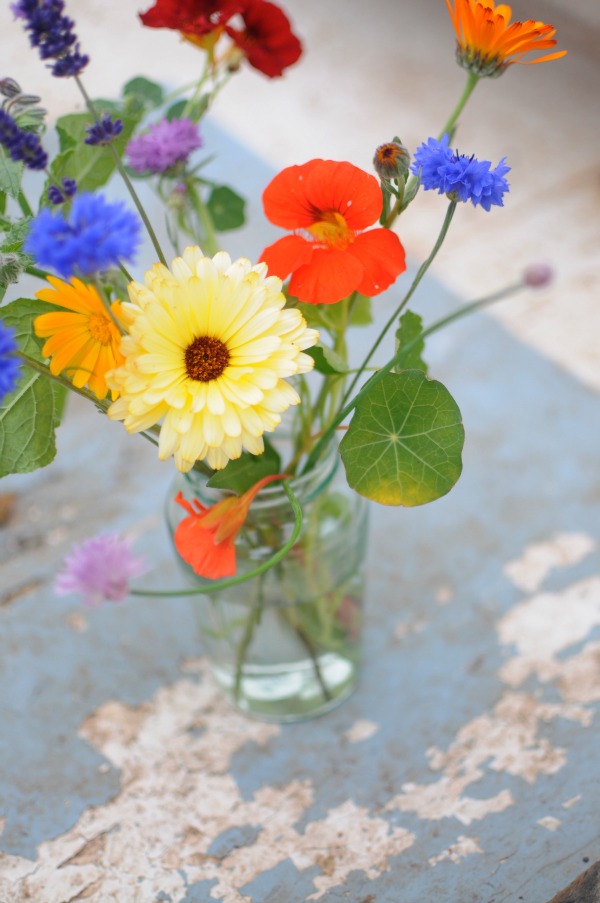 If you're looking for an easy way to add color and flavor to your salads, cookies and cakes, look no further than your garden. There are more edible flowers out there than you might think, and you may already have a few growing in your own backyard. Pick 'em, clean 'em and get ready for some colorful munching.
Good to Know: For safety purposes, it's important to only use organic flowers that haven't been sprayed with pesticides. After harvesting, keep the flowers in the fridge until ready to use (they should last a few days), then wash gently. For more tips on growing edible flowers, check out our class, Designing Elegant Edible Gardens.
1. Nasturtium
These colorful annuals are super easy to grow by seed and can be found in gorgeous shades of orange, yellow and coral, making them a beautiful garnish for meals like flower salads. Just keep in mind: they have a spicy flavor, so only add them when you want a little kick.
Pro Tip: Watch out for aphids — small, sap-sucking insects — in the late summer. If they attack, spray the plant with soapy water.
2. Calendula
Calendula is another easy annual to grow by seed. They're best enjoyed with the petals removed and sprinkled on top of greens or a hearty couscous.
3. Lavender
You've probably used lavender as an essential oil, but it has culinary uses as well. Add it to sugar for a bit of a floral flavor, mix into summer lemonades, or use it to decorate pretty cakes.
4. Cornflowers
Cornflowers offer that rare cobalt-blue color to the garden and kitchen. An annual easily grown by seed, consider adding their blossoms to salads or use them to decorate festive birthday cakes.
5. Roses
Yep, you really can eat those roses growing in your garden. They add sweetness to cakes in both flavor and aesthetics — sprinkle fuchsia rose petals over a chocolate cake, for example, to create an extra dramatic look.
6. Borage
Fun fact: you might recognize this flower as the garnish in the traditional Pimm's Cup cocktail. But that's not all it's good for — use it to brighten up salads and open-faced sandwiches with a subtle floral note.
7. Pansies
These sweet purple, white and yellow flowers look adorable on top of sugar cookies, or when sugared and used to decorate a cake. You could even detach the petals and sprinkle onto summer salads.
8. Chamomile
Unwinding with a hot cup of chamomile tea is the perfect way to end any day, but it's not the only use for this herb. Try using it in your baking — the bitterness of the leaves pairs well with the sweetness of ice cream and custard.
9. Dianthus
These pink petals are oh-so-sweet on cakes and cookies, or even tossed into a salad. Just remove their petals and use 'em for a subtle-yet-spicy flavor.
10. Lilacs
The next time you're enjoying a pitcher of ice-cold water, add a few lilac blossoms. The fragrance alone will make your summer sipping even more enjoyable.