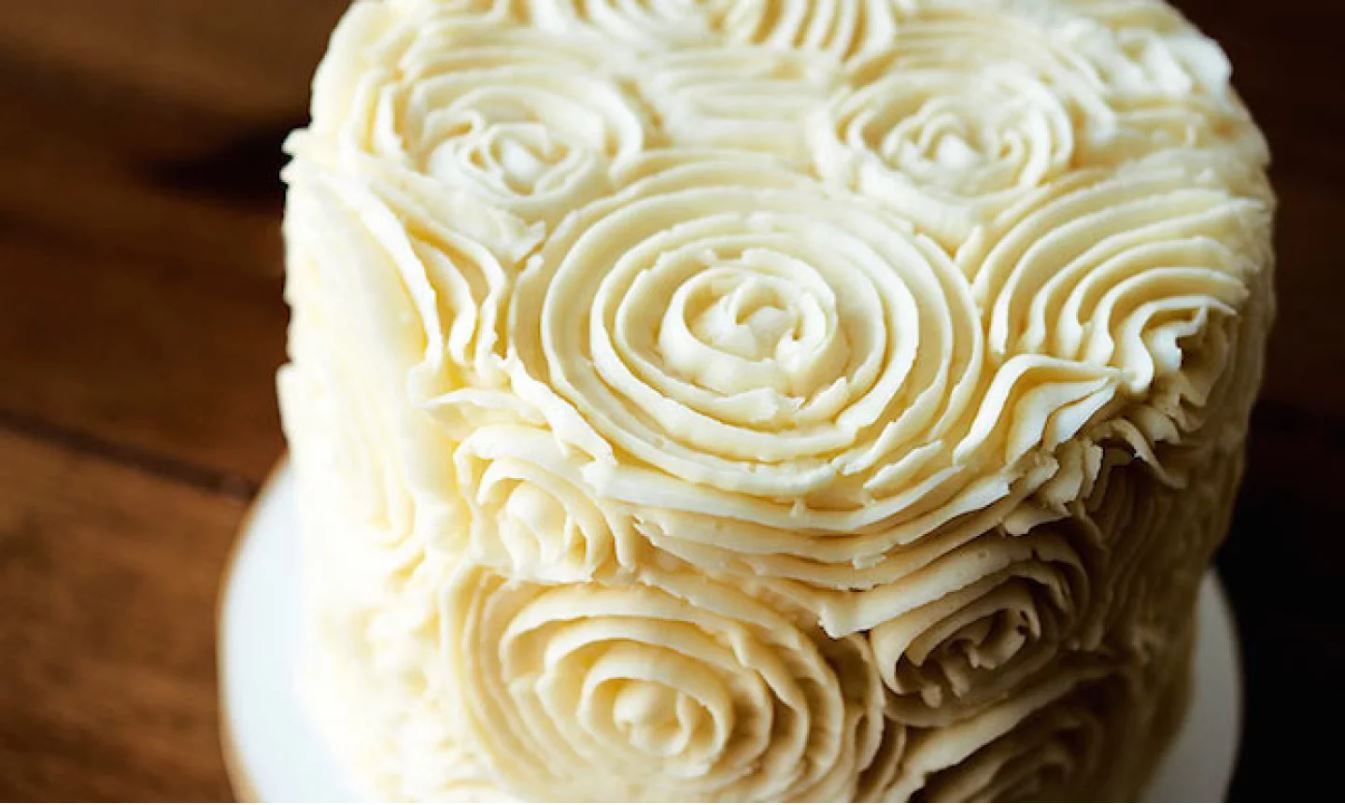 You might not think of a "crust" as something you want on a cake, but your buttercream disagrees. A crusting buttercream is one that'll set up firmly enough so that it can be touched lightly without making a mark, so it's basically a sugary insurance policy.
Why Bother?
It makes a great primer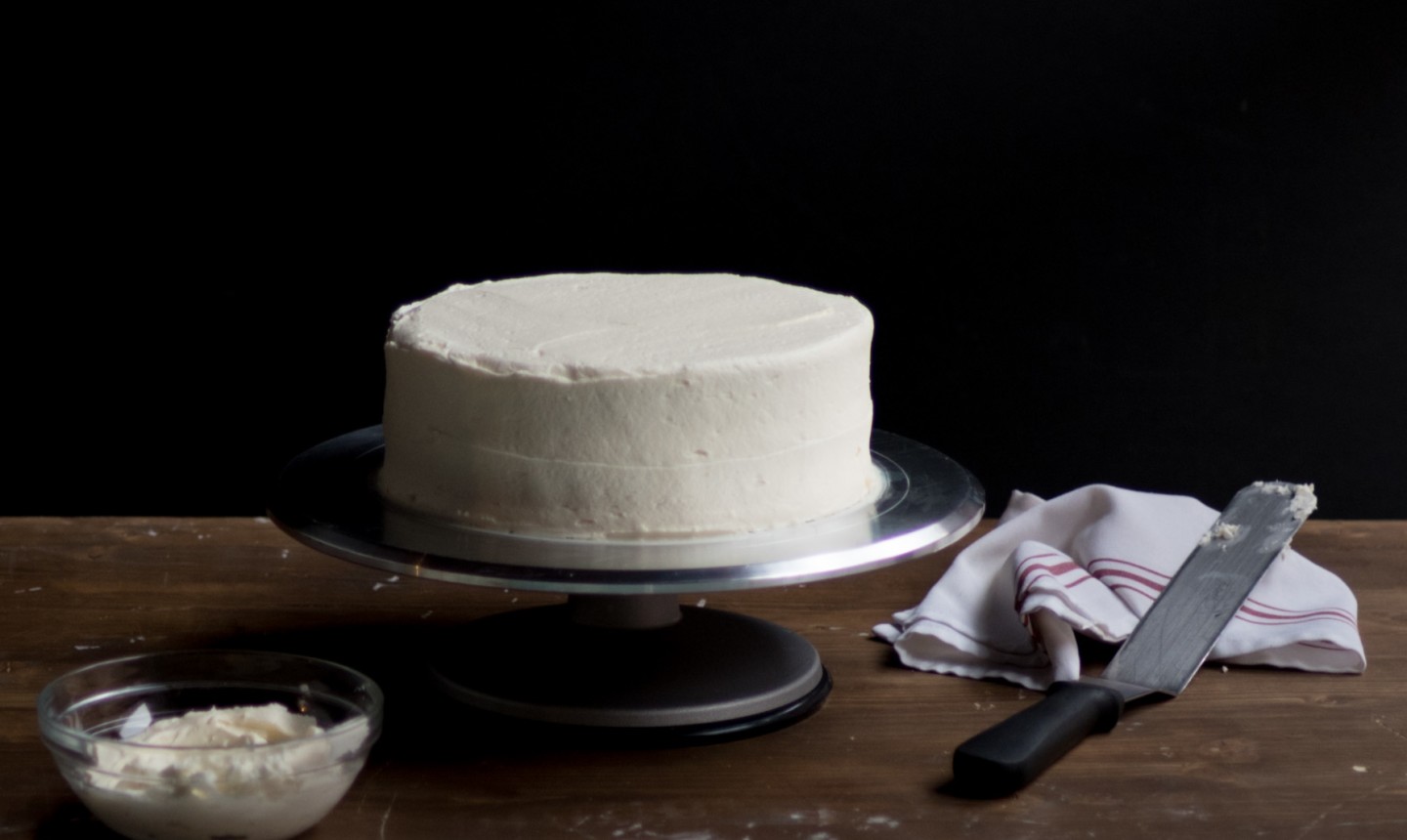 Crusting buttercream makes a strong "base" that you can later apply more designs on. Once it sets, you'll have a firmer working surface, and that makes life a lot easier when it comes to things like delicate piping or applying fondant or gum paste decorations.
It's basically armor
Cakes that are covered all over with a piped design can really benefit from using a crusting buttercream. The icing is piped while the buttercream is still pretty soft, but as it "sets" it becomes firm, making those delicate shapes a bit sturdier. Cakes that are decorated or iced with a crusting buttercream are better able to withstand the elements, which is a game changer for hot weather cake decoration.
Are There Any Downsides?
Consider the following:
Crusting buttercream recipes often call for a lot of solid vegetable shortening. Some are all vegetable shortening (no butter), while others call for a blend. Shortening is great since it doesn't melt as quickly and provides a good texture, but we think the flavor is better if you include at least some butter.
Since confectioners' sugar is essential to get the texture right, crusting buttercreams tend to be very sweet.
Crusting buttercream — you know — crusts. Since it becomes so firm, making changes or wiping away part of the icing late in the game can be difficult.
Let's Make Some!
But first, a little prep.
Make sure your cake is baked, cooled, leveled and ready to go. A crusting buttercream won't set up instantly, but you also won't want to let it sit around for too long before using.
If you're not able to ice your cake right after making the icing, don't flip. It's best to use it the same day you make it, but the icing can be stored overnight at cool room temperature in an airtight container, or refrigerated for several days in an airtight container. Just bring to room temperature before using.
Give the buttercream enough time to set before adding other decoration or icings.
If you want a pure white crusting buttercream, opt for butter that doesn't have added color (read the label), or consider using all shortening instead of part butter. Also use clear vanilla extract instead of the regular brown-tinted version.
If you'd like to try a different flavor, go for it! Just know that extracts with a tint can also color your buttercream.
Adding coloring to the buttercream is A-okay, but keep in mind that you might want to reduce the amount of liquid you add to the mixture.
Instead of milk in the recipe, you can substitute water, lower-fat milk or even cream. Just be sure to add the liquid a little at a time to make sure the consistency is right. The amount of liquid you add may vary a bit depending on the season, because humidity and heat can affect the texture.
Crusting Buttercream Icing Recipe
Ingredients:
1 stick unsalted butter, softened and cut into ½-inch cubes
1½ cups solid vegetable shortening
1½ tablespoons vanilla extract
1 bag (2 pounds) sifted confectioners' sugar
⅛ to ½ cup whole milk (to desired consistency)
Directions:
In the bowl of an electric mixer, cream the butter, shortening and vanilla extract until smooth, about 3 to 5 minutes on medium speed. Stop the mixer.
Add about ¼ of the confectioners' sugar. You'll need to add this gradually to avoid a sugary snowstorm in your kitchen when you start to mix. Mix on low speed until incorporated, pausing to scrape the sides of the bowl down with a rubber spatula and add another ¼ of the confectioners' sugar. Continue this process until you've added it all: mixing, pausing to scrape the sides of the bowl, adding more confectioners' sugar. This mixture will be pretty thick.
Add ⅛ cup of milk and mix on a low speed until incorporated. If you're looking for a thinner consistency, add more milk.
Ice your cake, applying the icing as smoothly as possible. Let it set for 20-30 minutes to form a "crust."