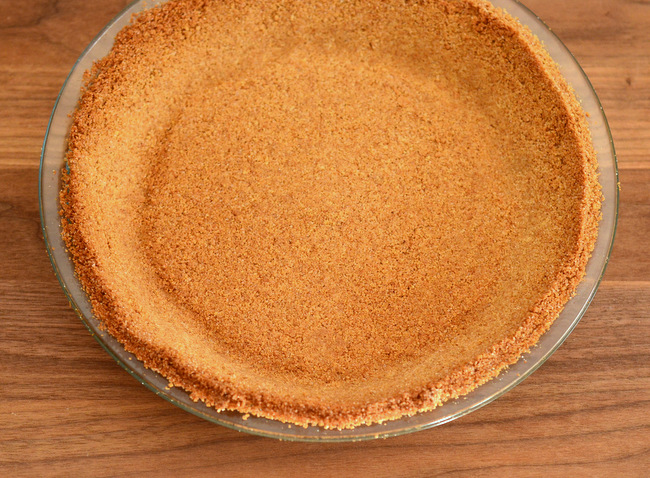 There are three types of pie crusts: traditional pastry dough crusts, gluten-free crusts and crumb crusts. Traditional and gluten-free crusts definitely have their place at the dessert table, but crumb crusts are quick, the flavors are customizable and they're the best choice for pies that require blind baking.
Despite a few exceptions (like our cookie crumb crust), graham crackers are the go-to base for shortcut crumb crusts. Here's how to make sure yours comes out perfect.
Graham Cracker Pie Crust
Yield: One 9″ pie crust
Ingredients
9-10 whole graham crackers
¼ cup sugar
¼ teaspoon salt
⅓ cup butter, melted and cooled
Instructions
1. Preheat oven to 350 F. Lightly grease a 9″ pie plate with butter.
2. In a food processor or blender, pulse the graham crackers into very fine, even crumbs. Add the sugar and salt and process to combine.
3. Transfer the crumbs to a bowl and add butter. Stir until the crumbs are evenly moistened and the mixture resembles wet sand.
4. Pour the crumbs into a pie plate and press into an even layer on the base and up the sides. Using a measuring cup or a flat bottomed glass, firmly pack the crumbs down.
5. Bake for 15-17 minutes, until the crust begins to turn golden at the edges. Remove from the oven and allow crust to cool completely before filling.
Variations
You can add an extra burst of flavor to your pie by adding just one extra ingredient to your crust.
Add 2-3 teaspoons lemon or lime zest to compliment a citrus-based pie filling.
Add 1 teaspoon ground pumpkin pie spice for a fall-inspired pumpkin pie crust.
Add 2 tablespoons unsweetened cocoa powder for a chocolate crust.