Want to give your cards that finishing touch? Ready to explore a new medium on your next card? Adding embellishments for cards is a great way to make your card designs stand out. The good news is that there are so many unique products that you can find to add that special accent that will fit any style.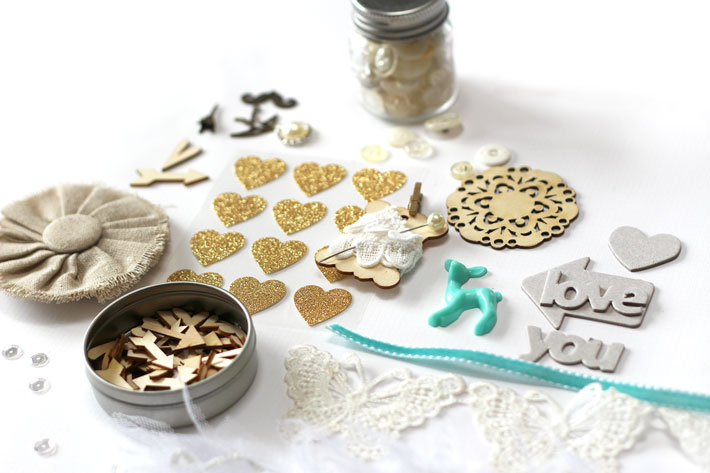 Images via Julia Stainton
Which embellishments you use will depend on your personal style as well as how you want to give the card. Traditionally, cards are flat to make sending them in the mail easier and less expensive. With the popularity of scrapbooking and mixed media, as well as all the unique products on the market today, cards have taken on new dimension and creativity.
There's no right or wrong way to design a card, but more dimensional designs add bulk. You might want to consider hand-delivering these special creations, adding them in with a gift or mailing them in a padded envelope.
Thin embellishments:
Thin embellishments are the easiest to add to card designs.They are a great way to add pizzazz to your cards without making them too heavy to put in the mail. If you're just getting started on adding embellishments to your projects, this is a great place to start.
Sequins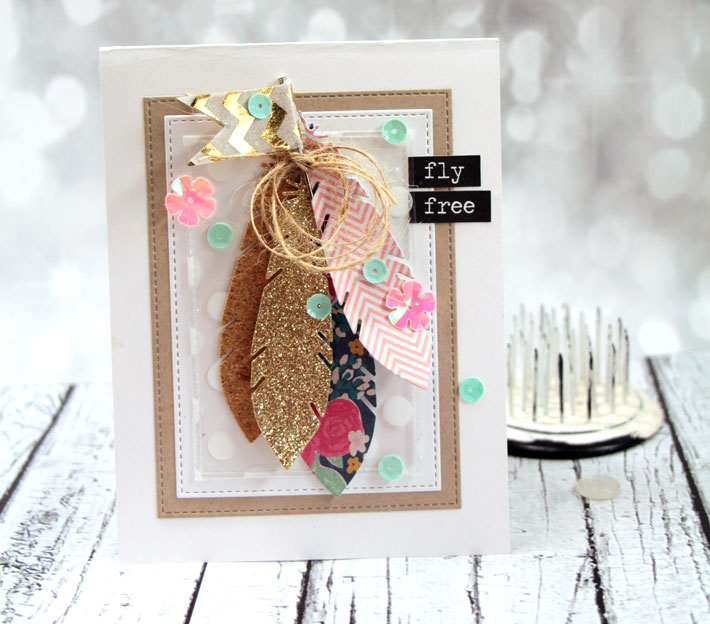 Sequins are very trendy embellishments these days. There are myriads of these sweet, tiny bits and pieces on the market, and you can find them in almost every shade imaginable. Sequins are inexpensive, they sparkle and they're among the flattest things you can add to your projects. Adhere them with a strong liquid adhesive, such as Glossy Accents. Just add a drop, place your sequin and allow it to dry.
Stickers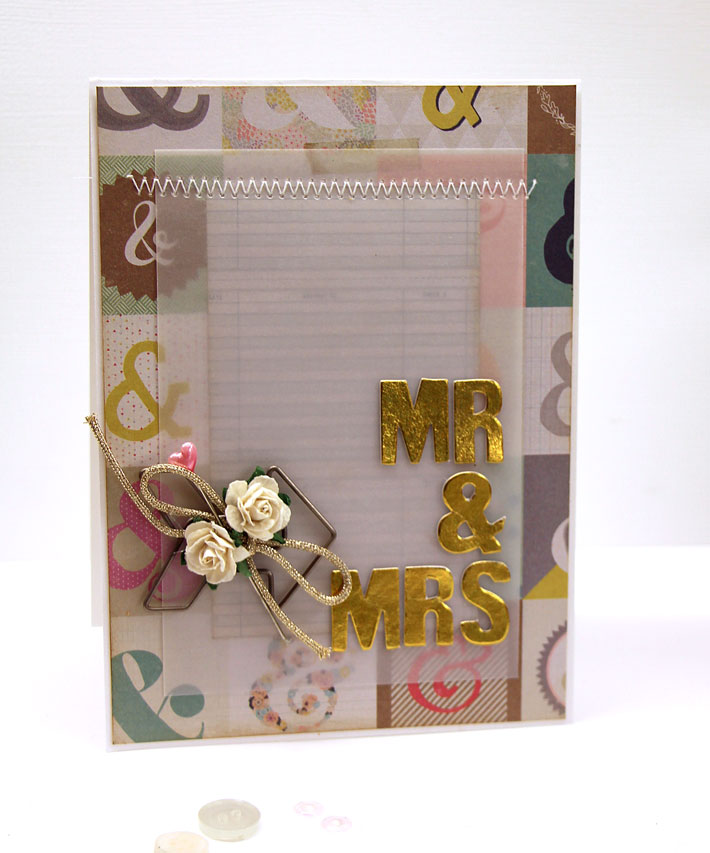 Stickers are the absolute easiest and quickest way to embellish a card. Of course, stickers already have adhesive on the reverse side, so all you need to do is remove the backing sheet and apply. Stickers have come a long way in the past few years and you can find many that keep up with current trends. Alphabet stickers are among the most popular stickers for paper crafting, as they are a great way to add a sentiment to a card front.
Gems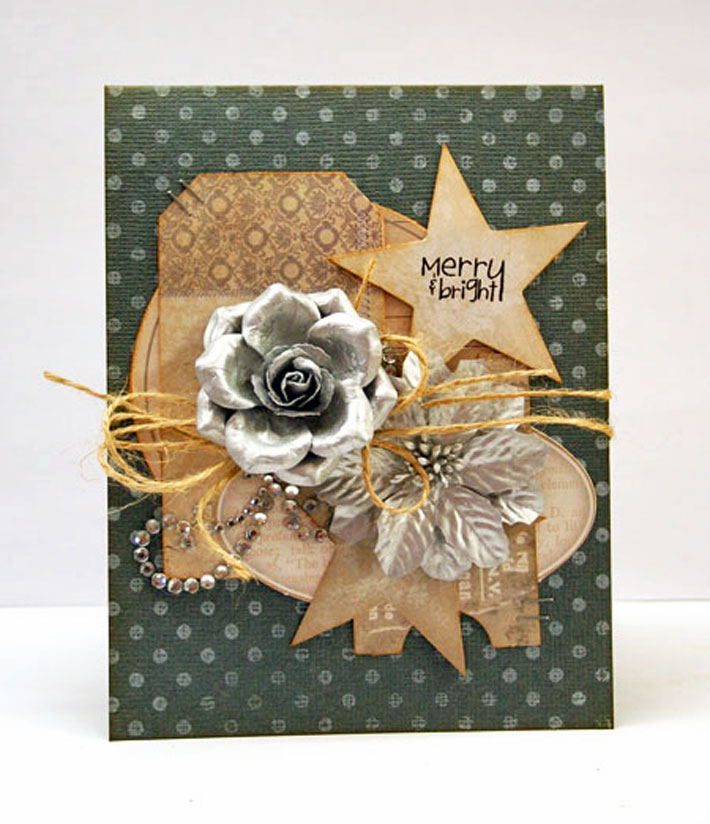 A little bling is always a fun way to spruce up a card design. Most of the gems you'll find are actually stickers, making them so easy to use. Peel off the backing from your gem sticker and apply to the card, making sure to position carefully — once they've adhered, there's no going back.
Wood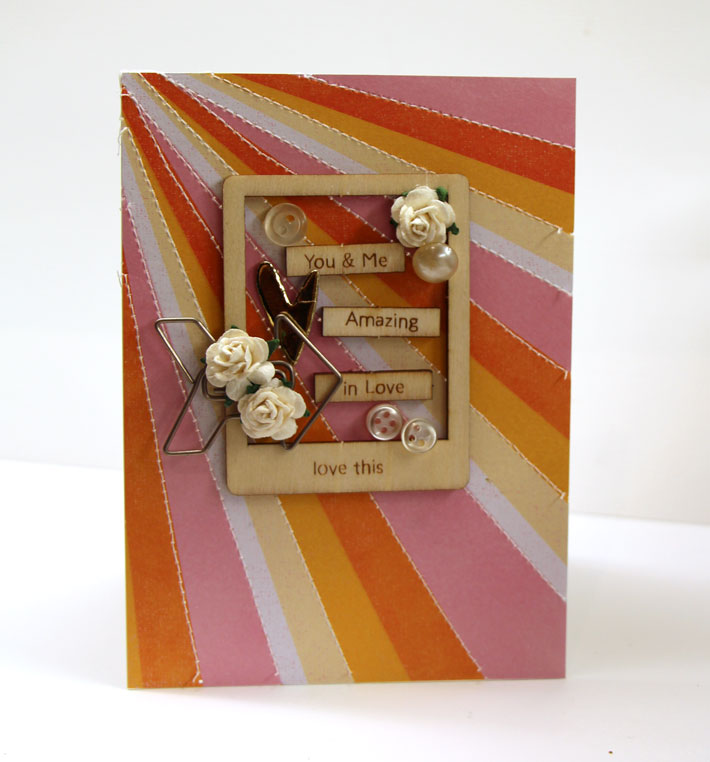 Wood has become a very popular paper crafting embellishment in the past few years, particularly because it adds a great natural touch to a project. It's especially wonderful as an accent on a more masculine card. Wood adheres best with a hot glue gun, but strong liquid adhesives can be used as well.
Ribbon & trims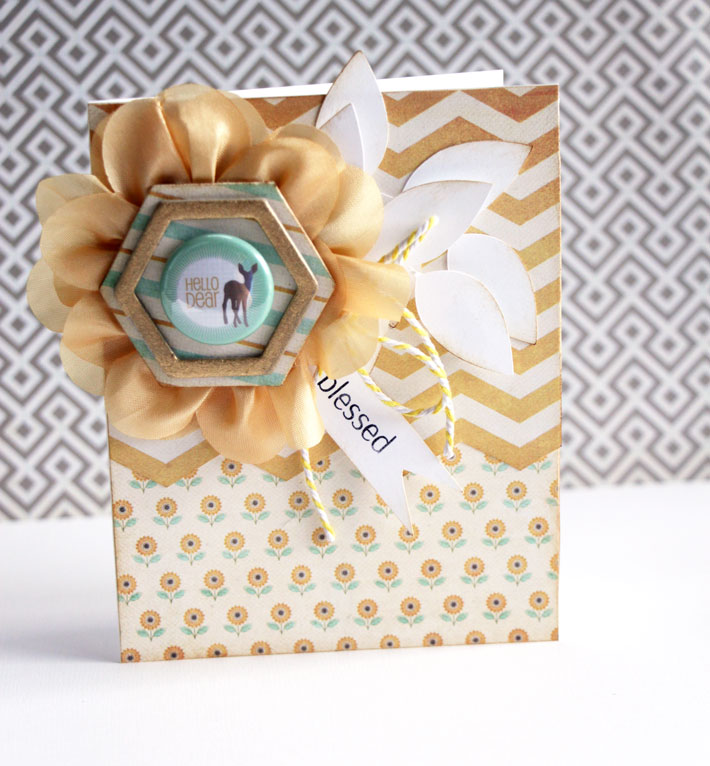 Ribbon is a classic card-making embellishment. While ribbons tied in a bow can add dimension to a project, adhering it flat will keep it thin enough to mail. The best ways to secure ribbon is with hot glue, fabric glue, stitching or with a dry adhesive strip.
Felt & fabric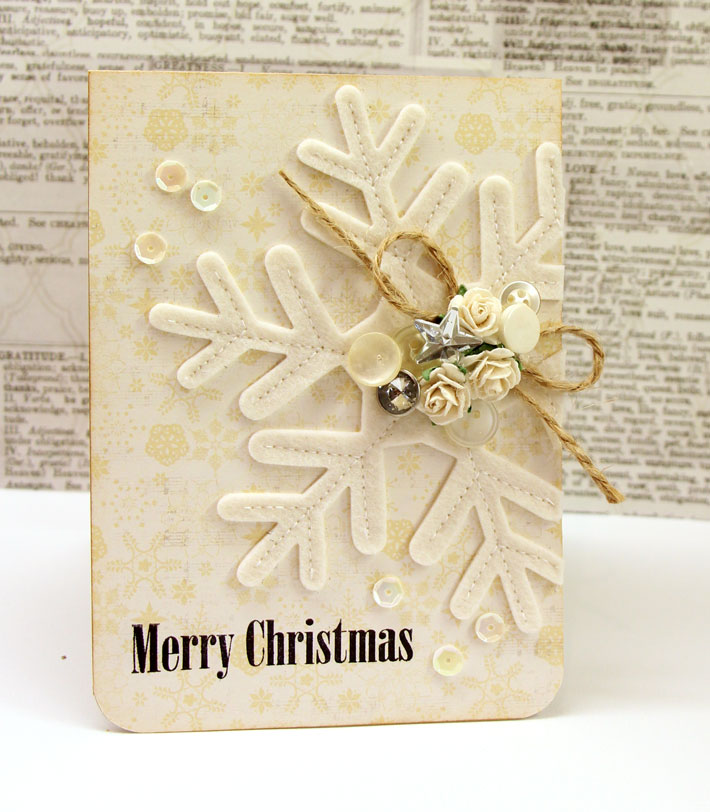 Felt and fabric as embellishments add unique textural interest to any card design. Pre-made felt and fabric flowers can be purchased at craft stores, or you can create your own accents with a little creativity. For crafters who love sewing and paper crafting, this is a great way to use up bits and pieces of fabric or felt and merge the love of two crafts. Felt and fabric can be easily stitched on by hand or with a sewing machine.
Dimensional embellishments:
Metal
Charms and tokens, which you can often find in jewelry and paper crafting stores, often have a little hole that you can use to tie them to your card. Brads and eyelets are thinner types of metal embellishments and are set into the paper with a paper piercer or a special eyelet tool. Metal clips also make a great accent and can be glued to a project or clipped to it.
Buttons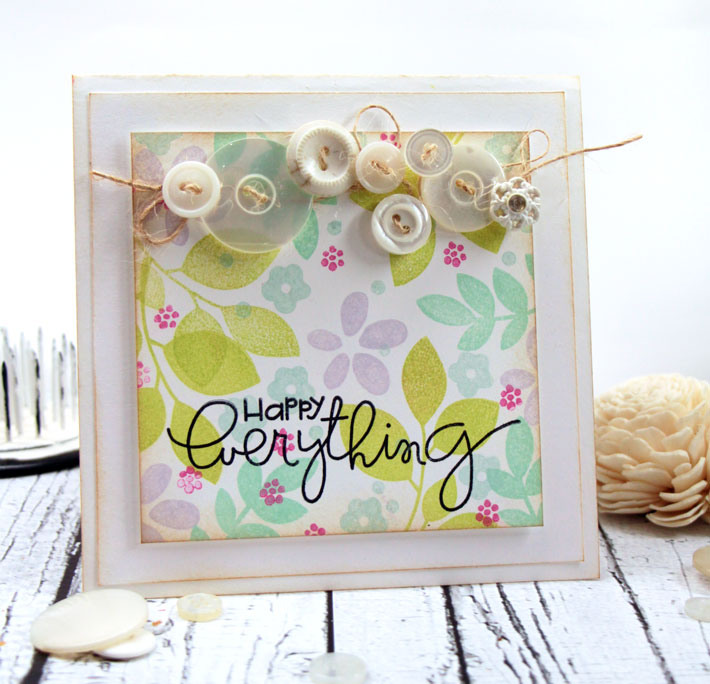 Buttons are a classic! Whether you purchase a package specifically for crafting or you collect your own from old clothing, they're fantastic embellishments. Buttons look great when stitched with jute twine or thread. A hot glue gun works wonders when adhering buttons and other more dimensional embellishments.
Chipboard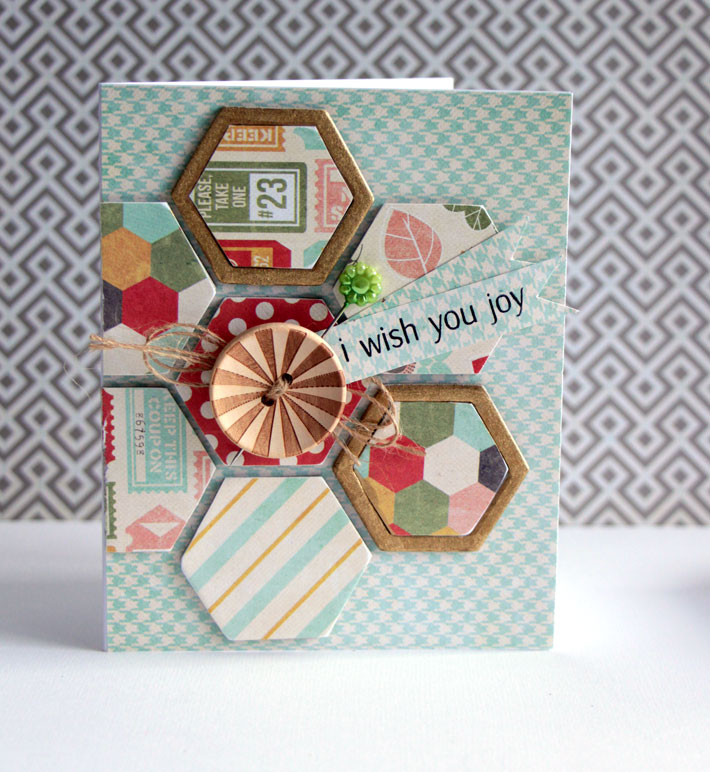 Chipboard, or pressed paperboard that is not corrugated, is a solid, thick paper that comes in pre-cut shapes or sheets for die cutting. These shapes make great embellishments and can be painted, inked and covered with glitter or patterned paper. Simply adhere it how you would adhere any paper using your favorite adhesive.
Paper Flowers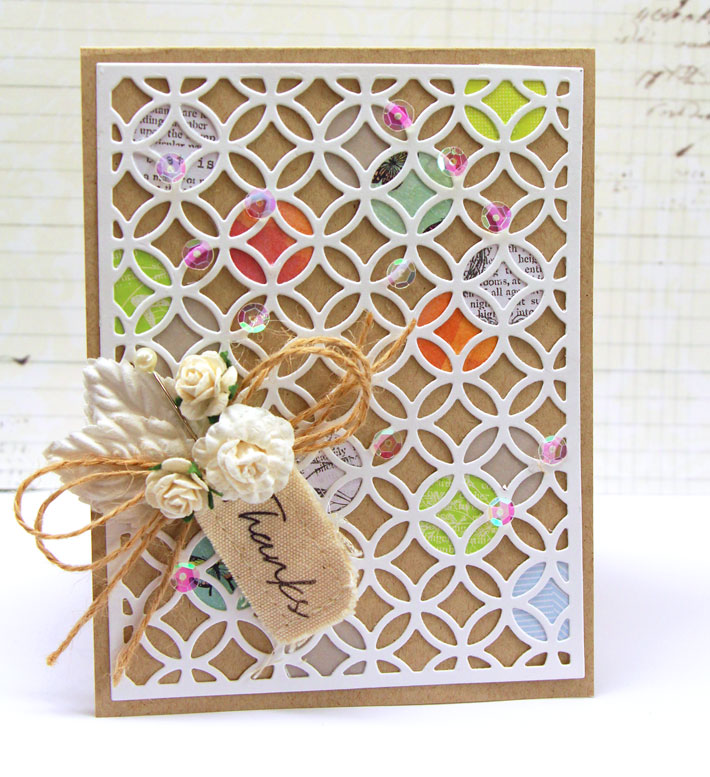 You just can't go wrong with paper flowers! For a romantic, feminine project, flowers are a beautiful addition. You can create your own paper flower embellishments using die cuts, but the simplest way to add paper flowers to your projects are to purchase them pre-made. Try adding ink, mists or glitter to alter your paper flowers and give them an extra wow-factor.
Resin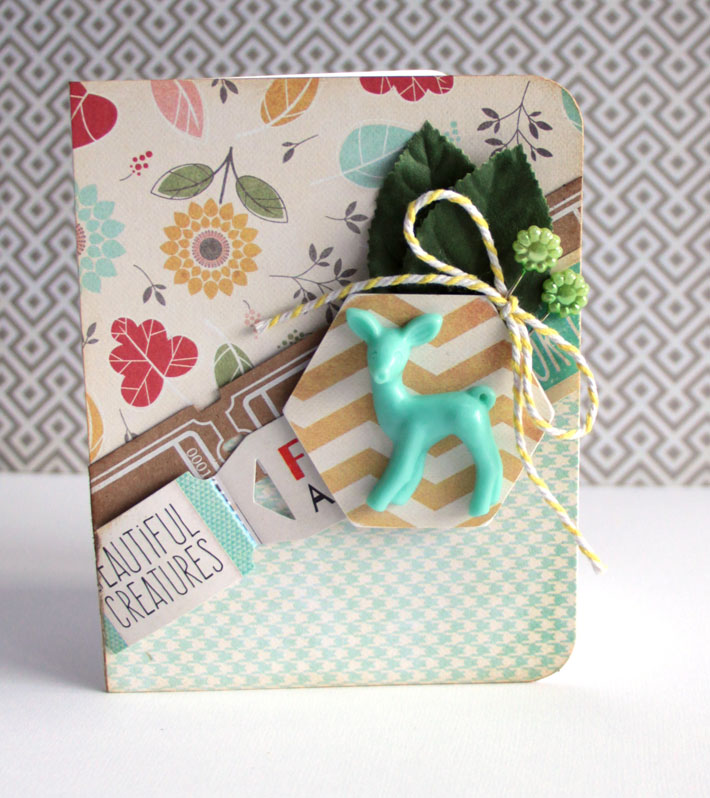 Resin embellishments are among the newest on the market. These molded embellishments are made of polymer, which means they require a very strong adhesive — a hot glue gun is a great way to include them in your projects.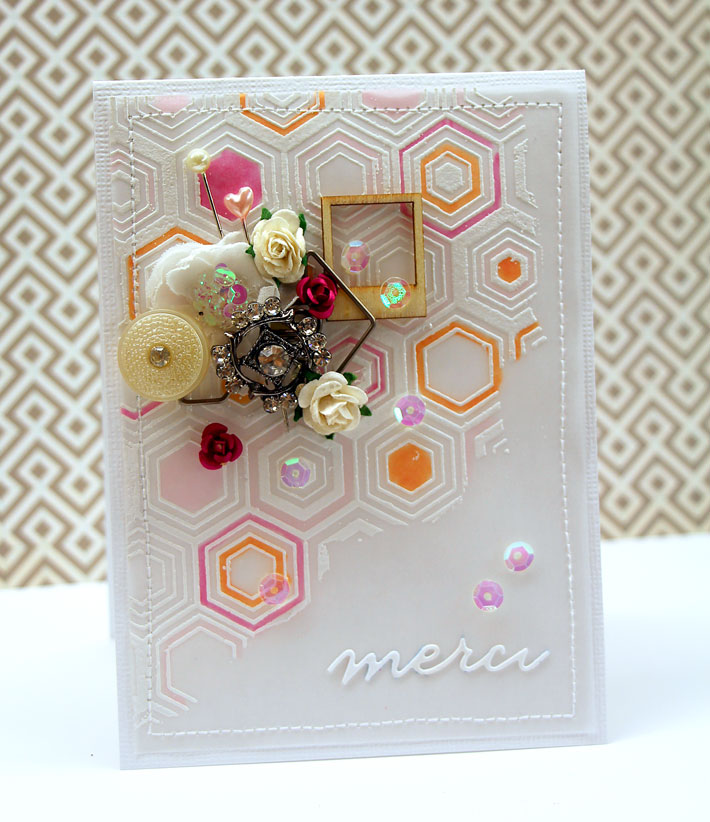 There are so many possibilities for embellishing your card designs, so why not jump in and get started? Mix and match them for lots of creative possibilities!