Heat embossing is a great way to add dimension and texture to just about any paper crafts project and, even after years of incorporating heat embossed details into my own craft projects, I still get excited when the embossing powder starts to melt. It's like magic!
Today, we'll be exploring the heat embossing basics, including how to heat emboss. I hope that, if you haven't tried it before, you'll want to give heat embossing a try after you see just how versatile and this technique is.
What is heat embossing?
Simply put, heat embossing is a technique that allows you to add raised elements to paper craft projects. Embossed elements are created by stamping or drawing images onto card stock or paper with heat-embossing-friendly ink, then covering the inked area with special powder that melts when heat is applied with a heat gun or heat tool.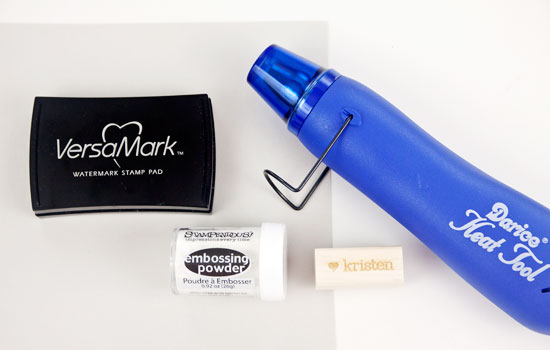 How to heat emboss
You won't need many supplies to get started with heat embossing, and you may already have some of the things that you'll need in your craft supplies.
Materials you'll need:
Stamp
Ink pad (see below for the types of ink that will work well)
Embossing powder
Paper or card stock
Piece of scrap paper
Heat gun or heat tool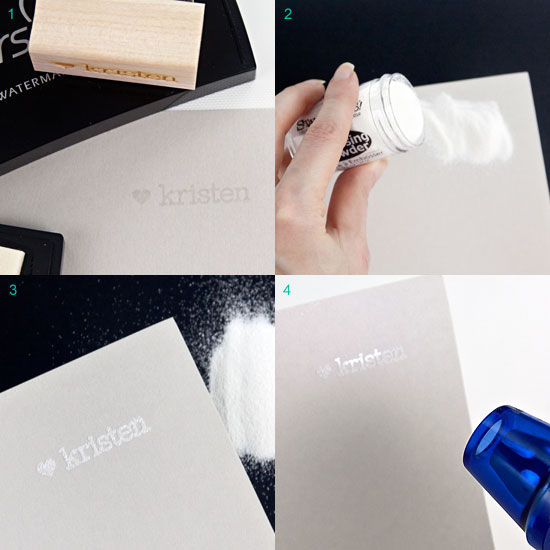 Directions:
1. Stamp your image using an embossing-friendly ink (see below).
2. Pour embossing powder over your image to cover all inked areas.
3. Pour any extra embossing powder onto a piece of scrap paper. If necessary, remove any stray powder particles from the paper by firmly tapping or thumping the back of it. Funnel the extra powder back into its container.
4. Heat the embossing powder with a heating tool until completely melted. Be careful not to overheat because the powder will start to bubble and evaporate, and the paper may start to discolor.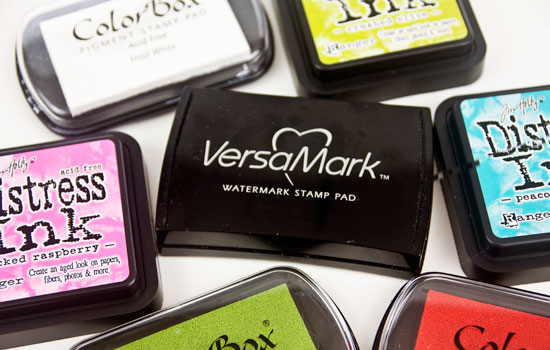 Inks that work well for heat embossing
In order for the embossing powder to adhere to your image, you'll need an ink that's on the thick and sticky side. In addition, the ink needs to dry more slowly, so dye-based inks and inks that are advertised as "quick drying" are not going to be good choices for this technique.
Embossing / watermark / resist ink
This type of ink goes by different names, depending on the company who makes it, but it's perfect for heat embossing. Embossing / watermark / resist inks are very sticky and slow drying, and they hold embossing powder wonderfully. A number of companies make embossing ink, but the most popular brand is Tsukineko's Versamark Watermark Ink. Their clear watermark ink is the most versatile, but they also make Dazzle Watermark inks that have a tint and shimmer to them.
Pigment ink
Pigment inks are thicker and slower to dry than dye-based inks, so they're also a great choice for heat embossing. In addition, because pigments inks come in a spectrum of vivid colors, you can create interesting color and texture effects by using different types of embossing powders on top of the colored inks.
Distress ink
Though distress inks are water-based dye inks, they dry more slowly than a typical dye-based ink, which means that you can use them for heat embossing. I've used these inks with different types of embossing powder to achieve a really cool, weathered look.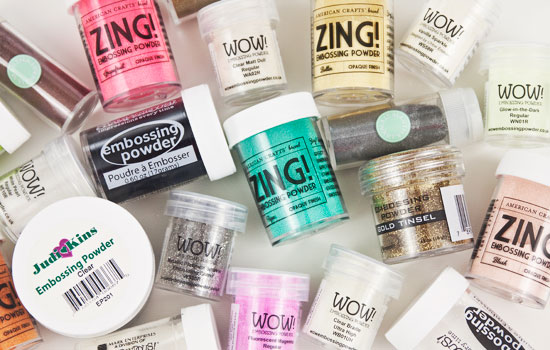 Types of embossing powder
The most commonly used types of embossing powder are regular clear, white and black. But this is just the tip of the iceberg when it comes to the different types of embossing powder that are available. Here are just some of your options if you want to mix it up a little:
Detail embossing powder
The smaller powder particle size of this type of embossing powder makes it a great choice for images with very small or thin details, such as stamps that incorporate thin fonts or small, detailed patterns.
Ultra thick embossing powder
This type of embossing powder has a larger particle size, so it's not a great choice for more detailed images, but it works very well on less detailed images and images with plenty of solid areas. I love the super glossy, extra dimensional results that you can achieve with this type of powder.
Glitter embossing powder
Glitter embossing powder is available in a wide variety of colors, and my favorite thing about it is that you get all of the glittery and sparkly goodness of regular glitter without much of the mess that comes along with it. After the powder is melted and cooled, the glitter, with the exception of a few easy to dust off sparkles here and there, is permanently embedded.
Metallic embossing powder
Create elements that look like they're made of gold, silver, copper or platinum with these types of powders. Metallics are extremely popular right now, and so are metallic embossing powders.
Opaque colored embossing powder
These days, you can find embossing powder in pretty much every color of the rainbow and also in trendier colors like neons. Use a single color for a solid effect or several colors to create some pretty neat rainbow and ombré effects.
Specialty embossing powders
My personal favorite in this category is glow-in-the-dark embossing powder, but there are lots of additional types of powders, such as those that cool to a matte finish and those that are scented, which you can use to add unique and special details to your projects.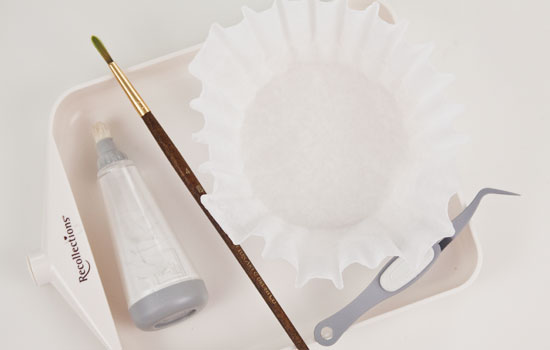 Additional heat embossing tools
In addition to the basics listed above, you can pick up additional supplies and tools that will help make the heat embossing process more efficient and organized. Some of these tools will also help you keep your fingers safe from the heat gun, which is very important!
Anti-static tools include small, powder-filled sachets and containers with a brush on one end. They are brushed over the card stock before you stamp to help prevent stray particles of embossing powder from sticking to the card stock and muddying up the final, embossed image.
Glitter trays and coffee filters are great for catching any extra embossing powder that you shake or tap off of your card stock before heating. Trays have an opening on one end that allows you to easily funnel the extra powder back into its container. Coffee filters can be folded to funnel any extra powder, and many people already have them on hand, so they're a nice, thrifty alternative to a tray.
Small paintbrushes can be used to remove or loosen stray embossing powder from harder to get to areas (between words, open areas inside images, etc.)
Craft tweezers and heat-resistant surfaces, like the back of an old cookie sheet, help keep your fingers safe while you're heating the embossing powder.
Embossing pens and markers contain the same ink as embossing ink pads, and they allow you much better control over areas that will be embossed. You can also create your own custom drawings and text with them.