Flowers aren't just for decorating cakes — you can make them an edible part of the dessert! Edible flowers are a beautiful, unexpected and delicious way to dress up you cake designs. Designing a cake with edible flowers is a wonderful way to tie in seasonal elements while adding another layer of flavor.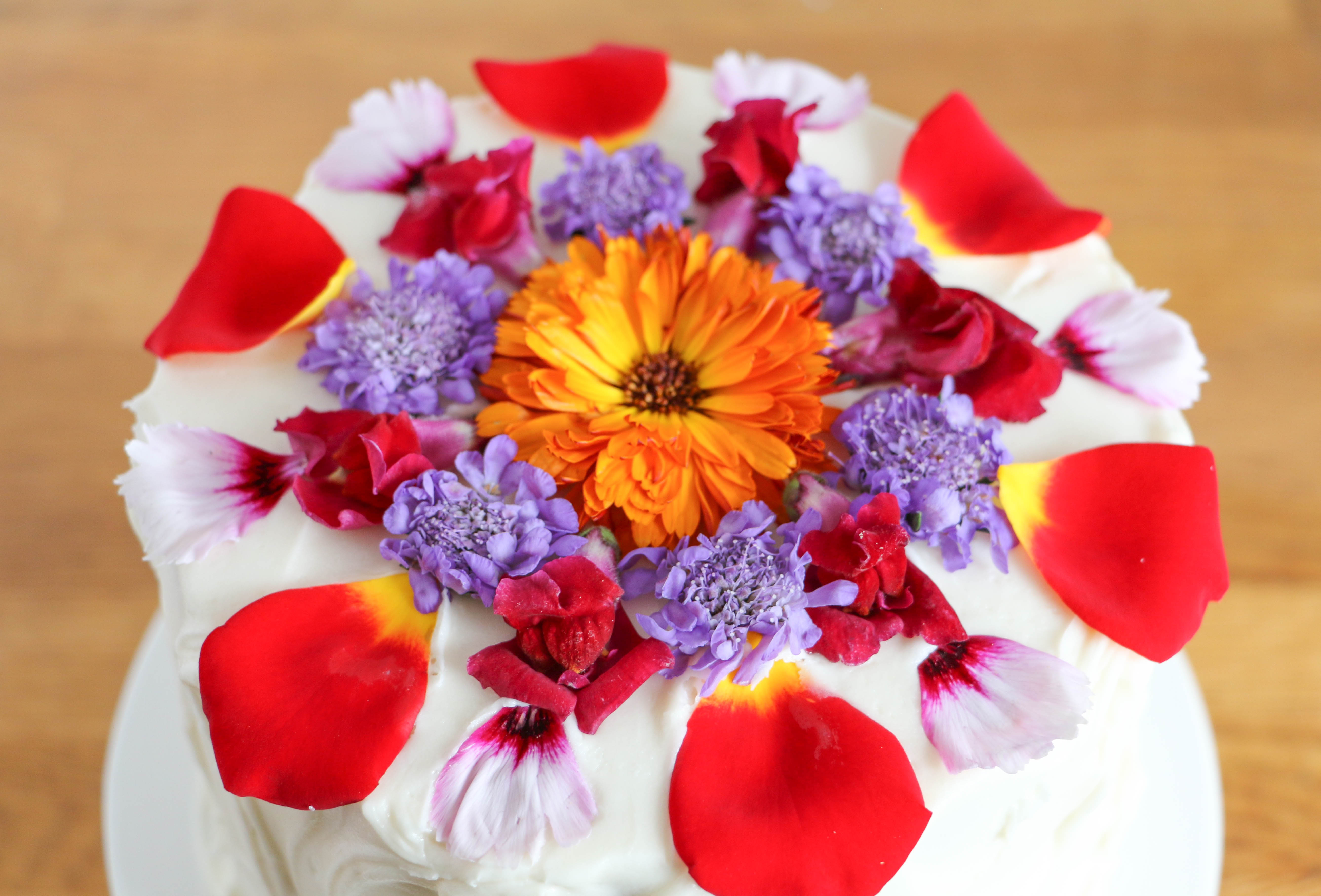 Images via ErinBakes.com.
Selecting edible flowers for your cake
Top tips for selecting edible flowers
Always choose flowers that have been grown to be food safe. Flowers purchased from florists, garden centers, and box stores have most likely been treated with levels of pesticides that are not considered food safe. Ask your local florist if they can bring in food-grade flowers from some of their local suppliers for your cake project. 
Farmers markets and specialty grocery stores are great places to look for edible flowers. Grocers can typically special order boxes with a variety of edible flowers with advanced notice.
Use caution when picking edible flowers on your own. Check with a guidebook or reputable online resource before eating a flower you're unfamiliar with. Never eat flowers picked from the side of the road or from a location you can't ensure hasn't been sprayed with harmful pesticides. Many popular varieties of flowers (like hydrangea or certain lilies) can be poisonous, so always check before eating!
Storing edible flowers
Storing edible flowers is just like storing fresh herbs or vegetables. Cut or purchase them as close to serving time as possible. Keep them in the coolest part of your fridge until you're ready to use them. Handle edible flowers as little as possible to prevent petals from bruising.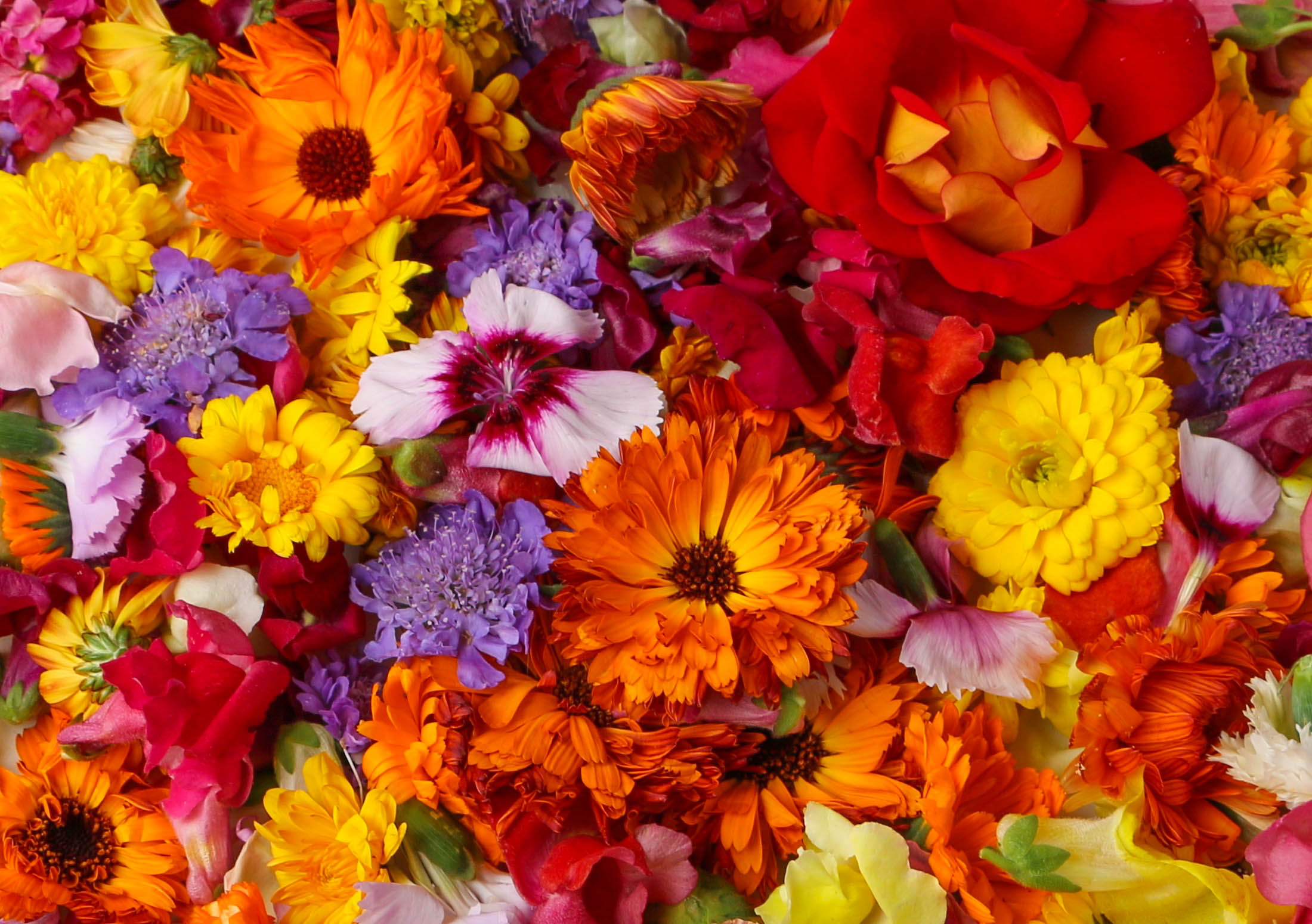 Popular varieties of edible flowers
Violet
Pansy
Squash blossom
Citrus blossom
Rose
Nasturtium
Lilac
Lavender
Hibiscus
Fuchsia
Chamomile
Marigold
Snapdragon
Carnation
Dandelion
Day Lily
Ideas for decorating a cake with edible flowers
Pattern power
Use a combination of whole flowers and petals to create circular designs composed of repeating patterns. This look is inspired by the Buddhist mandala tradition.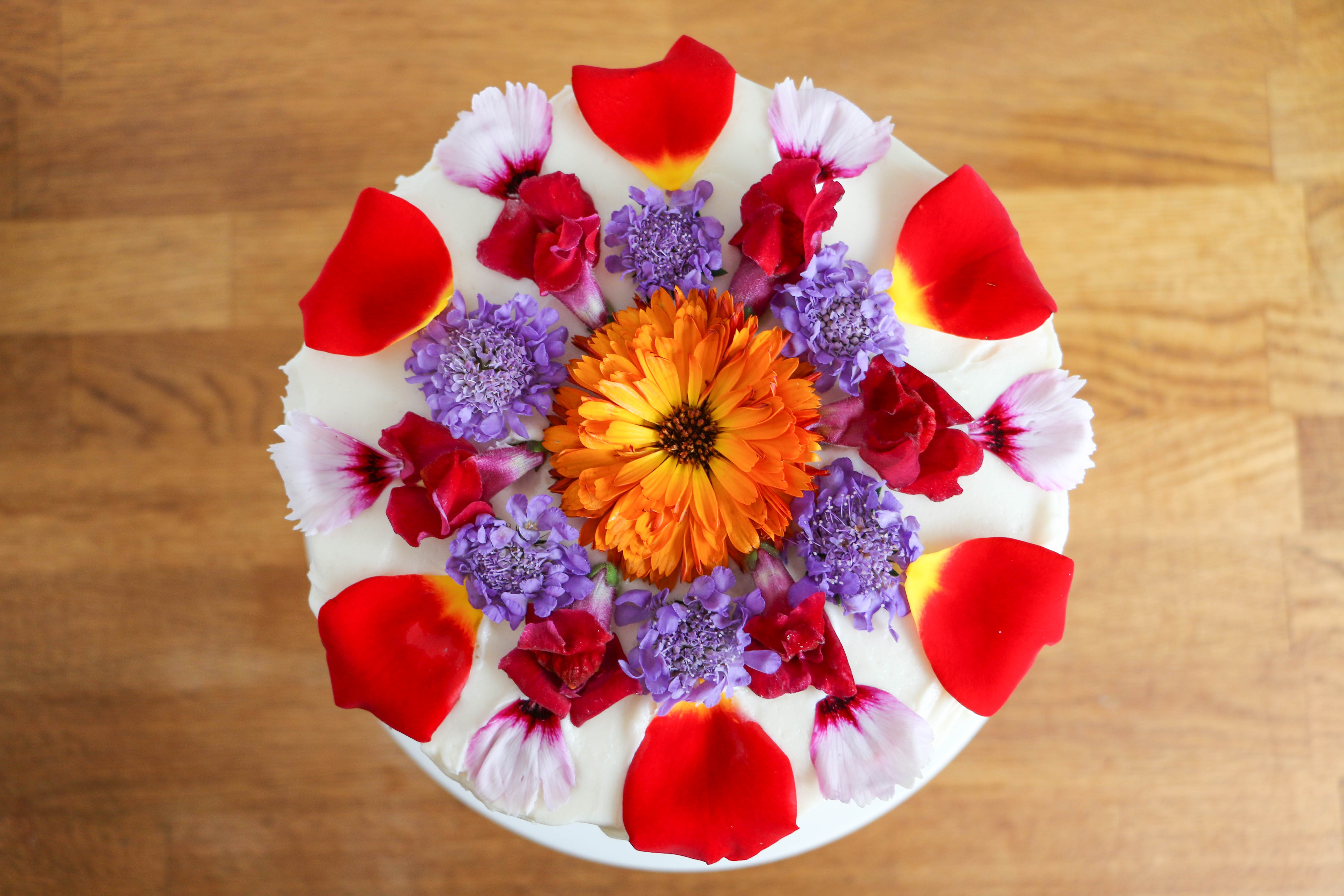 Put a ring on it
Encircle the top of your cake with clusters of edible blooms. Customize your cake by writing the guest of honor's name or special message in the center with buttercream.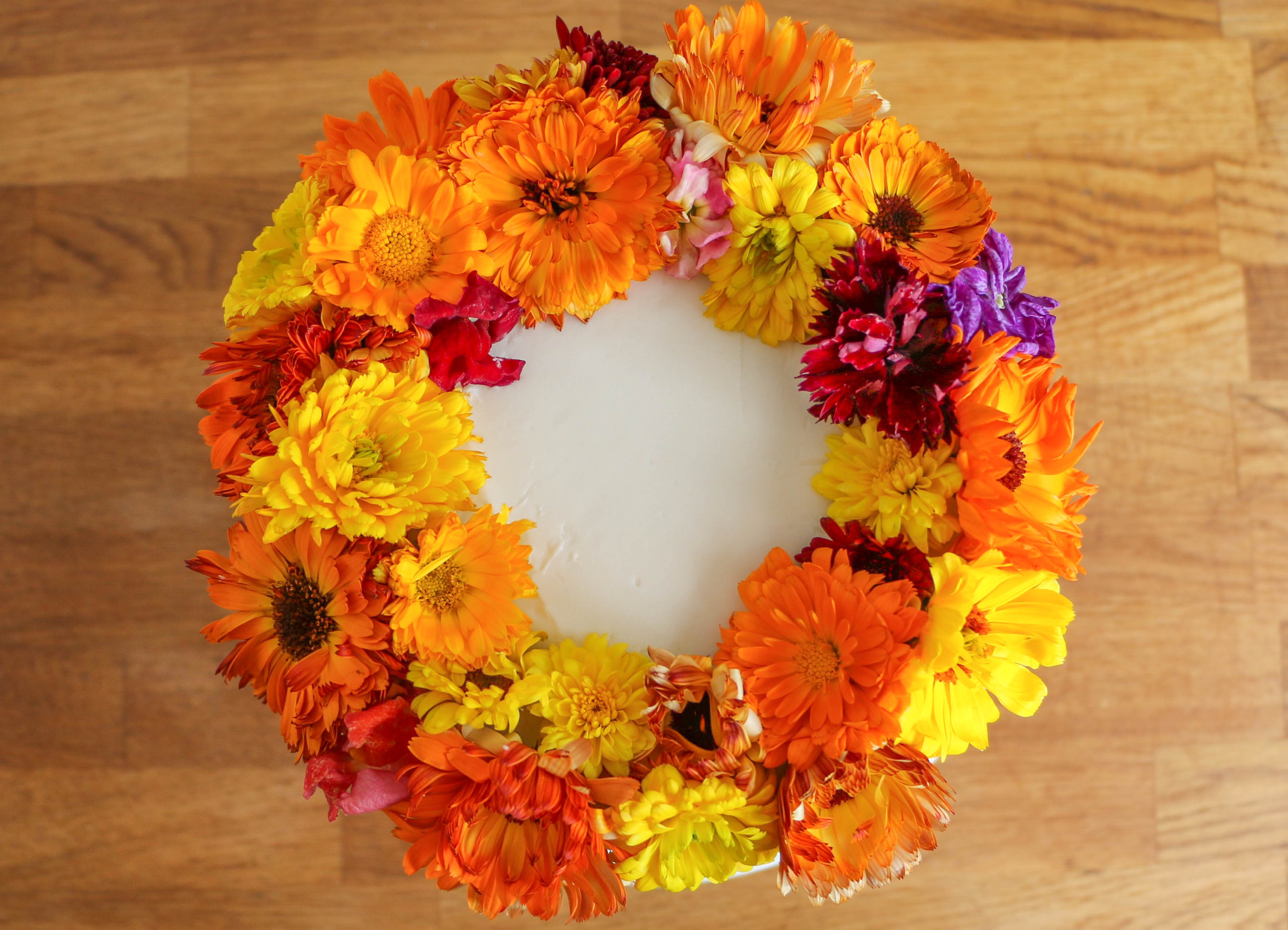 Petal party
Pick petals off whole blooms and scatter them over the top and sides of a freshly iced cake for a fun, confetti-inspired look.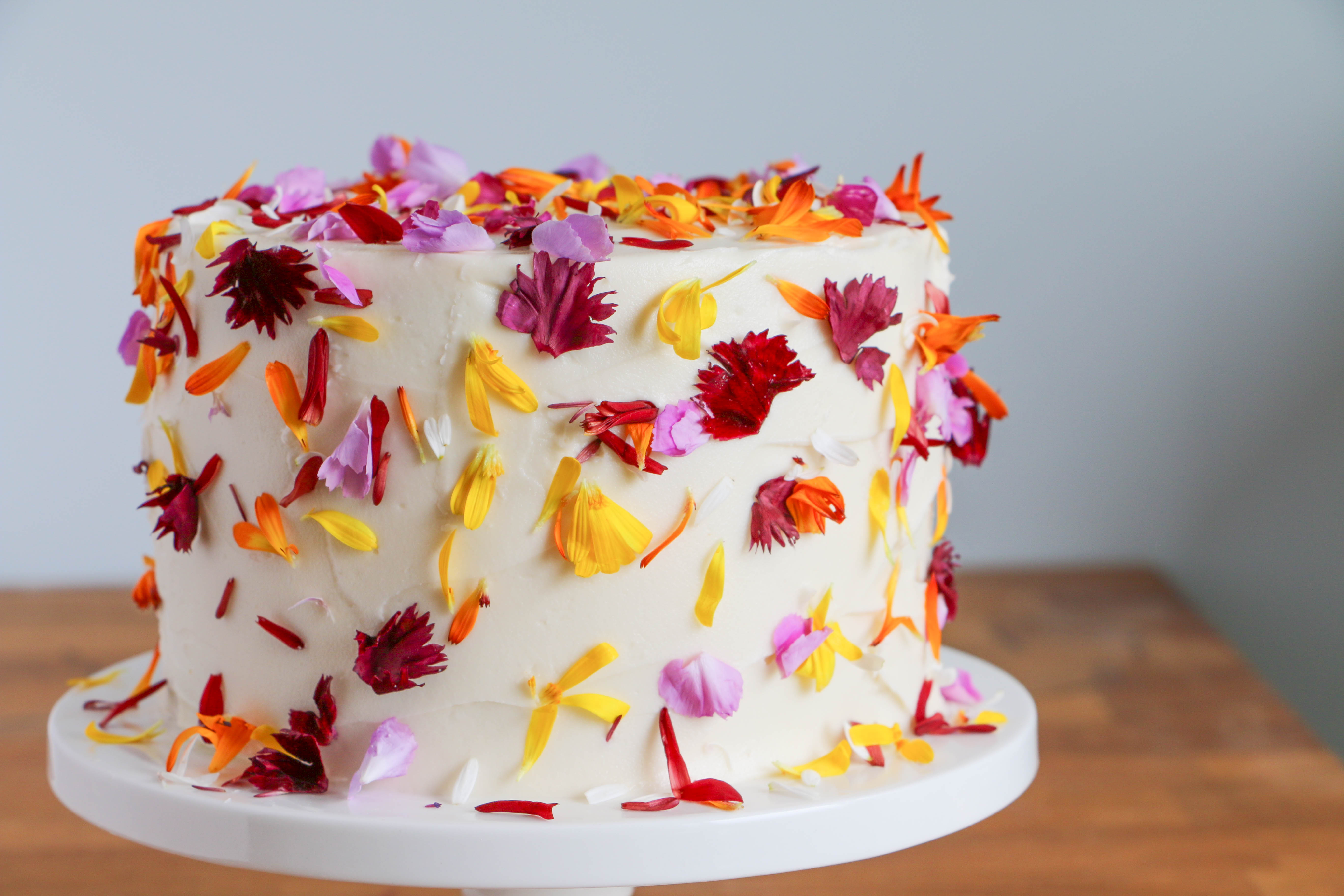 Floral filled
Create a composed floral topper by first placing flowers along the edge of the cake, then filling in the center with more flowers until a full look is achieved.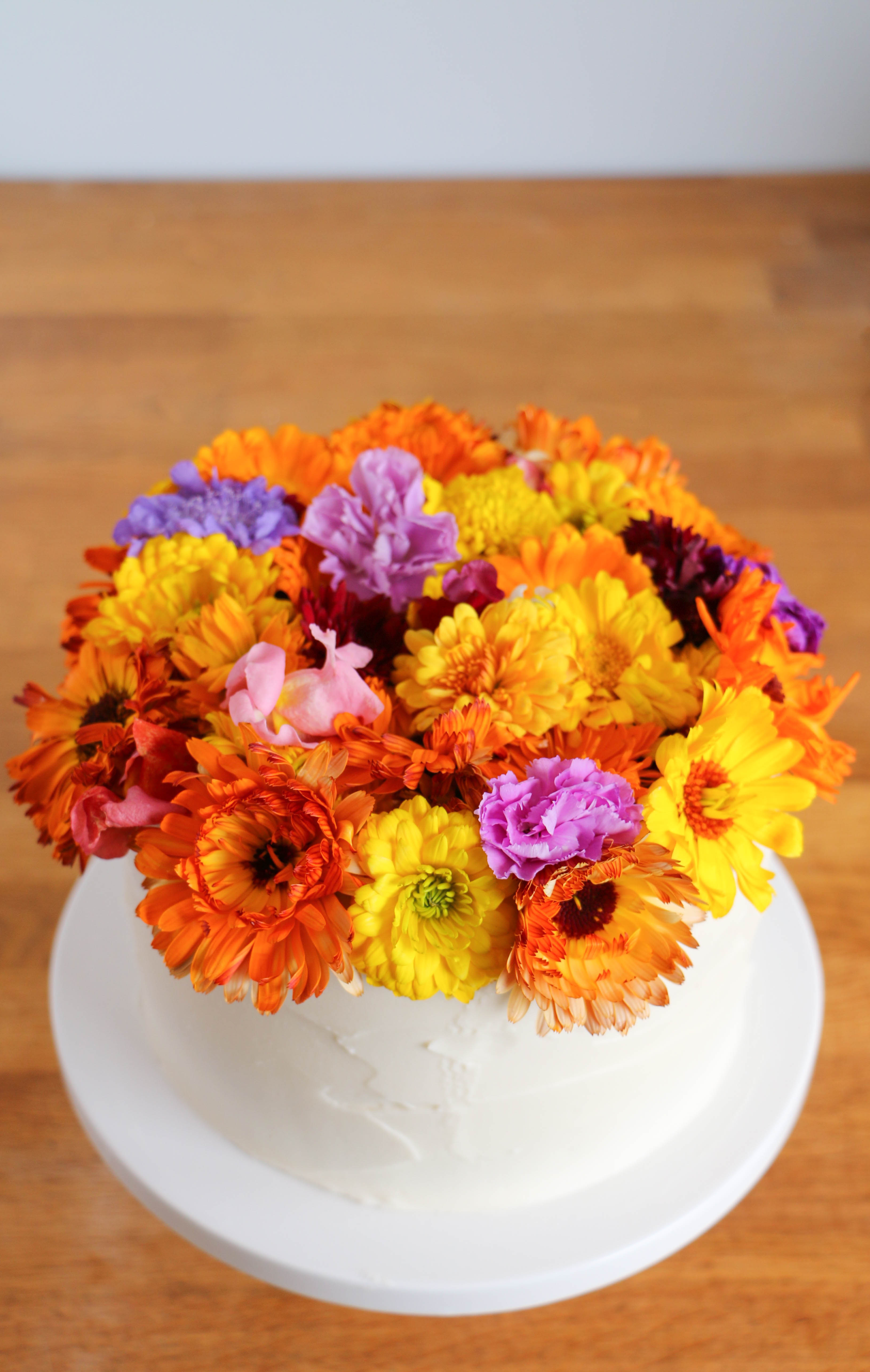 Candied cuties
Candied flowers are a classic cake garnish. The sugary coating adds both sweetness and an element of crunch.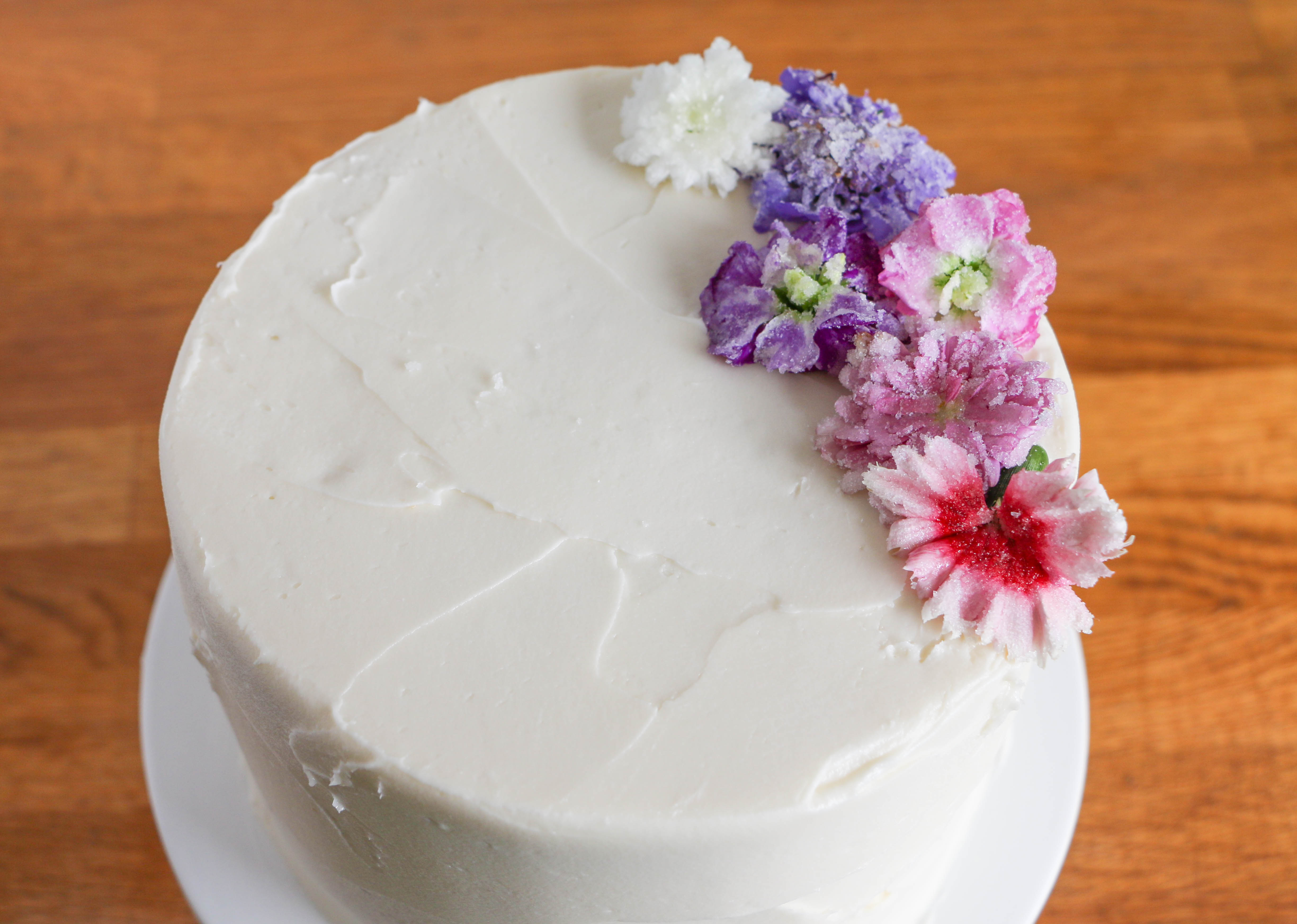 How to make candied flowers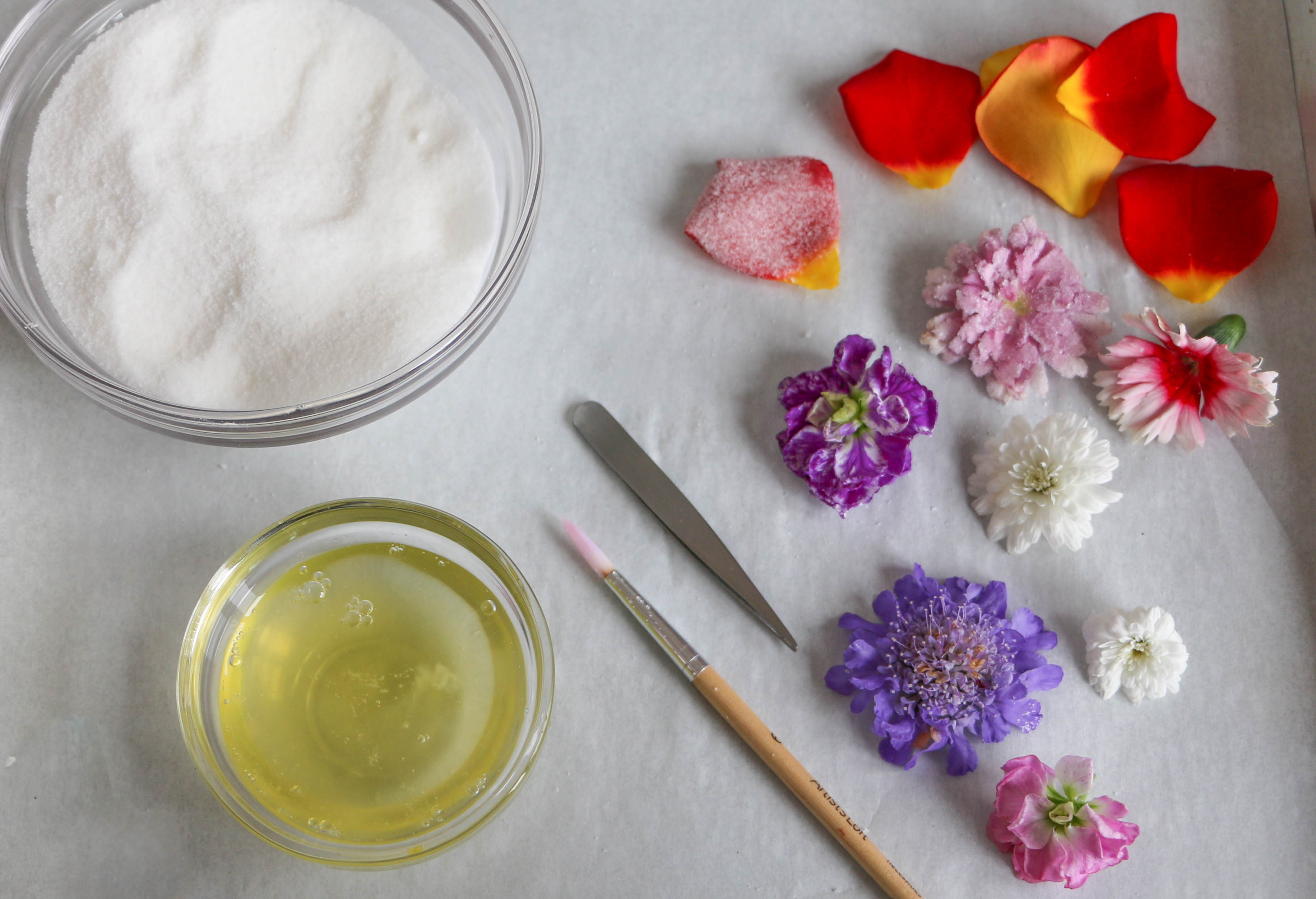 Supplies:
Pasteurized egg whites
Superfine sugar
Small paint brush
Tweezers
Spoon
Parchment-lined cookie sheet
Edible flowers and loose petals
Step 1:
Carefully pick up a whole flower or single flower petal with tweezers.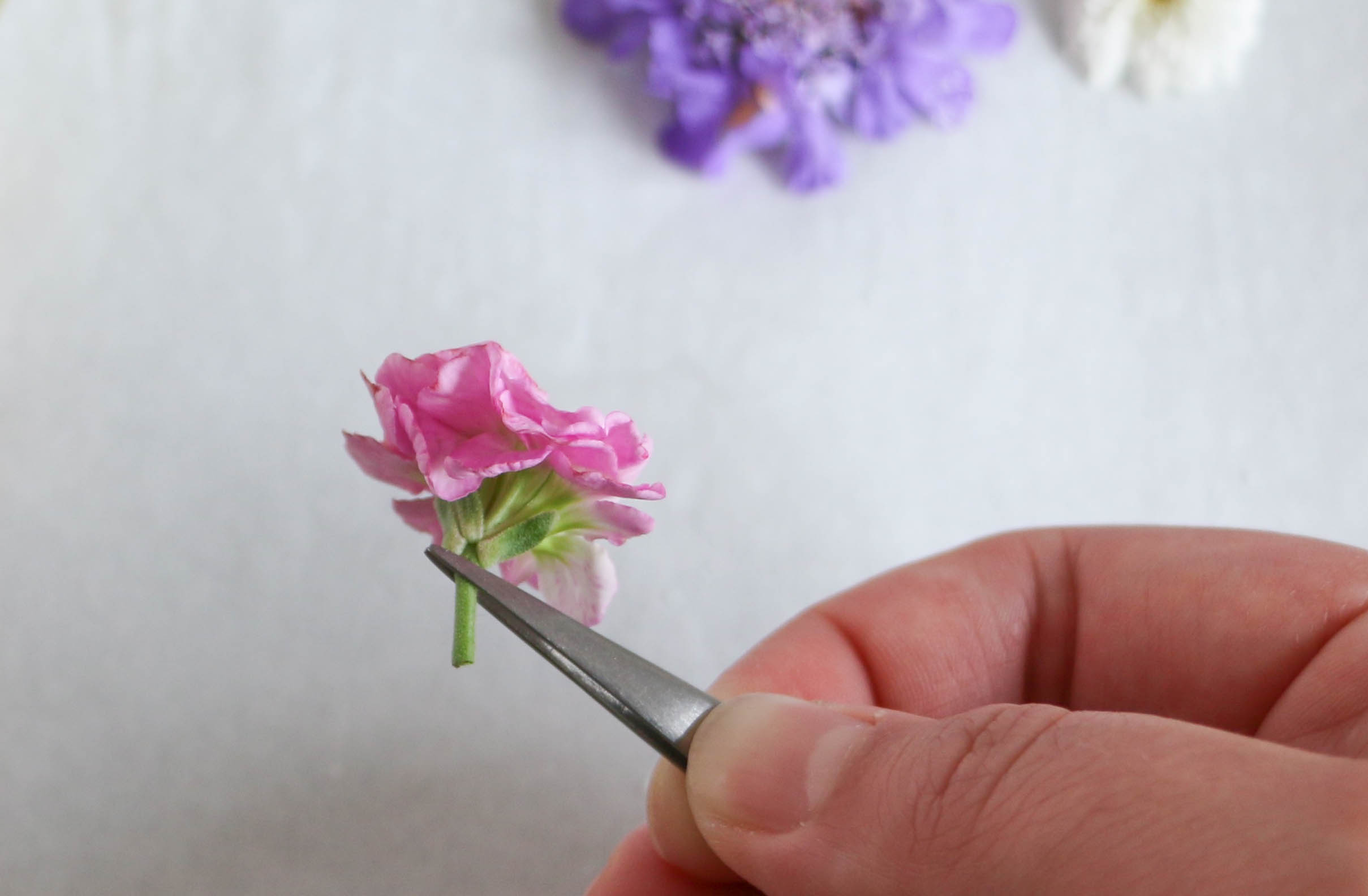 Use the paintbrush to gently coat each petal with a thin layer of egg whites. Make sure the entire surface of the flower or petal is covered — front and back.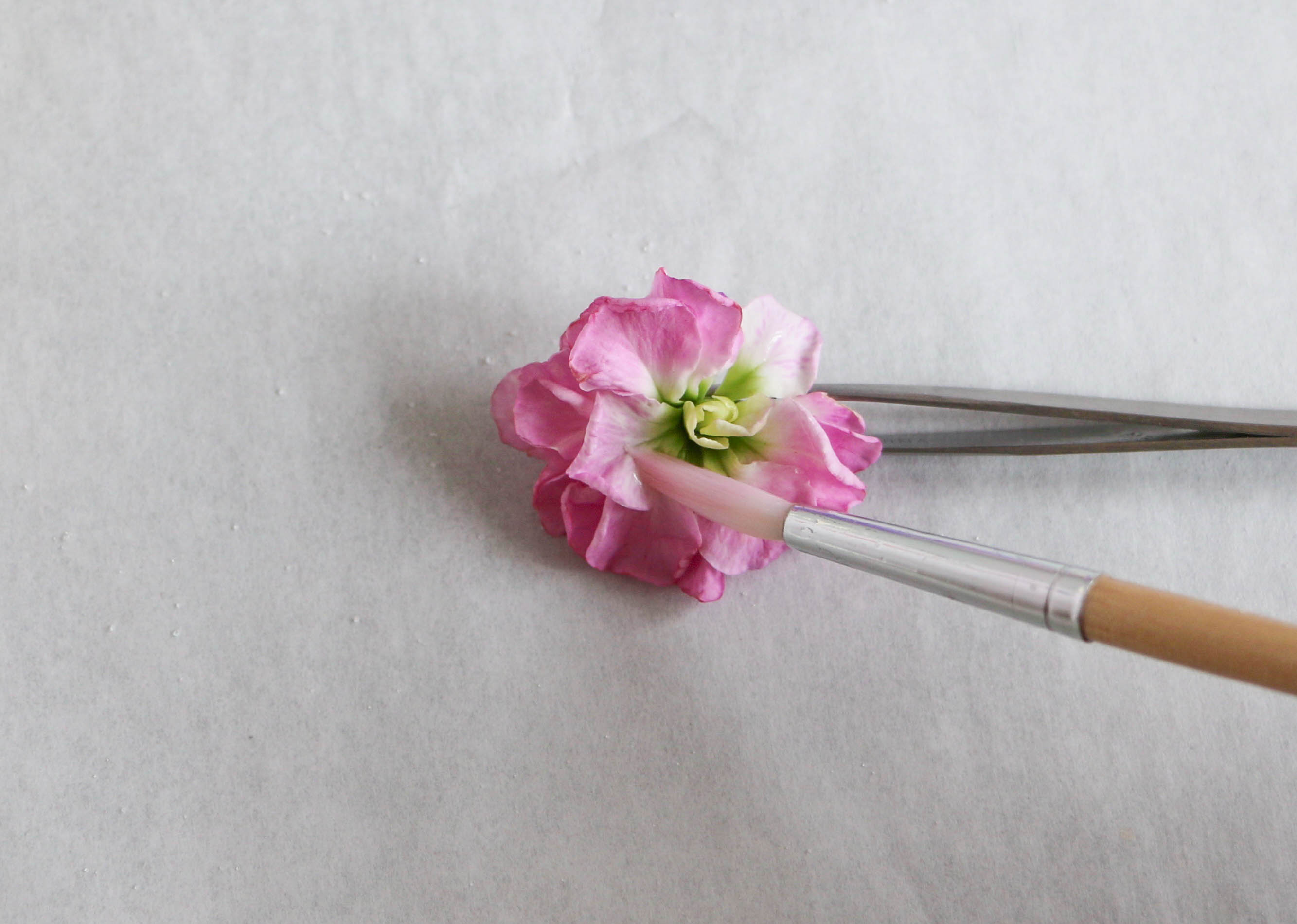 Step 2:
Place the coated flower into a bowl of superfine sugar. Use a spoon to sprinkle sugar over the surface of the flower. Lift the flower up out of the sugar using the tweezers. Gently tap the tweezers against the rim of the bowl to knock off any excess sugar.
Superfine sugar is ideal for creating delicate, shimmering petals, but regular granulated sugar will achieve similar results if superfine is difficult to find in your area.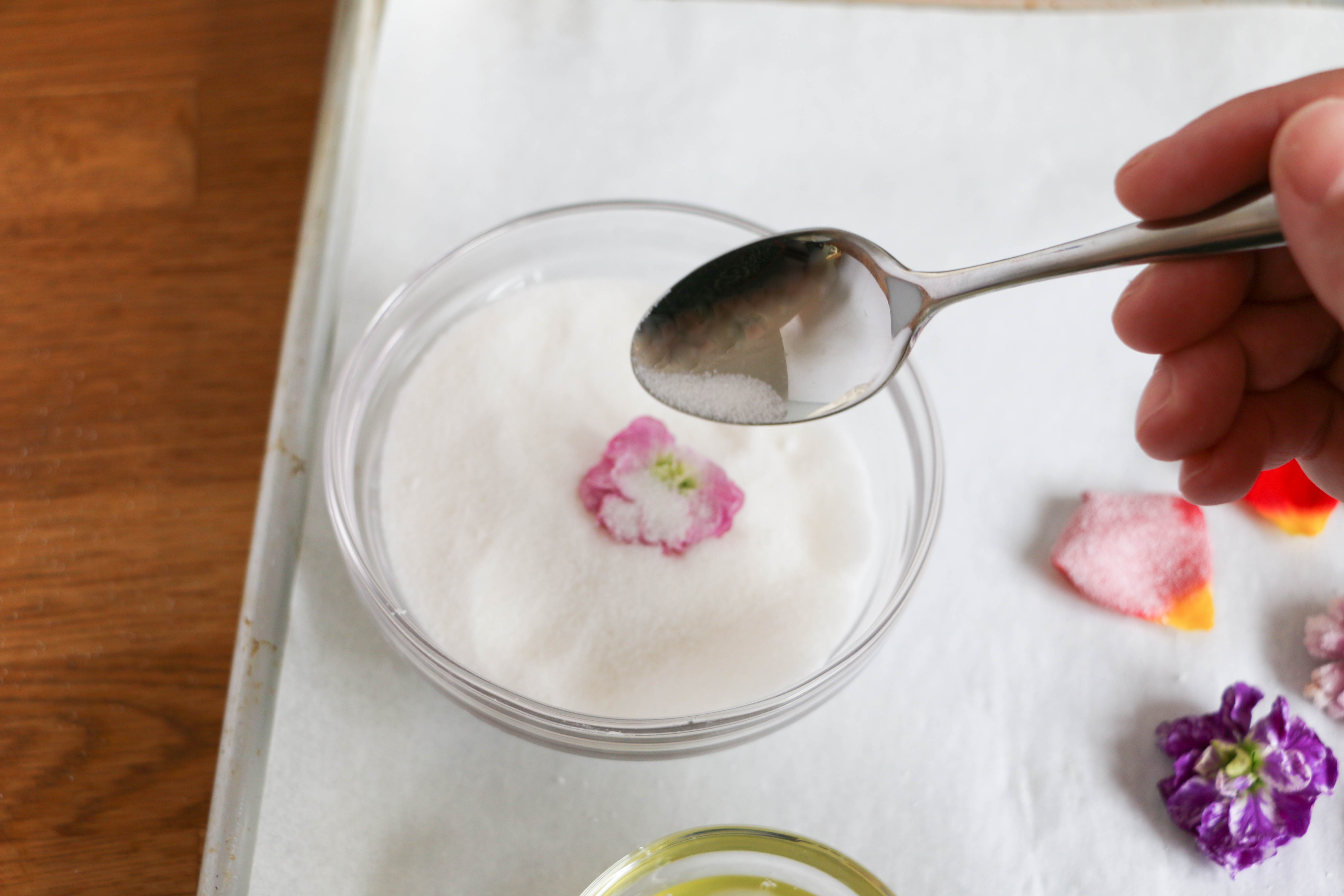 Step 3:
Lay the flower or petal onto a parchment-lined cookie sheet to dry for at least 12 hours, up to overnight. Your flowers are ready to use when they're dry and firm to the touch.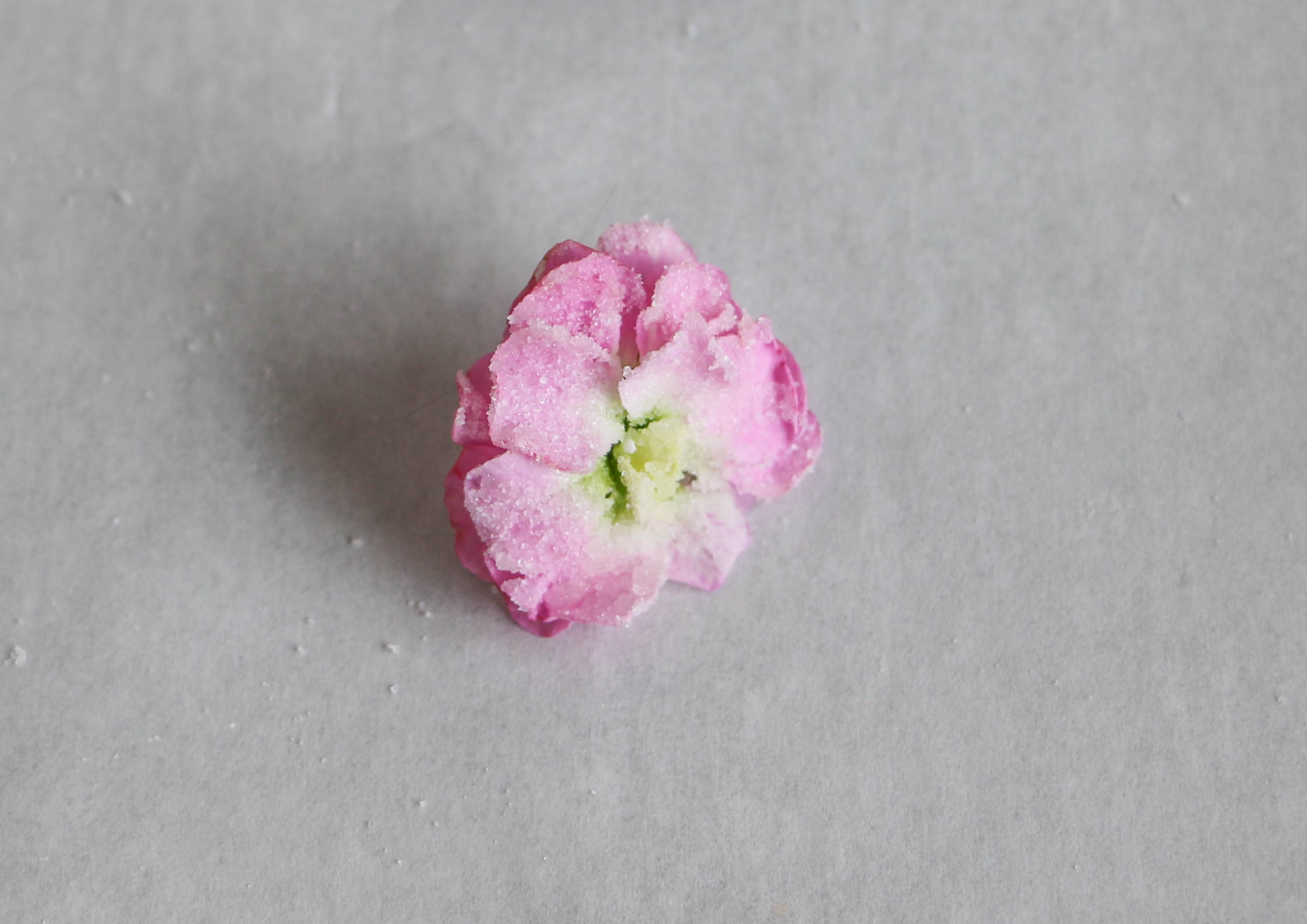 Step 4:
Use candied flowers right away or store them in an airtight container at room temperature for up to 3 months. Store flowers flat, and layer them between sheets of parchment or waxed paper to prevent them from breaking.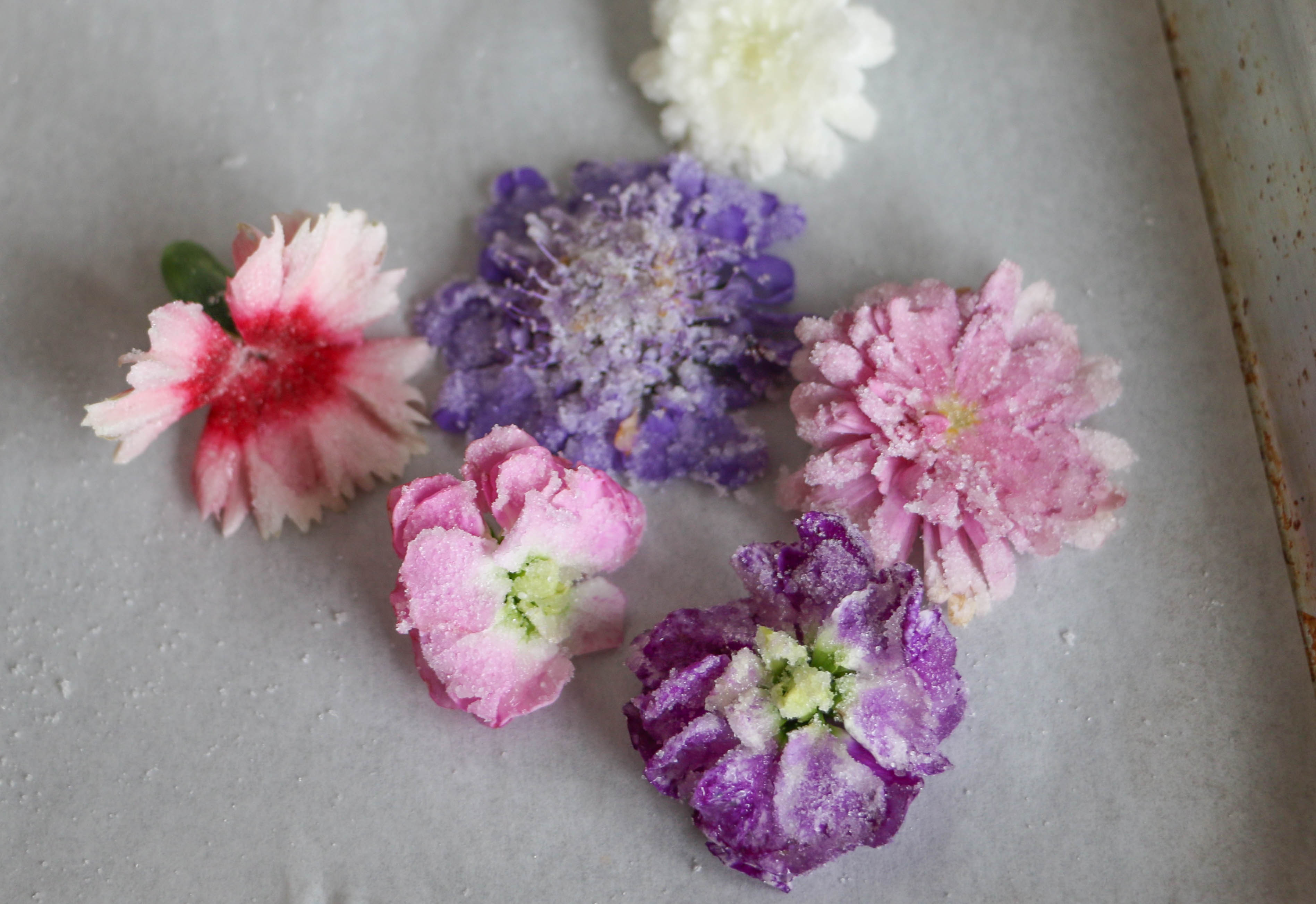 Design More Naturally Beautiful Cakes
Stay on top of the latest trend in cake decorating — nature-inspired cakes! Learn the insider tricks to bringing Rachael Teufel's amazing geode and wreath cakes to life. Enroll Now »