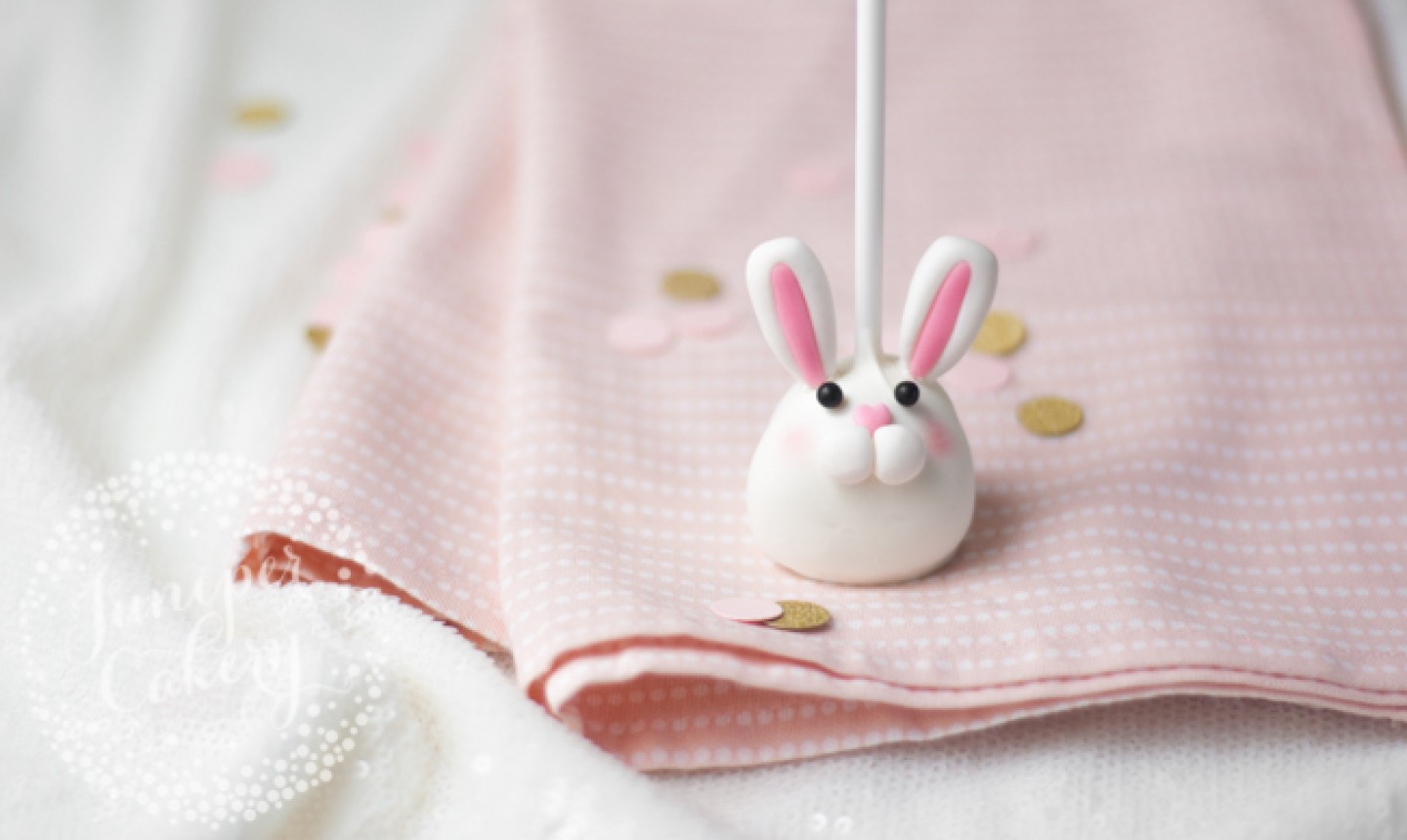 Decorate these festive cake pops for some bunny you love this Easter. With the candy melt coating and simple 3D features, these pops are as easy to make as they are adorable.
Bunny Cake Pops
Level: Easy
What You Need
Baked cake (use your favorite recipe)
Buttercream (Swiss Meringue and American buttercream work well)
White and pink fondant (buy it or make your own)
White candy melts
Lollipop sticks
Crisco, oil or paramount crystals
Tiny heart plunger cutter
Fondant rolling pin
Black edible sugar pearls
Edible pink petal dust
Food-safe paint brush
Wax paper
Cutting board or cookie sheet
Fondant modeling tools
Edible glue (optional)
Digital scale (optional)
Toothpick (optional)
Instructions
1. Prep Your Cake Pop Dough
Crumble your cake and mix it with buttercream to create cake pop dough.
Pro Tip: For every 2 cups of cake, use 1 tablespoon buttercream. Adjust this ratio as needed.
Test the dough consistency by rolling a bit into a ball and pushing a cake pop stick into it. If the cake pop cracks, the mix is too dry — add a little more buttercream and test again.
Roll the dough into equal-sized egg shapes and leave on a flat surface. If you want to make sure they're all equally sized, weigh each ball on a digital scale.
2. Melt the Candy and Insert the Sticks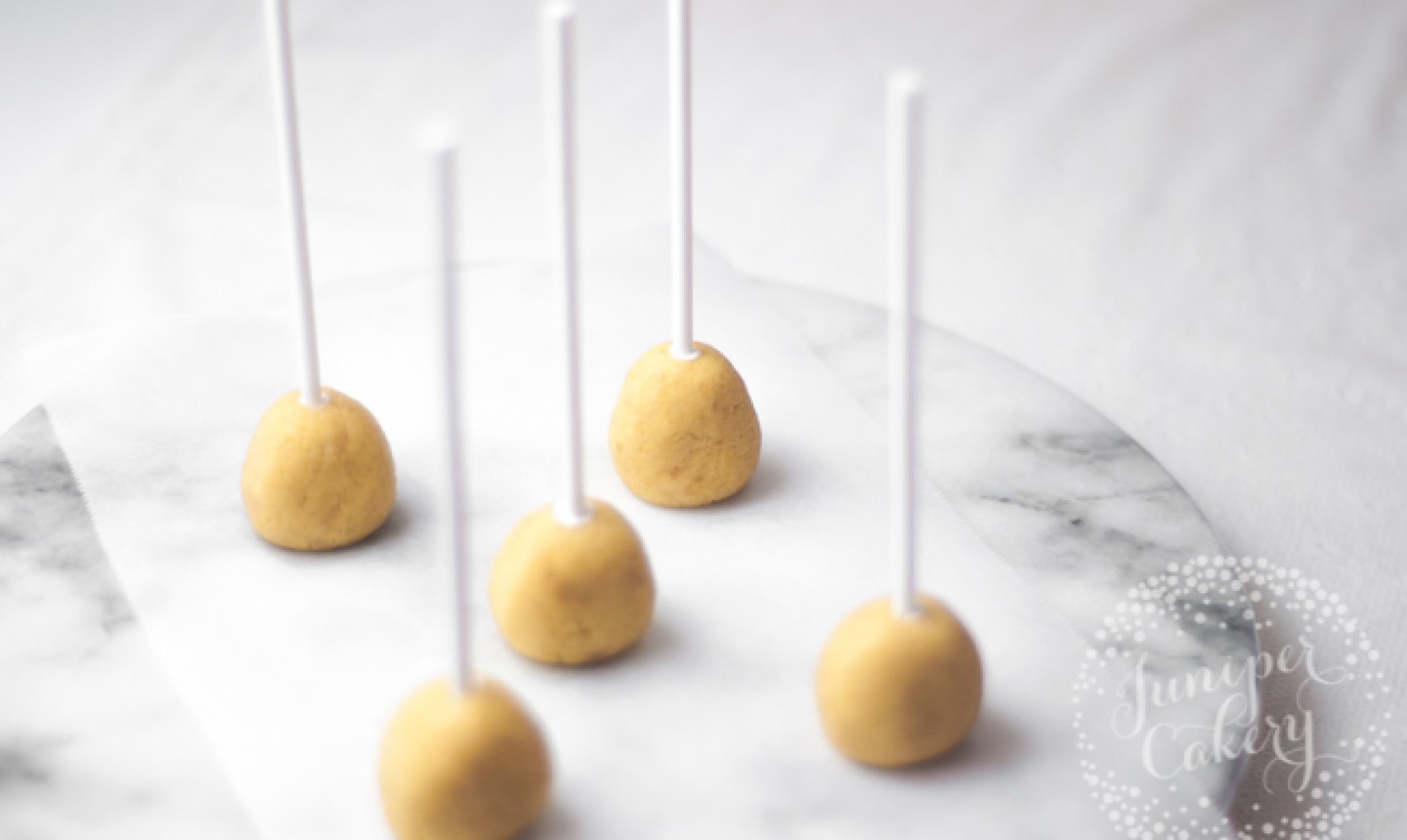 Melt a few (not all) white candy melts. Dip a lollipop stick into the melted candy melts and gently push it into the middle of a cake pop ball. Repeat for all cake pop balls, placing them onto a cookie sheet lined with wax paper. Place them in the refrigerator to chill until firm.
Pro Tip: Don't melt all your candy melts quite yet. The cake pops can take a few hours to chill, and you don't want the melts to dry out in the meantime. Only melt enough so you can add the lollipop sticks until you're ready to move on.
3. Dip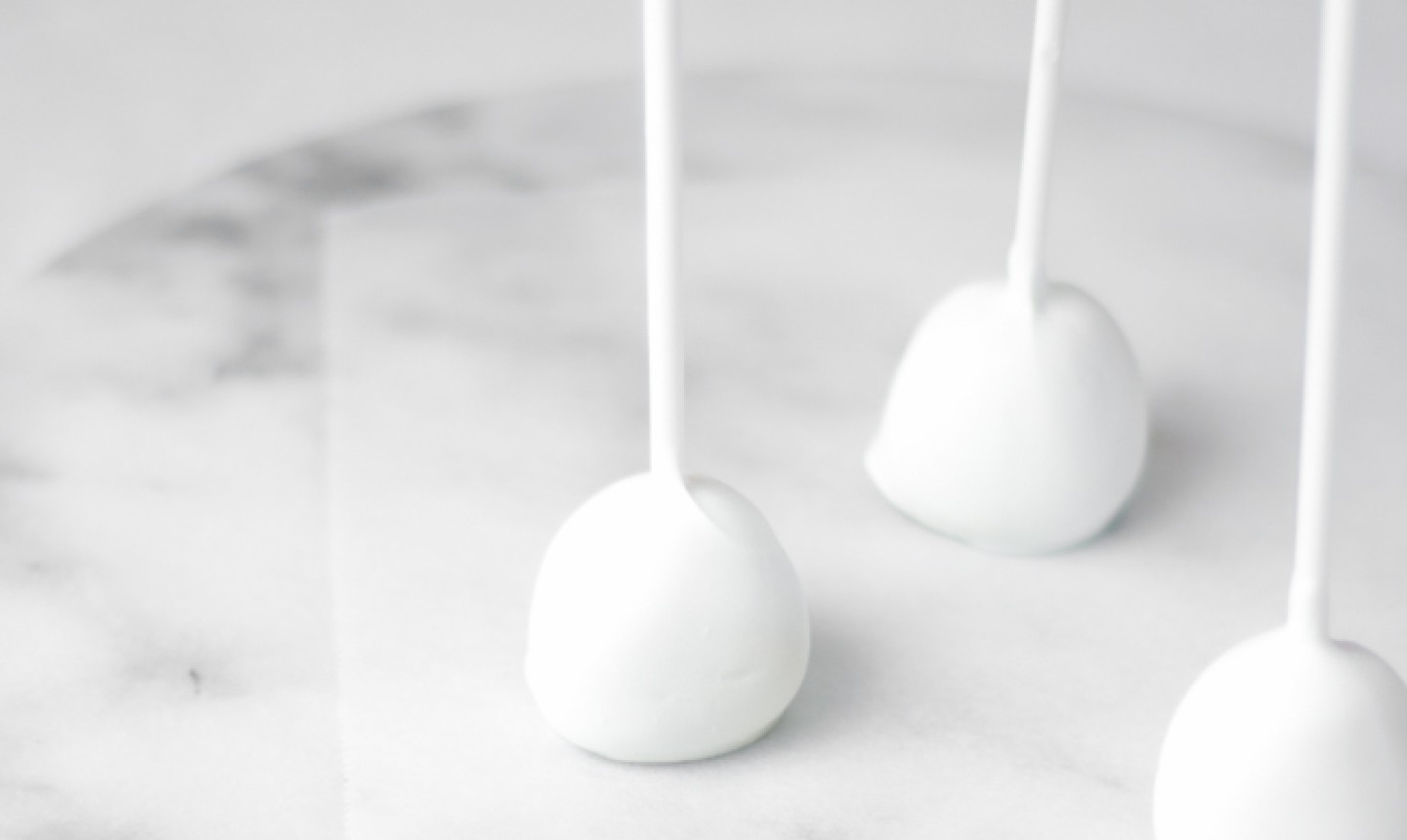 Once the pops are firm, melt the rest of your candy melts. (We recommend using a full 12 oz bag to coat 20 pops.) When melted, add a small amount of Crisco, oil or paramount crystals to give the melts a smoother consistency.
Gently dip each cake pop into the melted candy melts. Don't swish them around, as this can cause the cake pop to fall off the stick. When coated, let the excess drip off and place the pops onto wax paper to harden.
4. Shape the Ears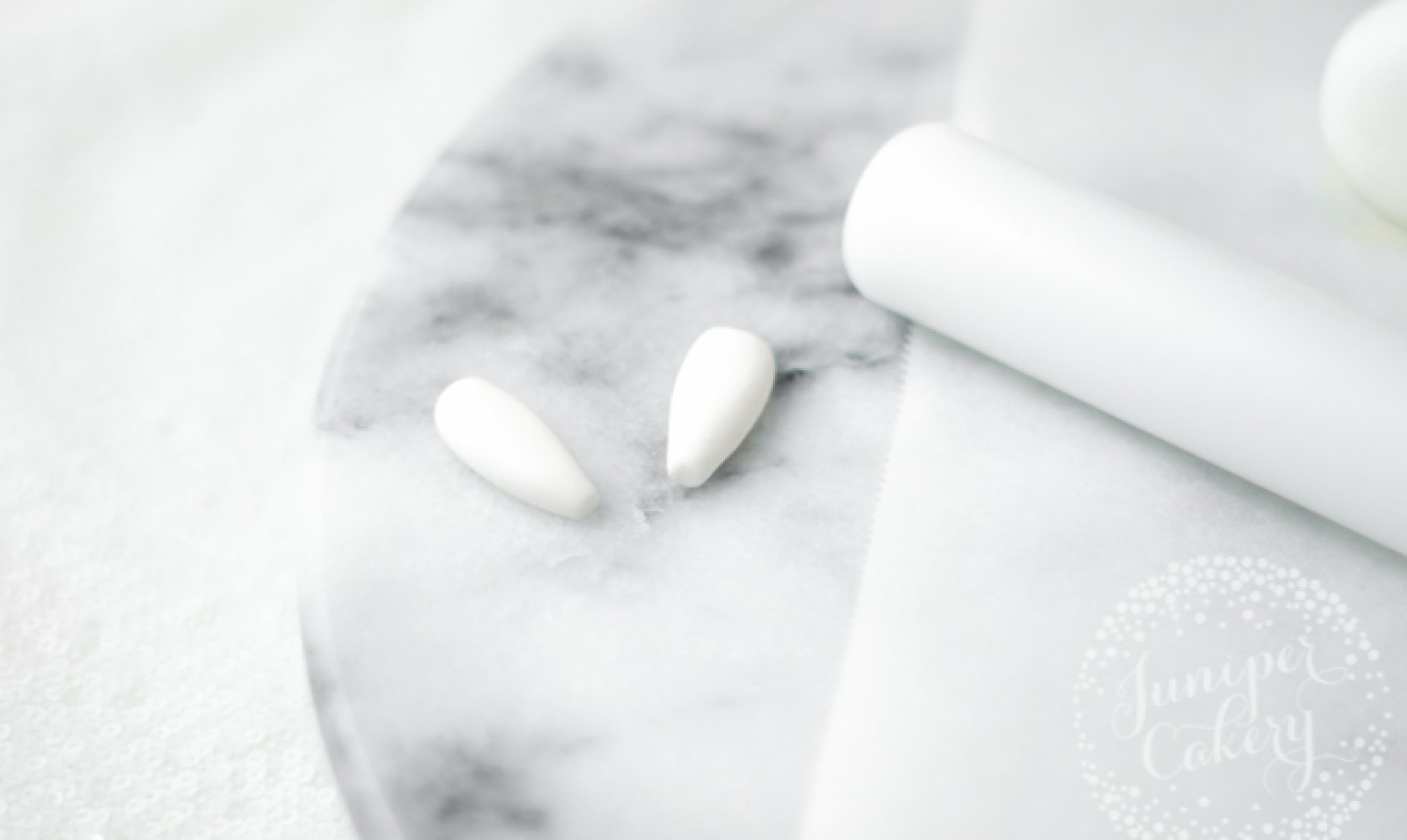 Roll white fondant into small balls, then mold each into a long, tapered, teardrop-like shape. You'll need two per cake pop.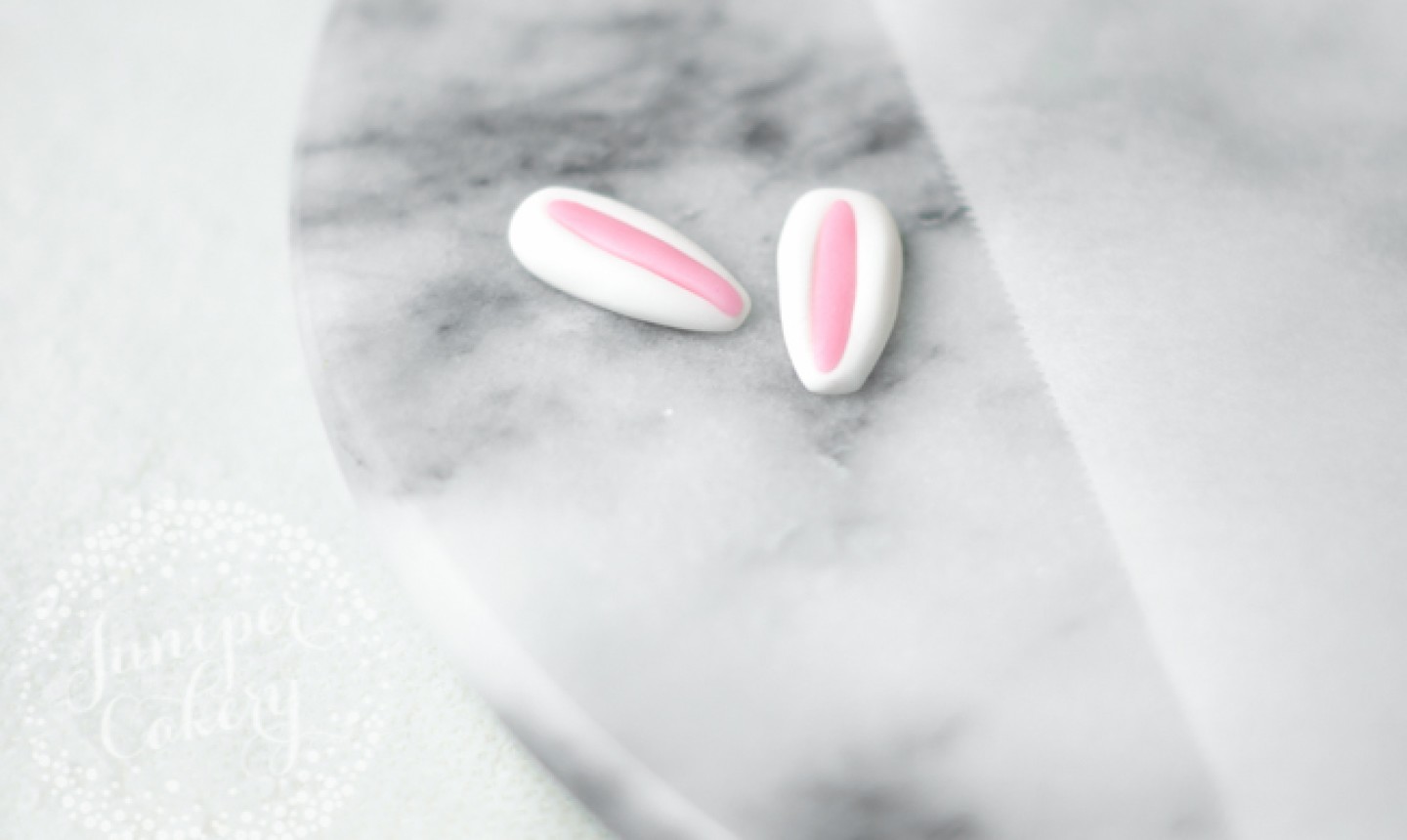 Roll out pink fondant and mold it the same way you did for the white ears (just use less fondant). Indent the center of the white ears with a modeling tool to make space for the pink fondant. Adhere the pink to the white with a small amount of excess candy melts or edible glue.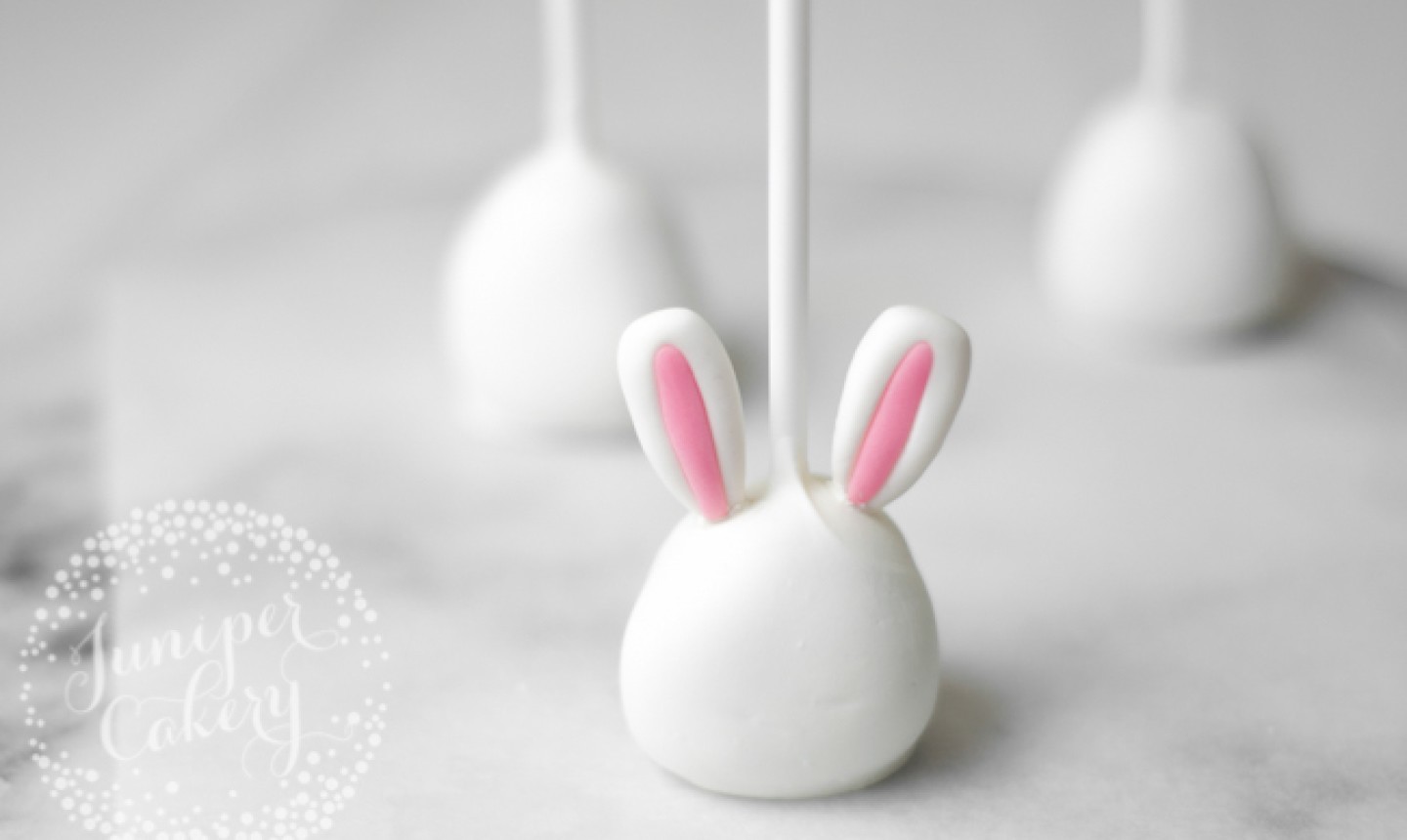 Use more candy melts or edible glue to secure the ears to the cake pop on either side of the lollipop stick.
Pro Tip: Use a toothpick to apply the candy melt adhesive to these small pieces.
5. Make 'Em Cheeky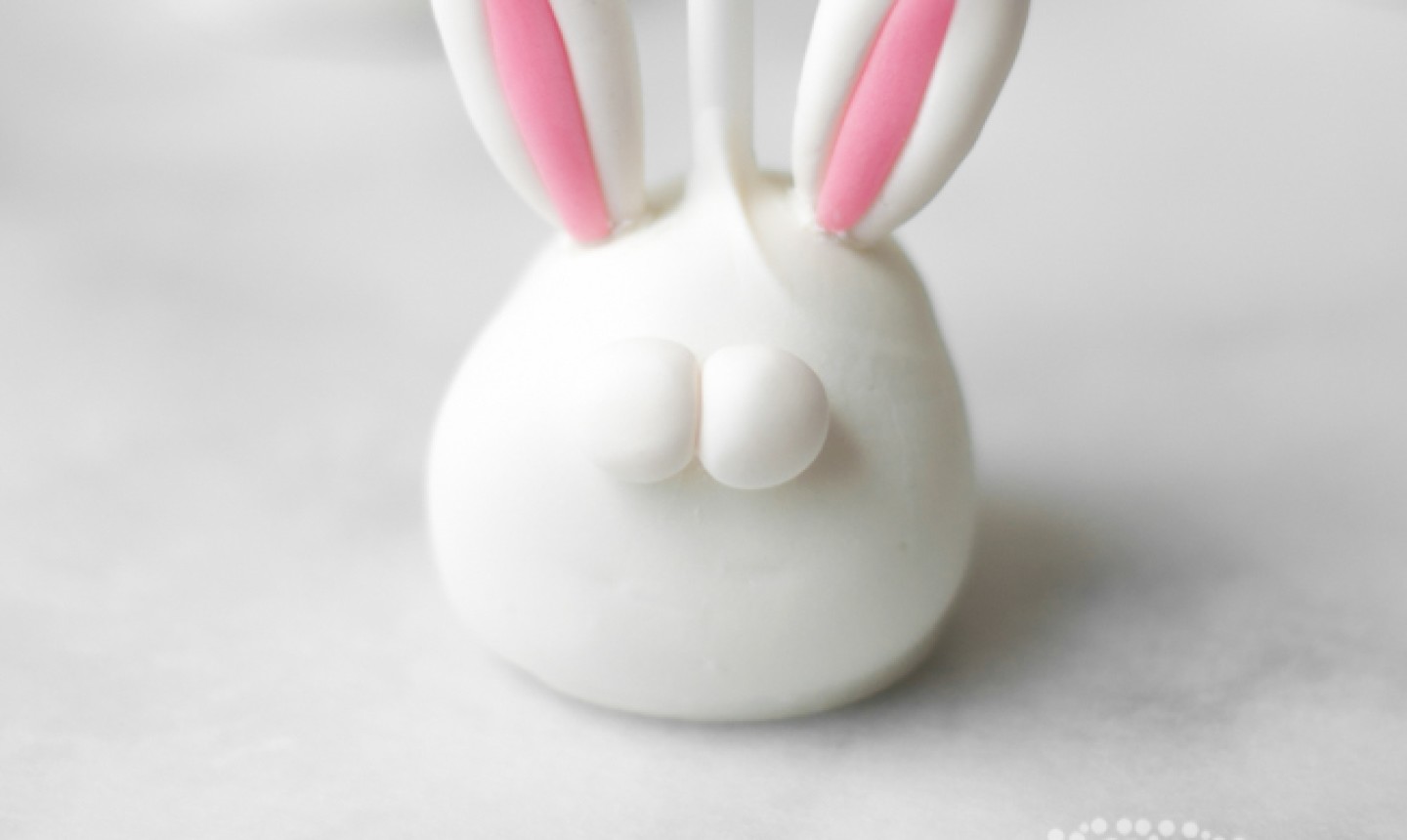 Roll two small balls of white fondant per cake pop. Attach them to the center to create the cheeks.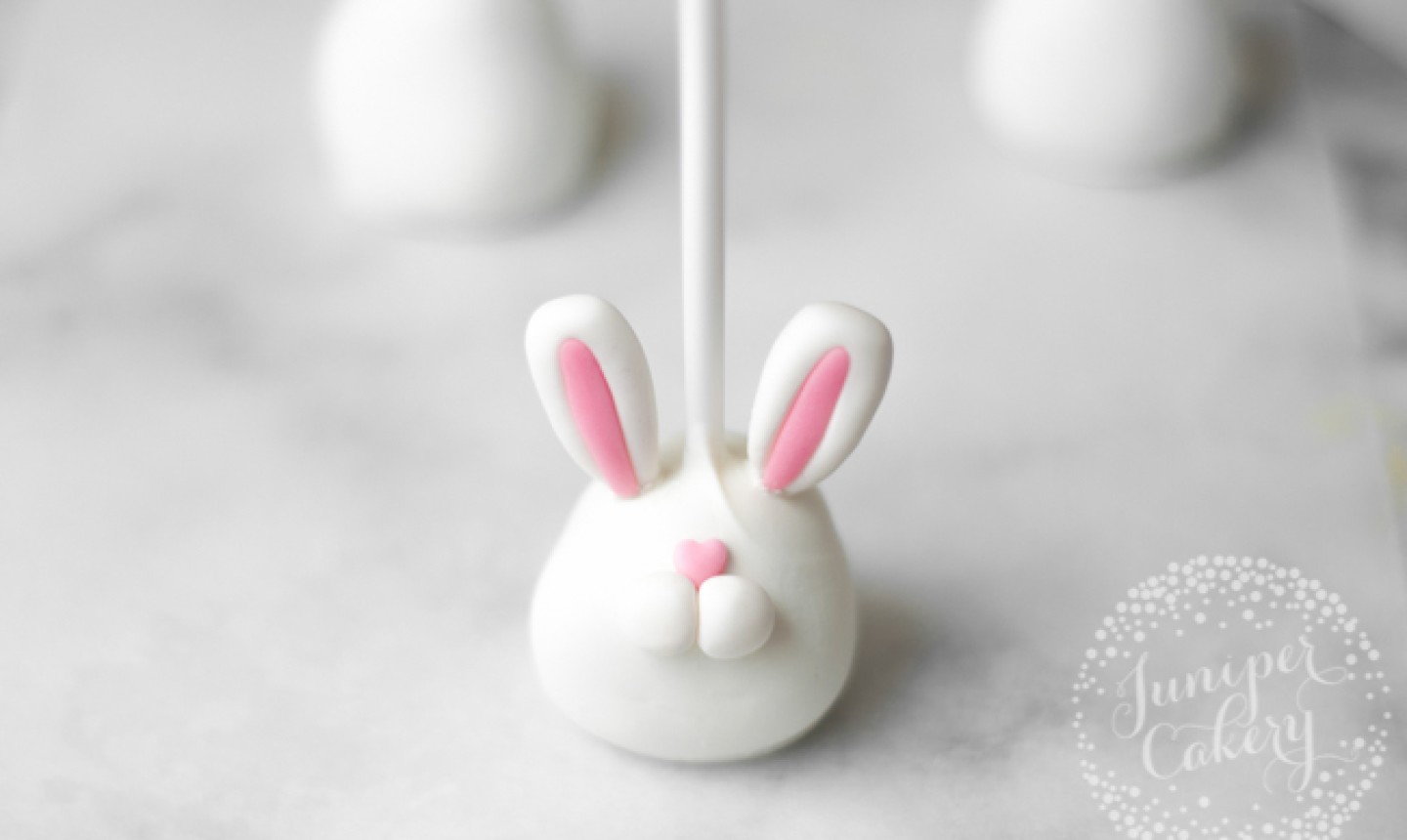 Roll out some pink fondant and use the tiny heart plunger cutter to cut out one heart per pop. Add a dab of candy melts to the heart and secure above and in between the cheeks as the bunny's nose.
6. Add the Final Details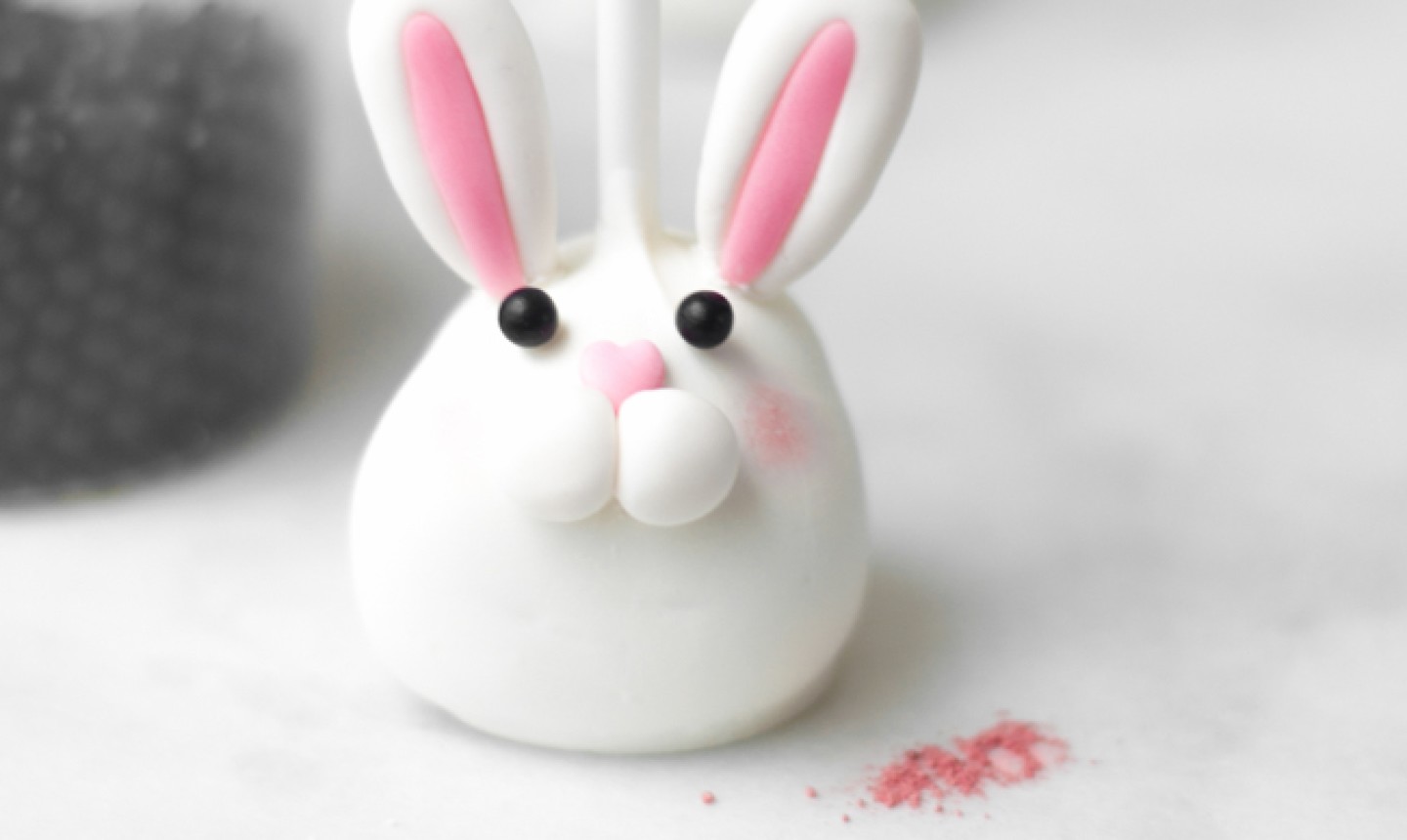 Secure two black edible sugar pearl eyes with candy melts. Lightly brush the bunny's cheeks with pink edible petal dust.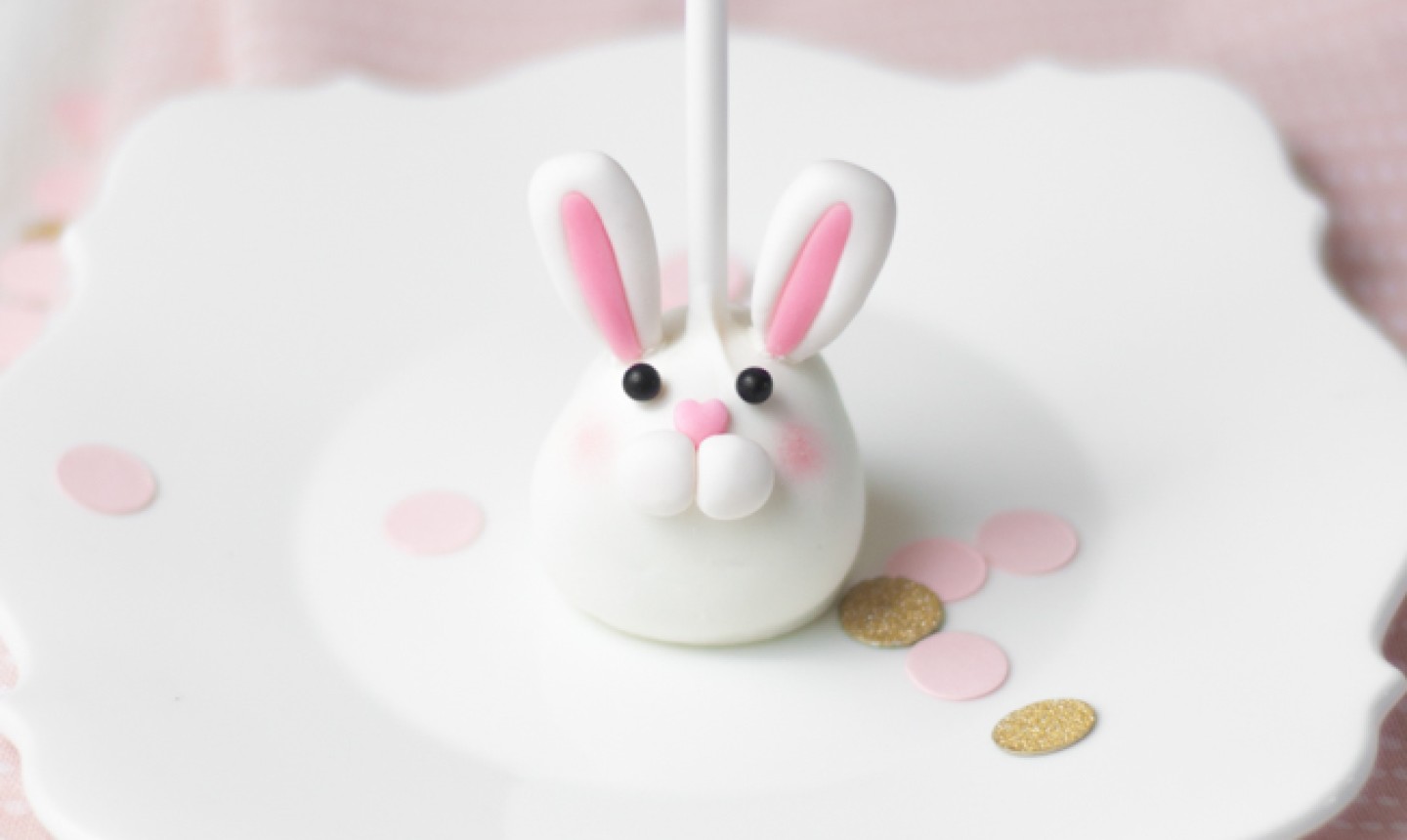 And just like that, you've got the cutest cake pops hoppin' around this Easter!