We can barely keep count of all the great things about crochet bracelets. First, They're quick, instant-gratification projects. They don't use much yarn, and you can use regular yarn, crochet thread or wire. They're great for practicing a new technique. They can be exquisitely beautiful gifts for all ages. You can experiment with beads, ribbons, charms and buttons (or keep it simple with no added features at all). The list goes on! Try one of these 10 stunning crochet bracelet patterns to reap all the benefits.
Photo via GlowCreek
1. Corset Cuff Crochet Bracelet
This chunky crochet bracelet closes with a ribbon corset tie, so it's easy to get the right fit and it has a super sexy style. The chunky cuff uses fairly simple crochet stitches but combines them with beads for an advanced design with great bohemian flair. If this is new for you, check out Ashley Little's tips in "How to Crochet with Beads."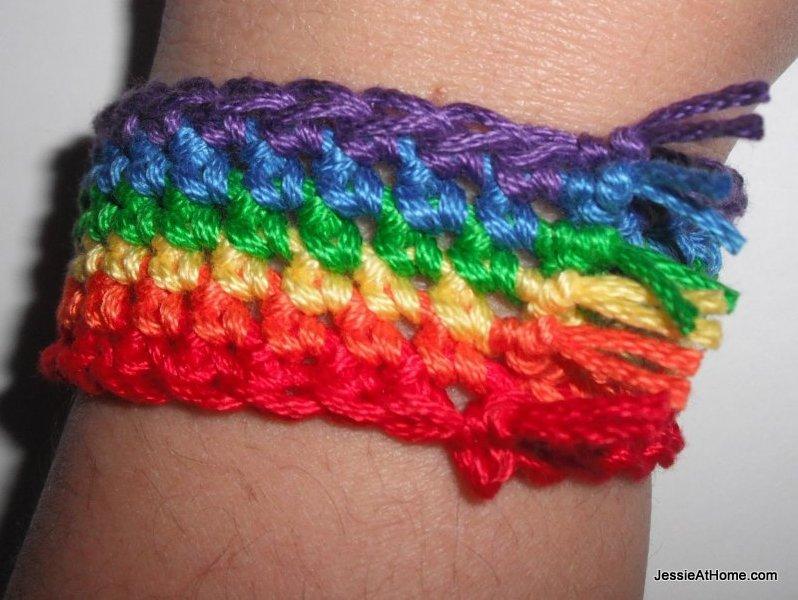 Photo via Jessie At Home
2. Rainbow Bracelet
This simple crochet rainbow bracelet uses the simplest basic crochet stitches (chains, slip stitches and single crochet) so even a beginner can make it. The ties at the end of each row add a unique textured detail that makes it a fun bracelet for all ages.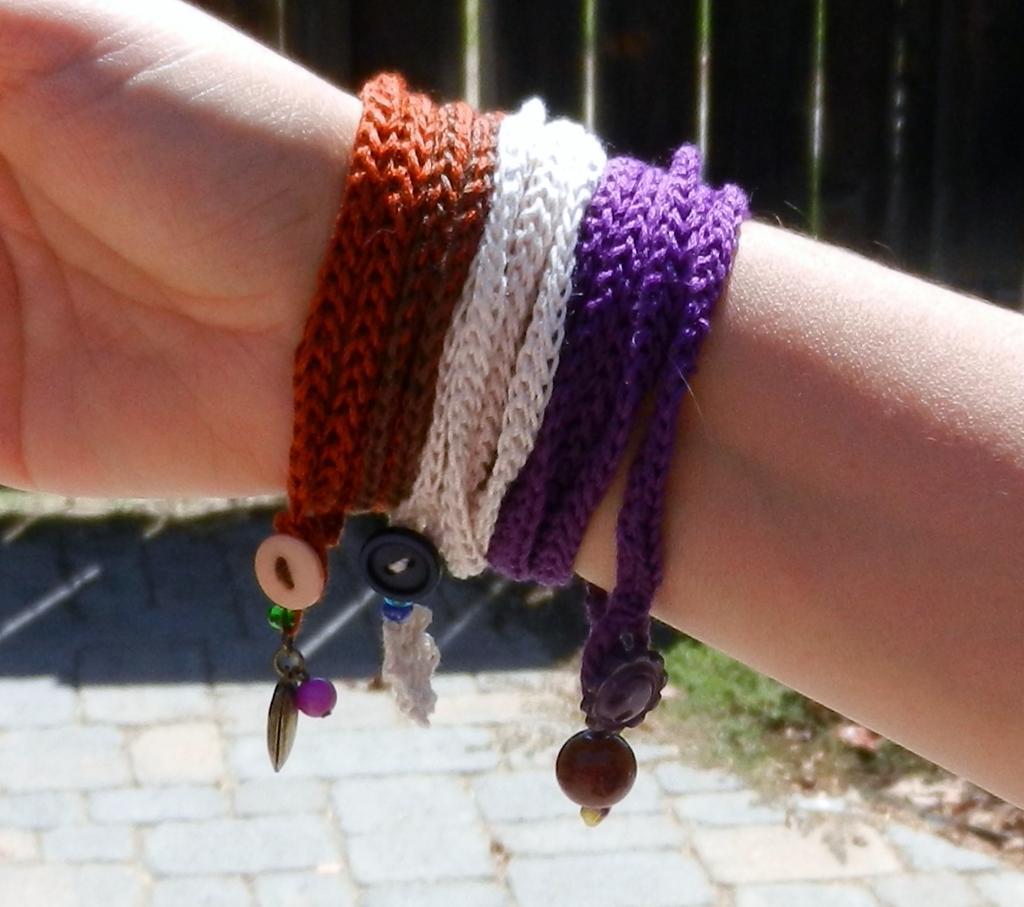 Photo via Deanna Young
3. Charmed Wrap Bracelet
A long crochet chain can be wrapped around and around to make an easy beginner's crochet bracelet. This one is made with thick crochet thread or embroidery floss. Add charms or buttons for more interesting jewelry and a touch of boho flavor.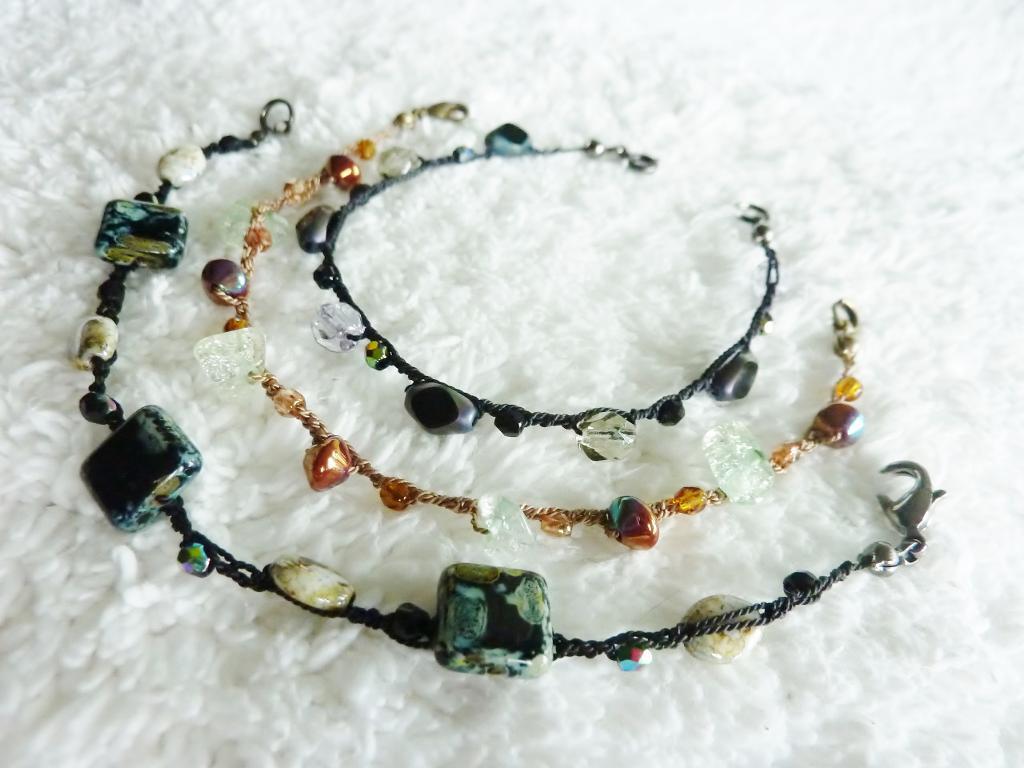 Photo via PDXKnitterati
4. Victoriana Bracelet
This beautiful pattern, which can be used to make a bracelet as well as a matching necklace, only requires the ability to crochet a chain — no other crochet stitches are used. You'll work the chain with a silk cord and incorporate beads to get the elegant piece of jewelry.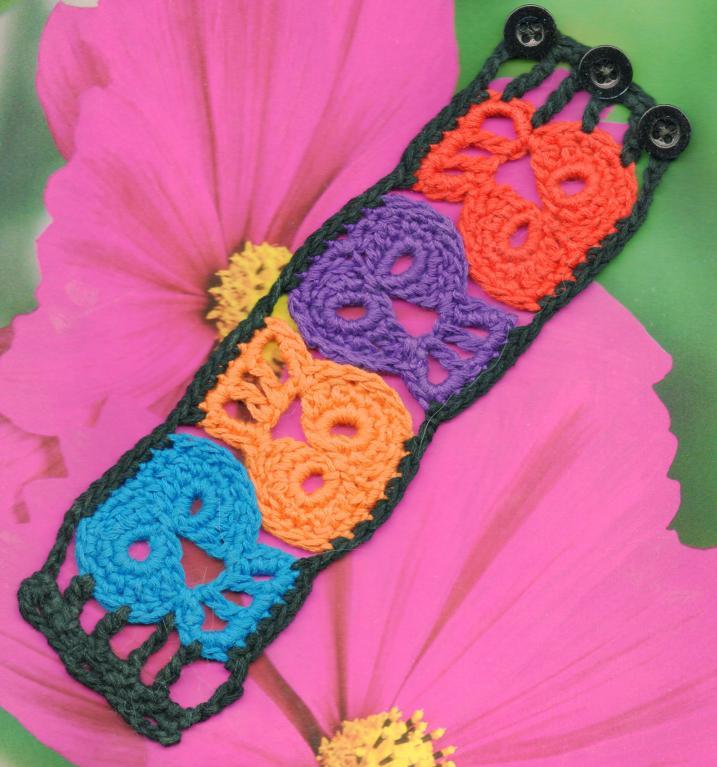 Photo via Spider Mambo Designs
5. Quartet Sugar Skull Bracelet
This colorful crochet bracelet is perfect for celebrating Day of the Dead or Halloween, although you could also wear it throughout the year as a statement piece. It is made with fingering weight yarn and closes with small buttons.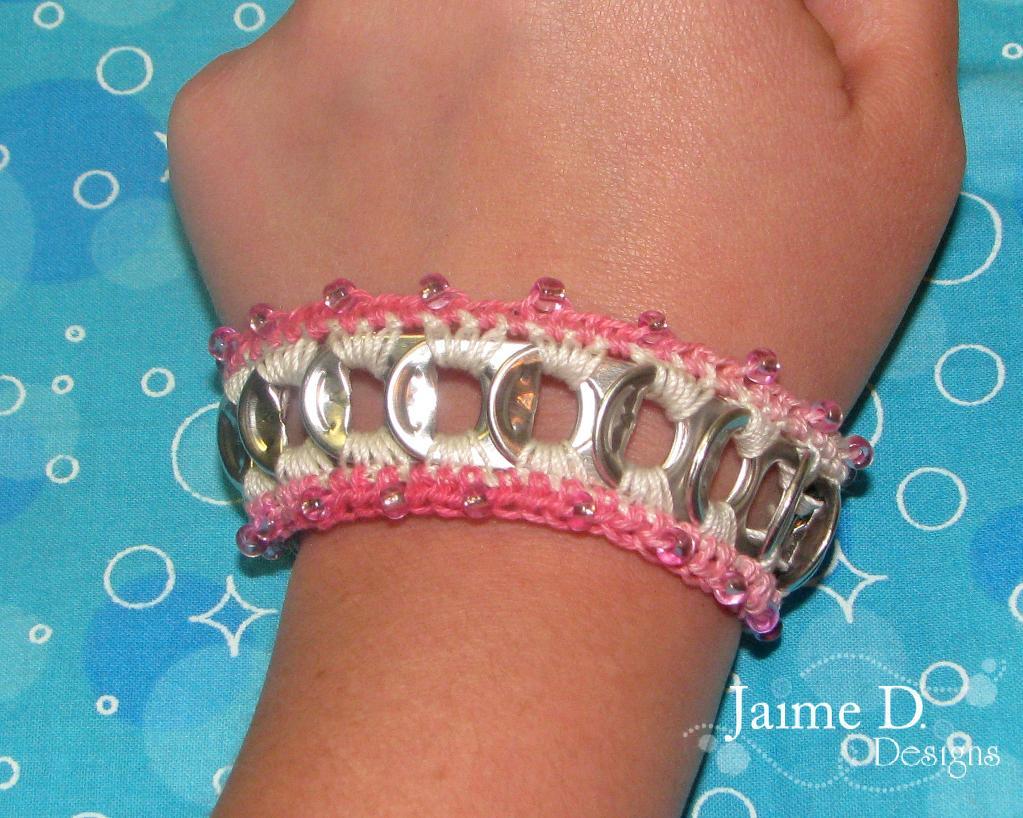 Photo via Jaime D Design
6. Beaded Pop Tab Bracelet
Recycle your pop tabs from old soda cans using some simple crochet and a few small beads, and you've got a terrific upcycled crochet bracelet. This crochet pattern uses both single crochet and half double crochet stitches.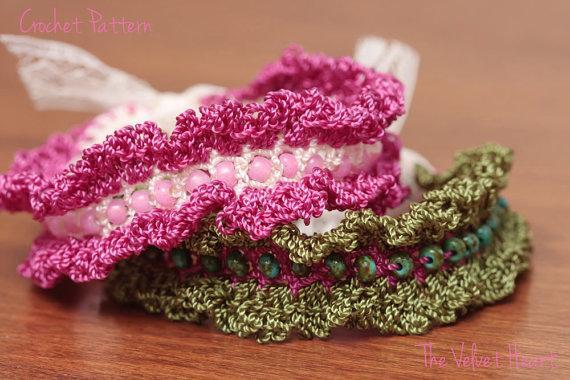 Photo via Velvet Heart
7. Beads & Fringe Bracelet
This charming crochet bracelet is the ultimate feminine accessory. You'll find delicate beads ensconced in frilly crochet and closed with a ribbon tie.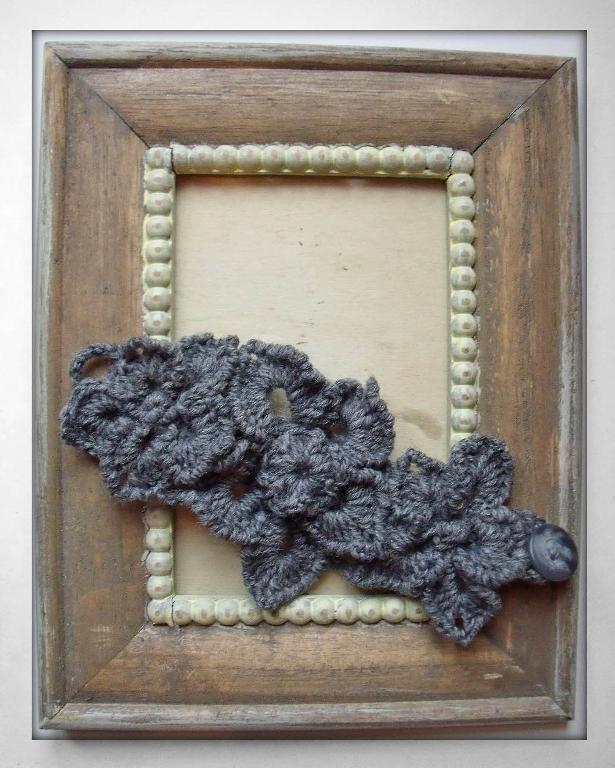 Photo via Fibreromance
8. Crochet Free Form Bracelet
Learn how to take this basic crochet bracelet pattern and adapt it using your own creativity as you practice the art of freeform crochet. Make it in a solid color like you see picture above, or make it more colorful depending upon your tastes. New to freeform crochet? Try Myra Wood's Freeform Crochet class for a primer on getting started.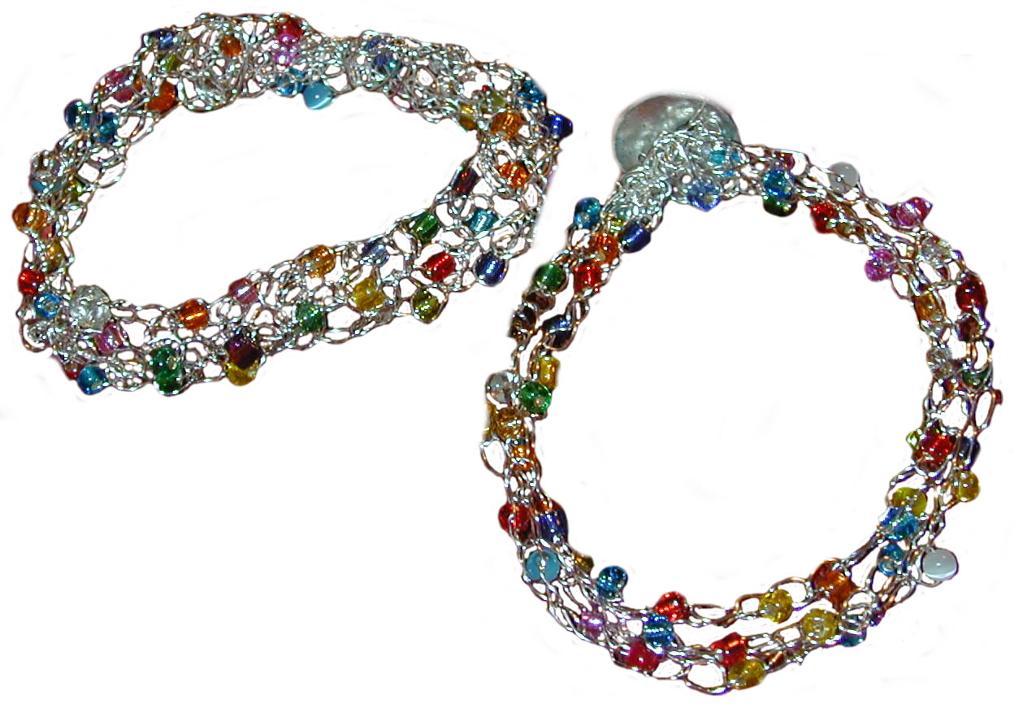 Photo via Live.Knit.Love
9. Crocheted Wire Bracelet
Take the crochet skills that you already have and apply them to working with wire. This crochet pattern only requires knowledge of basic crochet stitches and a willingness to work with wire and beads. If this is new for you, check out Ashley's Little's "7 Tips for Crocheting with Wire and Beads." Have fun with it!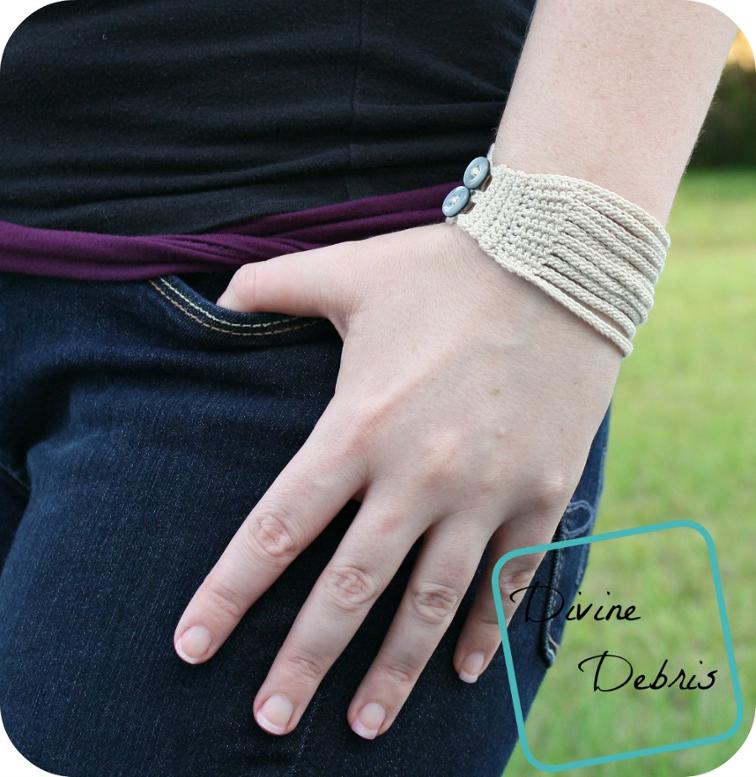 Photo via Divine Debris
10. Leah Bracelet
Small chains wrap around your wrist for a delicate bracelet that still makes a statement. You'll need crochet thread and a small crochet hook to make this dainty accessory.
Still need more inspiration? Check out "6 Gorgeous Tatting and Crochet Patterns" and "Beautiful Broomstick Crochet Bracelet Patterns."