Like most crafters, I'm constantly on the hunt for unique accessories, and that especially applies to jewelry. When I browse stores for new jewelry, everything starts to look the same to me. Didn't I just see that necklace somewhere else? Doesn't my friend own this bracelet? It's hard to be one-of-a-kind — unless you're a crafter, of course.
Crochet and tatting are ideal crafts for jewelry. You can create loops and knots all kinds of crazy shapes. You can crochet around existing jewelry to give it a new look. Move that hook anywhere you want!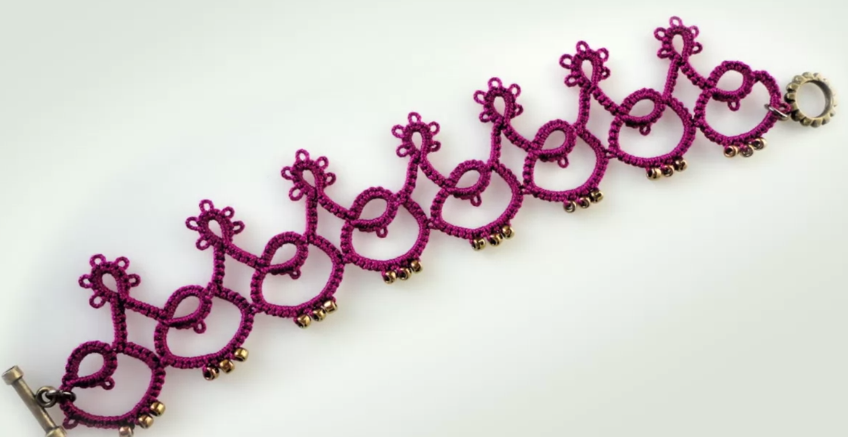 Photo via Marilee Rockley, instructor of Shuttle Tatting
My favorite time of year to wear crochet jewelry is during the fall and winter. Metal accessories feel cold against my skin during those seasons, so fiber jewelry is a welcome change. But the best thing about crochet jewelry is that it's such a quick, simple project. You can crochet jewelry in less than an hour in most cases, and you can probably get more wear out of it than you do most of the other projects you make.
Take a peek at these gorgeous jewelry tatting and crochet patterns from right here on Craftsy and start crocheting your very own jewelry collection.
Photo via Designs by Melody
Crochet earrings
It takes a very small amount of yarn or thread to crochet a pair of earrings. These cobalt earrings use a beautiful cobalt shade of crochet thread. Top them off with a clear bead to add just the right amount of sparkle.
Photo via Crochet by Faye
Pendants
Classic pendants get an update when they're paired with modern chains and beads. A perfect last-minute handmade gift for friends, these pendants can be crocheted in any color. Don't worry if you're not a jewelry expert. The only jewelry knowledge you'll need is opening and closing jump rings — no problem for a beginner.
Photo via The Perfect Knot Crochet & More
Lacy bracelet
This Lacy Picot Bracelet looks store-bought, but it's actually handmade. Make a couple in your favorite colors to coordinate with multiple outfits, or just make one in a neutral color so you can wear it all the time.
Photo via Mamta
Crochet around a bangle
No need to go out and buy expensive supplies for this project. Take a bangle you already own, crochet around it, and voila — a new look. This Tyre Bangle pattern will give you the how-to for making the look professional.
Photo via Aimarro Patterns
Bow earrings
It occurred to you that you could crochet a headband bow, but did you ever think about miniaturizing that bow to make a cute pair of earrings? These bow earrings are the perfect little package for yourself or as a gift for a friend.
Photo via Marilee Rockley
Shuttle tatting
If you really want to think outside the box when it comes to crochet jewelry, check out Shuttle Tatting with Marilee Rockley. Shuttle tatting is a lesser-known craft involving knots, stitches, and lace patterns that come together to form delicate loops and picots. Take a look at Marilee's Rhapsody necklace as an example. Marilee will show you how to make this necklace, plus how to make a bracelet, earrings, and other tiny embellishments.
Have you ever crocheted your own jewelry? What did you make?