If you have been crocheting for a while, chances are that you have toyed with the idea of creating your own blanket pattern — you know, free-styling it. Designing a blanket is a fantastic challenge! Read on for some tips and inspiration for choosing the right crochet blanket stitches for your project.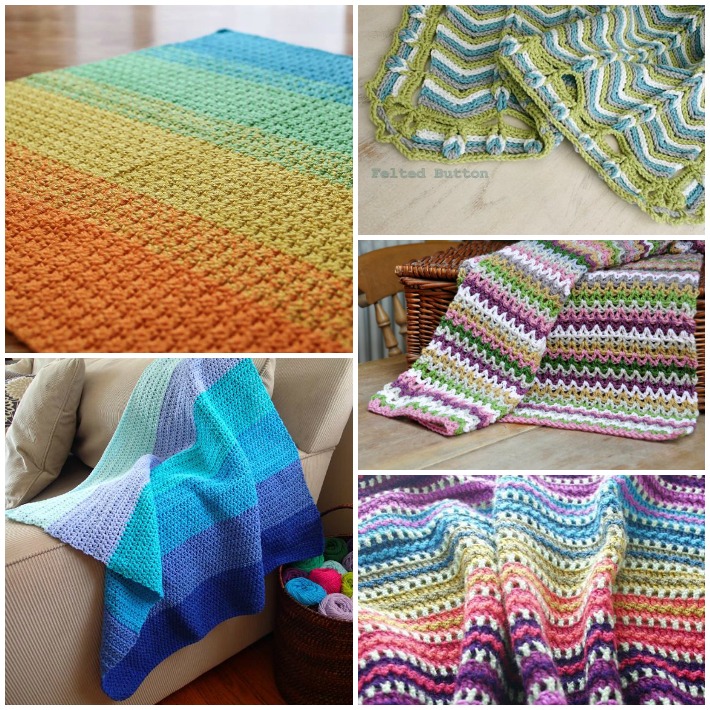 When choosing crochet blanket stitches and design options for your project, keep these options in mind!
1. Simple stitches with creative colors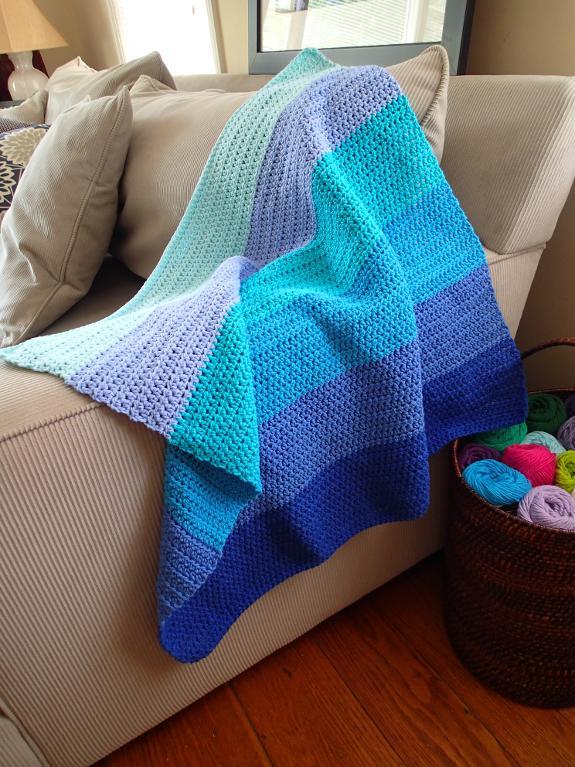 Photo via PrettyPeaceful
The easiest way to create your own blanket is to use simple stitches, like double or half double crochets. A dc or hdc blanket can look amazing if you use bold color blocks or stripes. Sometimes the way you use colors can be just as powerful as the stitches you decide to use.
The Ombré Blue Sky Baby Blanket above is fresh and fun, despite being made solely out of hdc stitches.
2. Decorative stitches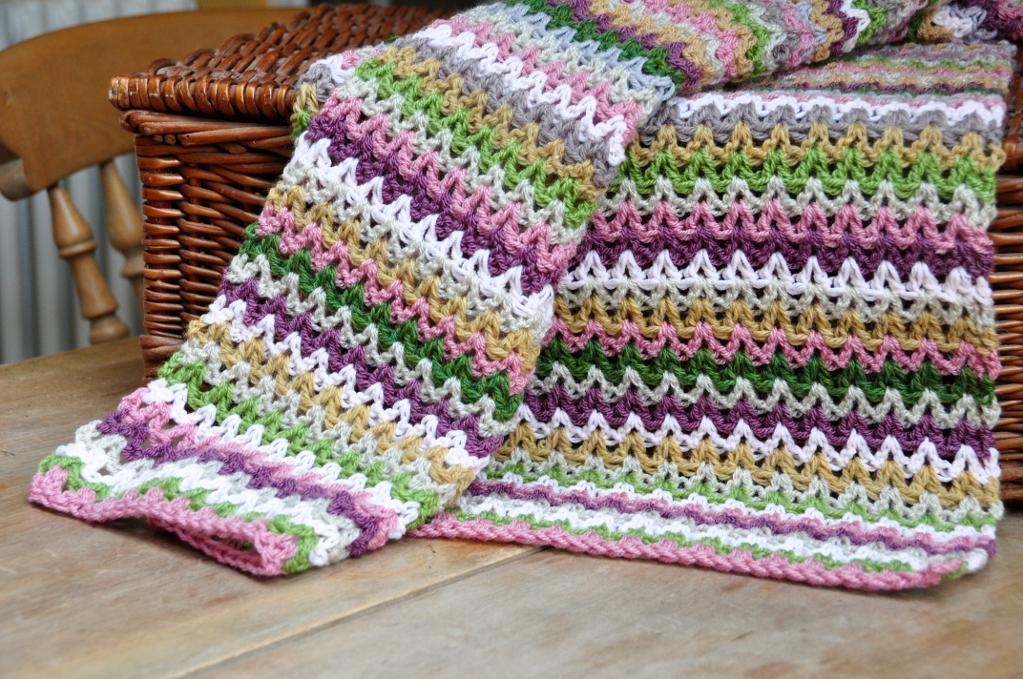 Photo via HanJan Crochet
Simple stitches can be nice, but it's also fun to use more stimulating designs. For example, the blanket above uses the V-stitch and is an excellent example of how a simple but decorative stitch can create a wonderful design.
3. Textured stitches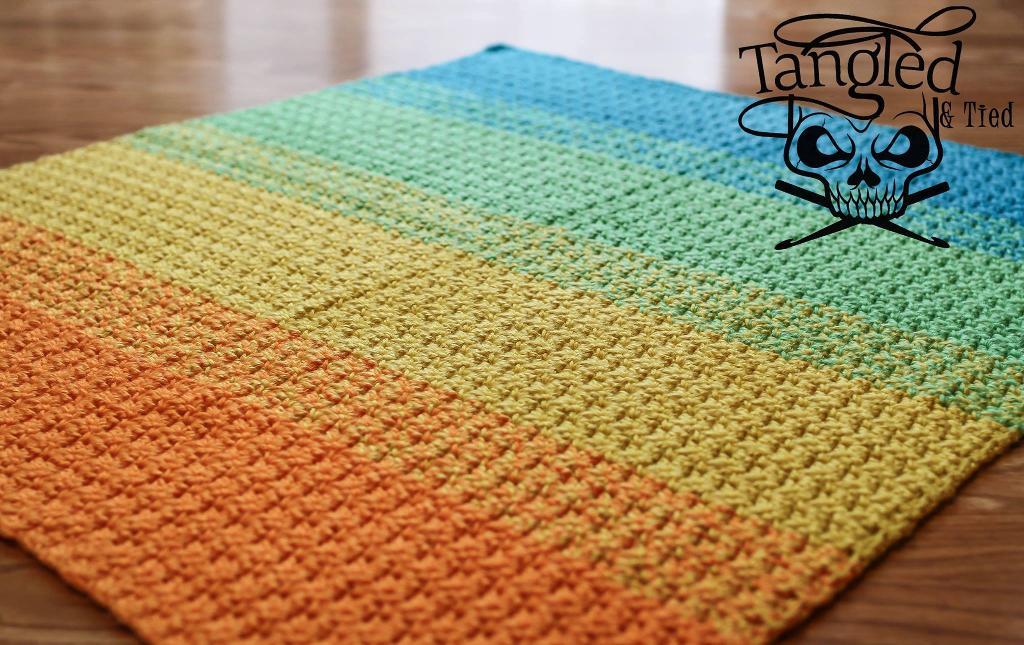 Photo via HodgePodge Crochet
When using textured stitches, you want to use a stitch that won't be too dense. The denser the stitch, the more yarn your blanket will require and the heavier it will ultimately be — especially if you are making a queen size blanket.
You also want to choose a stitch that is simple without being too boring to make. A great example of a simple textured blanket is this Baby's Best Bumpy Blanket.
4. Combining stitches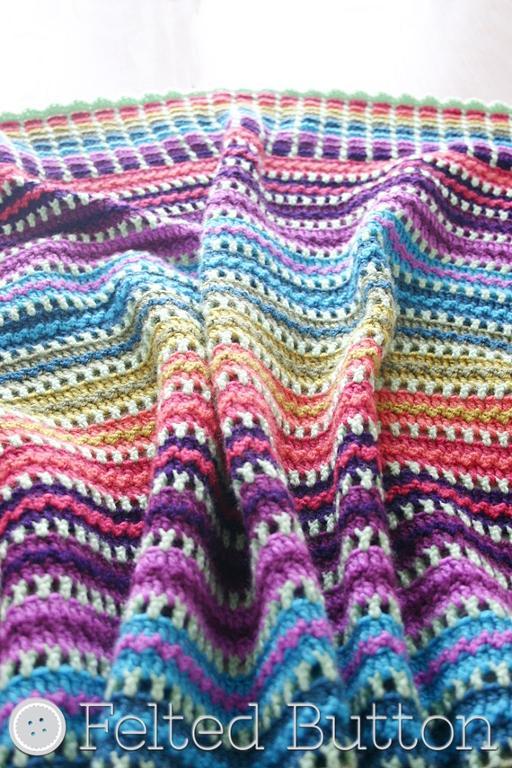 Photo via FeltedButton
If you are feeling more adventurous, you can try to combine stitch patterns. Using three- or four-row repeats can be more trickier, but the possibilities are limitless. By combining simple stitches with accent stitches, you can create any number of unique designs. One of my favorite combination-stitch blankets is the Skittles Blanket by Felted Button.
5. A new twist on an old classic
Some stitches have been around for so long that it is hard, if not impossible, to trace their origin. The most iconic of these is probably the granny stitch. Almost every family has at least one of these granny square blankets laying around!

Photo via DebElen
But just because this stitch has been around for ages does not mean that it is outdated. The Corner Square Baby Blanket above is a great example of thinking outside the box when using this well-know stitch pattern.
The corner-to-corner stitch (C2C) is another classic stitch, but there are so many ways to create inspiring patterns using this stitch. Felted Button used colors to modernize her Spring Into Summer Blanket, and there are many "graphgans" that use the C2C stitch to create beautiful pixelated masterpieces.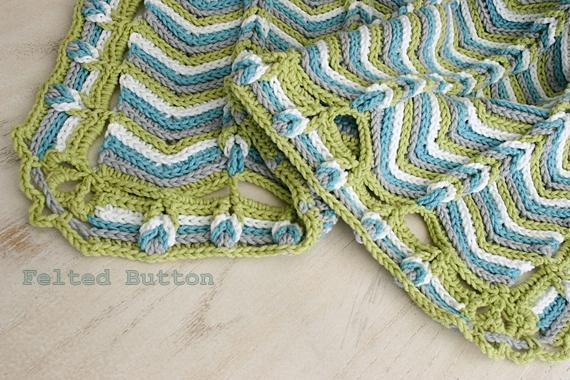 Photo via FeltedButton
Crochet ripples are also a wonderful staple. By adding accent pieces, you can transform your ripple into a fresh new design, as seen in the Big Bold Chevrons Straight Blanket and the Rolling Ridge Blanket, shown above.
Stitches to avoid
Although we have covered a variety of stitches that work really well for blankets, there are some that don't work quite as as well.
Single crochet stitches, for example, are dense and time-consuming to make. Blankets made solely out of single crochet will take a long time to make (unless you use a very bulky yarn), and they won't drape as well as blankets made from more "giving" stitches (unless your tension is very relaxed). 
Lacy stitches like the Solomon's Knot are also not ideal for blankets. Although they make amazing decorative bedspreads, their openwork nature make them ill-suited for everyday use as a blanket.
You might also want to think about whether the stitches you use look good on the right side as well as the wrong side of the blanket. If this is important to you, avoid stitch combinations that have a very definite front and back, unless the back actually yields a pleasing contrasting effect.