Gong Xi Fa Cai! That's "Happy New Year" in Chinese! Following the lunisolar calendar, the year for the Chinese culture is commencing on January 31st, with traditional festivals celebrating the Year of the Horse, according to the Chinese Zodiac.
Spread good fortune, longevity and prosperity wishes for the Lunar New Year with these Chinese New Year cupcakes, cakes and party ideas!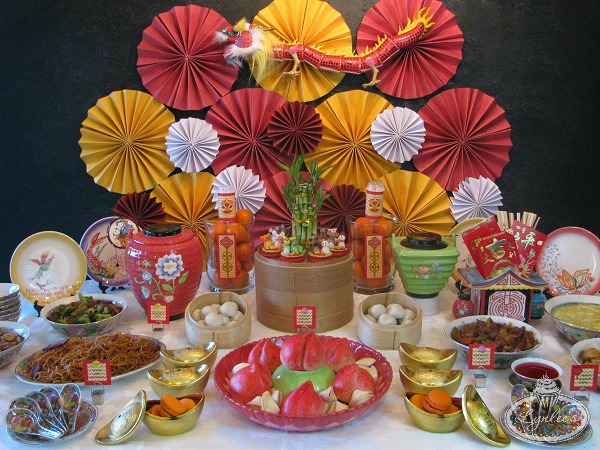 Photos via Lynlee's Petite Cakes
Chinese New Year party
In celebration of Chinese New Year, this party incorporates traditional red hues, signifying joy and good fortune, as well as yellow and gold colors, related to good luck and Imperial China, in both the paper fan backdrop and table elements. Chinese entrées are presented in a variety of plates and serving dishes throughout the table, while the cupcakes anchor the display inside a tower of wooden steam baskets and a bamboo centerpiece. Pair your favorite Chinese food with symbolic dishes, such as "Longevity Peach" steamed buns and "Prosperity Oranges".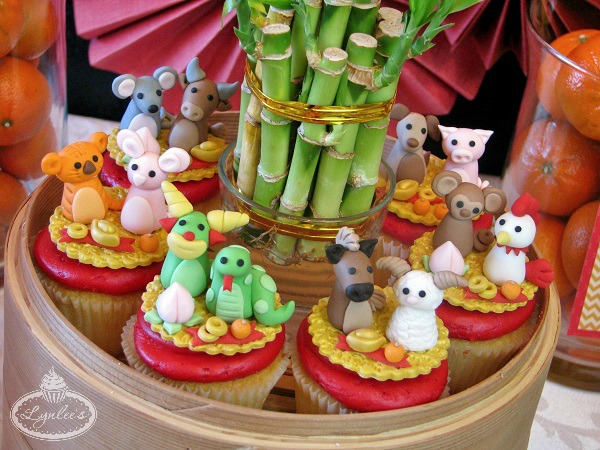 Photos via Lynlee's Petite Cakes
Chinese zodiac cupcakes
In representation of the animals that comprise the Chinese zodiac, these three-dimensional cupcake toppers are molded out of fondant and attached to gold fondant discs embossed with a floral pattern. Traditional Chinese New Year elements embellish the designs, including gold coins and bars, longevity peaches and oranges symbolizing prosperity.
Hone your fondant modeling skills in Sharon Wee's Cake Topper Techniques: Fondant Animals to re-create the Chinese zodiac.

Photo via Sheryl Bito
Signature bride & groom cupcakes
Crafty instructor Sheryl Bito demonstrates step-by-step instructions to create these absolutely adorable cupcakes portraying people and cultures from around the world in her class Global Cupcake Design. Make the a couple dressed in the ornate, traditional Chinese attire the show-stopping centerpiece at your New Year celebration!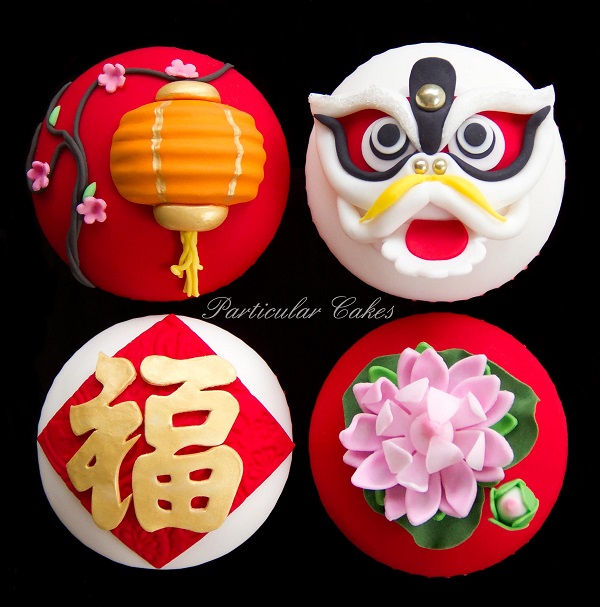 Photo via Particular Cakes
Chinese New Year cupcakes
In anticipation of the Chinese New Year, Particular Cakes created these gorgeous and flawless cupcakes depicting recognizable Chinese elements, including a Chinese lantern, dragon and a water lily. The design is very beautiful and clean, as fondant is utilized to cover the entire surface of each cupcake.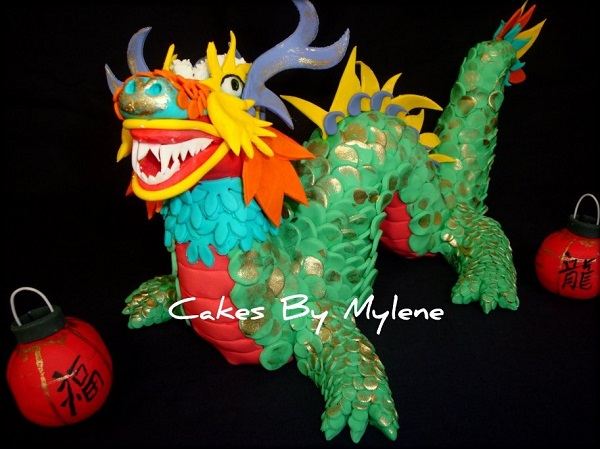 Photo via Cakes by Mylene
Chinese dragon cake
This colorful Chinese dragon cake by Cakes by Mylene is absolutely amazing! Dragons are very prevalent in Chinese culture, symbolizing power and strength, and are sure to be seen during New Year celebrations. This gorgeous cake was carved and decorated with the use of fondant and hand-painted with gold accents.
Learn more about sculpting cakes in Advanced Cake Sculpting with Mike McCarey and Sculpted Dog Cake with Elisa Strauss.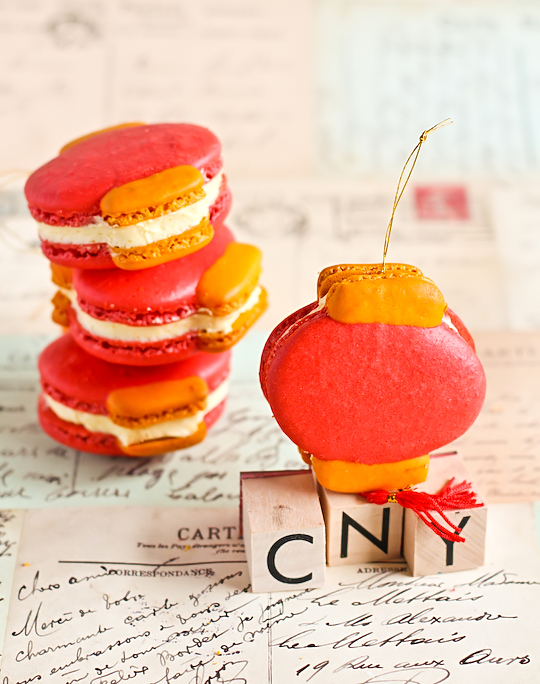 Photo via raspberri cupcakes
Chinese lantern macarons
French macarons continue to be an extremely popular dessert trend and these precious Chinese lantern designs by raspberri cupcakes would be the perfect addition to your Chinese New Year celebration! Follow the tutorial to re-create these festive sweet lanterns, along with a delicious recipe for a jackfruit buttercream filling.
Photo via Celebrations
Chinese New Year cake pops
To celebrate Chinese New Year, Celebrations created this charming collection of cake pops, adorably portraying aspects of Chinese culture, inclusive of red envelopes, firecrackers and lanterns.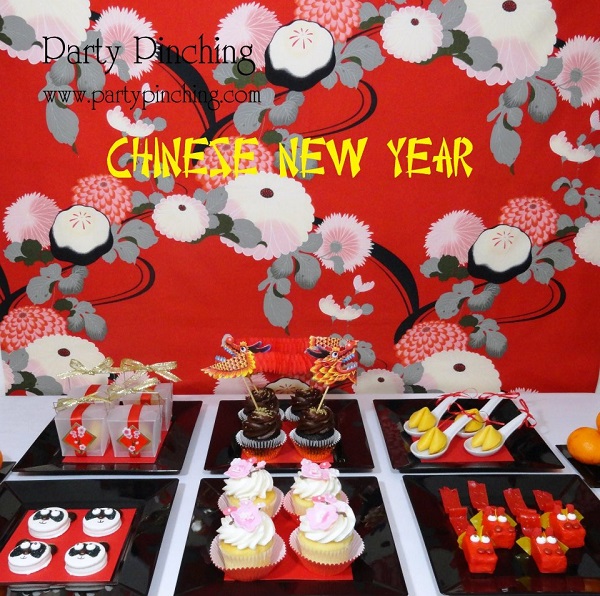 Photo via Party Pinching
Chinese New Year Dessert Party
Party Pinching is an incredible source for creative and original dessert concepts and this Chinese New Year party does not disappoint! From Rice Krispies Treats wrapped in fruit candies to create dragons to Oreo cookies decorated as pandas, these fun and innovative party ideas will help to kick off the lunar new year.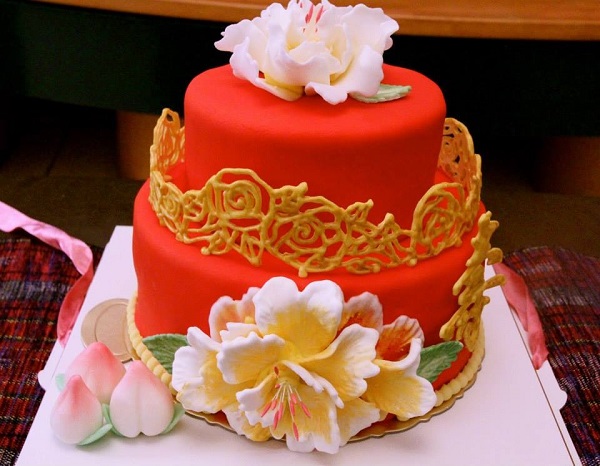 Chinese Longevity Birthday Cake via mc98tw2107165
Chinese Longevity cake
This vibrant and gorgeous Chinese Longevity cake was made by a member and cake artist enrolled in the Craftsy class Vintage Cakes, Modern Methods with Colette Peters! The two-tiered cake was covered in red fondant and embellished with gum paste flowers and Chinese peaches. The floral crown adorning the perimeter of the cake was created with royal icing utilizing techniques learned in the class.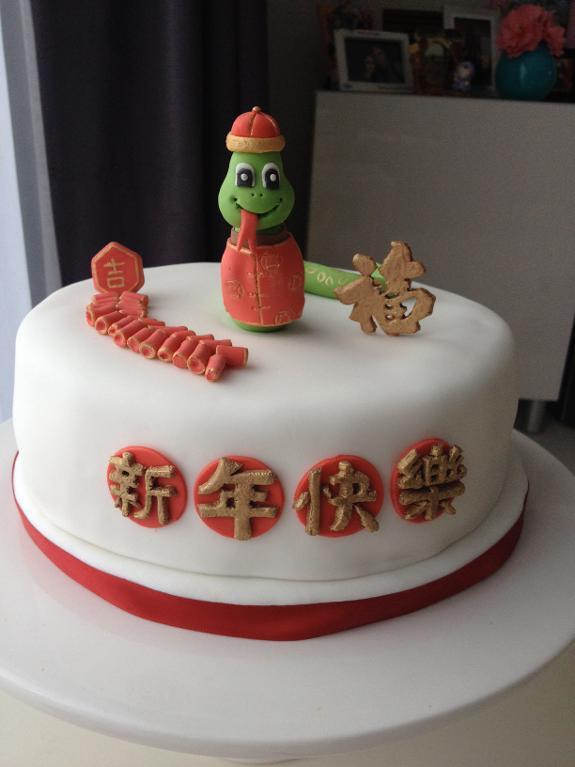 Photo via MoNL
Chinese New Year cake
Cake artist MoNL created this adorable and playful Chinese New Year cake by adding red and gold decorations and characters, along with a fondant-molded snake clothed in Chinese attire to represent the Year of the Snake. Utilize this year's animal, the horse, or create your own animal of your birth year!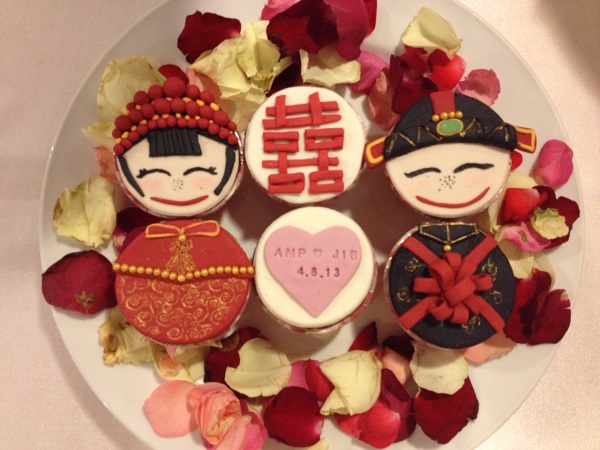 Photo via SweetBig
Chinese bride & groom cupcakes
Cupcake artist SweetBig modeled this beautiful Chinese couple as part of the class Global Cupcake Design with Sheryl Bito. By dressing the couple in traditional red, gold and black and adding ornate accents, these cupcake designs make the perfect addition to a Chinese New Year festivity.
What cake, cupcake or party idea will you use to celebrate Chinese New Year?