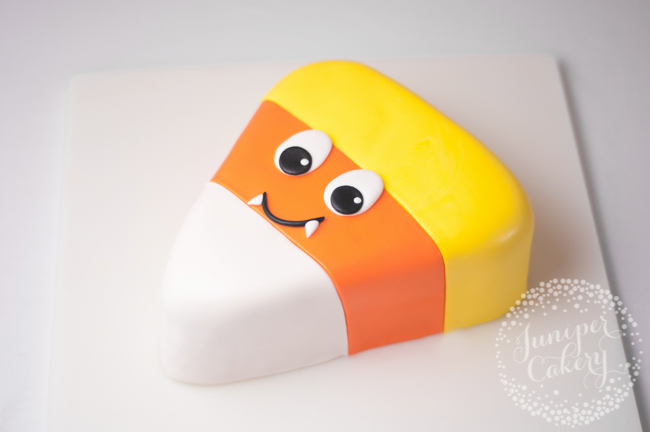 Candy corn is an iconic Halloween treat, so might as well cake-ify it to be even sweeter. Just think how cute it'll look on your Halloween dessert table!
Candy Corn Halloween Cake
Level: Easy
What You Need
Two 8″ square cakes, baked and cooled (use any recipe you love)
Buttercream (Swiss meringue and American buttercream work well)
Yellow, orange, white and black fondant (buy it or make your own)
Steamer or corn syrup glaze
Food-safe brush
Small sharp knife
Offset spatula
Fondant rolling pin
Fondant smoother
Pastry cutter
Oval plunger cutter
Small round piping tip
Veining tool (optional)
Instructions
1. Cut the Triangles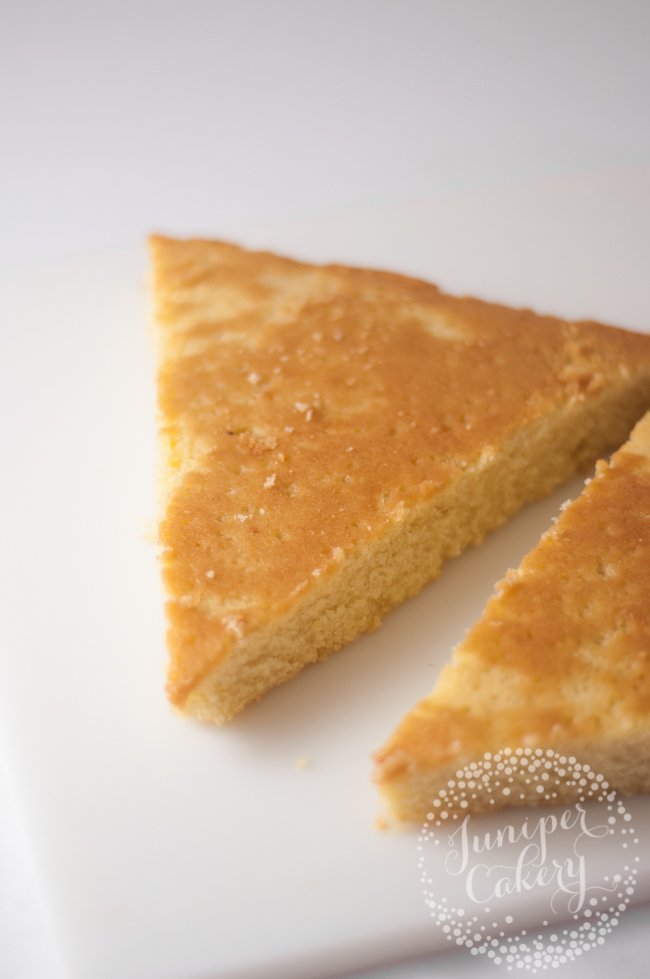 Cut your cakes into equally sized isosceles triangles (a triangle where two sides are equal in length).
Good to Know: We used two 8″ square cakes for the candy corn cake, but you could also use a sheet cake. Also, feel free to add more than two layers if you want your cake to be taller.
2. Stack, Fill and Crumb Coat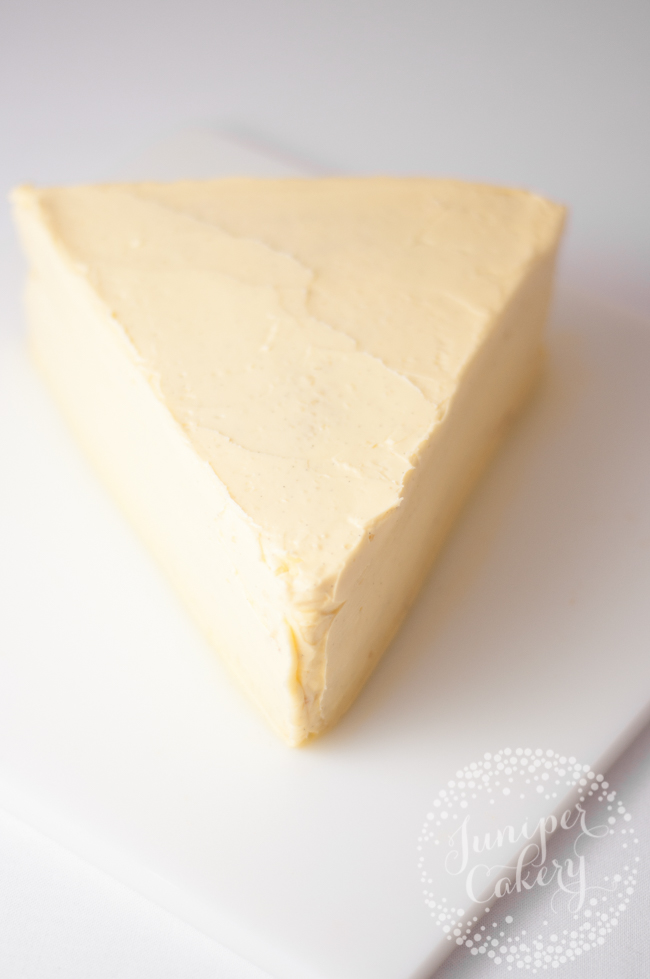 Spread buttercream on top of one triangle and stack the other on top. Crumb coat the entire cake.
Pro Tip: You won't be able to see any buttercream when you're done with this cake, so use any flavor you love.
3. Sculpt the Edges
Round out the corners and edges with a small sharp knife. Once you're happy with the candy corn shape, add a little extra buttercream to smooth and seal the edges. Place the whole cake in the fridge to chill until firm.
4. Cover With Fondant
Cover the entire cake with a thin layer of white fondant.
Good to Know: Doing this will make it easier to add the colored stripes later. It also stops any buttercream from showing through.
5. Add the Stripes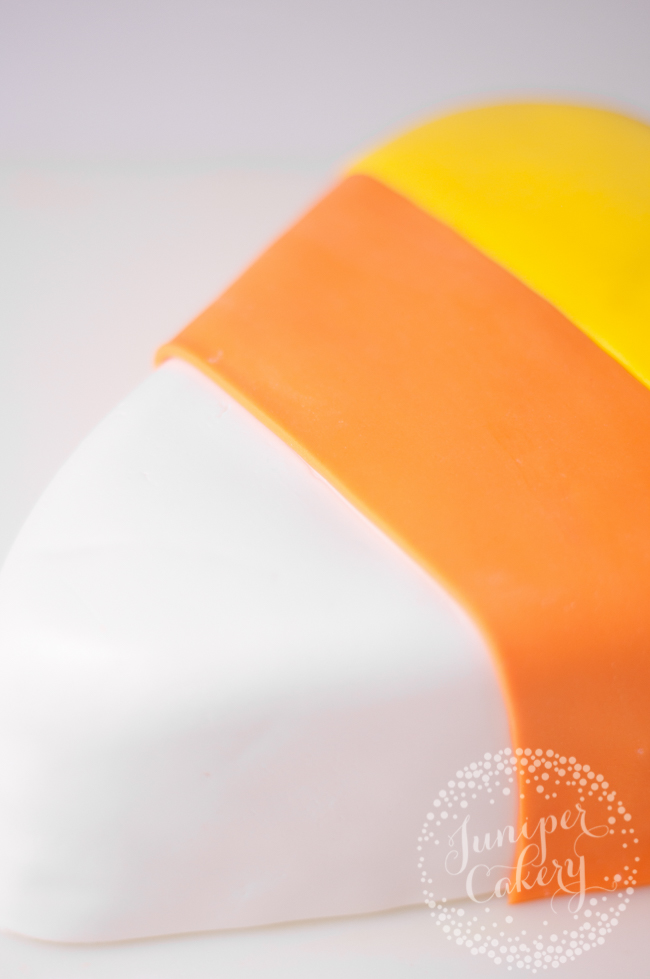 Measure the cake from top to bottom and divide that measurement by 3. (This will be the width of each colored fondant stripe.) Use a veining tool or small knife to mark the white fondant into thirds.
Roll out the yellow fondant to your desired width and cut along both long sides to create straight edges. Line up an edge with the horizontal mark you made on the white fondant. Lay your fondant, making sure there's enough length to cover the top and both sides of the cake.
Adhere the stripe with edible glue. Smooth down the sides and use a sharp knife to trim away any excess fondant.
Repeat this step with the orange fondant stripe.
6. Make It Shine (Optional)
If you prefer your cake have a little glimmer, coat the fondant with a corn syrup glaze or lightly steam it with a cake steamer.
7. Add the Eyes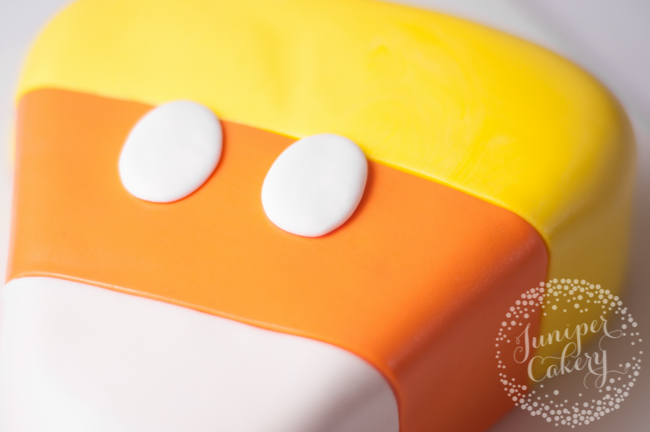 Use your plunger cutter to make two white fondant ovals for the eyes. (You can also shape them with your fingers.) Glue onto the cake with edible glue.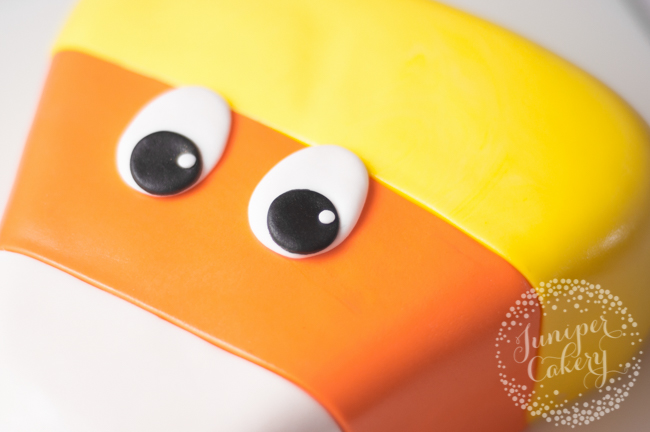 Cut two black circles of fondant to the whites of the eyes and secure with edible glue. (Again, you can make 'em shine with a corn syrup glaze or steamer.) Use a small round piping tip to cut two small white fondant circles for the upper corner of each pupil, then attach with edible glue.
8. Give Him a Smile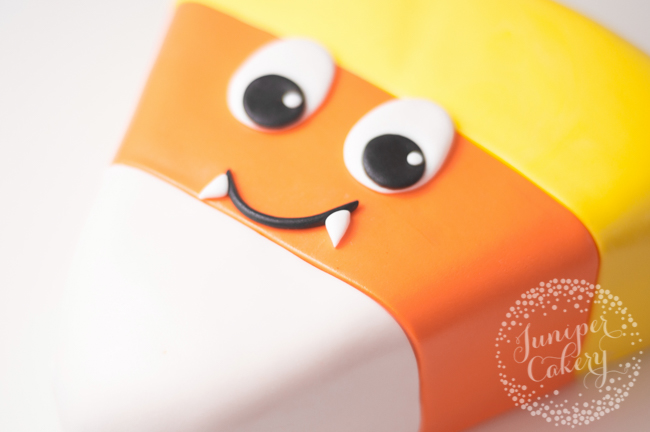 Roll a thin rope of black fondant and cut to your desired length. Cut two small triangles of white fondant. Add these pieces to the cake with edible glue, placing the white triangle fangs at opposite ends of the mouth, thin tip down.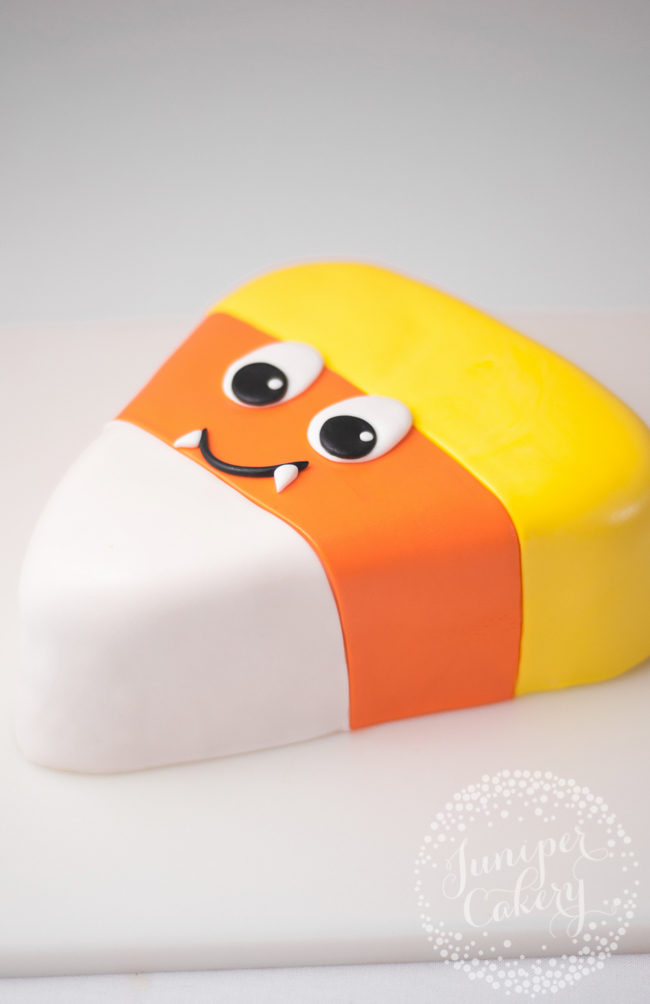 That's it — your candy corn cake is totally fang-tastic!