File under "kitchen sorcery" — this naturally gluten-free and vegan buttercream is made using avocado instead of butter. And it's delicious.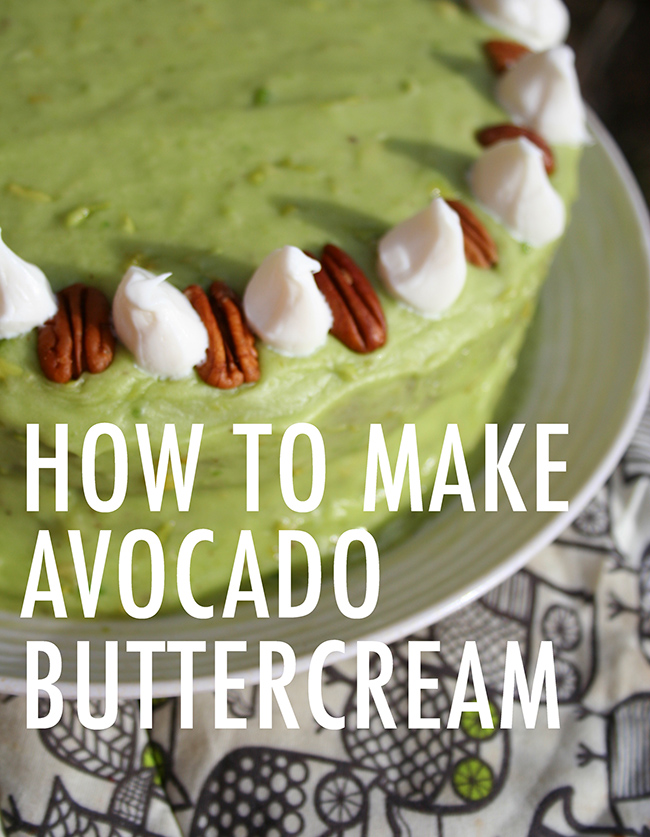 If the idea of avocado buttercream strikes you as a bit strange, consider this: Avocado is actually a fruit. It's easy to forget this fact when avocado is so frequently served as a savory snack, whether it's roasted avocado slices or fresh guacamole.
This frosting recipe celebrates the fruit's natural sweetness. You'll be amazed at how a bit of powdered sugar and a squeeze of lemon juice can transform avocado into a slightly tropical-tasting dessert topping.
Because avocados step in for butter, it results in a vegan buttercream that's safe to share.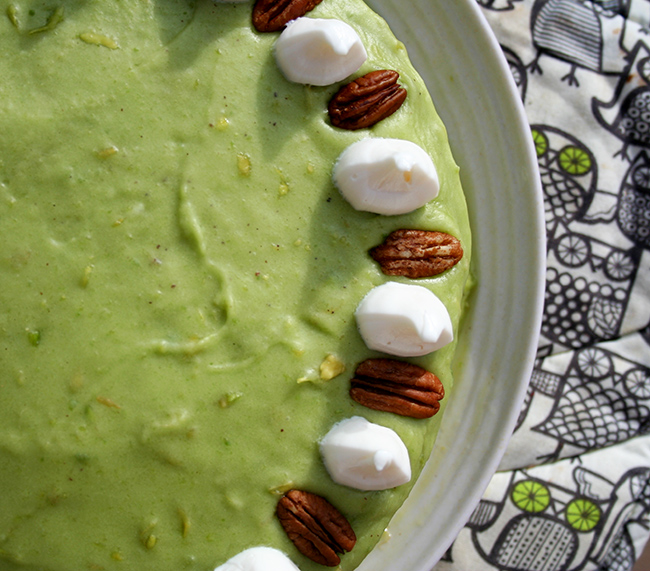 Photos via CakeSpy
Avocado frosting recipe
Adapted from Alton Brown
Makes about 2 cups (suitable for one 8″ or 9″, two-layer cake)
2 medium avocados, very ripe (approximately 8 ounces of fruit)
1½ teaspoons freshly squeezed lemon juice
Pinch salt
4-5 cups powdered sugar, sifted
Step 1:
Peel the avocado, remove the pits and mash the fruit in the bowl of a stand mixer. The better you mash it, the less likelihood of prominent lumps later on. Stir in the lemon juice.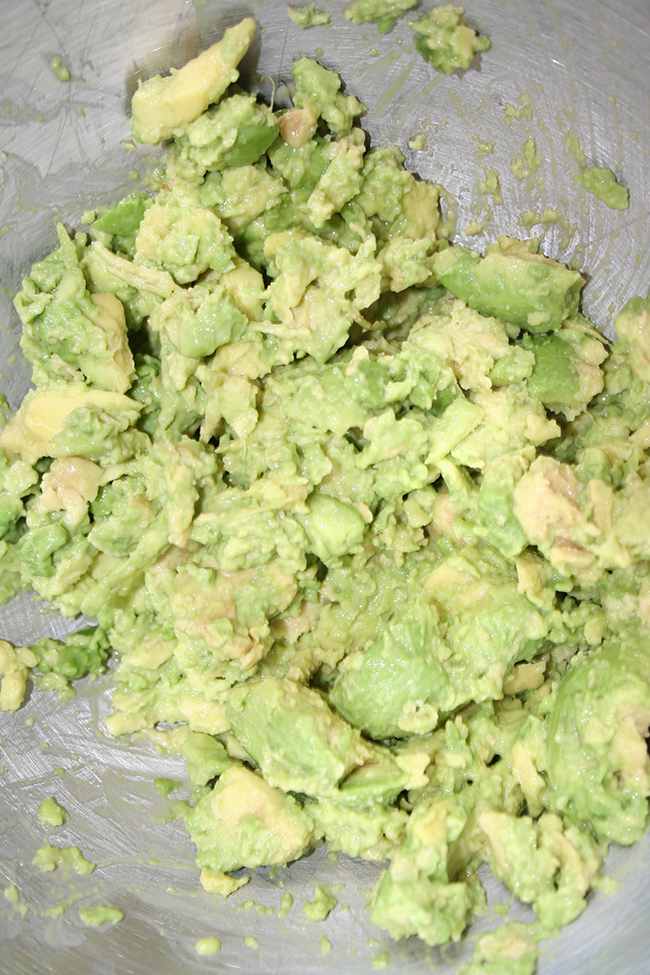 Step 2:
Using the paddle attachment on your stand mixer, mix the avocado on medium-low speed for about 2 minutes, until fairly creamy. I have never gotten this buttercream to be completely devoid of tiny bits of avocado texture, but this has never bothered anyone eating it.
Step 3:
Add the salt and 2 cups of the powdered sugar. Mix until smooth. Continue adding the remaining sugar, a little at a time, until the mixture is thickened.
What should you look for in the texture?
Well, this is not going to have the same texture as a traditional American-style buttercream. It's going to start out more like a caramel frosting or a thick ganache, and like these types of frosting, it will thicken and "set" after being applied to the cake.
If it seems a little too "gooey" for your liking at this moment, you can put the avocado buttercream in the refrigerator for about 20 minutes. It will slightly firm up (don't worry, the lemon juice and sugar will keep the avocado from turning brown). Be sure to give it a vigorous stir before proceeding to remove any "crust" that may have formed.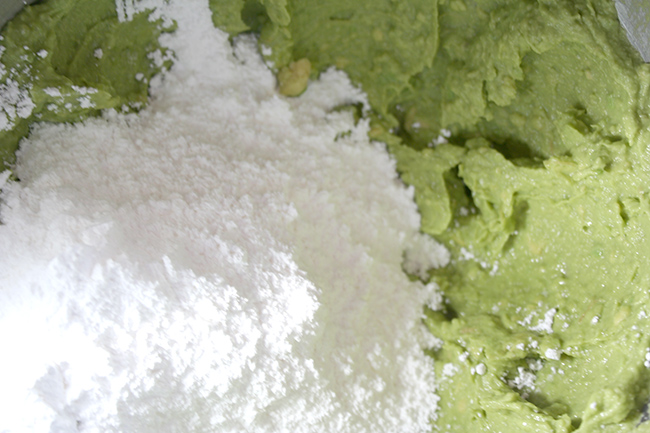 Step 4:
Spoon the frosting on top of the cake, and spread over the top and sides. If you want to apply a thicker layer of this avocado buttercream, put the iced cake in the fridge for 10 minutes then apply a second layer in the same manner as the first.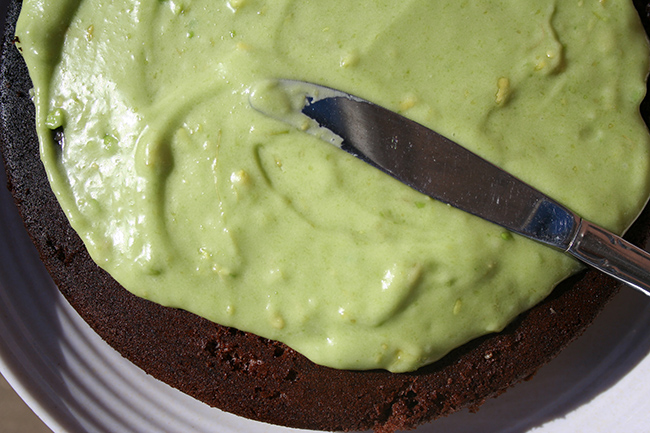 Step 5:
Garnish as desired. Place the cake in the refrigerator for about 20 minutes to help the buttercream set before slicing into wedges to serve. Store well-wrapped leftovers in the refrigerator for up to 3 days.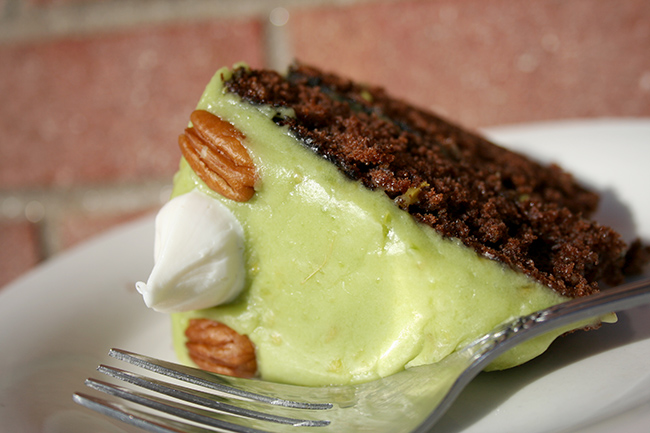 Recipe notes
Avocado buttercream texture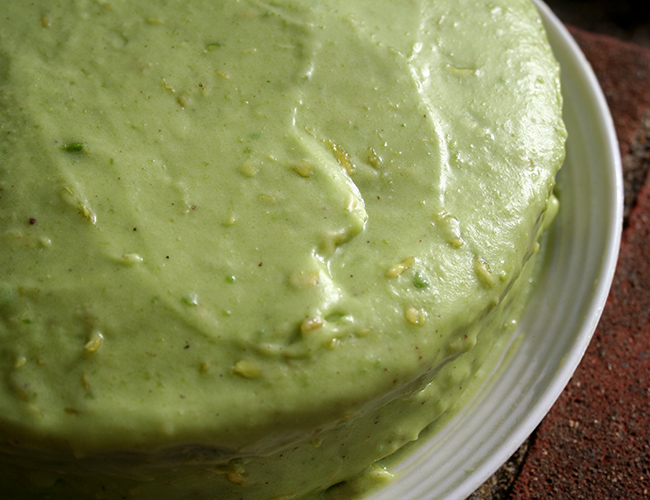 As noted in the recipe, the texture of this buttercream immediately after you make it is not that of a traditional buttercream. It starts out thick and slightly viscous, kind of like a caramel frosting or ganache. As the cake sets, the buttercream will firm up, and it will be easier to apply to a slightly chilled cake.
Recipe variation
If you want to make an avocado buttercream that's more suitable for piping, omit one of the avocados and add 8 tablespoons of vegetable shortening or unsalted butter instead. Of course, if you use butter, the recipe will no longer be vegan.
What type of cake should you frost with this buttercream?
This buttercream really does showcase the natural sweetness of avocado, and has a slightly nutty, slightly tropical flavor. My suggestion is that you either choose a flavor that will either highlight the fruity flavor, such as a lemon cake, or that you choose a flavor that provides contrast, such as chocolate.