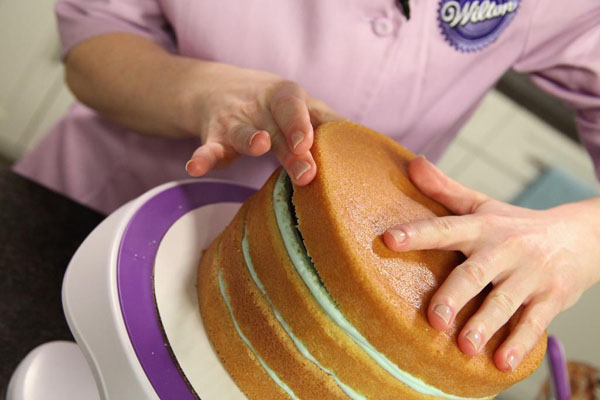 When it comes to creating sculpted cakes, there are a few essential tools, materials and recipes that will help make the process as smooth as freshly whipped buttercream. Carving that perfectly stacked tower of cake into a masterpiece is always daunting, but if you prepare yourself with our top tips and the right tools for the job.
1. Ultra-Sharp Knives
Invest in a good selection of kitchen knives. You'll need different sizes for different jobs or sizes of cake, but a general guide would be to have a large non-serrated (smooth-edged) knife, a medium non-serrated knife and two smaller sharp knives (1 serrated and 1 non-serrated).
Also, keeping your knives clean and sharp may seem like an obvious thing to do. But, it's oh so easy to slip out of a routine of cleaning and storing tools properly when you've just spent 12 hours on your feet working on a 4-tier thing of beauty! Always remember that what you take care of them there and then, it will help you out later on. That extra 5 or so minutes washing, drying, sharpening and storing your work knives properly may seem draining when all you want to do is go home and crawl into bed, but it's less time consuming (and costly) than going out and buying a new set!
2. A Selection of Palette Knives
Owning, and taking care of, a fantastic array of palette knives is a definite! Our most used and loved range from large straight sizes to small angled palette knives that taper to a point. We'd recommend getting both straight and cranked handled palette knives in large, medium and small sizes. As you work more and more on carved cakes you'll develop a way of working that suits you best and you'll even end up having your favorite knives to work with but having an overall collection is a great place to begin.
3. Turntable
We cannot stress just how amazing a good turntable is. We've been through so many different styles and brands. Our top tips for finding your perfect turntable? Invest a little more money, as buying cheap in this case hardly ever pays off, and know how you work (do you usually make larger cakes or smaller cakes, are you short in stature … some turntables end up being several inches tall, which will obviously lift your cake/work higher).
4. Dowels
Carving a stacked cake without a good structure system holding it together can be a nightmare. Depending on your 3-D design, your structural "skeleton" doesn't have to be complex. For simple carved shapes, such as handbag cakes or birdcage cakes, we always use one or two doweling rods for a little stability. Obviously, if you're working on a cake shaped into the Empire State Building with King Kong on top, you may need to plan out your structure a little more carefully.
5. Fridge
Carved cakes are easier to ice when they've been chilled just the same as when working with a non-sculpted cake. Chilling helps "set" your buttercream or ganache filling, so that it's so much more stable to then crumb coat and cover with either a final layer of buttercream or fondant.