There are a number of things I take into consideration when sculpting cakes. Everything from type of cake to structure and filling to decor matters. In this post, I'll share six essential cake sculpting tips I've learned along the way for sculpting high-quality creations.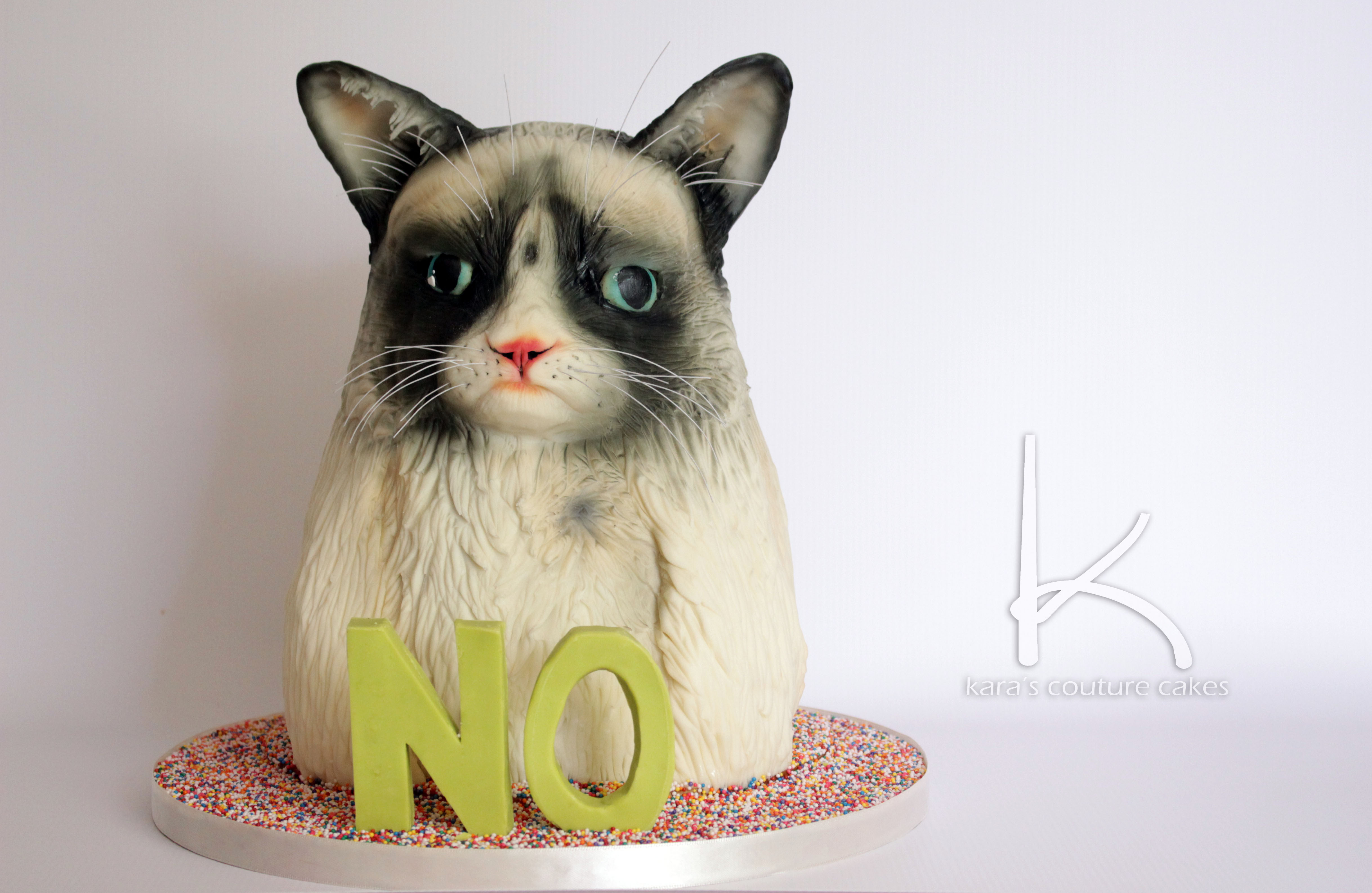 All photos via Kara's Couture Cakes
1. Plan your attack
My humor-filled son has been asking for a Grumpy Cat birthday cake for the last six months. There was no getting out of this carved creation, and he's quite the critic. A plan needed to be set in place to be sure he was happy, and that I maintained my sanity.
I began with a picture printed to scale. I did this using Photoshop but it can be done the same in many other programs. I simply decided how tall I wanted him, approximated the portions and printed it in different sections, lining them up and then taping them to my kitchen wall for reference.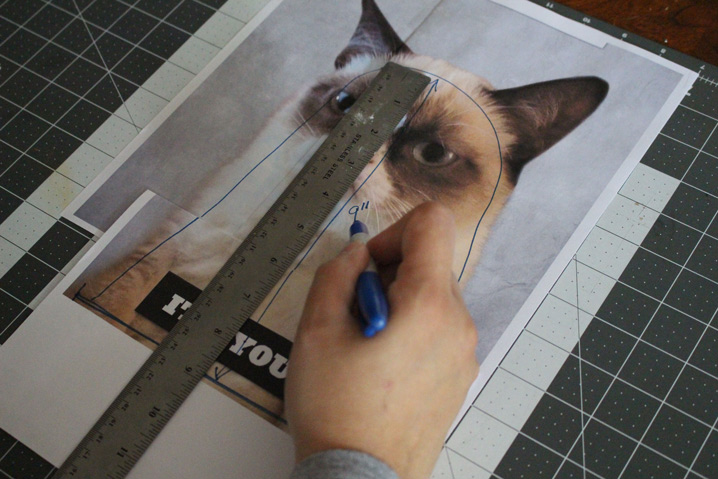 Using a marker, I drew a general idea of the shape I would carve (minus small detail features) as well as any support elements I may need/want to include. For the sensational Grumpy Cat, I will not be adding support. As you can see, she (Yes! this little ball of unhappiness IS a girl!) will mostly be a mound shape of cake. And since it'll only be nine inches tall and slightly tapered toward the top, the cake will be fine to support itself.
2. Choose the right recipes
It's important to know the consistency of your cake and choose appropriate fillings. A very tender and open crumbed cake won't do well with carving and fillings that can't firm up under refrigeration are not good choices for sculpted cakes. You can find my Perfect Vanilla Cake and Swiss Meringue Buttercream recipes that I used in this cake here.
I use thicker torted layers of cake for sculpted cakes. Having more, thin layers with filling tends to hamper me. I still use thick filling (as you can see) but the thicker and more solid each layer of cake and buttercream is, the easier to carve. You'll find that you get less crumbling, fewer chunks jumping off the cake and less going over the same areas to refine. Just like with layered cakes, be sure your layers are level and firmly resting upon the last.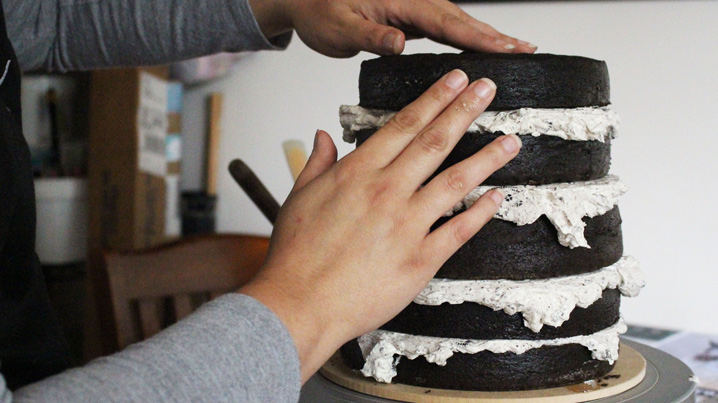 Before carving, I remove the excess buttercream and place the filled cake into the refrigerator for about two hours to chill and again and firm up. This makes for much easier and cleaner carving. I prefer a sharp straight blade as opposed to a serrated blade for smaller tasks or for finer details. Serrated knives can lead to one side when cutting, giving you uneven and unexpected cuts, and they take off bigger chunks. In general, you want to keep in mind that you can always go back and remove a bit more. It's far harder to recover from taking off too much.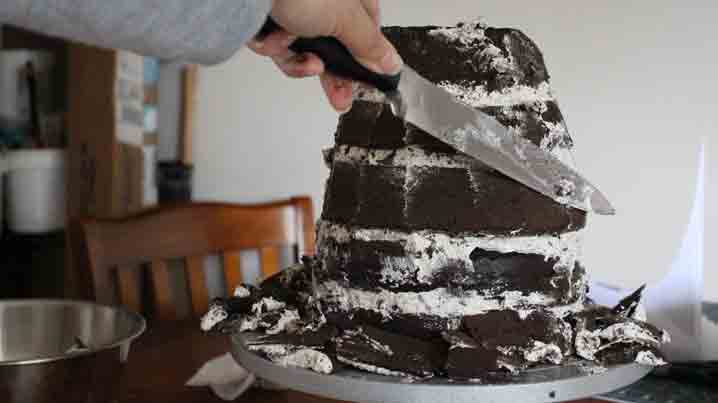 3. Don't throw away (or eat) those off cuts!
I know it's so hard to leave those little heavenly bites alone, but seriously, they will be used very shortly for this cake. We'll be adding to the top layer to round out the head with a mixture of those yummy scraps.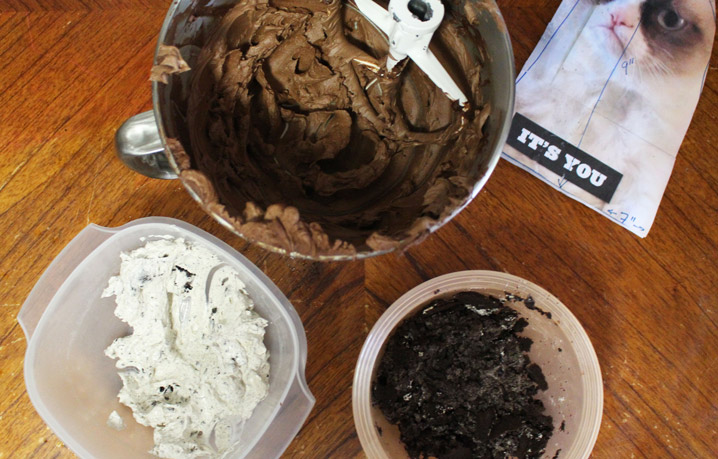 This image is purely for evidence that I saved my extras. Always save them until the end. You never know what might happen, and it's better to munch on something other than your work materials until the cake is completed.
4. Create a smooth base for your fondant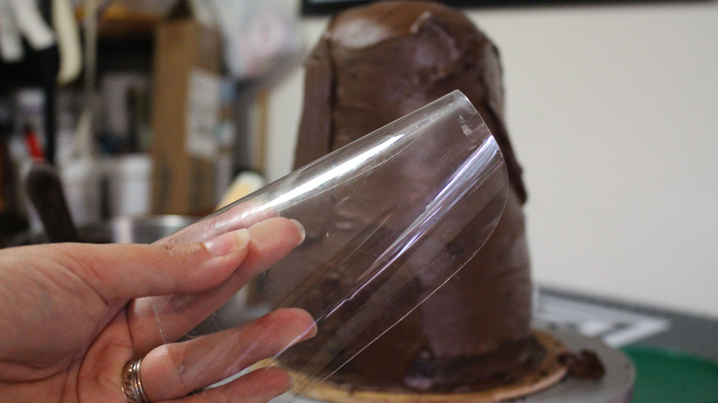 Ganache is a great choice to coat you fully carved cake prior to covering in fondant or modeling chocolate. But when you have such natural, rounded and organic curves with many sculpted designs, it's sanity-testing to use a spatula to get a nice finish.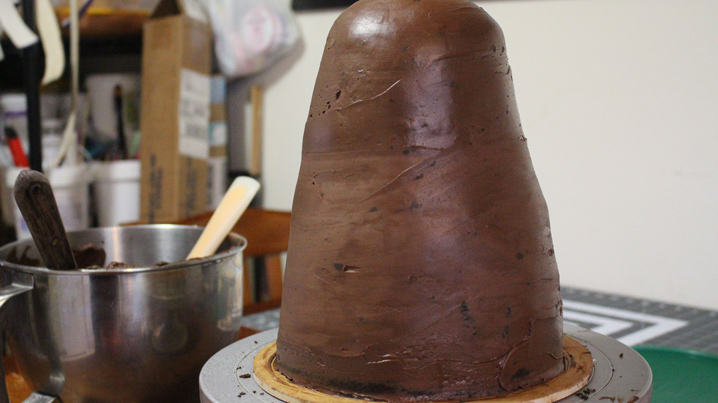 The results speak for themselves! Smooth as a baby's bottom and beautiful canvas to begin adding your design work.
5. Understand the inevitable "ugly stage"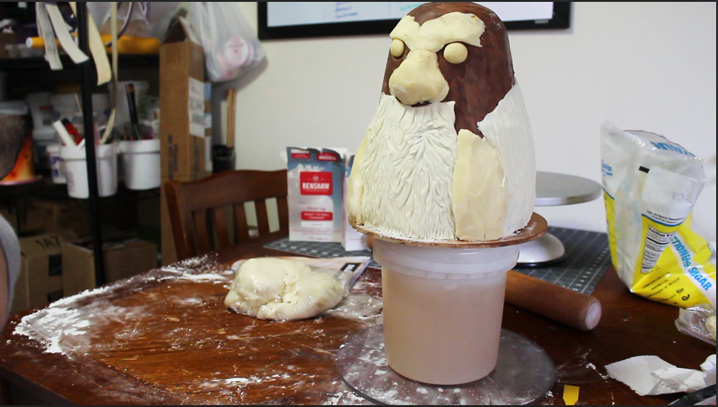 I can't believe I'm sharing this image… It's like middle school (or junior high). Everyone is transitioning to the more mature and refined look they will assume in life. But man is it awkward and we are so unsure of what we see in the mirror every day!
Cakes go through the same phase. This is what a friend of mine referred to as "the ugly stage" once and assured me that every cake everywhere goes through this stage and you need to continue. This may be  the most important bit of advice I lend you in the post: they all have an ugly stage, but you need to work through it!
Grumpy cat looks like an owl here. And my work area is a mess! It seems like chaos has taken hold and there may not be a successful project at the end of this dismal tunnel. My husband even thought I changed the plan to a beaver. Grump looked like this for a while, and I had to fight off the disappointment and frustration fiercely! But I worked through knowing it was merely the ugly stage and… Voila!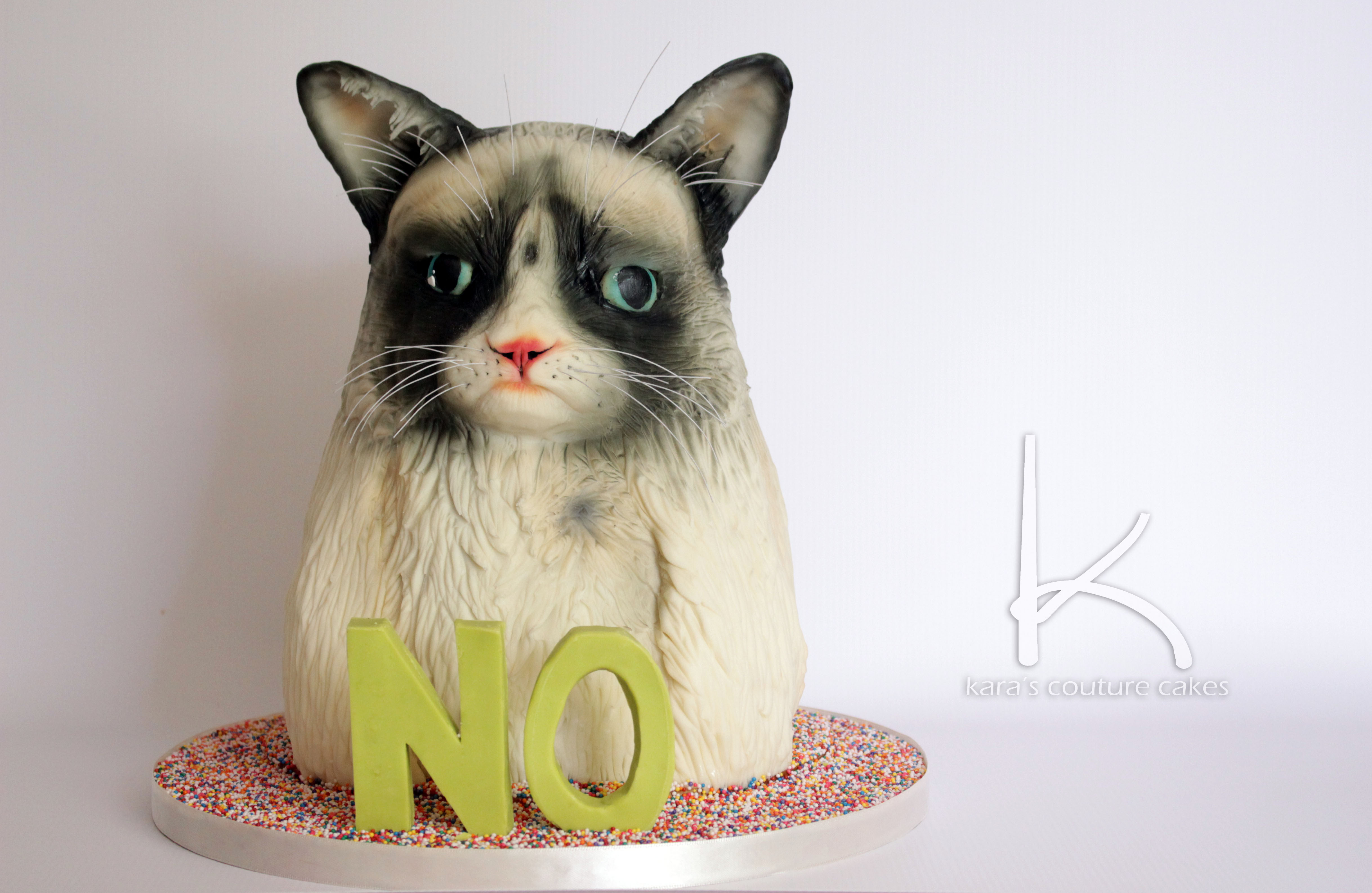 She did, in fact, turn into the iconic unhappy feline that my son requested. It may be hard to see before you get around to the details, the color and those little extras that make the final cake, but push through each stage and you'll have success!
6. Keep the finishing details in mind
It's tempting to finish your cake's sculpting and detailing and be ready to sit down with a cup of tea and a good book and relax. But did you remember to finish off the cake board? Simple little extras like the nonpareil-covered baseboard here take the project to a different level. And took me all of three minutes to do. Think details. That is where your success will always be!
Make amazing cakes for legendary parties!
Build new sculpting skills as you create a marvelous unicorn cake supported by a gravity-defying armature. Enroll Now »