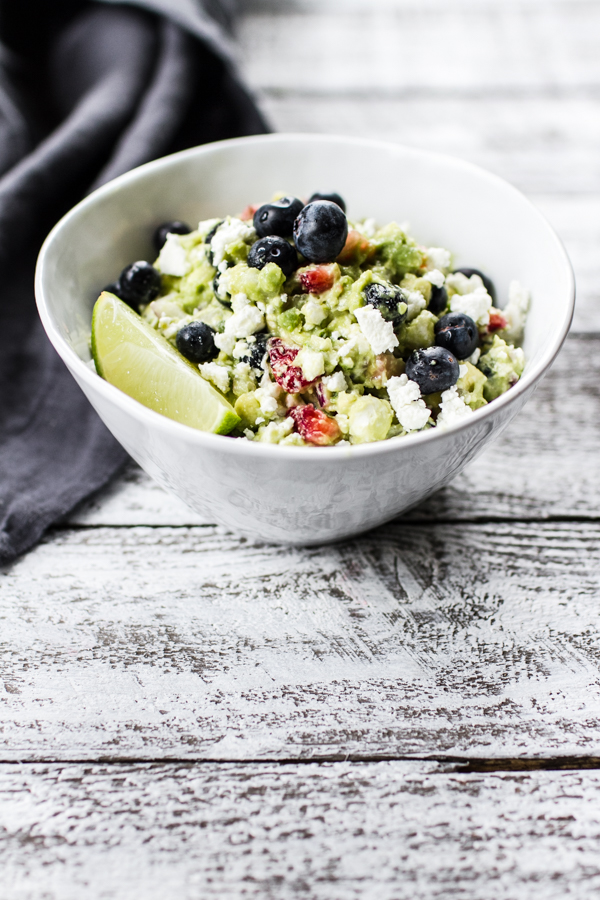 Whether you're spreading it on homemade tortillas or dipping chips into it, guacamole is a must-have for any Mexican meal. And while the classic recipe is mouthwatering, you can turn this salsa on its head by adding two more ingredients: berries and goat cheese.
Don't worry, this recipe still has red onion and jalapeño for a sharp bite, but that spice is complemented by tangy cheese and sweet summer berries. Consider it an easy way to add some variety to your Taco Tuesday lineup, a summer barbecue or that Cinco de Mayo fiesta.
Summer Berry Guacamole
Yield: 4-6 servings
Ingredients
2 ripe avocados (medium size)
1 tablespoon fresh lime juice
1 tablespoon fresh lemon juice
1 teaspoon honey (or agave nectar)
½ teaspoon fine grain sea salt, to taste
⅓ cup diced red onion
1 jalapeño, ribs and seeds removed, minced (leave seeds for a spicy bite)
Heaping ½ cup diced strawberries
½ cup blueberries
3 ounces goat cheese
¼ – ½ teaspoon each lemon and lime zest (optional)
Instructions
1. Cut the avocados in half and scoop the flesh from the hull. Place in a large bowl and mash about half of the avocado (leaving the rest chunky).
2. Add the lime, lemon, honey and about ½ teaspoon of salt. Stir to combine. Avoid further mashing unless you want a very creamy guacamole.
3. Add the onion, jalapeño, strawberries and blueberries. Fold together until combined.
4. Crumble the goat cheese over top, reserving a bit to use as a topping. Fold the goat cheese in. Taste and add more salt if desired. For a zestier bite, fold in lemon and lime zest.
5. Top with reserved goat cheese, a few extra blueberries and a lime wedge. Serve immediately.
Photo via Edible Perspective