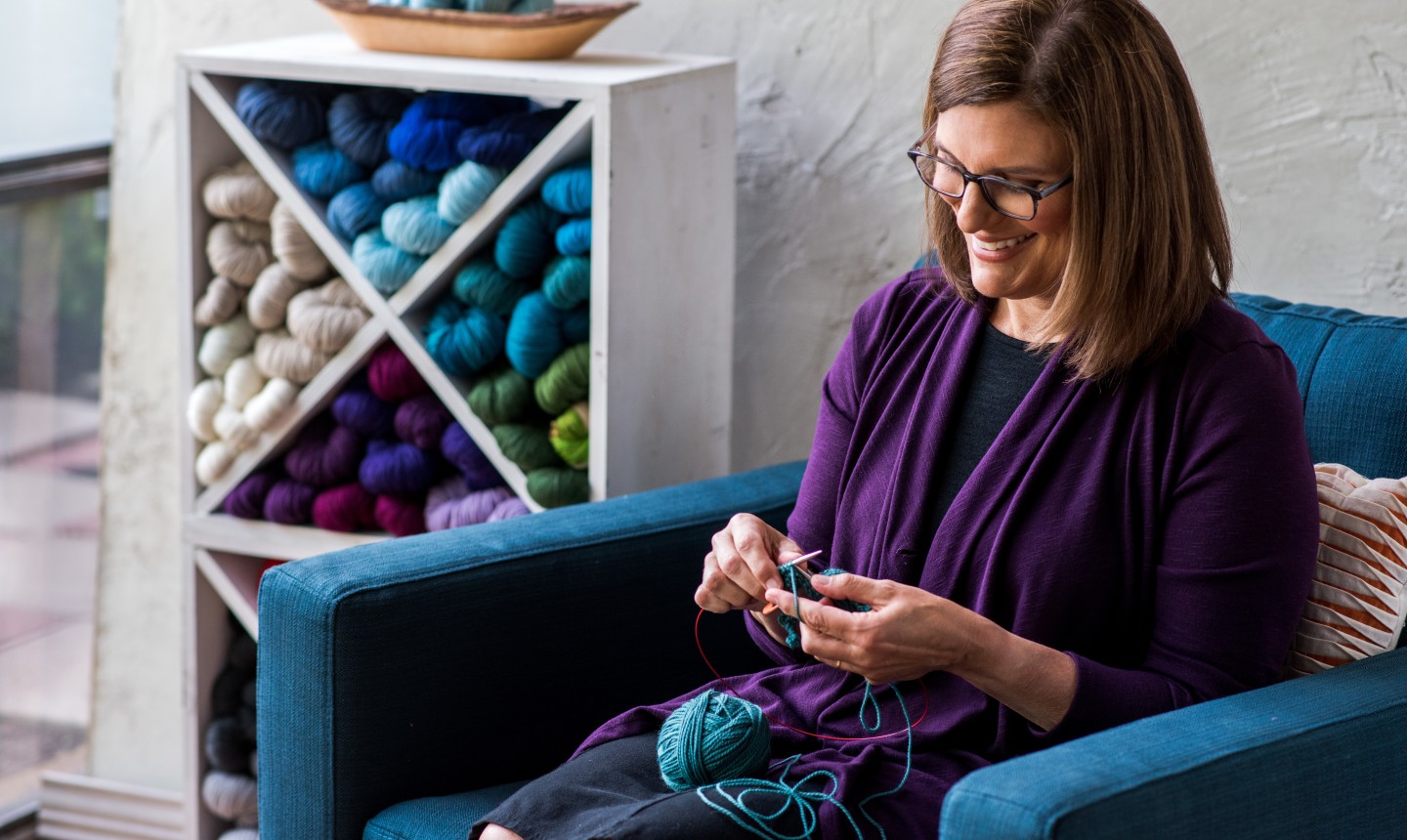 Think of all the reasons you love to get your hands on a project: It can help you unwind, add DIY flair to your home or wardrobe, and produce one-of-a-kind gifts for everyone in your life.
But did you know that the benefits of creative activity are backed up by data? Yep, science says making things can boost our happiness, give us a more optimistic outlook, and bring tons of other positive side effects.
A 2019 study by the market research firm Ipsos surveyed 2,012 adults over age 18 in the United States, and turned up some fascinating insights about the value of creative pursuits. Here's a rundown of all the goodness in store next time you grab that paint brush (or crochet hook, or whisk, or embroidery hoop, or…)
1. An All-Natural High
In the survey, 88 percent said they feel joy when they successfully complete a creative project. Whether you're decorating a gorgeous cake, knitting a killer scarf, or painting the sunset, nothing sparks joy like stepping back and looking at a creative project you poured your time and energy into — and finished.
2. The Coolest Way to Chill
After a tough day at work, Netflix and your sofa might be calling your name. But the study found that people with creative hobbies would rather chill by spending time on their projects instead of flopping on the couch and streaming their favorite shows. A whopping 77 percent said they'd much rather part with Netflix for a year than stop doing their creative activities.
3. The Thrill of Saying "I Made This From Scratch!"
Think about that feeling you get when you're baking cookies that make your entire house smell like butter and sugar, sewing throw pillows for your living room, or growing your own tomatoes. Doing something with our own hands is one of the most satisfying feelings we can get. In the study, 79 percent of people surveyed say they love doing creative projects because of that "I did it" moment.
4. VIP Membership in a Creative Community
Turns out everyone's getting in on the creativity trend. A full three-quarters of people surveyed say they have at least one creative hobby they love. Topping the list: baking, gardening, home decor, DIY crafting, and cooking — for pleasure, not just to put food on the table.
5. A Rare Combo of Relaxation and Fun
Meditation is relaxing — but calling it fun is a stretch. Throwing a party? Fun, but not exactly relaxing. Doing a creative project? Fun and relaxing. When you're making, you can get into a zen state while also enjoying yourself. Nearly half of the survey respondents (47 percent) even said they'd give up an hour of sleep so they could do their creative projects. Because who needs sleep when you're working on a watercolor?
6. A Happiness and Optimism Boost
More than half of adults who do creative activities describe themselves as optimistic (55 percent) and happy (53 percent). As for people who don't do creative projects, less than half call themselves optimistic (44 percent) or happy (40 percent). Granted, it's hard to say how the cause-and-effect works here, but either way we'd call this data a good reason to get crafting, stat.
7. Chicken Soup For Your Body and Soul
Anyone who's really into creative hobbies knows that giving time to your craft just makes you feel better. And apparently, that idea is gaining traction: Of the survey respondents, 57 percent said they'd rather try a new creative activity than take a new medication if their doctor said the health results would be the same.
Source: IPSOS online survey of 2,012 US adults (18 years and older) from February 12-16, 2019.