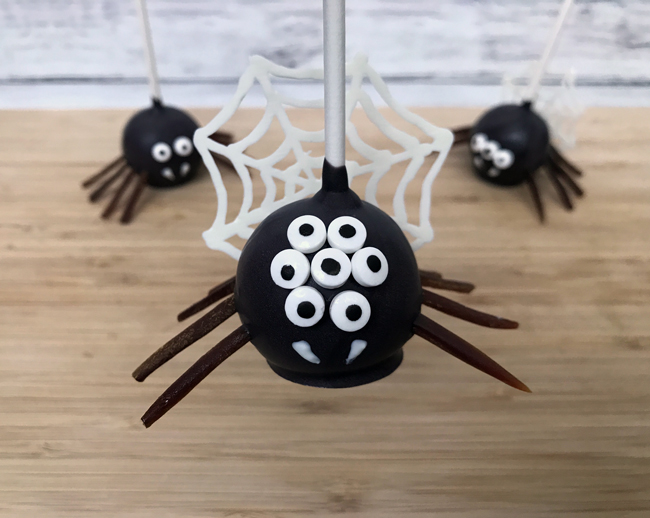 Eeeeek! You're about to get caught up in a web … of Halloween adorableness. These creepy, crawly cake pops will put a little spook in your holiday strut. It take a few steps to make 'em, but it's not hard. Best of all, this recipe is totally forgiving. Even if your spider details aren't exactly perfect, the finished effect is totally cute enough to eat. We promise.
Halloween Spider Cake Pops
Level: Easy
What You Need
Cake baked in foil-lined pan, refrigerated and cooled
1 can creamy style store-bought frosting, chilled
Portion scoop
Black and white candy coating
Candy eyes
Black licorice rope or laces
Paramount crystals
Lollipop sticks
Waxed paper
Toothpicks
Zip-top bags
Instructions
1. Prep the Pops
Slice cake into about 8 pieces, and place into the bowl of a stand mixer fitted with the paddle attachment. Run the mixer on low for a few minutes, until cake is crumbled into fine pieces. Add frosting a few tablespoons at a time, then mix on low for a few minutes. Continue adding frosting and mixing until the dough is a play dough-like consistency.
2. Roll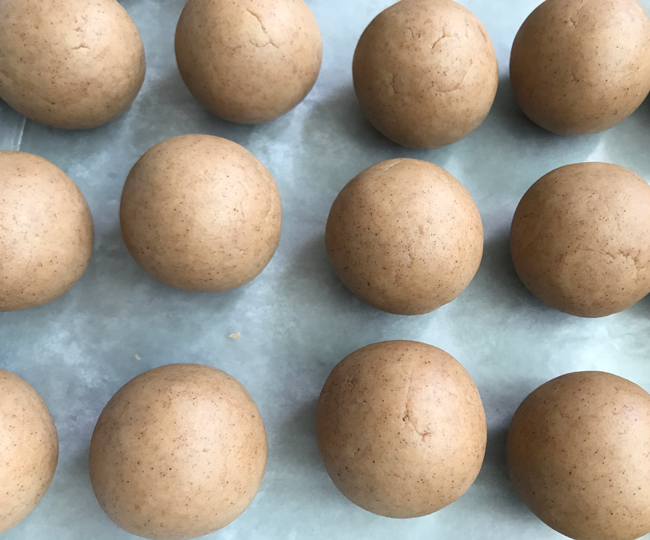 Use a portion scoop or a food scale to portion your dough uniformly. Roll each portion into a ball and place onto a waxed paper–lined cookie sheet. Refrigerate while you prepare the other elements of the cake pops.
3. Cut the Licorice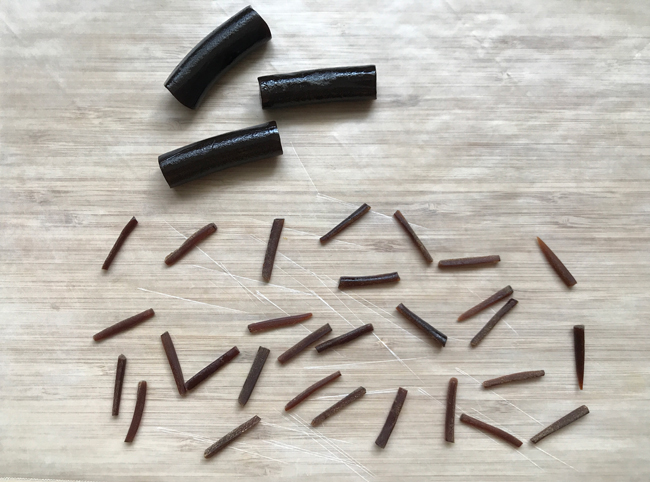 Next, prep the licorice legs. If you're using licorice rope, cut it into 1″ pieces and then trim each of those into thin strips. If you're using thin licorice laces, simply cut them to 1″ pieces.
4. Melt
Melt the candy coating , heating each color in separate bowls. Microwave each color for 1 minute at 50 percent power. Stir. Continue to microwave at 50 percent power in 30-second bursts, stirring between each heating interval, until melted and smooth.
If your black candy coating is really thick once melted — which tends to happen with this color! — add paramount crystals and stir until it's the consistency of wet paint. (You can also thin it with coconut oil!)
5. Make the Spider Webs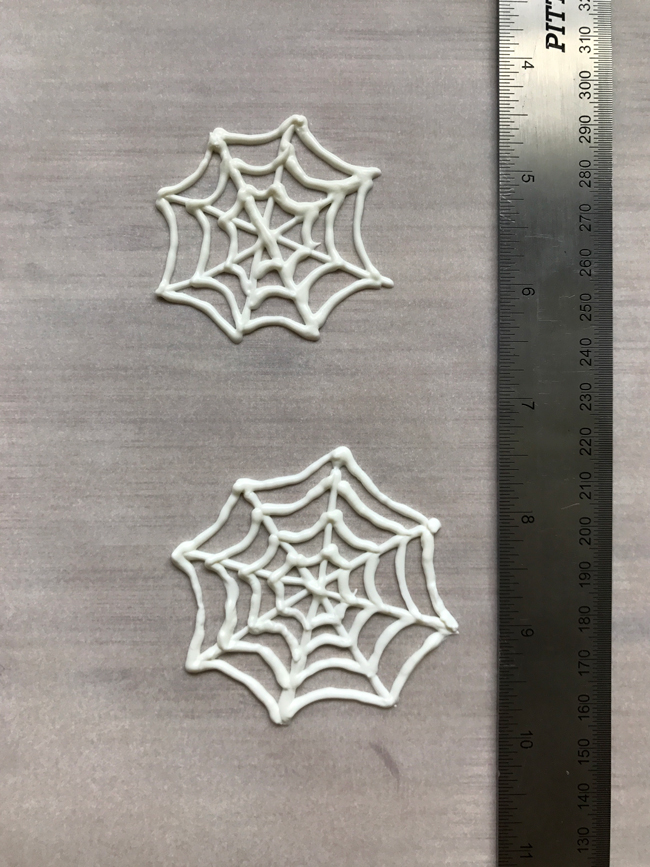 Place the melted white coating in a zip-top bag and snip the tip of the bag to use like a piping bag. Pipe spiderwebs, about 3″ in diameter, onto a wax-paper lined cookie sheet. Start by making six intersecting lines (like an asterisk), then pipe scalloped lines between the six spokes.
6. Insert the Sticks
Remove the cake pop forms from the fridge and let sit at room temperature for 5-10 minutes to take the chill off. Dip ⅓" of the lollipop stick into the coating and insert into the cake ball until about halfway through. Repeat for all cake balls.
7. Dip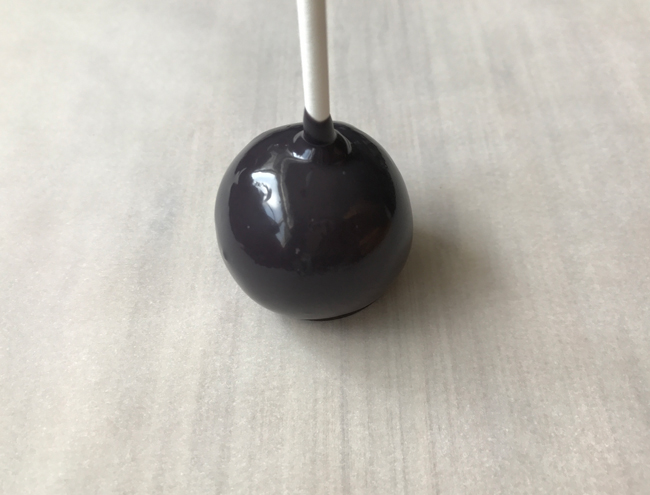 Working one at a time, dip your cake pop into the black candy coating. Submerge completely into the coating until it meets the stick. Lift it out and give a gentle shake in an up and down motion.
8. Add the Legs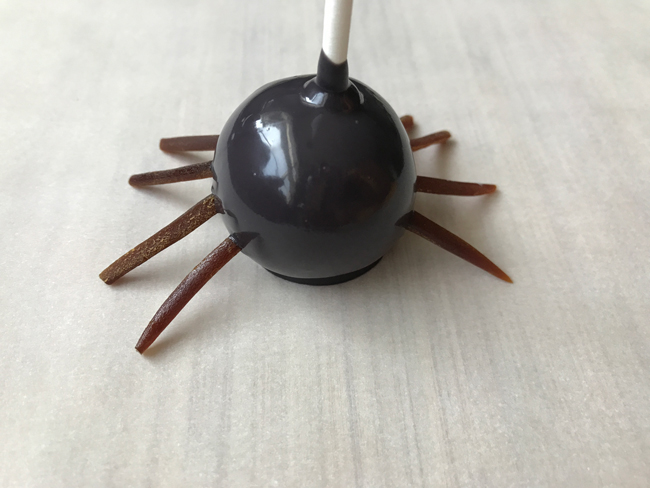 Place the cake pop upside down on waxed paper. While the coating is wet, adhere the legs first, then the eyes.
If the coating on the cake pop dries before you can adhere all the candy eyes, dab a bit of coating onto the back of each eyeball.
9. Add Allll the Eyes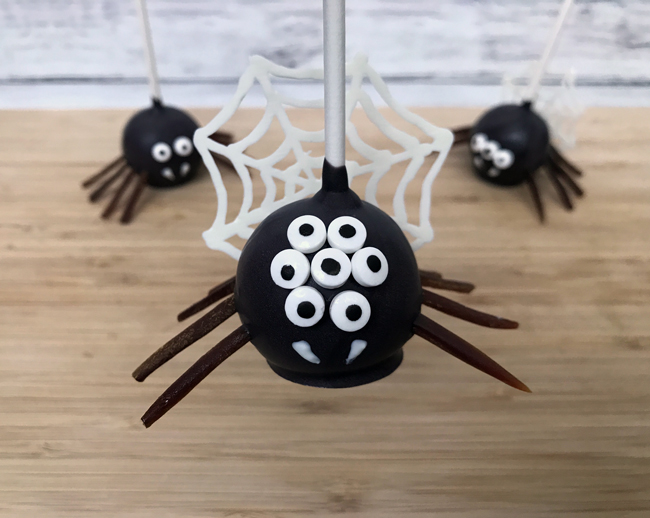 Use the white coating to create fangs on the mouth area and to "glue" each spiderweb on the back of the cake ball.