The iconic Chanel couture jacket is proof that a classic jacket is a wardrobe staple. True, sewing a classic jacket can be a huge investment of your time and energy (I've heard estimates of 70 to 80 hours if you use couture and traditional tailoring techniques!), but it's time well spent if you end up sewing a garment that you'll wear for years. A truly classic jacket will have clean lines, understated design elements, and be expertly tailored so that it fits your body like a glove!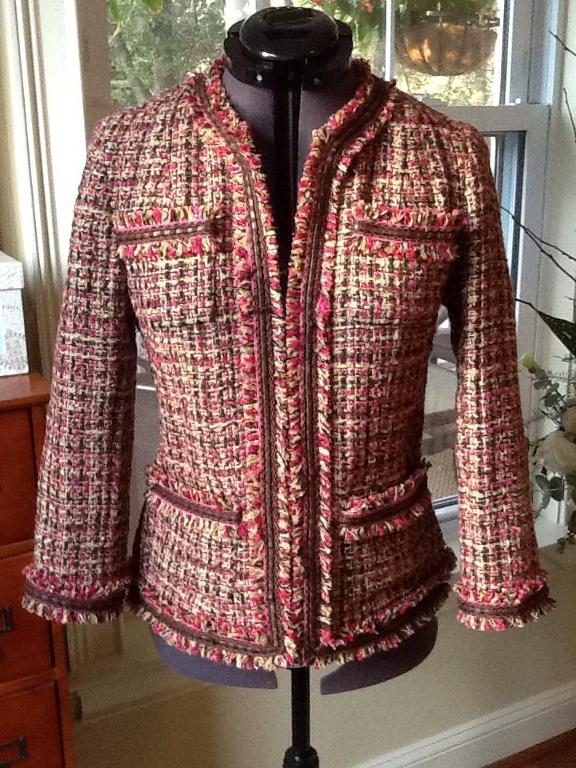 Tweed jacket by Craftsy member jstarr4250
Here are a few things to keep in mind when sewing a classic jacket:
Patterns
When selecting a pattern for your classic jacket, pay attention to the garment's lines. I always try to do this when buying patterns, because the styling on the pattern envelope is rarely to my taste, but I know it's easier said than done sometimes. It's helpful to have an idea of the basic design elements you want your classic jacket to have (like three-quarter length sleeves or a specific lapel) before perusing the pattern books.
You can't go wrong with a Chanel-style cardigan jacket (try Vogue 7975, Vogue 8804, or McCalls 6041), but if you're after something a little bit different, take a look at these options:
Vogue 8893 has clean lines and many opportunities to incorporate couture sewing techniques.
McCall's 6172 is a good choice if you're looking for a pattern with length options.
McCall's 5668 view A is an option if you want a jacket that doesn't have any closures.
Butterick 5617 has a more boxy shape.
Simplicity 2446 has a very classic shape, and the pattern is easy to adjust to fit your bust size.
Photo via Craftsy instructor Lorna Knight
Fabric and trim
Your fabric choice can make or break the success of your jacket, and determine how well it fits into your wardrobe. A neutral color like beige or gray is the safest option, but consider what other colors you love to wear, as well. Depending on your jacket pattern, you should have plenty of choices for fabric type. If you're after a Chanel-style jacket, a gorgeous tweed or boucle is a must for your fabric choice. Otherwise, any manner of wool or wool blend will give your jacket a nice weight and structure. Linen, twill and brocade could also work depending on your jacket's design.
For lining fabric, silk charmeuse or crepe de chine are excellent options. Consider how your lining plays into the overall design of your jacket, too. A contrasting lining could be a fun element in an otherwise understated garment.
You may enjoy our post on tips for finding and working with jacket fabric.
Trim and button choice are also extremely important; you'll probably want to choose something that blends nicely with your fabric choice, rather than something that provides a great deal of contrast.
On the whole, you won't regret making more conservative choices for fabric and trim. Aiming for a classic look will ensure you get wear out of a garment you spent a lot of time on!
Photo via Craftsy instructor Lorna Knight
Techniques
Your construction techniques will account for a lot of the time you spend sewing a classic jacket. You can go all out for the full couture sewing experience, or pick and choose which techniques you want to incorporate, such as couture hand stitching. The Chanel jacket is a great source of inspiration. Chanel's design is notable for the chain sewn into the jacket lining, just above the hemline, which helps the jacket to hang smoothly. Chanel also used 1″ seams, allowing the jacket to be let out up to 4 sizes larger. While no one likes to think of outgrowing their clothes, it's sometimes a part of life. Incorporating this technique means your jacket won't get shoved to the back of the closet because it no longer fits!
Traditional tailoring techniques can also be used when sewing a classic jacket, like hand-stitched lining, hand-sewn trim, bound buttonholes and sleeves set in by hand. Waxing your thread when adding add sewn details like trim will provide some additional strength.
Learn how to sew the timeless designer jacket you always wanted, complete with luxurious lining, delicate structure, custom details and a hand-stitched finish while mastering couture sewing techniques in Lorna Knight's The Iconic Tweed Jacket Craftsy class.
Do you have a favorite classic jacket sewing pattern? Please share in the comments!