Hand-sewing seems to be one of those techniques that some sewing practitioners loathe, and others find to be relaxing and satisfying.
While many home sewists prefer a machine stitch, couture seamstresses rely heavily on hand stitches to improve accuracy and obtain absolute control of the fabric. Of course, both of these techniques have their place in modern sewing.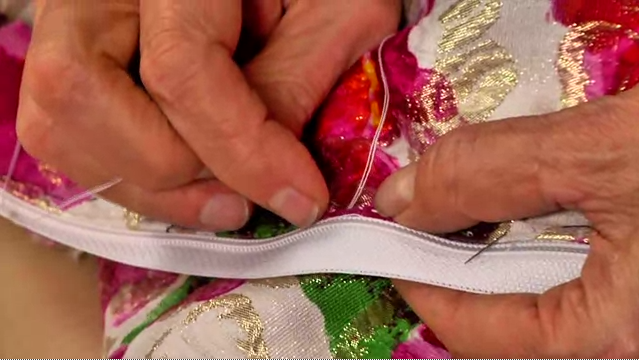 Image via Susan Khalje's The Couture Dress
If you have been a hand-stitching abstainer, a little practice will most certainly improve the uniformity of your stitches as well as help you develop a personal rhythm and pace for handwork. Who knows, you may even become a devotee!
These four stitches are just a sample of hand stitches used by couture seamstresses, but they are a good introduction to hand work and are often utilized in garment sewing.
Start by using good quality thread, and run it over a cake of beeswax. Remember to lay the coated thread on a paper towel and press with a warm iron before stitching to meld the wax to the thread. Thread a small (size 9 or 10) hand-sewing needle with about 18 inches of waxed thread, and you are all set to practice a running stitch, backstitch, catch stitch and hand overcasting.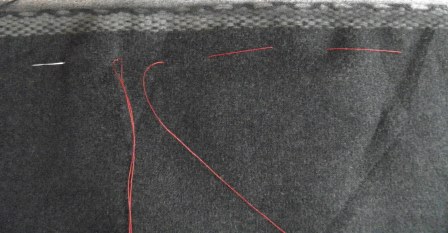 Hand running stitch using a single thread, stitched from right to left.
Running stitch
A running stitch is used for basting, thread tracing and gathering fabric.
1. Inserting your needle on the top of the fabric through to the underside, move the needle forward an inch or more, and then bring the needle back up to the top of the fabric.
2. Tie a knot at one end of your thread if desired.
This stitch does not need to be perfectly uniform and should be made quickly. See how easy this hand stitching business is?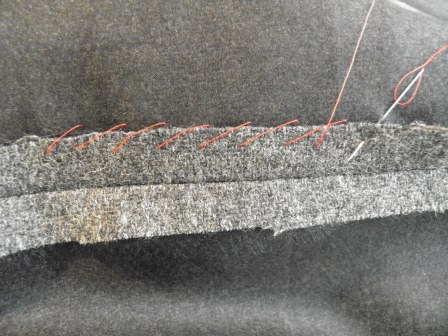 Hand overcast stitch stabilizing seam allowance, stitched from left to right.
Hand overcasting
Hand overcasting is the method of edge-finishing seam allowances on unlined garments preferred by couture seamstresses.
1. Tie a knot in one end of the waxed thread.
2. Bring your needle up to the right side of the seam allowance, and moving from left to right, catch a thread in the underlining and then back under the seam allowance
This stitch should be slightly loose so the garment seam allowances do not pull and hang incorrectly from the right side.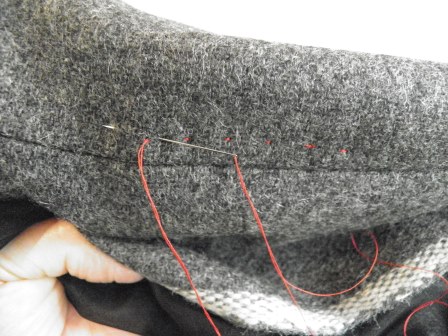 Hand backstitch used as topstitching worked from right to left.
Backstitch
The backstitch is used for hand stitching seams, securing thread instead of a knot, hand-picking zippers, and decorative topstitching.
1. Tie both thread ends into a knot.
2. Starting from the underside of the fabric, bring the needle to the right side of the fabric through all the layers of fabric.
3. Insert the needle approximately 1/16″ or 1/8″ back toward the direction the thread came from, forming a prick stitch.
4. Move the needle forward the desired length (1/8″ – 1/4″ for seaming, longer for topstitching) under all the layers of fabric, and bring the needle to the right side of the fabric again.
5. Continue, spacing the stitches an even distance apart and maintaining the same size prick stitch.
On the underside of the fabric, the stitch should look similar to a chain. This is a particularly strong stitch, and was used to assemble garments by hand before sewing machines were available.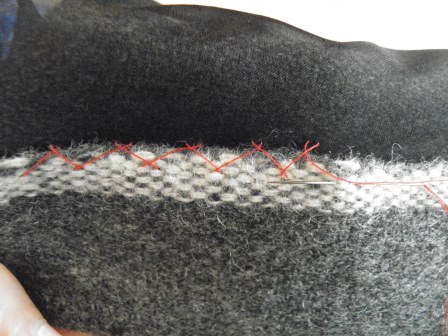 The catch stitch hem is worked from left to right, forming small "Xs" at the top and bottom edge.
Catch stitch
The catch stitch is used for hemming, tacking a facing at the seam edge, and securing a seam allowance to an underlining. This stitch is worked from left to right, and when done correctly, will form small "Xs."
1. Tie a knot in one end of the waxed thread.
2. With your needle pointing to the left, take a small stitch at the hem edge, and then a small stitch at the garment edge, moving from left to right.
This stitch has some built-in elasticity, which makes it ideal for hems, tacking and sewing with knits.
Try giving these four hand stitches on one of next your garment projects, and be sure to let us know what you think.
To learn more about couture sewing techniques, check out the Craftsy class The Couture Dress, taught by couturier Susan Khalje.
Have you always loved hand-stitching, or is this a new technique you are just learning to incorporate into your sewing toolkit?