You want to choose jacket fabric that suits the style of jacket you are sewing, whether you're making a classic blazer, a tweed jacket or a bomber . That means both the fiber content, weave and pattern need to complement the jacket design. For example, a large, wild pattern is probably not going to suit a pattern with lots seam lines that will break that pattern up into a jumbled mess, but might look great in a simple dolman sleeve jacket without pockets or collar. A loosely woven linen or cotton may not have enough structure to support making a tailored blazer, but could work as an unstructured, unlined casual topper.
<
Faux Pas Bomber Jacket via Craftsy member Janet Berry

Always think before purchasing how you plan to clean your finished garment. This will help dictate your jacket as well as lining fabric choices.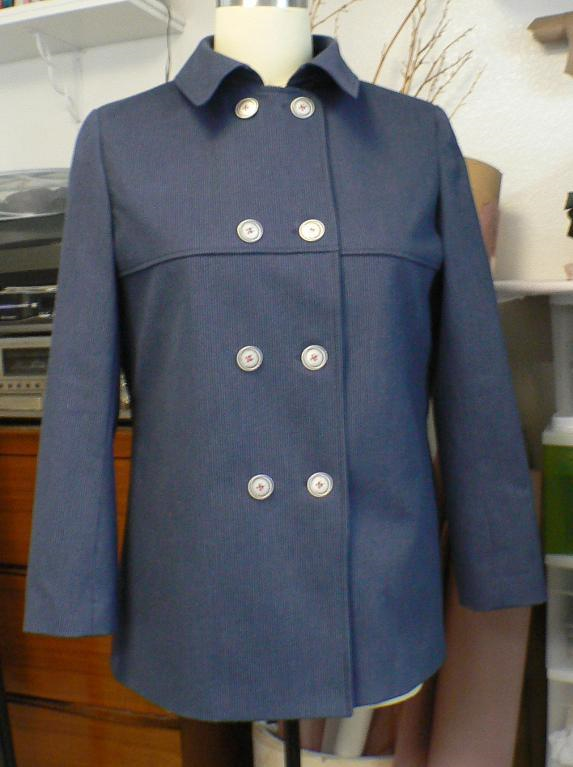 Denim Jacket via Craftsy member Calumn
Let's talk about a few jacket styles and some fabric "rules" associated with each of them.
But do also remember — rules are made to be broken!
Jacket and skirt via Craftsy member RedPointTailor

Tailored blazers
Tailored blazers are generally fit relatively close to the body, and quite structured. Soft Japanese-style tailoring or traditional men's tailoring techniques are used to produce the garment structure.
Wool is the no-brainer choice for tailored blazers, but there are other good options. If you pick wool made from low-twist yards with a softer drape, they can easily be pressed into shape and since your thread "sinks" into the fabric it can also hide little sewing imperfections along the way.
Tightly twisted yarns, like gabardine and serge, show every little bit of crooked stitching, and pressing can be very difficult on this fabric. If you are allergic to wool or prefer other fibers, denim can make a great casual blazer, leather is always on-trend, and heavier linens and silks are also beautiful. Many blazers are lined, traditionally with silk charmeuse or a rayon bemberg fabric.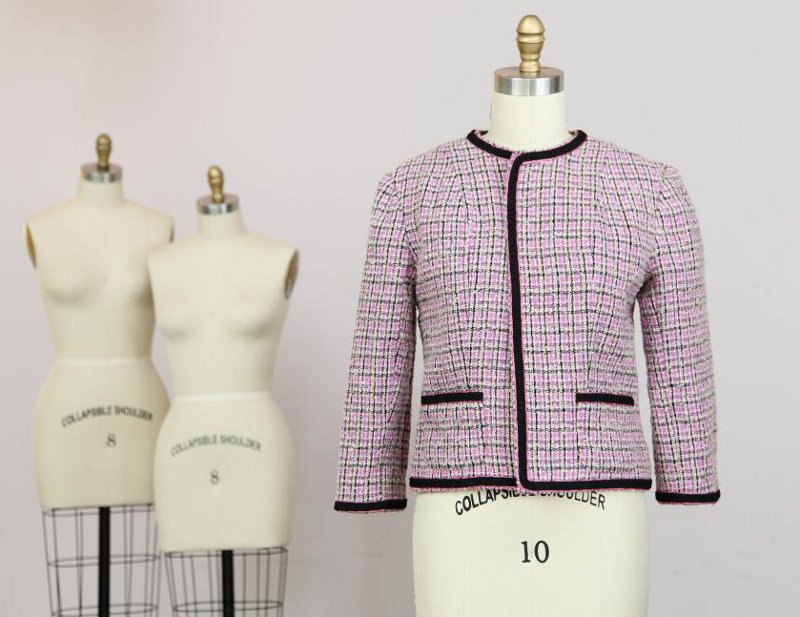 Iconic Tweed Jacket via Craftsy instructor Lorna Knight

Boxy, Chanel-esque jackets
The classic fabric for this jacket is boucle, made from either wool, silk or a blend. These kinds of jackets are referred to as jacket cardigans because of the design lines and the fact that they tend to be as soft and comfortable as a cardigan sweater.
Boucle fabric and this jacket style is a great first project because the weave will help hide any stitching imperfections, and the jacket silhouette is easier to fit than some other styles. If you are using a plaid, matching is critical. It definitely takes extra time and patience to match plaids well, but if you love the fabric, it is worth it. Be sure to buy extra fabric to accommodate having to "spread out" the pattern pieces to accomplish the matching. This jacket is usually lined, and traditionally with silk charmeuse.
Learn how to sew a timeless tweed jacket like the one seen above, complete with a luxurious lining, delicate structure, custom details and hand-stitched finish in the Craftsy class The Iconic Tweed Jacket, taught by couture sewing expert Lorna Knight.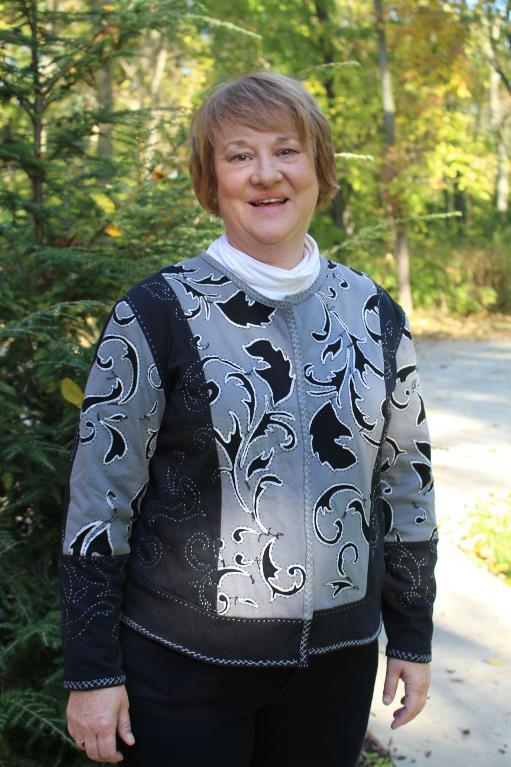 Alabama Chanin Style Jacket via Craftsy member Sylviaquilts
Slightly fitted jackets
Now here, anything goes. These jackets can be short, long or in-between. They can be lined or unlined. They can have collars or not, buttons or not, and can be made from any fabric that strikes your fancy.
Learn how to make professional-looking jackets with the Craftsy classes Classic Tailoring: The Blazer with Steffani Lincecum and The Carefree Fly-Front Coat with Kenneth D. King.
You might also enjoy our tips for choosing a coat sewing pattern and our refashioning tips for fall and winter coats.
What is your favorite jacket style? Do you have a favorite fabric to work with?