Now that fall has arrived, you might be thinking of adding an extra layer to your outfit. Depending on where you live, your coats likely get a lot of play from November through March, so they need to be fabulous and functional. Skip the Saturday spent traipsing around the mall looking for the perfect winter coat and think of sewing a coat of your own instead!
1. Choosing a pattern
Before you begin your pattern hunt, take a minute to think about the type of coat (or coats, if you're feeling ambitious) you need to add to your wardrobe this year, as well as how much of a sewing challenge you are looking for. Do you need something lighter weight for the days it's closer to 40 degrees? Are you thinking of making a blazer? Or something extra warm for the days it dips below freezing? Does your coat need to go past your hips, or can it hit at the top of your pants?
Whatever you're looking for, there's sure to be a pattern for your dream coat. Here are some of my favorites:
Lady Grey from Colette Patterns: This wrap coat, seen above, is a good transition piece. It has a slightly dressy vibe, so it would be good for wearing to work or for a night on the town. (Plus, who doesn't love an excuse to wear a great pair of gloves?)
Simplicity 1540: This pattern is very versatile, with the option of two lengths and four collar variations. (Personally, I like the shawl collar.)
Burda 7041: I love the retro vibe of this knee-length coat. The lines are very clean, which would work well for a busier fabric, like tapestry.
Burda 7275: If your perfect coat includes a hood, this pattern is a good option. Surprisingly, patterns for coats with hoods are a little hard to come by.
Burda 7587: The swingy, A-line style of this coat leaves plenty of room to wear bulky layers underneath.
Abby Jacket: This another great transition piece for fall or early spring. This pattern is also "zero waste," meaning you'll use every inch of the yardage to make the jacket.
Willow's Women's Wrap Jacket: This pattern, seen below, is so versatile — just choose your fabric based on how you need the jacket to function; the pattern can go from crisp fall day to freezing cold depending on your choice. The wrap style makes it easy to get a great fit.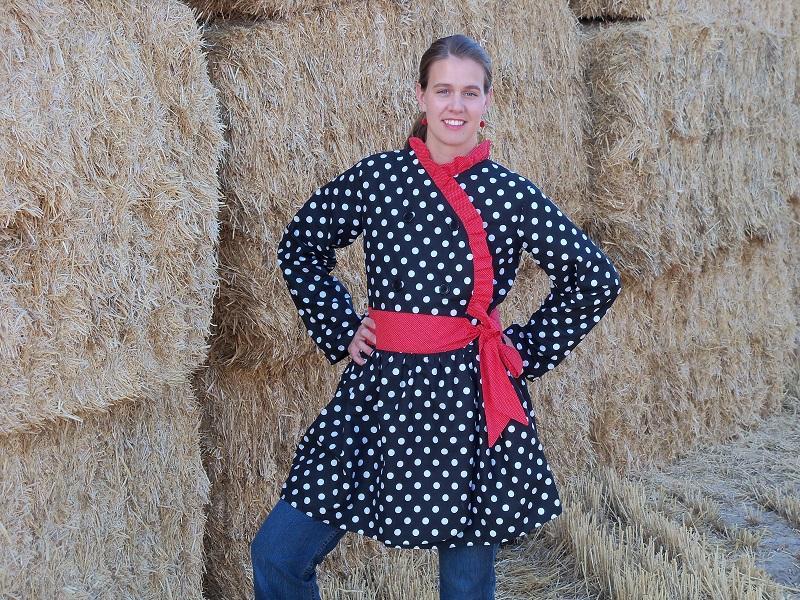 Photo via Cr8KidsCouture
2. Choosing fabric
Wool is a common choice for coats because it's extremely warm and is available in a delicious array of colors. But why stop there?
Be sure to also take a look at our post, "Tips for Choosing and Working with Jacket Fabric".
Here are some other fabric options, along with some pros and cons of each.
Fleece: also warm, but not a natural fiber.
Tweed: a great choice for patterns with crisp, clean lines.
Melton: wind and rain resistant, if you need a coat that stands up to these conditions
Faux fur: fun for an evening coat or jacket, probably not a good choice for an everyday coat.
Velvet: luxurious, but not the best choice for a coat that will get a lot of wear, due to the care involved.
Tapestry: a good but pricey, option if you're looking for something with a lot of color or design. (This would be my choice if I wanted to do make something completely unexpected.)
Whipcord: extremely sturdy and warm (if it's made from wool)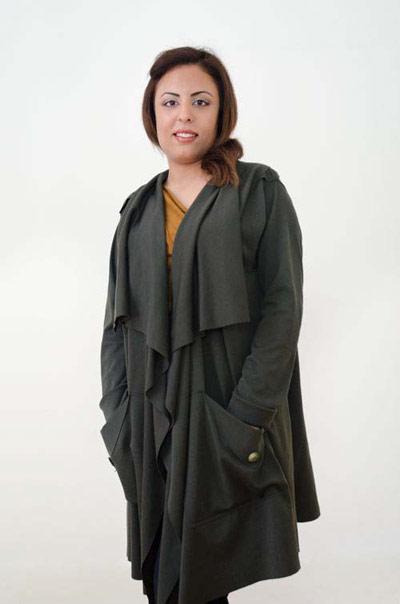 The Abby Jacket Pattern in wool; photo via sylvie_pr1098842
3. Choosing the extras
In addition to the exterior fabric for your coat, you'll most likely need lining, as well.
Light weight fabrics, like silk charmeuse and satin, are usually good choices. Your choice of lining fabric can be a great time to add something unexpected to your coat. Experiment with a bold color (like lime green or hot pink) or fun print (leopard print, maybe?). It's guaranteed to give you a smile on an otherwise gray day. Another option is a quilted lining for additional warmth.
And finish your coat off with the perfect closures.
Toggle closures look great on a classic wool pea coat, but there are also frog closures and, of course, many fabulous buttons. Whichever closure you choose, you'll want it to be slightly oversized so that you can open and close your coat, even with gloved hands.
Learn how to create your perfect coat, including constructing collars and sewing lining, with The Carefree Fly Front Coat, and learn classic techniques in the class Classic Tailoring: The Blazer.
And don't forget to check out the projects gallery, where you can search for inspiration and share your own completed sewing projects!
Do you have a favorite coat pattern? Please share it in the comments!