Traditional tailoring techniques are a good reminder that sometimes the fastest way of doing something isn't the best! Modern conveniences, such as fusible interfacing and automatic buttonhole attachments, have made traditional sewing techniques optional for most garments. However, while the modern equivalent will get the job done in an acceptable manner, the results will never be equal: a properly hand sewn buttonhole will always look better than one created by machine.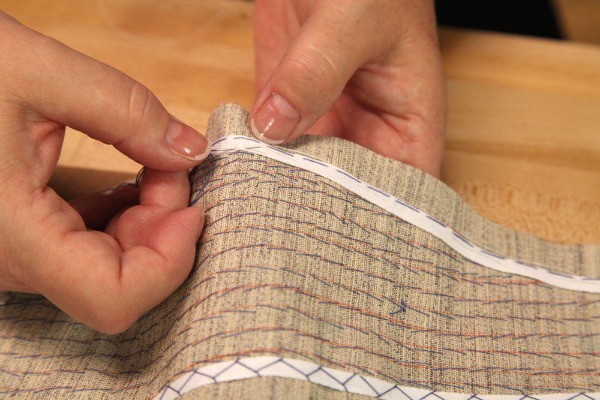 Photo via Craftsy instructor Steffani Lincecum
Because most of the work is done by hand and a sewing machine is used as minimally as possible, traditional tailoring techniques take more time, of course, but it's worth the investment for garments that are destined to be wardrobe staples: a classic blazer, a little black dress, or the perfect pair of trousers.
Traditional tailoring techniques for vests, blazers and coats
Collars
Traditional tailoring calls for collars to be interfaced with horse hair canvas (don't worry, horse lovers– the canvas is made from the tail brushings; these days you might also end up with goat hair canvas) rather than fusible interfacing and hand pad stitched to create a crisp silhouette. Pad stitches are used to attach the interfacing to the garment. Combining horse hair canvas with pad stitching will allow you to control the shape of the garment in a way that fusible interfacing can't replicate.
Lapels
This part of the garment will also benefit from horse hair canvas and hand pad stitches. Additionally, twill tape can be used along the roll line (where the lapel folds back onto your chest) to maintain the structure of the garment.
Buttonholes
Traditional tailoring also calls for sewing bound buttonholes. It's tempting to just create buttonholes using your sewing machine, but bound buttonholes are quite a bit different even from a hand sewn buttonhole. This example from the Goldstein Museum of Design gives a side-by-side comparison of a bound buttonhole and one sewn on a machine. The bound buttonhole involves quite a few more steps, but the results are worth it.
Garment back
Another traditional tailoring technique is the use of a back stay, which prevents the coat from stretching out across the shoulders. A back stay is made of muslin and is easy to create based on the pattern pieces for the coat back.
Lining
Linings are always hand sewn in when using traditional tailoring techniques. This eliminates potentially uncomfortable and unsightly seams on the inside of the garment from turning the garment inside out through a hole in the lining.
Traditional tailoring techniques for dresses and trousers
Seams and Interfacings
Linen stay tape can be used to add extra stability to seams that need it, such as a pocket or the fly of a pair of trousers. If you want your stay tape to match your garment fabric, you can use the fabric's selvedge. As with blazers, vests and coats, horse hair canvas can be used in place of fusible interfacing (such as in the waistband of a pair of trousers).
Buttonholes
Again, traditional tailoring techniques call for bound buttonholes that should be sewn, rather than creating the buttonhole on the machine.
Hems
A blind hem is nearly invisible on the outside and a great choice for tailored dresses and trousers. You can sew a blind hem by machine, but the traditional method is sewn by hand.
Traditional tailoring stitches
Regardless of the type of stitch used, traditional tailoring techniques call for the use of silk thread.
Pick stitch
A pick stitch is a running stitch (a row of even stitches that don't overlap) that catches only a few threads of the fabric, so that it barely shows on the right side of the garment.
Catch stitch
Also called a herringbone stitch (and resembling a cross stitch), the catch stitch keeps two layers of fabric flat against one another. It's used for hems, particularly linings, and for tacking down facings.
Read more about the catch stitch in our post, "Couture Hand Sewing: Stitches to Try". You might also enjoy our post on 3 French hand sewing techniques.
Felling stitch
This stitch is used in place of a hemming stitch, but is shorter and straighter so that it doesn't show. It's often used for linings.
Learn how to incorporate traditional tailoring techniques into your next garment with the Craftsy class Classic Tailoring: The Blazer, taught by Steffani Lincecum.
What traditional tailoring techniques do you like to incorporate into your garments?