Independence Day festivities are all about having fun in the sun. For the 4th of July, I urge you to cool down and enjoy your red, white and blue cake — with plenty of ice cream, too!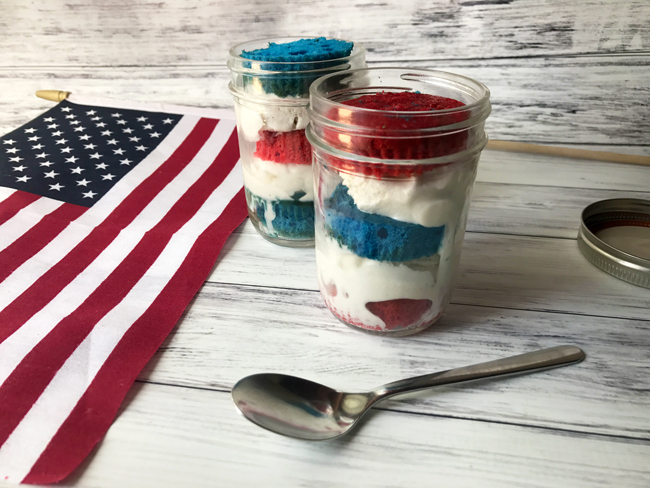 It's more than just cake and ice cream…
The beauty of this idea is that it's perfect for serving a mix of treats. The jars are made with cupcakes, so you can serve a mix of the ice cream jars and regular old cupcakes!
For example, one batch of cupcake batter will make 16 ice cream cake jars. If you don't need 16 ice cream cake jars, just make as many as you want — then,  use the remaining cupcakes for cake pops or frost them as serve.
Baking the cupcakes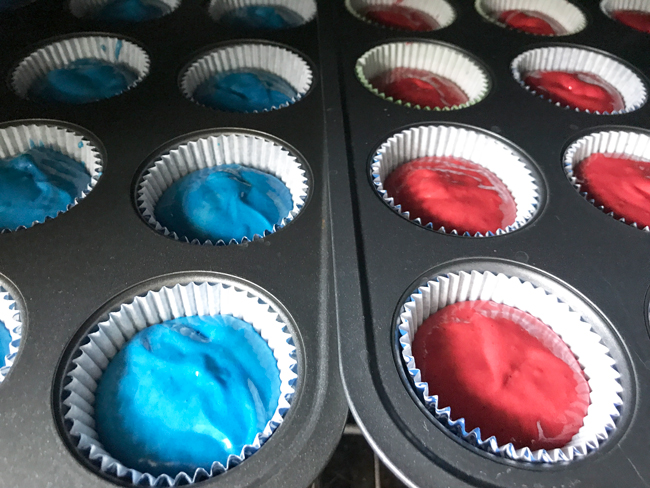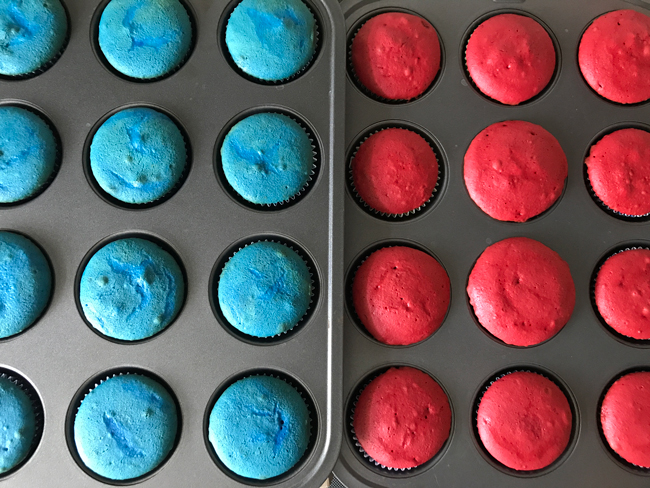 There are a couple of choices when it comes to red and blue cupcakes. It all depends on your preference.
I prefer to make a vanilla cupcake batter, divide it into two bowls and tint each bowl either red or blue using gel color.
Alternatively, you can bake a batch of red velvet and a batch of blue velvet cake. Blue velvet is made exactly like red velvet, except with blue coloring instead of red.
This is also a great time to use all those random small-quantity mismatched liners you've collected!
Using tempered glass
Glass jars — like jars made for canning — can be frozen without a worry. Most jars are made with tempered glass, meaning the glass strengthened during the manufacturing process, so it holds up to extreme temperatures and overall about 4-5 times stronger than regular glass.
Tempered glass jars will specify on the packaging that they are OK for microwave and/or freezer use. Please only use tempered glass jars for this presentation!
The half-pint size is the perfect guilty-pleasure serving.
Choosing the ice cream
A vanilla or vanilla-based ice cream is best for the red-white-blue effect. Like with the cupcakes, the kind of ice cream and the amount to use is completely at your discretion.
Homemade ice cream would be heavenly in these jars, but store-bought is the most time-saving and easiest option. I find that ice creams labeled "natural" usually melt faster and are thinner than the creamier slow-churned kind — just a tidbit to note.
Ice cream cake jars recipe
Makes 16 half pint jars
You'll need:
16 half-pint mason jars with lids
24 cupcakes in blue and red
Vanilla ice cream
Step 1:
After the cupcakes are baked and cooled, place them in a zip-top bag and freeze. You want everything to be frozen so it's easier to handle. Plus, you'll have less to worry about with the goods shifting and expanding in the jar.
Make sure to thoroughly wash and dry each mason jar and lid pieces. You don't want to assemble your jars while the glass is warm from washing, so be sure to let it sit and and cool down to at least room temperature before assembly.
Step 2:
Assembling the jars is a breeze.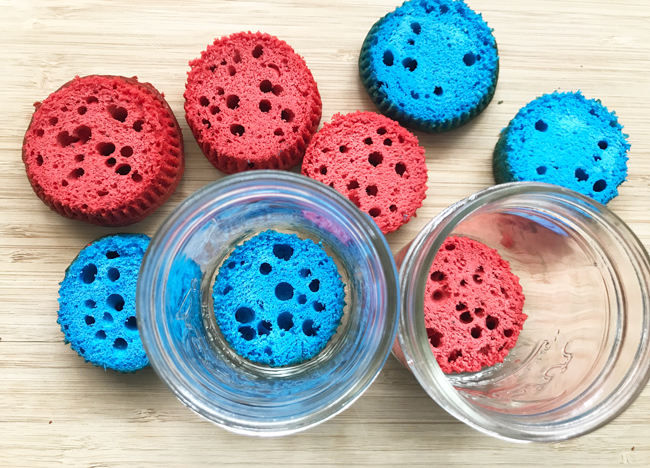 Remove cupcakes from the freezer and remove the paper liners on each cupcake. Cut each one in half horizontally.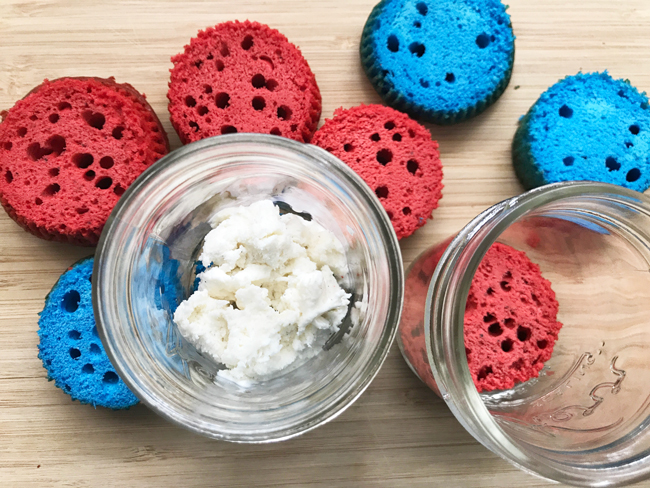 Place one half at the bottom of the jar. Follow with a layer of ice cream. I find it best to use a small spoon (instead of a scooper) to scoop and place the ice cream into the jar. It's also easier to scoop and place the small amounts of ice cream in the areas you wish.
Next, place a cupcake half of the other color and follow with another layer of ice cream. Top with an alternating color cupcake half. Cover and place in the freezer. Serve with a spoon!
More American Cake-spiration
Check out cake decorating star Joshua John Russell make fireworks of flavor in Man About Cake.