Pretty in pink! One cake color that will never disappear from the wishlists of brides and birthday girls (and guys) alike — pink. Cotton-candy pink, coral pink, fuchsia pink, flamingo pink, a wisp of pale pink– there are so many gorgeous shades to choose from these days.
From piped buttercream beauties to dainty sugar hydrangeas, we're tickled pink to show you a bevy of prettily hued, perfectly dreamy cakes.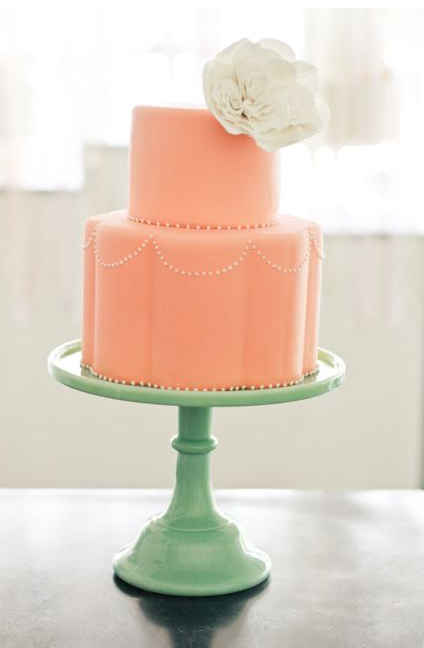 Photo via Sweet and Saucy Shop
Scalloped pink coral cake:
What's not to love about this coral pink hued two-tiered fondant cake? Soft and sweet, love the scalloped bottom tier and the overall delicate piping, tiny white pearls that drape around the cake like a flapper girl's jeweled necklace. The frilly white gum paste flower perched on the top tier gives this cake an extra feminine touch.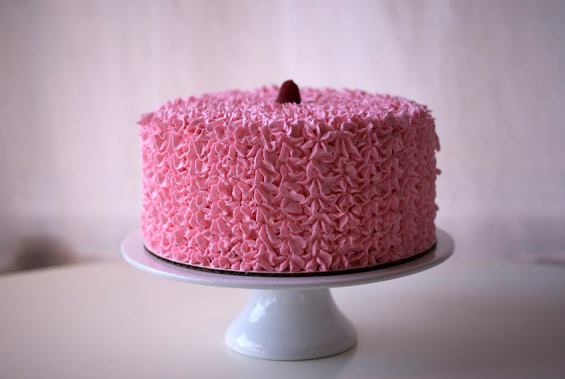 Photo via Coco Cake Land
Vintage ruffle buttercream cake:
This vintage-looking, ruffly pink confection was created using an open star tip and pink-tinted vanilla buttercream. I love how it looks as though you could just plop this onto your head like a retro pillbox hat, Jackie Kennedy style. I think a triple-tiered version of this would be spectacular for a pink-themed wedding. I'm very excited that buttercream is back in vogue! A single fresh raspberry tops this cake and gives it a proper finish.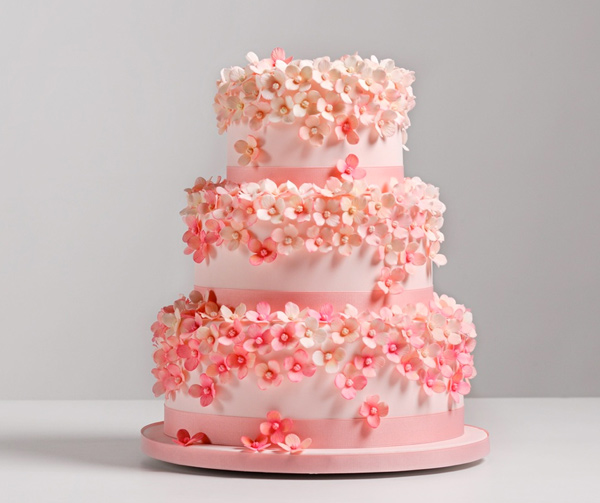 Photo via AK Cake Design
Dripping hydrangea blossom cake:
This beautiful pale pink tiered wedding cake features cascading pink sugar hydrangea blossoms in a suite of ombré colors. I love the texture and movement the petals give to this dripping-with-flowers cake!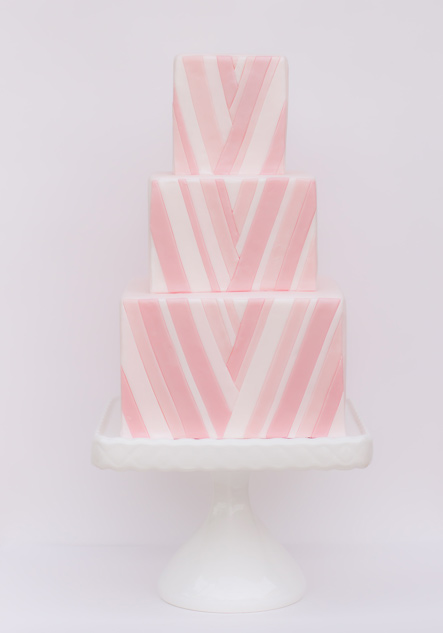 Photo via Sweet and Saucy Shop
Modern chevron pink art deco cake:
Three cheers for three tiers of ombré pink chevron stripes! This modern and graphical cake encompasses so many current cake trends — the beautiful color fade, chevron stripes and clean and simple square tiers. A great cake choice for a chic and modern wedding!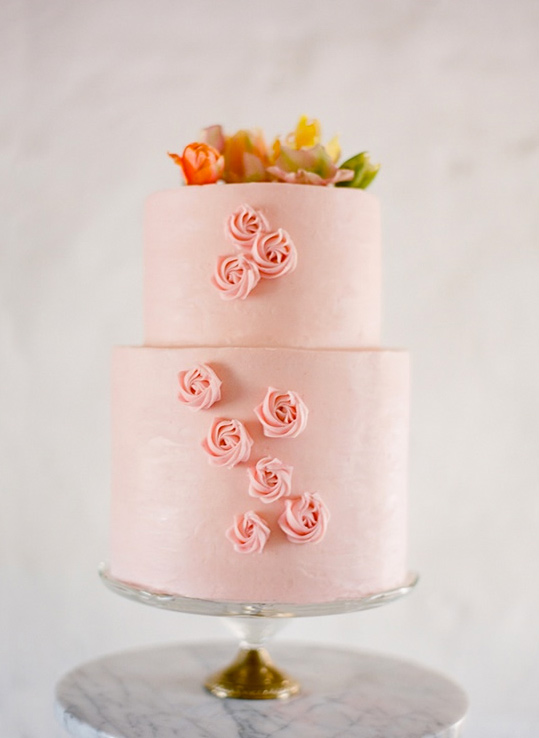 Cake via Enjoy Cupcakes; Photo via Jose Villa
Buttercream rosette adorned simple tiered cake:
I adore the button-like feel of those sweet and simple iced buttercream rosettes climbing their way to the top of the cake. A low-key way to incorporate the rosette trend while still keeping things clean and minimal. Of course, the pale cotton-candy color of the cake itself gives it a romantic shabby-chic feel, too.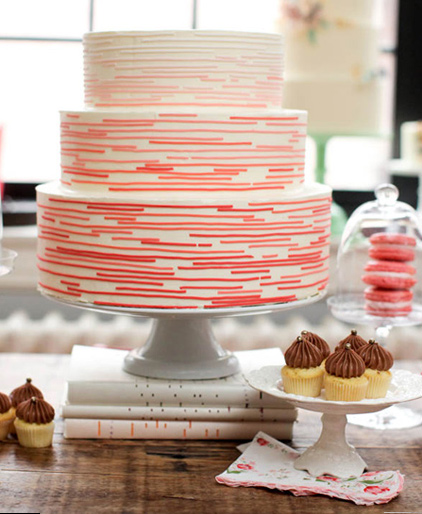 Photo via Nine Cakes
Modern graphic ombré lines cake:
Nine Cakes created this original-looking, modern wedding cake piping fine lines in ombré stripes. The cake reminds me of a graphic 1960s textile pattern or Morse code!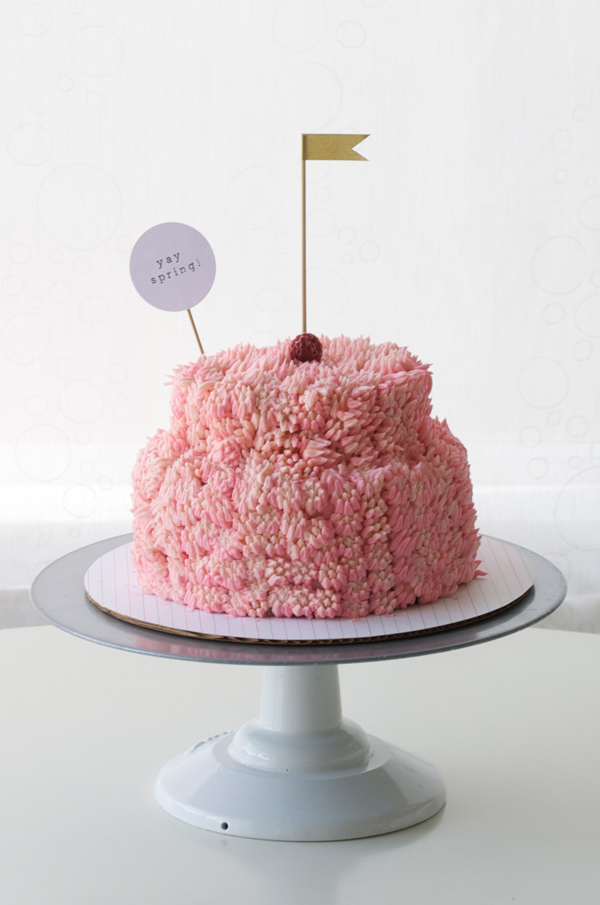 Photo via Coco Cake Land
Textured two-tone pink buttercream iced cake:
This tiered candy-pink party cake was made using the multi-opening piping tip to create an avant-garde textured look, making it a rather fun-looking confection. An ombré effect was achieved too by using two color tones of pink buttercream icing loosely mixed together in the piping bag. Doesn't it remind you of your grandma's shag-rug carpeting?
Feeling blue after looking at all of these pretty pink confections? Come back to the Craftsy blog tomorrow for our roundup of beautiful blue cakes!
Feeling tickled pink? Ready to try your hand at creating your own beautiful pink dessert delight? Learn how to create a simple fondant cake by enrolling in to Elisa Strauss's new FREE mini-class Basic Fondant Techniques!