Long before fondant became the norm, buttercream was king! With its luscious creamy texture and versatility, buttercream piping developed into an art form of its very own. Over the years buttercream has taken a backseat to fondant, but it is stepping back into the spotlight as more brides are opting for the thick layers of delicious buttercream.
For detailed step-by-step instruction on achieving beautiful piping, see Joshua John Russell's class Modern Piping, which walks you through the tools needed for piping sophisticated designs.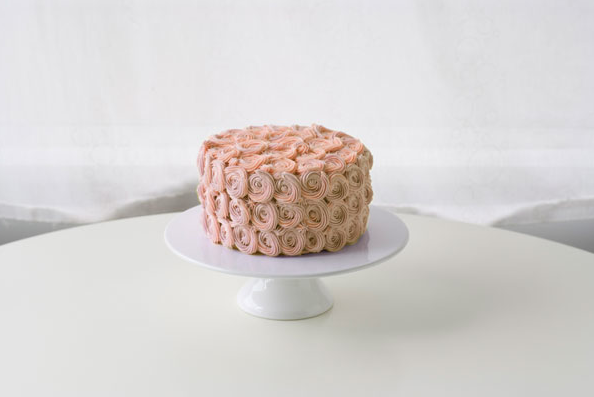 Photo via Lyndsay Sung
Buttercream piping can be both fun and challenging. It requires practice and a lot of it. It also requires patience and time. For many professional decorators the goal is perfection so that every buttercream shell, dot or pearl in a border is the exact same size and shape. Piping lines and swoops require perfect timing and spacing as well as good consistency.
Here are a few tips to help you ease into buttercream piping:
1. Chill your cake
Buttercream is much easier to control if your cake is chilled. After your final layer of buttercream is applied, let it chill for at least 20 minutes before starting to pipe. This will allow your buttercream to harden, which protects it from smudges and indentations. Periodically place your cake back in the fridge to chill between piping borders or layers. Once the cake is finished, place it in the fridge again to chill completely.
2. Buttercream vs. royal icing
When we think of piping, we usually think of royal icing, but we shouldn't expect buttercream to act the same as royal icing. Many of the same techniques are used with both mediums, but with the addition of butter in the buttercream, it tends to warm up and soften easily. This can cause the buttercream to fall apart more easily especially when piping swoops.
3. Keep 'em separated
Buttercream piping is best used on buttercream cakes only. If you are planning to pipe on a fondant cake, it is best to use royal icing. Buttercream can leave a greasy mess on fondant and it is also easy to smudge. Royal icing will dissolve if piped onto a buttercream cake due to the high moisture content of the buttercream.
Let's start piping!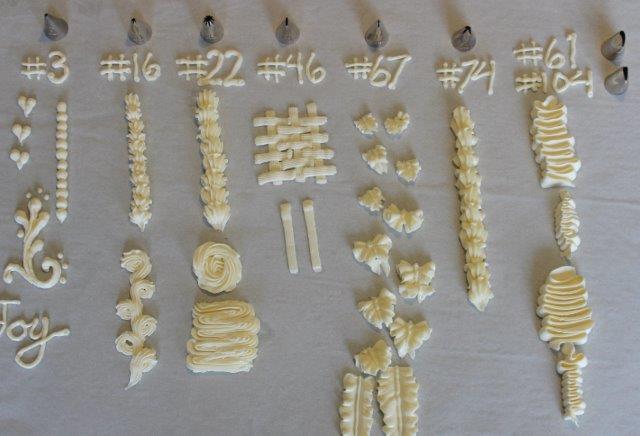 There are many piping tips available from many companies, but we are going to discuss Wilton tips, since they are the most widely available and can be found at most local craft stores.
First, fill your piping bag with the buttercream of your choice. Remember to add your coupler so you can change tips without emptying your bag.
Round tips and flower Tips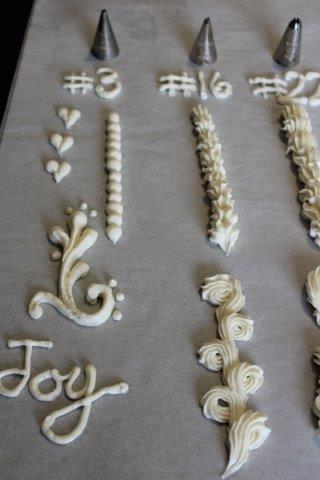 Round tips are perfect for piping lines, swoops, pearls, filigree and for writing on cakes. They are the most widely used tips available. Flower tips come in a variety of sizes ranging from 5 petals to 12 petals, and can be used for making flowers or shell borders.
Basketweave tips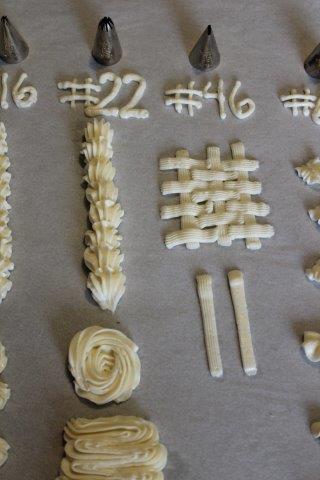 These flat tips come with a flat side, a serrated side or both. They are most often used when making a basketweave, but can also be used for borders.
Open star tips and leaf tips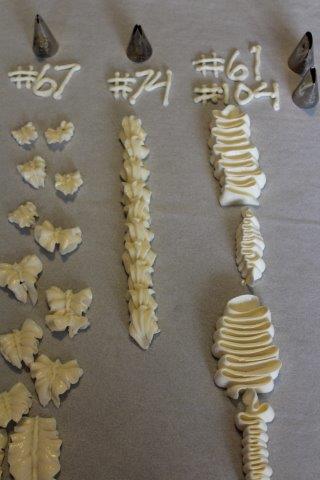 Open star tips can be used for flowers or shell borders, but can create a much different look than the flower tips. Leaf tips do exactly what they claim, they make beautiful leaves in a variety or sizes.
Rose tips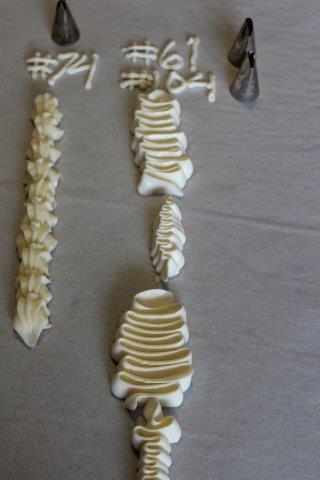 Buttercream roses can be very difficult to perfect, but with practice these tips will become your friends. In recent years these tips have also become synonymous with beautiful ruffled buttercream cakes.
With a little buttercream and a lot of practice, the sky is the limit!
What is your favorite buttercream piping technique?