The cake community is going wild for beautiful rosette-covered buttercream iced cakes – and for good reason! They are so pretty, feminine and best of all, simple to create. Plus, they are perfect for summer garden parties, bridal showers or your best girlfriend's birthday bash.
My favorite part about this cake is that no one has to fight over who gets the buttercream rose; there are plenty of "roses" for everyone! Read on to learn how to create your very own rosette covered cake, and enjoy a rosy roundup of some beautiful buttercream rose cake examples from some very talented cake artists, too!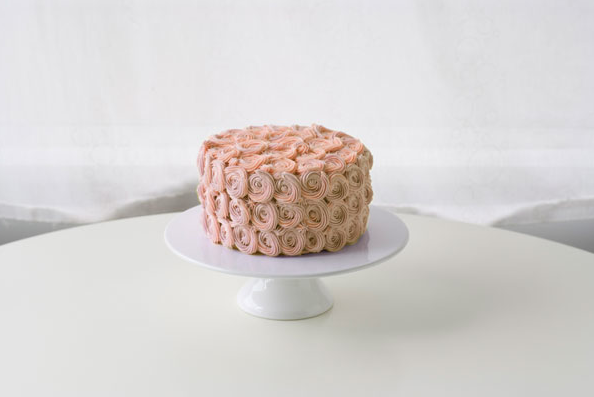 To create the buttercream rosette cake, you will need:
A baked and cooled cake of your choice – I made a 7 inch round layer cake. You can either use your favourite cake recipe or a boxed cake mix.
4 cups of your favorite buttercream tinted in your favorite color. I use gel color to tint my buttercreams – it's potent, so you only need a tiny drop. Or, keep it au naturel with a lovely white/cream color.
A piping bag fitted with an open star tip: the popular one is the 1M tip. I used a #22 tip for this cake.
A cake turntable can't hurt, as you will be turning this cake to pipe the entire exterior, but a regular old flat plate will do, too!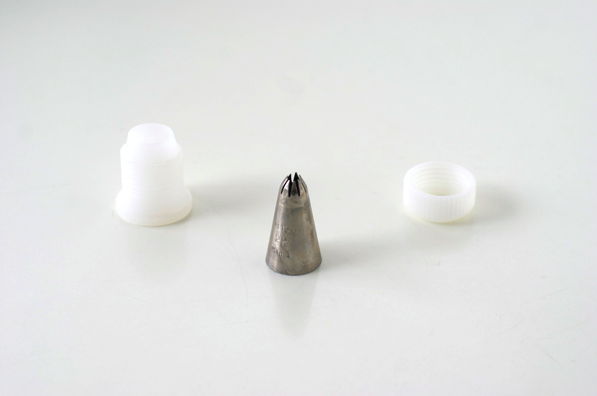 Instructions
Step 1:
Start with the first coat of buttercream on your cake – this is called the crumb coat.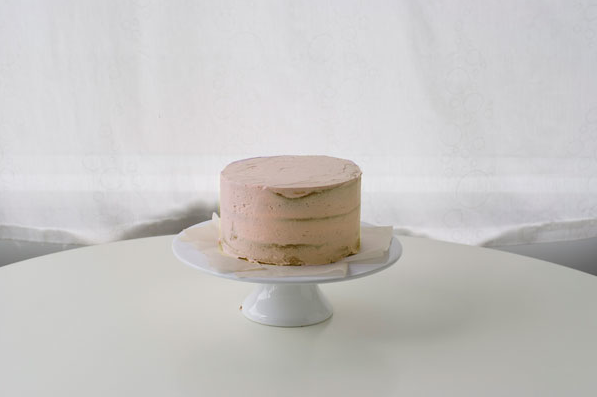 Step 2:
Fill your piping bag with your buttercream.
Step 3:
Do a few practice rosettes before you start on the cake. Start your rosette by piping counter clockwise from the middle outward. This will give you the rosette look.
Step 4:
Begin piping your rosettes from the bottom and work your way up in a line. I piped my rosettes using three full rotations for a fuller rose look. Or, you can pipe along the bottom all around the cake and then start piping the next layer.
Step 5:
Pipe the entire exterior of the cake, and then pipe the top with more rosettes.
Step 6:
Fill in any gaps between the rosettes with a gentle pipe of buttercream, essentially creating a drop star to fill in gaps if need be.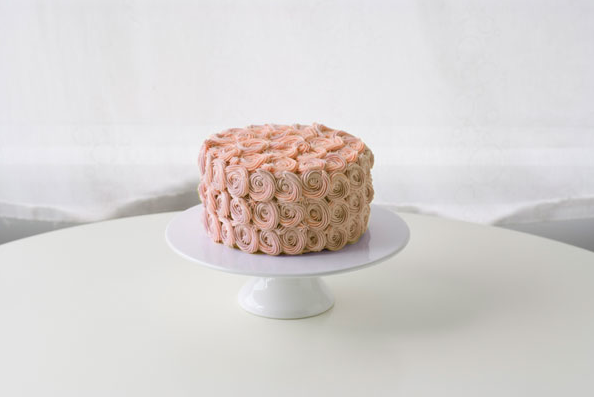 Rosy inspiration
There are so many pretty examples being piped out there, here are a few more rosette covered cakes to get you excited about this fun, simple and effective icing style!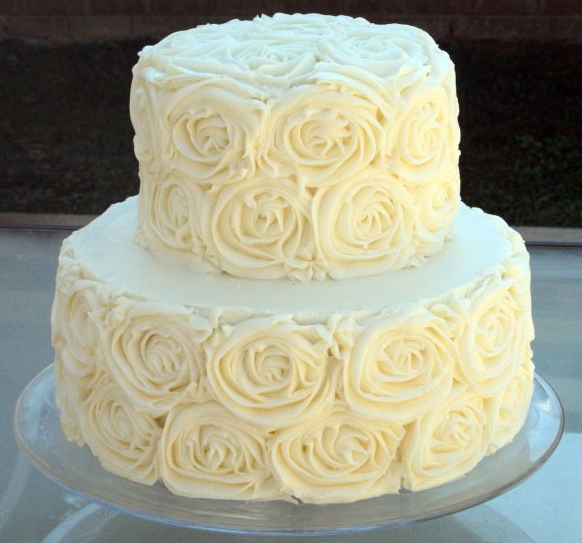 Photo via Rose Bakes
Two tiered white rosette cake
What's better than a rosette buttercream iced cake? A two-tiered rosette buttercream iced cake! Rose has lots of fun examples of the rosette cakes over on her blog Rose Bakes.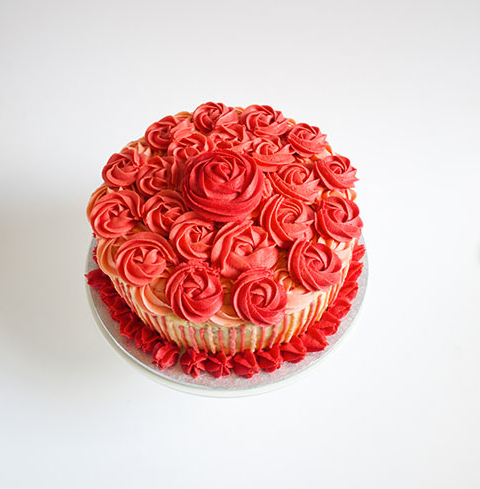 Photo via Flaming Pot
Rosy red buttercream piped rosette cake
Classic bright red rosettes adorn the top of this piped buttercream cake, created by Melbourne blogger Flaming Pot. Drop stars adorn the bottom border of the cake and layers of rosettes are piled on the top. Love the larger central rosette in the middle, too – a rose cake topped with a rose!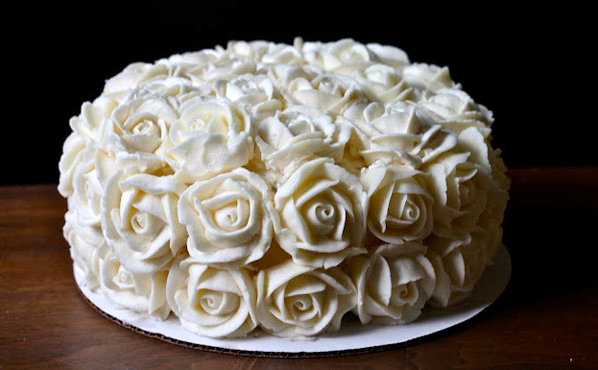 Photo via Yammie's Noshery
Cake of a thousand roses
Yammie's Noshery went buck wild with roses on this beautiful cake, taking the rosette buttercream iced cake design craze even further by piping each individual rose on a rose piping nail and gently lifting each rose to hand place it on the cake. Now that's rose dedication– but isn't the result so textured and pleasing? Check out Yammie's video tutorial here.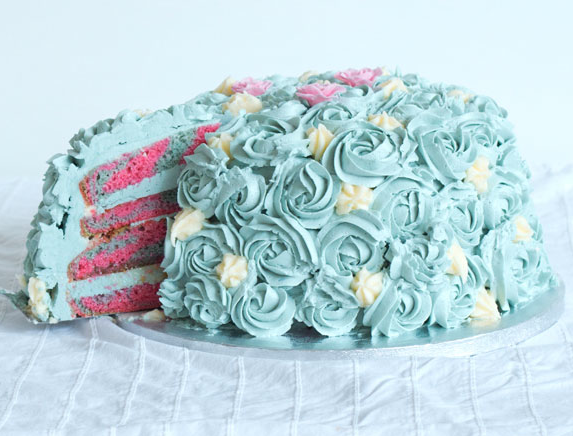 Photo via Lay The Table
Fuchsia zebra insides blue rosette cake
I love the surreal and colorful look of this ice blue rosette buttercream iced cake with the awesome hot pink zebra layers! The yellow drop stars to fill in the rosette gaps adds to the fun color combination of this wild-looking cake.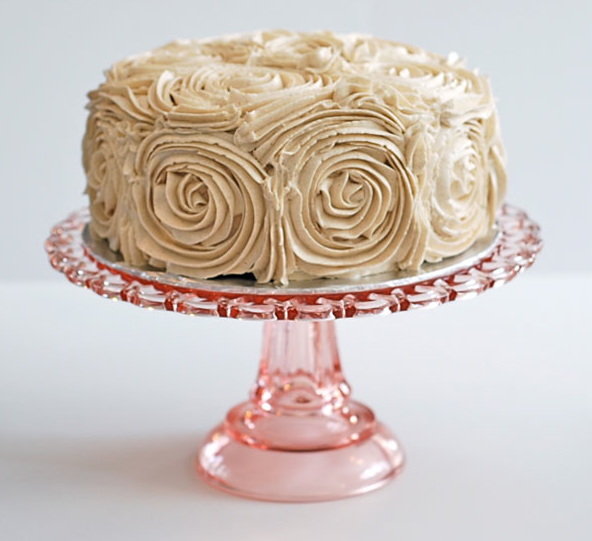 Photo via Marzipan Mom
Champagne colored large rosette cake
I like these extra large buttercream iced rosettes, created by starting in the middle and working your way outward piping several rotations. Serve your rosette cake on a cake stand as pretty as this pink glass pedestal and you're all set for your next party.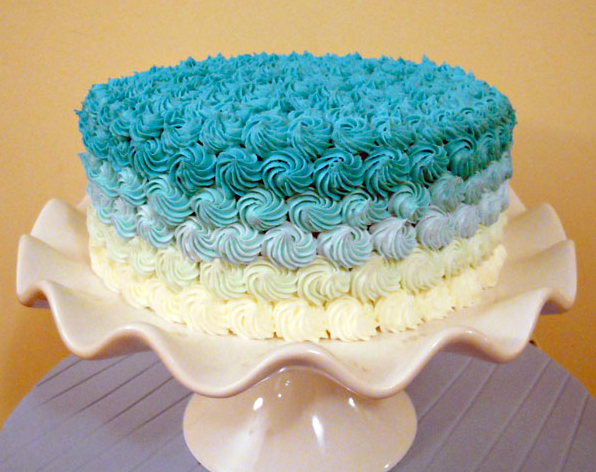 Photo via Cake 4 Thought
Teal ombré mini rosette cake
I just adore this gorgeous take on the rosette buttercream trend – little whisps of a rosette, using Wilton tip #21, a variation on the open star tip. The result is a blue beauty confection that looks like it's covered in melt-in-your-mouth party mints. Doesn't this cake just scream festive fun?