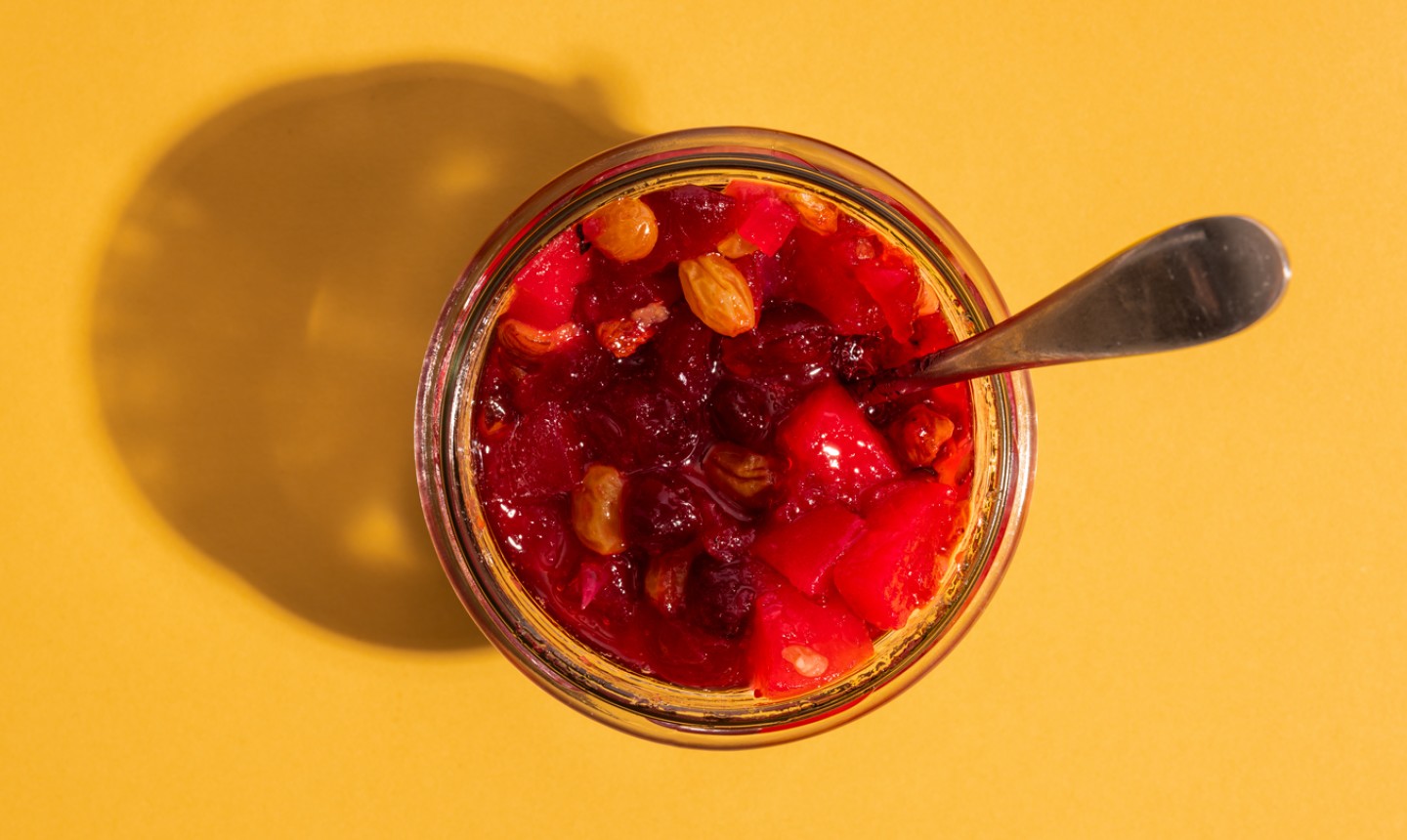 Putting a spin on cranberry chutney takes a holiday classic way over the top with amazing layers of flavor. This pear-cranberry chutney recipe from our class Sweet & Savory Food Gifts offers surprise ingredients that are sure to wow your main meal. Serve it at Christmas or Thanksgiving dinner, or divvy into mason jars for a delicious food gift your recipient won't soon forget.
Pear-Cranberry Chutney
Yield: 2 quarts
Ingredients
4 cups fresh or frozen cranberries, pickled over and stemmed
2½ cups sugar
6 whole cloves
2 cinnamon sticks, each about 3″
1 teaspoon salt
2 Granny Smith apples, peeled, cored, and cut into ½" dice
2 firm pears, peeled, cored, and cut into ½" dice
1 small yellow onion, diced
1 cup golden raisins
⅓ cup diced crystallized ginger
½ cup whole hazelnuts, roasted, skins removed and halved
Instructions
1. Cook the Cranberry Base
In a deep, 6-quart saucepan, combine the cranberries, sugar, 1¼ cups water, cloves, cinnamon and salt. Bring to a boil over medium heat, stirring frequently to dissolve the sugar.
Reduce to a simmer and cook until the cranberries begin to pop open, about 10 to 12 minutes.
2. Add the Goodies
Stir in the apples, pears, onion, raisins and ginger. Continue to cook, stirring frequently, for 10 to 15 minutes or until the mixture is thick.
3. Toss In the Nuts
Remove from the heat, stir in the hazelnuts, and allow the mixture to cool to room temperature. If you can find the cinnamon sticks and cloves in the mixture, take them out and discard them.
4. Jar
Spoon the chutney into jars and secure a tight seal. When sealed and refrigerated, cranberry chutney will last for up to three months.