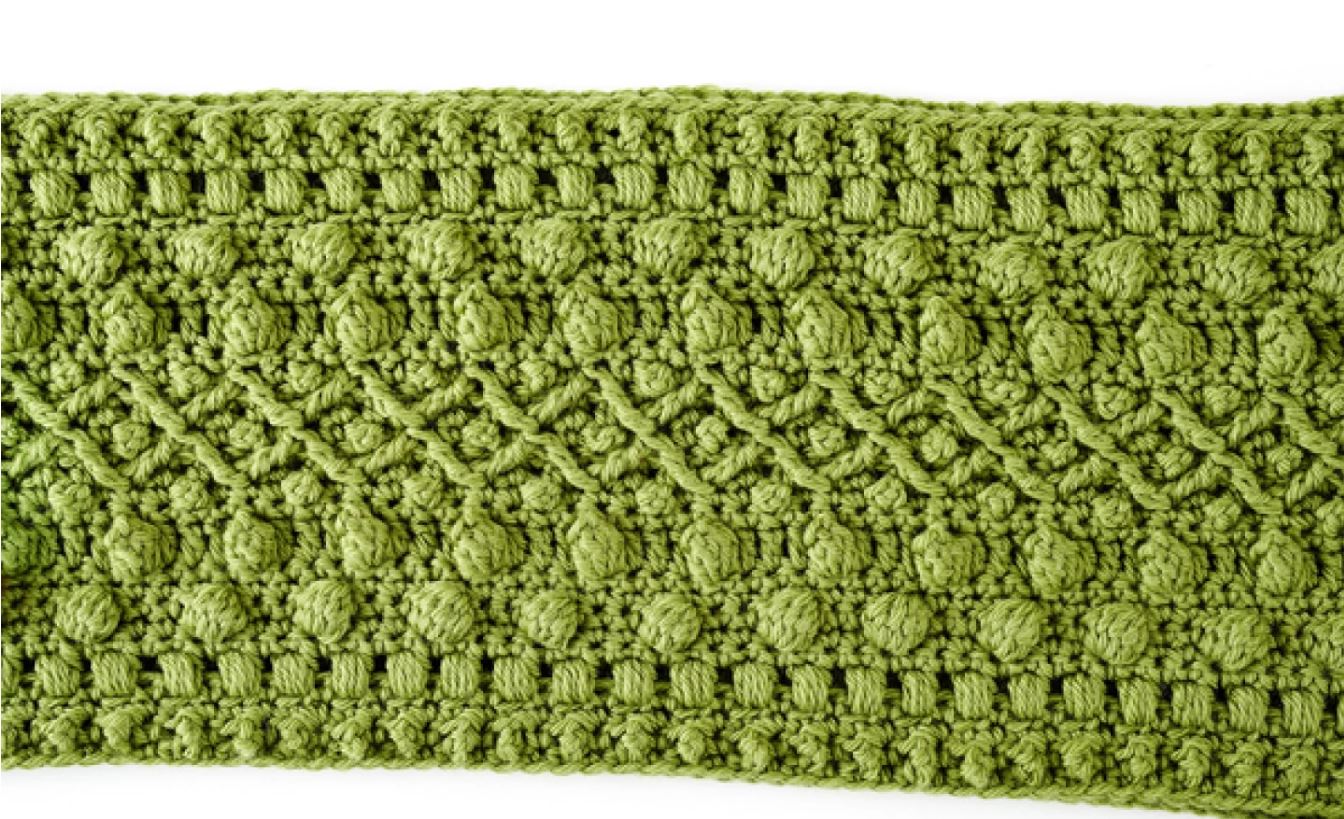 The best thing about learning to crochet? All stitches essentially build off what you've already learned. Once you've mastered the basic, must-know stitches (such as chain stitches and single crochets), you've got a solid foundation.
Most often the only difference between a basic stitch and a decorative stitch is stitch placement. Working between stitches, around posts, or only in front or back loops can dramatically change the look of your work.
Different Stitch Constructions
Foundation Crochet Stitches
Most crochet patterns start with a chain followed by a row or round of stitches into each chain stitch. This works well for a lot of projects, but why not change it up with the foundation chain stitch? This allows you to skip the step of working into the chain, which can sometimes be a bit tricky. Foundation crochet stitches yield a neater starting edge, so continuing your work is a cinch!
TRY IT
Post Stitches
Post stitches use the stitches you already know to add surface texture to your work. When you make a post stitch, you insert your hook behind or in front of the stitch from the previous round. Mastering the post stitch means you can create things like ribbing, cables and decorative overlay work.
TRY IT
Front and Back Loop Only
Normally when you make a crochet stitch, you insert your hook through both legs of the stitch from the previous round. But here's a little secret: you don't always have to. By inserting your hook through the front loop only (FLO) or the back loop only (BLO), you create a slightly lighter fabric that has interesting ridges throughout the stitching. Try combining FLO and BLO stitches with other stitches to make some really cool textures.
TRY IT
Decorative Stitches
Granny Stitch
While you may consider this iconic, classic crochet stitch as best for basic granny squares, it can be used for much more modern works as well. In fact, using just these clusters of double crochets you can make stripes, chevrons, and all kinds of shapes.
TRY IT
Spiked Stitches
Unlike post stitches, which are worked in front or behind of previous rounds, spiked stitches are made over previous rounds, giving your knit a graphic, modern look. This is a great one for beginners because a spike stitch is, at heart, a long single crochet.
TRY IT
Shell Stitch
The shell stitch is easy to master — you only need to make chains, single crochets and double crochets. It's fabulous for adding lots of colors to a project, especially if you change up the colors for each shell.
TRY IT
Chevron or Ripple Stitch
By cleverly combining increases and decreases, you can create all sorts of chevron patterns . You'll also hear it called the zigzag or ripple stitch.
TRY IT
Puff Stitches
These are the squishy, fluffy stitches that are just begging to be touched! Not gonna lie: this stitch is a bit advanced. The stitches come together by making several incomplete stitches into one space, which creates more threads than in a normal stitch. Take it slowly, breathe deeply, and you'll be fine!
Puff stitches can be arranged in many ways — carefully aligned, staggered or even crossed— to create even more textures using the same basic technique.
TRY IT
Primrose Stitch
This stitch looks as pretty as its name sounds! The primrose stitch add loads of delicate texture to your projects without making them terribly complicated.
TRY IT