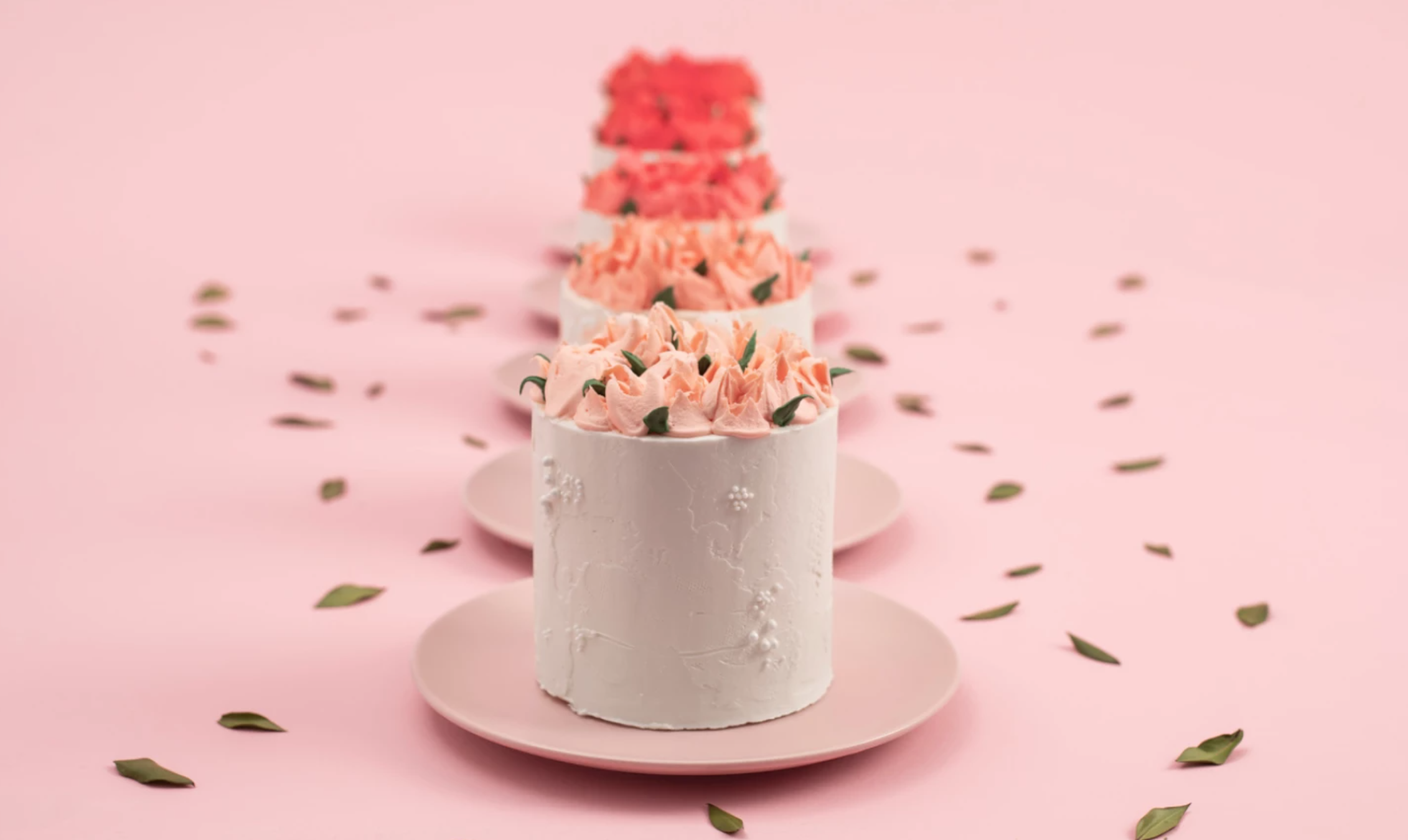 They're not cupcakes, they're mini cakes. Which means they're ultra-fancy. And thanks to the magic of Russian piping tips, they're easy enough for beginners to whip up.
Pastel Mini Cakes
Level: Easy
What You Need
Sheet cake (use your favorite recipe)
Circle cookie or pastry cutters (we used 3″ sized)
Swiss meringue buttercream
Fruit preserves and berries (optional)
White sugar pearls
Tinted buttercream in colors of your choice (for the flowers)
Green-tinted buttercream
Leaf piping tip
Russian piping tip
Disposable piping bags
Instructions
1. Assemble the Cakes
Cut out 3″ circles from a baked and cooled sheet cake. Stack three layers per cake, spreading buttercream and fresh fruit between each layer.
Pro Tip: Remember, these cakes are small — if you're serving a crowd, it's a good idea to make a bunch.
2. Ice 'Em Up
Crumb coat and frost your cake.
Pro Tip: You want the cakes to have a rustic finish, so stop smoothing your buttercream before it looks perfect. You can also go back and "rough it up" a little bit with an off-set spatula, if you're craving more texture.
Push clusters of white sugar pearls into the side of the cake, as desired.
3. Pipe the Flowers
Fill a piping bag fitted with a Russian piping tip with colored buttercream. (We used different shades of pink on each cake to create an ombre look when they're all displayed together.) To work the Russian tip, simply hold your bag vertically while touching the surface of your cake with the tip. Pipe smoothly and gently as you lift the tip up off the cake, resulting in a gorgeous buttercream floral as you pull up.
4. Add Leaves
Add green buttercream to a piping bag fitted with a leaf tip and finish your cake with lovely green frosting foliage.