Every mom deserves a special handmade gift — and you can make one, even if you're short on time! With only a few tools and ingredients, you can make these simple and sweet cupcakes for Mother's Day.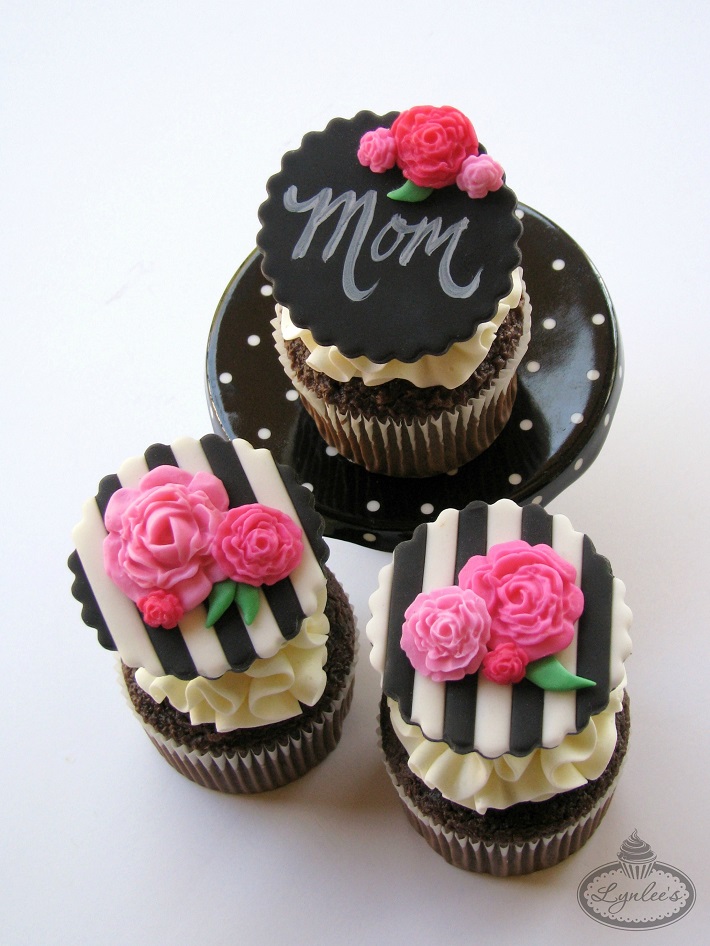 Tools you need:
Fondant rolling pin with 1/8″ and 1/16″ guide rings
Multi-ribbon fondant cutter
2 ¼" round fluted cutter
Multi-sized flower fondant mold
Ingredients:
Fondant in black, white, different shades of pink and light green
White soft gel paste, vodka and brush
Water or edible glue and brush
Part 1: Making the striped backgrounds
Step 1:
Roll out white fondant with the rolling pin and ¼" guide rings. Then use a multi-ribbon cutter to cut several strips at once from the white fondant.
This tool can be extremely useful, as it saves time while ensuring the strips are consistent in size. You'll need 4-5 strips of each color for each topper.
Repeat this step for the black fondant. Place them in an air-tight container to keep them soft and malleable.
Step 2:
Once you have all your strips cut out, roll out a thin piece of white fondant with the rolling pin and 1/16″ guide rings.
Step 3:
Make a light indentation in the white fondant with the 2¼" fluted cutter to use as a guideline.
Apply water or edible glue to the marked portion of the white fondant, then begin to glue the strips down, alternating between black and white.
Apply additional water as needed, but be sure not to use too much, as it can easily seep in between each color!
Step 4:
Once all the fondant strips are glued, use the 2¼" fluted cutter to punch out a circle from the patterned fondant. Allow the topper to dry to make sure the strips are glued properly. Add a tiny bit of water in between strips only if necessary.
Part 2: Make the chalkboard toppers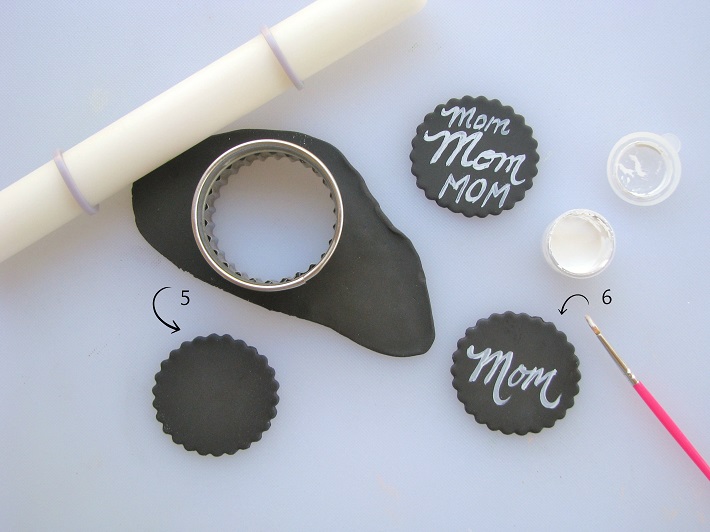 Step 5:
Roll out black fondant with the rolling pin and 1/8″ guide rings. Punch out a circle with the 2¼" fluted cutter and allow the topper to dry, preferably overnight.
Step 6:
Mix the white soft gel paste with a little bit of vodka (the alcohol will evaporate). Dip your brush in the mixture and brush off the excess. Then go ahead and paint your word, name or personalized message onto the dried fondant.
If you use too much of the mixture at once, it won't have the "chalky" effect. If preferred, you could also substitute the paint with white chocolate melts.
Be sure to allow room for your floral accents later!
Part 3: Make the floral accents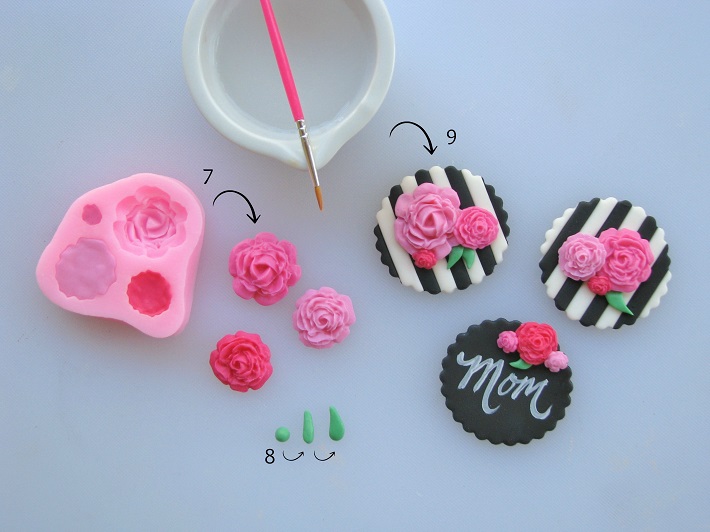 Step 7:
Fondant molds, like as this flower mold I used for this project, can be extremely easy to use and a huge time-saver. The key is finding one with the sizes you need. Larger flowers designed for cakes would probably be too big for cupcake toppers.
Press the shades of pink fondant into the flower mold. You can coat the fondant with either vegetable shortening or cornstarch to keep them from sticking to the mold.
Removing the fondant may be a bit tricky, depending on how detailed your mold is. If you're having trouble, place your mold into the freezer for a few minutes, which will make it much easier to remove! Just be sure to allow it a couple of minutes to defrost before handling it or it will be super sticky.
Step 8:
Roll the light green fondant into a small ball. With your fingers, mold it into a teardrop shape, then flatten and shape it to look like a leaf. Repeat for as many leaves you need for your design.
Step 9:
Finally, glue the flowers and leaves to both the striped and chalkboard cupcake toppers and allow them to dry thoroughly prior to decorating your Mother's Day cupcakes.