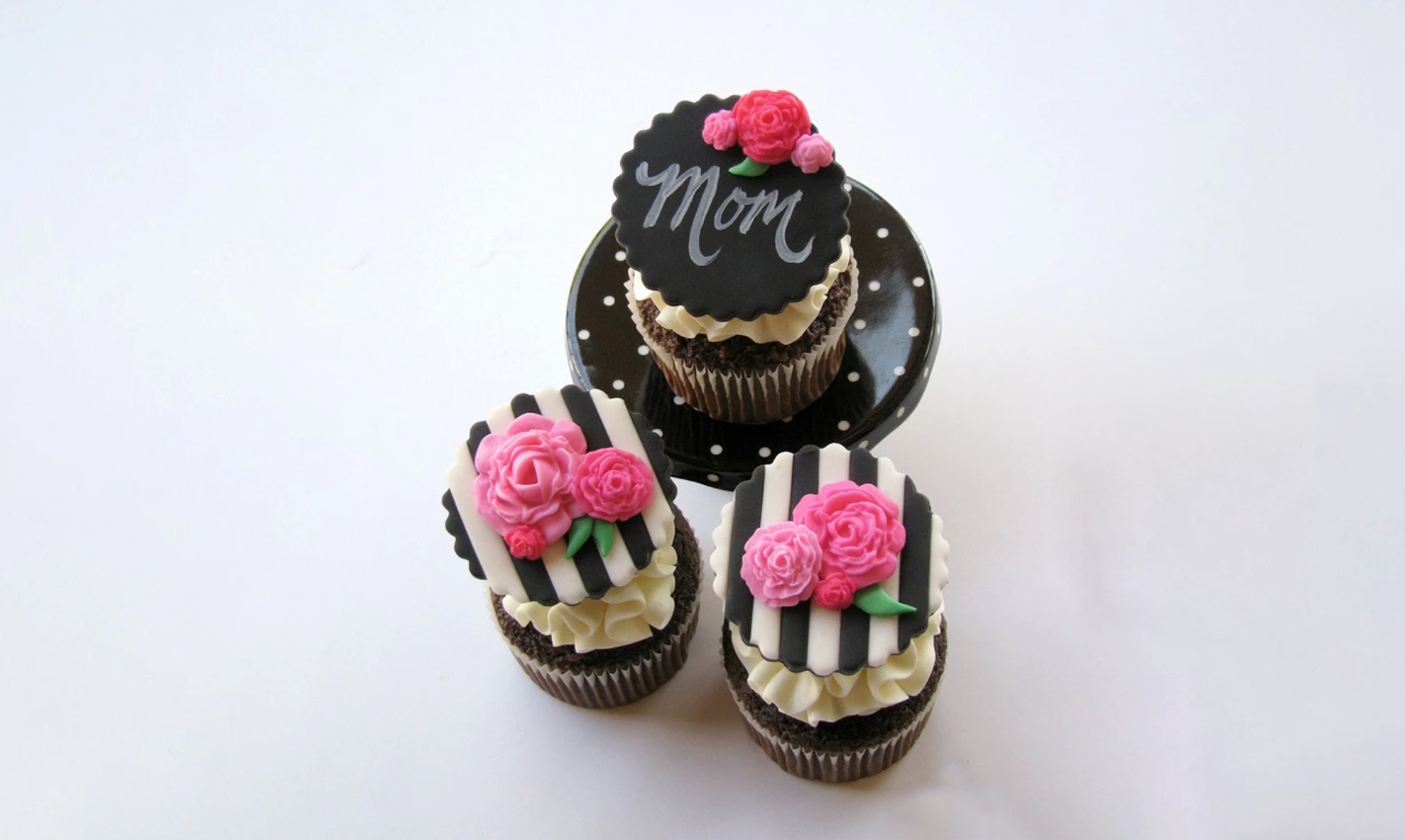 You don't need any fancy cake-decorating skills to make your mom these awww-dorable cupcakes. The secret is all in the cutters and molds you can use to make your job oh-so-simple. Whip 'em up to celebrate Mother's Day and get ready for all the heart-eye emojis coming your way.
Mother's Day Cupcakes
Level: Easy
What You Need
Baked and frosted cupcakes (use your favorite recipe)
Fondant in black, white, light green and different shades of pink (buy it or make your own)
White soft gel paste
Vodka
Food-safe brush
Fondant rolling pin with ⅛" and 1⁄16" guide rings
Multi-ribbon fondant cutter
Flower fondant molds
2½" round fluted cutter
Instructions
1. Make the Striped Background
Roll out white fondant until it's ⅛" thick. Use the multi-ribbon cutter to cut out several strips at once. Repeat this with the black fondant. You'll need 4–5 strips of each color for each topper. Once cut out, place the strips in an airtight container to keep them soft and malleable.
Roll out a thin piece of white fondant until it's 1⁄16" thick. Make a light indent in the fondant with the 2¼" fluted cutter to use as a guideline. Add water or edible glue to the marked portion of the white fondant and begin gluing the strips down, alternating between black and white.
Pro Tip: If you're using water, add as needed and be careful not to use too much — it can easily seep in between each color and cause them run together.
Once all the fondant is glued in place, use the 2¼" fluted cutter to punch out a circle. Let the topper dry — this can vary in time depending on the humidity.
2. Paint the Chalkboard Toppers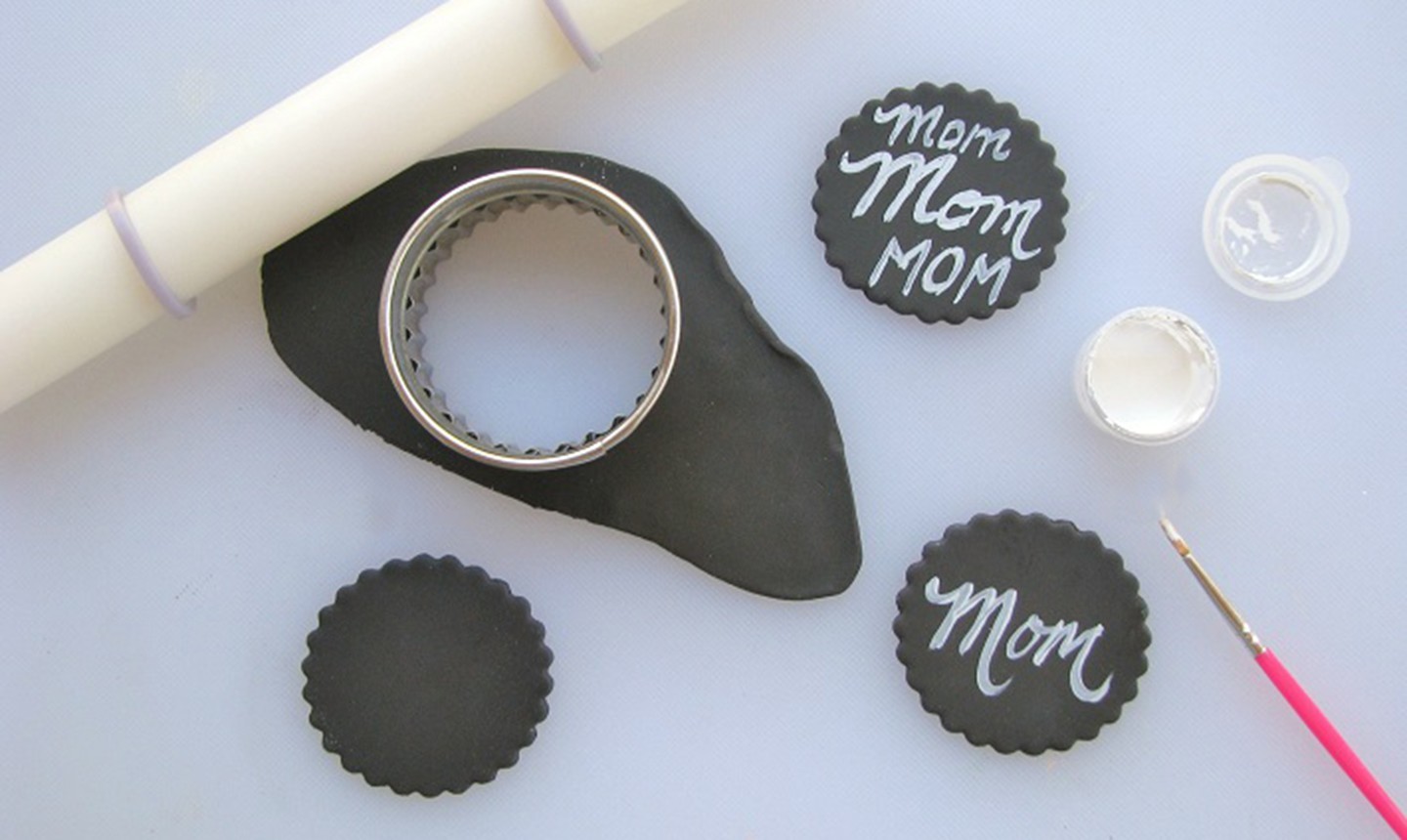 Roll out black fondant until it's ⅛" thick. Punch out a circle with the 2¼" fluted cutter. Let the topper dry (preferably overnight).
Mix the white soft gel paste with a little bit of vodka. (The alcohol will evaporate before you dig in.) Using a food-safe paint brush, paint "Mom" or write her name or initials onto the dried fondant. Make sure to leave room for your floral accents.
Pro Tip: If you use too much of the mixture at once, it won't have the "chalky" effect. After you dip your brush, wipe off any excess before painting. If preferred, you can also substitute the paint for white chocolate melts.
3. Create the Flowers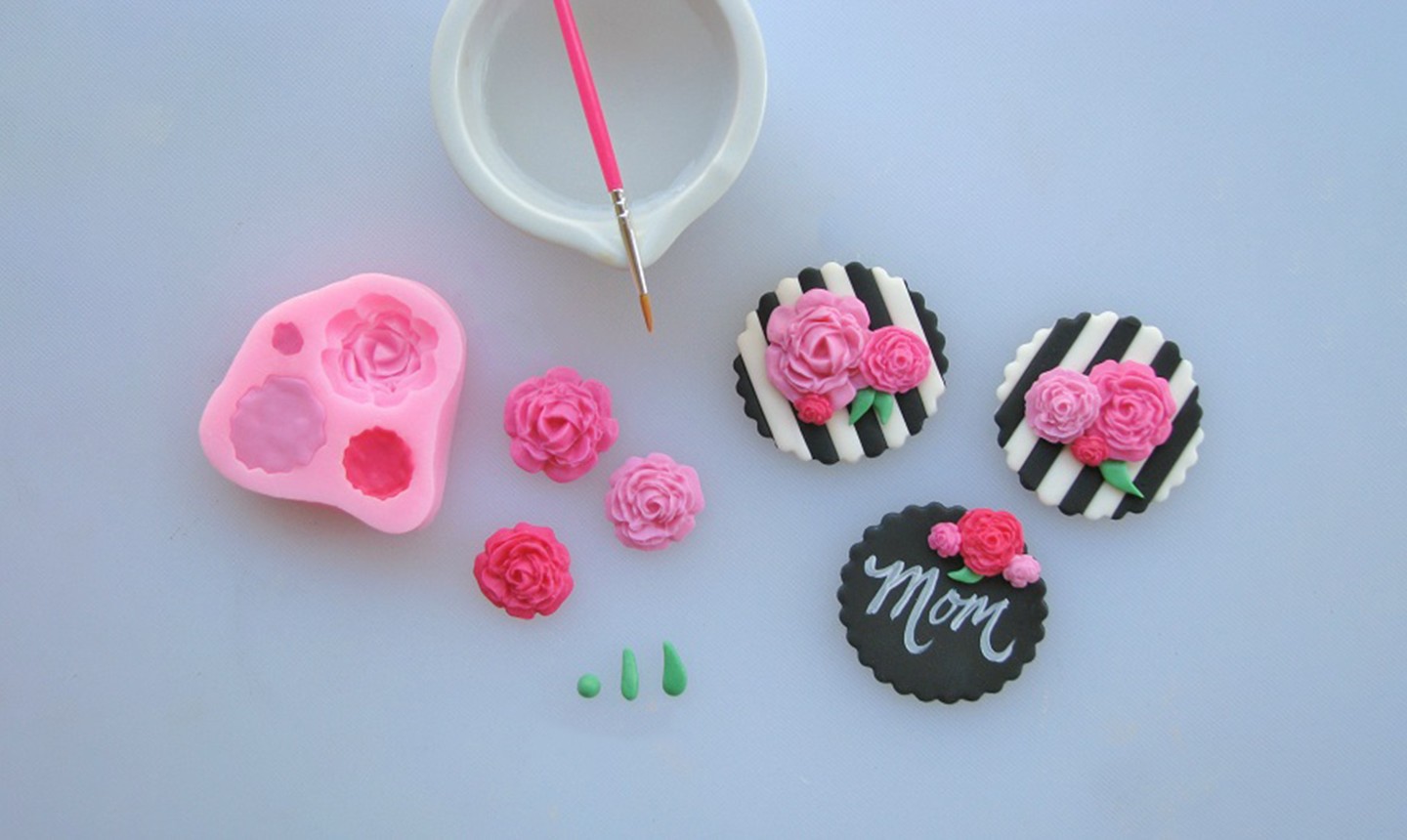 Fondant molds are super easy to use and a huge time saver. Just find a size that works for the toppers, coat them in vegetable shortening or cornstarch to prevent sticking and then press the different shades of pink fondant into the mold.
Once set, remove the fondant from the molds. If needed, place them in the freezer for a few minutes — just let the fondant defrost a bit before handling it, or it can be sticky.
Roll the light green fondant into a small ball. Mold it into a teardrop shape with your fingers and flatten it to look like a leaf. Repeat, making as many leaves as you want for your cupcakes.
Secure the flowers and leaves with a bit of edible glue to the chalkboard and striped toppers. Let everything dry, then top your frosted cupcakes. Mom will love 'em!