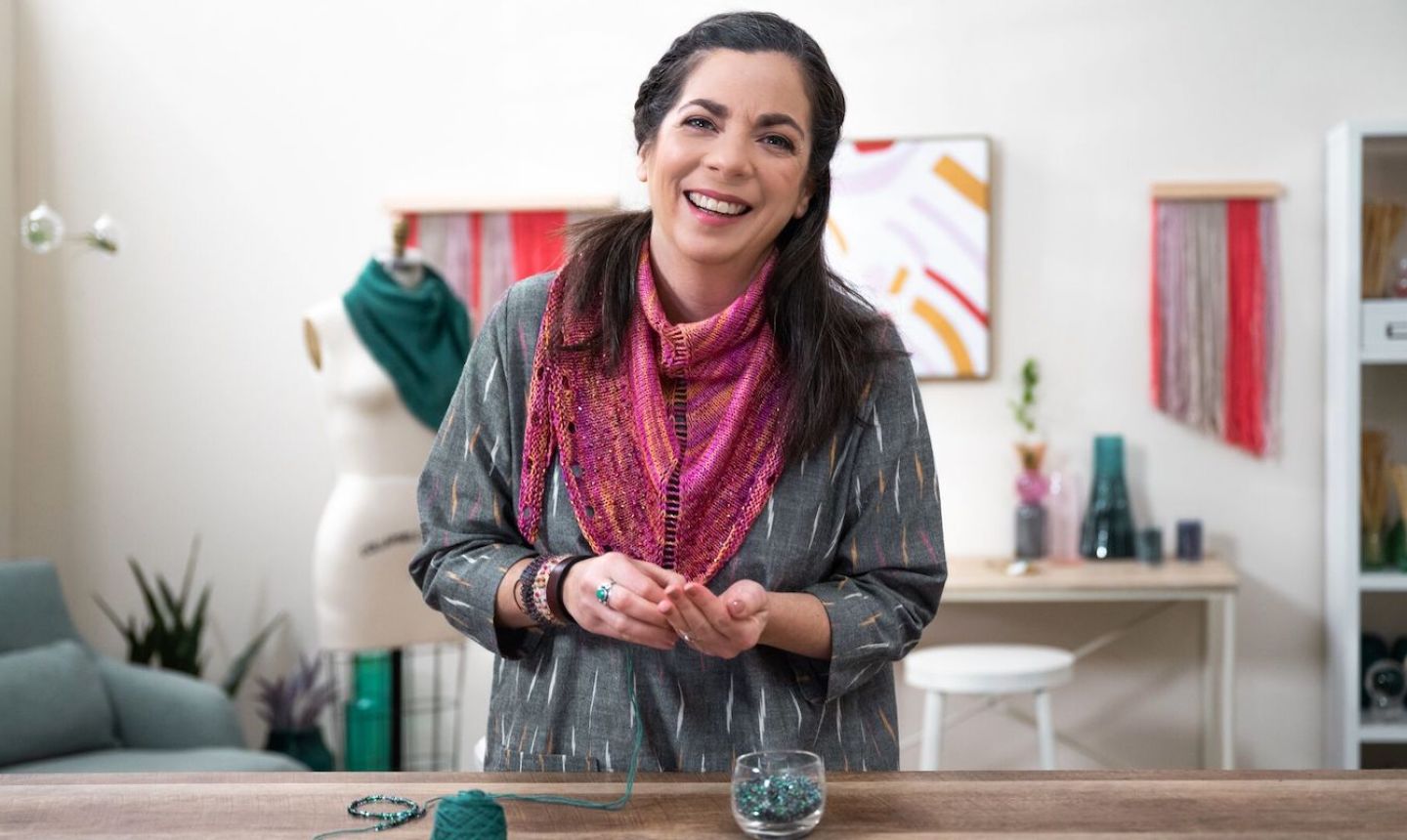 After I graduated from Cornell University's apparel design program, where I studied textile design with an emphasis on weaving, I was lucky enough to get a job with a small garment manufacturer in Ithaca, New York. It was there that I met my husband, and later, gave birth to my daughter. Before I knew it, life got really hectic and, as I'm sure many parents can relate, I soon found it difficult to dedicate time to being at my loom.
As much as I loved being a mom, I found myself feeling … unhappy. I wasn't tapping into my creative energy anymore, or giving myself time to express who I was outside of motherhood. This feeling quietly simmered under the surface, allowing me to ignore it for a few years. Until one day, when my daughter was around three or four, we were at a playdate and another mom asked me: "Do you want to learn to knit?"
Finding My Passion
I've been a maker ever since I was a little kid. I used to craft those ribbon barrettes that were so popular in the 70s; I learned how to make stained glass and created earrings that were heavy as all get-out. Eventually, I fell in love with weaving. But even though I had been making my whole life, I didn't come around to knitting until that fateful interaction with Chelsey.
Before I knew it, we had set up a ton of playdates. While our girls would play together, Chelsey and I would play with yarn. She was such a fearless teacher, and taught me to never be scared of the craft. I just dove right in, trying new techniques and patterns, and never looked back.
Creating a Community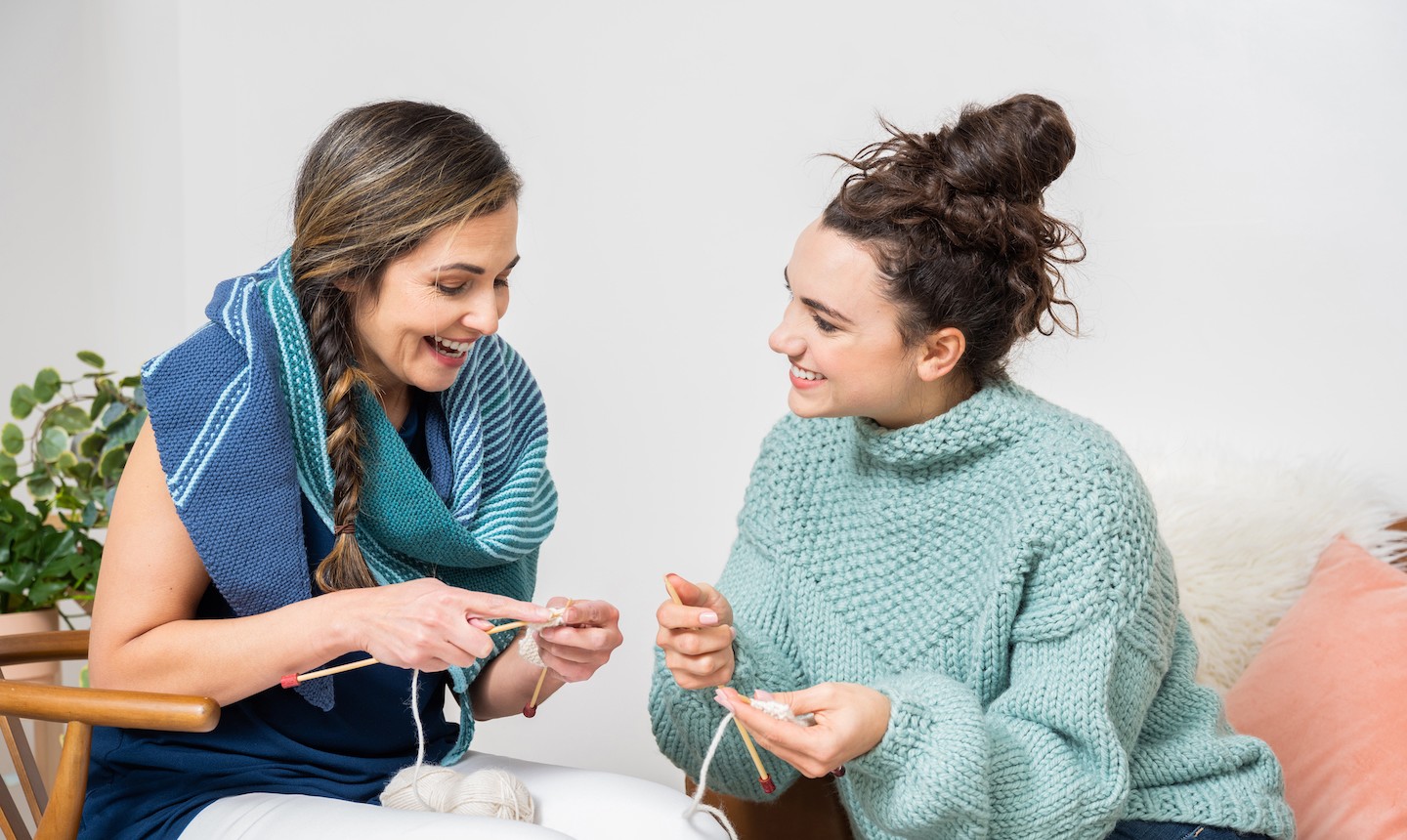 Shortly after I started learning from Chelsey, I discovered our local yarn store had a knit night to bring together knitters of all ages, backgrounds and skill levels. I was a little nervous to ask questions (I knew next to nothing!), but all the knitters were so helpful and open. Soon I felt right at home, and it's this community that helped shape me as a knitter. I would see the different projects people were working on and all the different ways to knit — that really helped me see what a huge field it was in terms of creativity and possibilities.
As I developed my skills over the years, I felt a big desire to help people on their own knitting journey. An idea formed: if I created a club with kits, I could curate the experience of fellow knitters and help them succeed, whether it be with choosing the right yarn and beads for a project or learning new lace techniques. Thus, my two knit clubs were born: Lola's Choice, a smaller club with new kits every other month, and N-club, where members receive three elaborate projects to work on throughout the year. Both groups allow me to connect with knitters from all over the world; it's an amazing feature I feel lucky every day to have.
While my online clubs have allowed me to build relationships around the globe, it's still important for me to knit with people in person. I wrap up every year by hosting Knit Ithaca, where knitters can come together for a weekend, connect and just … knit. Everyone learns tricks and techniques for a pattern I design specifically for the event, but of course the knitters are free to make whatever project they want. (After all, it's hard to connect with others if you're staring at a new pattern the whole weekend!)
Having a community that understands the language of yarn and needles is invaluable, and as I've grown as a knitter, it's become a focal point of my work. Everything I'm designing and doing is about working together with fellow yarn-thusiasts, creating and fostering new friendships.
Casting On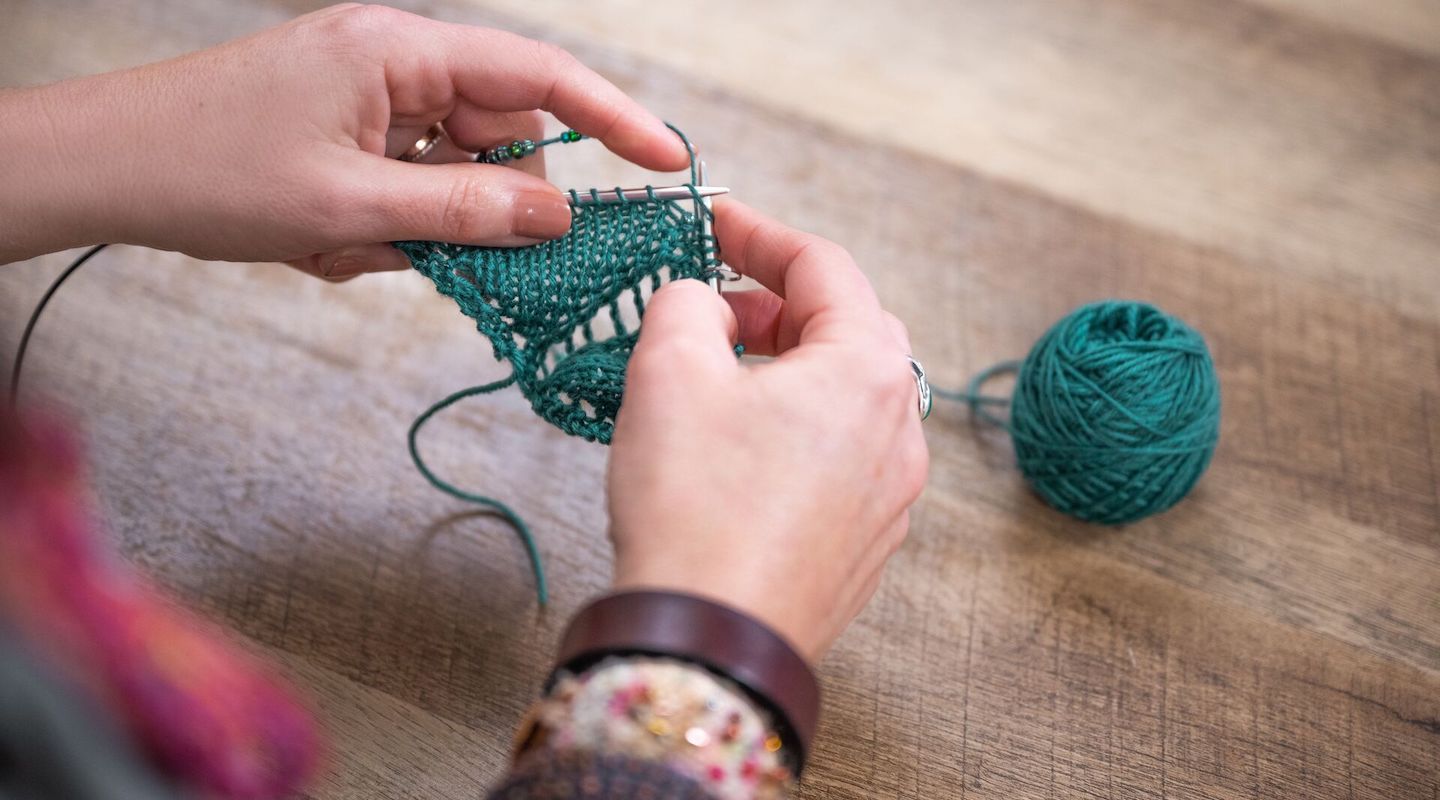 I've been knitting now for around 15 years, and you'd think I might get bored or be ready for the next craft to wrap my brain around. And while I still sew for fun (most of my clothing is handmade), there's something about knitting I keep coming back to. It's kind of like yoga: you get into a repetitive flow where, while your hands are doing what they're doing, your mind is free to wander and go to its happy place. That's something we all need.
Which is why I continue to be passionate about introducing people to the craft. For beginners, my biggest piece of advice is simple: be fearless. Knitting is not scary. It's just sticks and string, and you can easily rip it out and start again. Plus, you'll quickly realize that when you find other knitters, it's like having a shared language. The craft breaks down barriers, presenting an opportunity to find common ground. Knitting has made my world so much bigger, and it will grow yours too.