The sheer number of knitting needle sizes and types can be overwhelming for a beginner. Should you use straight, circular or double-pointed needles? Can you use size 7 knitting needles instead of size 8 if that's all you have available? What's the difference in plastic and bamboo needles?
It's enough to make your head spin.
Before you go crazy and buy every knitting needle size and type available, take a peek at this guide for knitting needle sizes. We've divided yarn weights up as they appear in the Craft Yarn Council's Standard Yarn Weight System.
This is not a hard-and-fast guide to the knitting needle sizes you should use with each yarn. For example, even though the recommended needle size for a lace-weight yarn is 000-1, sometimes a pattern will call for a size 5 needle, which creates a loose lace knit with a lot of drape. (Always consult your pattern first, if you're using one.) But the guide can help you make a decision between, say, a bamboo double-pointed needle or a plastic circular needle.
1. Lace Weight
Knitting needle sizes: 000-1
Some lace-weight projects are large shawls that require tiny needles. But knitting on straight needles can take a toll on your wrists, especially if the project becomes heavy. That's when needles like the Clover Takumi Bamboo 48in Circular Knitting Needles pictured above come in handy.
Circular knitting needles like these are not just reserved for projects that are worked in the round. You can also use them for flat, back-and-forth row projects that are heavy, like lace shawls and even heavier afghans. The cord takes all the weight off your wrist so that the project weight can rest in your lap.
Of course if you're knitting a small, delicate lace knit in the round such as gloves, you can use the circular needle for Magic Loop or opt for a double-pointed needle set.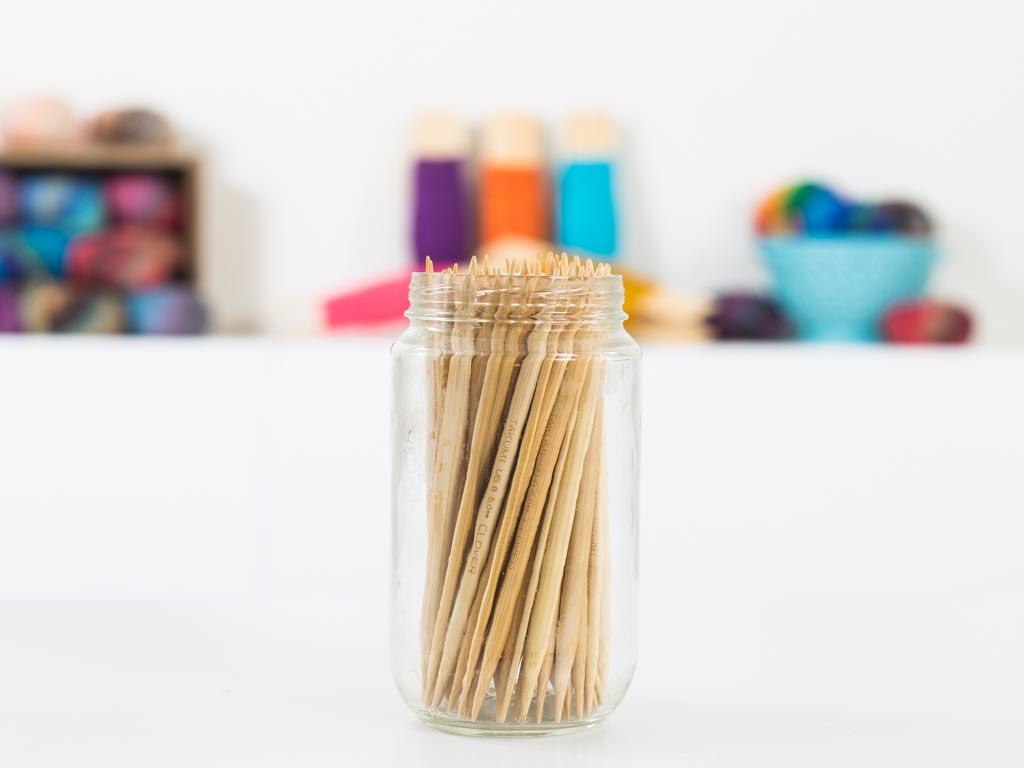 2. Sock Weight
Knitting needle sizes: 1-3
If you aren't yet addicted to knitting socks, you soon will be! The sock sneaks up on all us knitters at some point. Most socks are knit using a size 1 or 2 needle, but you can also find sock patterns that are designed for heavier non-sock yarns. In addition to socks, you can knit up beautiful shawls using sock-weight yarn and these small needles.
I love the Clover Takumi Bamboo 5in Double Point Knitting Needles for knitting socks because the short length of the needles means you spend less time pushing your work around on the needles and more time actually knitting. Plus, the bamboo helps the yarn grip the needle so that the yarn doesn't slip off unexpectedly.
If you are a fan of the Magic Loop, you can also use long circular knitting needles to knit socks. And while I personally haven't used them for socks, I've heard plenty of raves about these Clover Takumi 9-inch circular needles. 
3. Sport Weight
Knitting needle sizes: 3-5
While not as thin as sock yarn, sport-weight yarn can still use those tinier knitting needles that might cause your hands to cramp up. Straight needles work well for this size if you're working with a light-weight flat project, but opt for those longer circulars if your project is heavy. I recently knit a sport-weight sweater on size 3 needles, and you can bet I was using those long circulars to support the weight of the garment.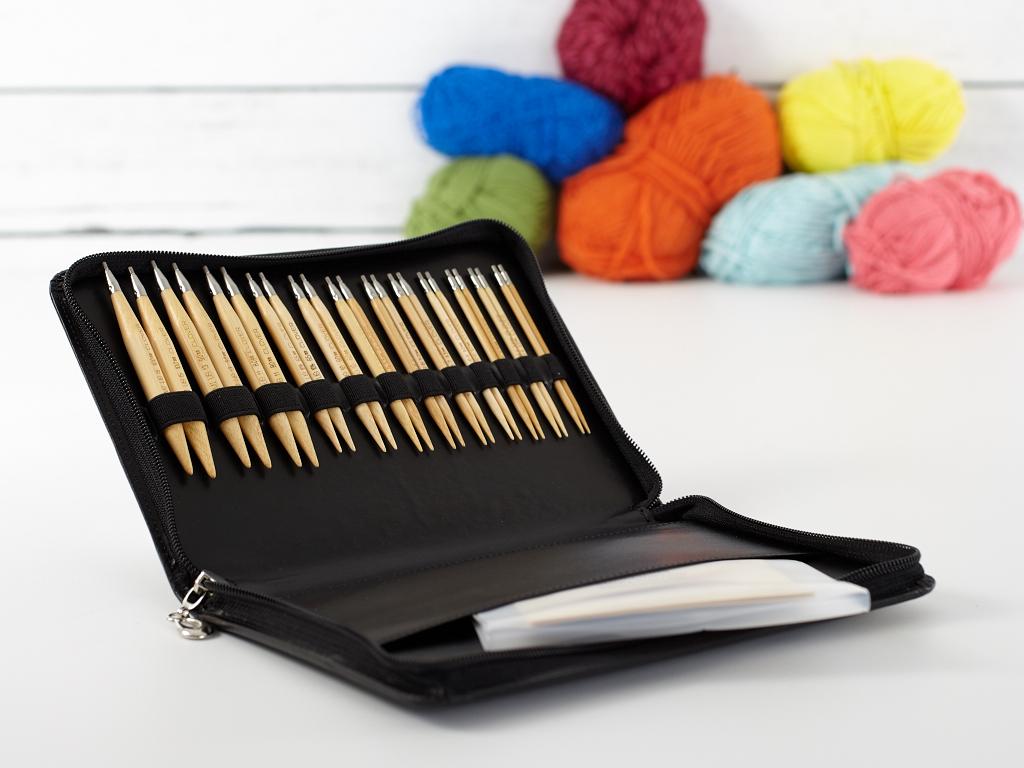 4. DK Weight
Knitting needle sizes: 5-7
DK weight is just slightly lighter than worsted weight, making it super common for everything from sweaters to scarves and gloves.
Once you begin working with lots of different yarn weights and decide that you're going to be a knitter for the long haul, consider investing in a set of needles like the Clover Takumi Interchangeable Circular Knitting Needles Set pictured above. This particular set ranges from knitting needle sizes 3-15.5 and comes with five different cords. It's like having 60 different knitting needles all rolled into one compact set.
5. Worsted Weight
Knitting needle sizes: 7-9
Worsted weight yarn is probably the yarn you'll use most often. It is paired with knitting needles in the medium size range — maybe even the same knitting needle sizes that you learned to knit with.
If you are in doubt about the weight of the yarn you are using or the knitting needles sizes, consult the yarn label for help. Yarn labels always include a gauge, as well as a recommended knitting needle size that you can use as a starting point. You might find that you knit tighter or looser than the gauge given; in that case, you'll need to change your needle size.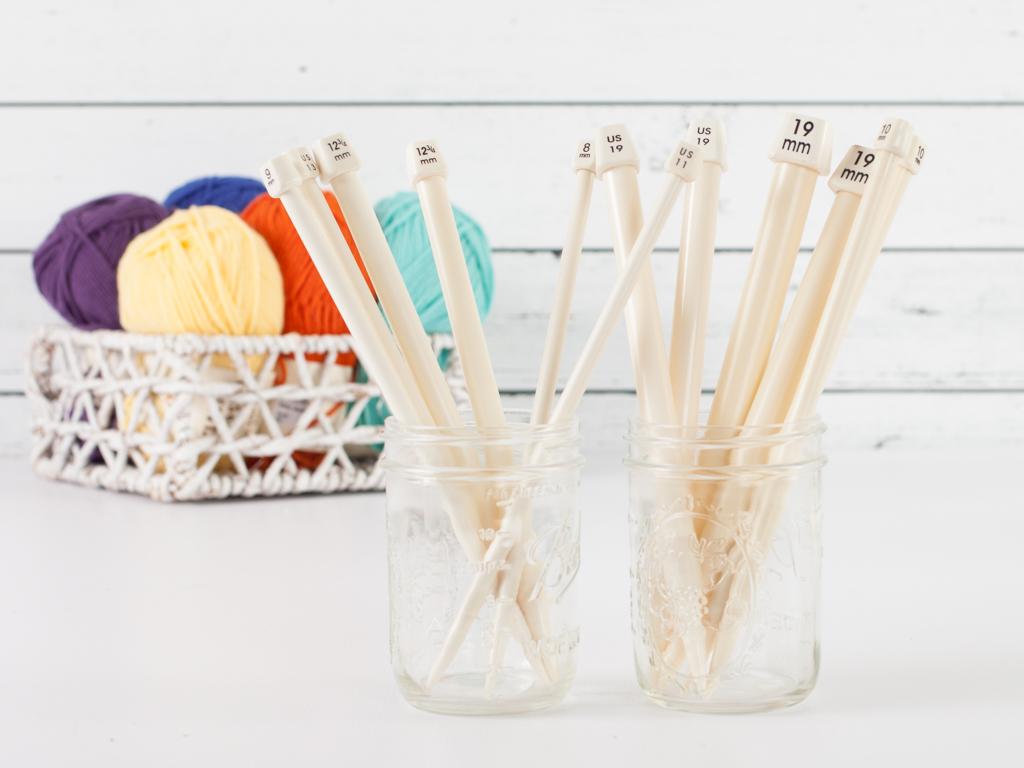 6. Bulky/Chunky Weight
Knitting needle sizes: 9-11
The knitting needle sizes are growing larger, and as they do you'll notice that the knits work up faster and faster. Bulky or chunky weight yarn is famous for being a quick knit. You can use practically any knitting needle type for this yarn, but keep in mind that if you're working with something large, those long circular needles will be a lifesaver for holding all the weight of the project. 
7. Super Bulky Weight
Knitting needle sizes: 11-17
Super bulky weight is fun to work with, and it's not just because it knits up quickly. You can experiment with textures like cables that will really stand out when they're knit up in a super bulky fiber. Imagine a super bulky weight blanket that features a beautiful cable wrapping down the center or even a hat knit up in a basic seed stitch. The super bulky weight yarn, combined with large knitting needles, will make any stitch stand out.
8. Jumbo
Knitting needle sizes: 17 and larger
Make way for thick knits! Jumbo is the newest yarn weight category and uses the biggest knitting needles of all. If you're working with a small project that isn't too heavy or wide, the Lion Brand Scarf Knitting Needles are a nice choice. These needles are made of plastic, keeping them lightweight and easy to wield. The needles come in sizes 11-35, so they are perfect for both super bulky weight projects and jumbo projects.
Beginners, what types of knitting needles have you tried so far? Experienced knitters, what are your favorite go-to knitting needles?