Don't tell anyone, but the main reason I make jewelry at all is because I have a minor bead/supply addiction. When the addiction is as severe as mine, it becomes VERY important to be able to keep all of those bits and bobs controlled and organized. Luckily, I'm not bad at that!
Let's break down some of my favorite jewelry-making storage ideas.
Here's a picture of my jewelry studio. You can see many storage solutions poking around in there:
First off, for everyone drooling with envy, I'll let you know right off the bat that it doesn't always look so pristine. In the interest of proving I'm a human being, here's what it can look like after show season: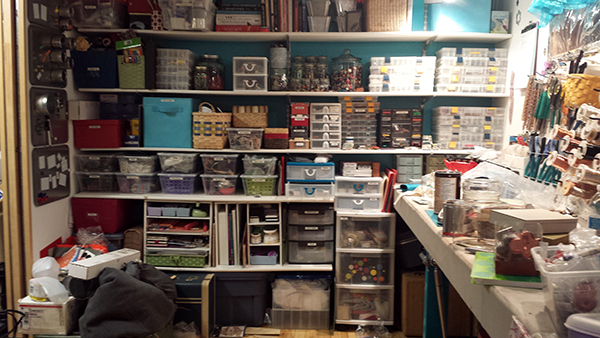 But even in the middle of that I-sure-was-tired mess, the core organizational structure stayed intact. To get this cleaned, all I really needed to do was systematically put everything away. To get your jewelry-making space organized (and hopefully avoid this kind of mess in the first place!), there are just a few rules you need to remember. Whether you are lucky enough to have a dedicated studio space like mine, or you're working off your couch or kitchen table, I got you covered! First, some rules:
Rule 1: A place for everything, and everything in its place.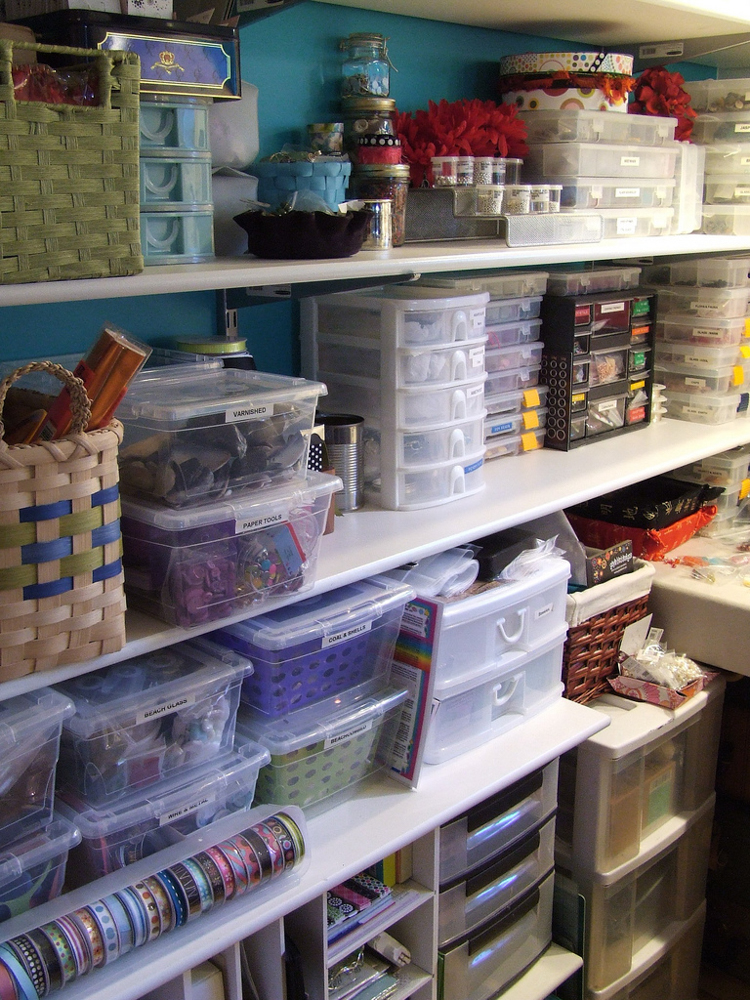 I got this saying from my mom (hi, Mom!) and it works for everything — kitchen cupboards, laundry, photos and yes, jewelry-making storage. This rule means you can't just shove the soldering picks in with the paintbrushes and expect to be able to find either one easily when you need them.
So how do you find a place? Well first, I recommend being really good at Tetris. Alternatively, you can simply group all similar supplies into piles (oh, do I love a good organized group of piles) and then find appropriately-sized containers for each pile. This could almost be a sub-rule: use the right size and kind of container.
There's almost no end to the kinds of containers to use.
You can be thrifty and use recycled glass jars or wash out soup cans and cover them in paper or fabric. I've even been known to cut down milk cartons.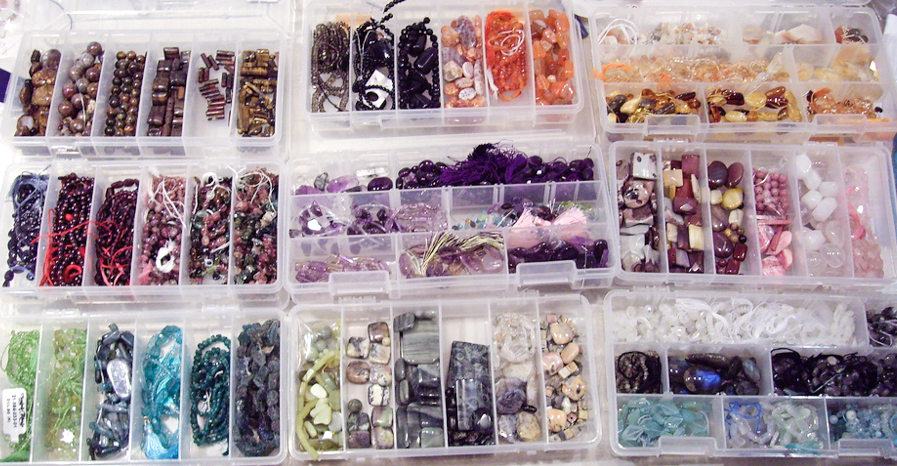 You can buy fishing tackle boxes or jewelry-specific storage boxes with the movable inner dividers like above (a favorite). You can use baskets or buckets, shoe boxes or dollar-store drawers. I tend to use more dollar-store drawer dividers inside.
One of my favorite things for small parts is to use actual watchmaker's cases — you can buy them online — they're small, round, aluminum tins with glass lids so you can see through. They are perfect in a drawer: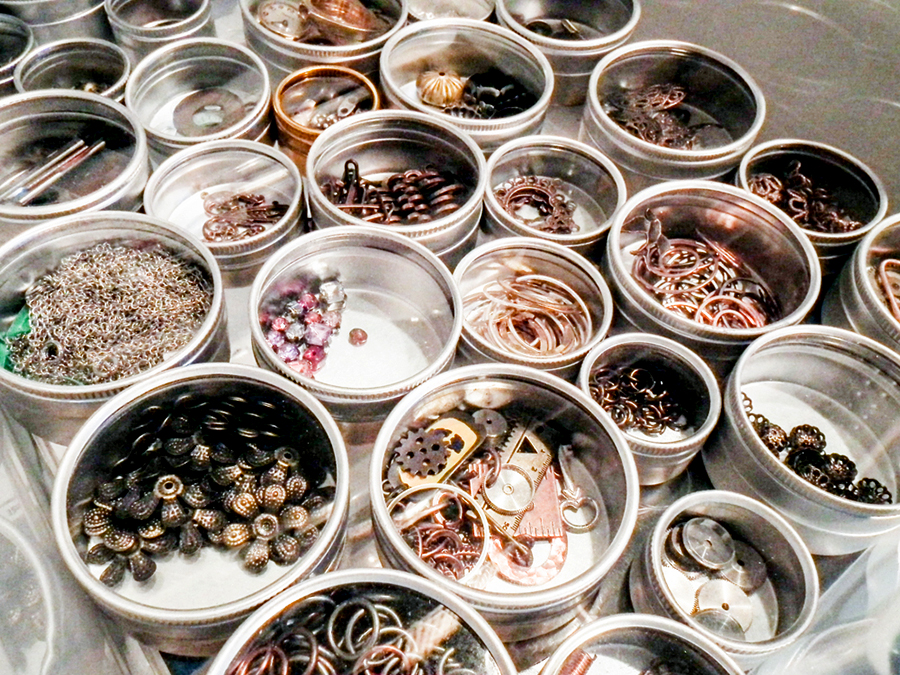 I store my tools and wire on pegboards, which puts them right where I need them and is ultimately customizable: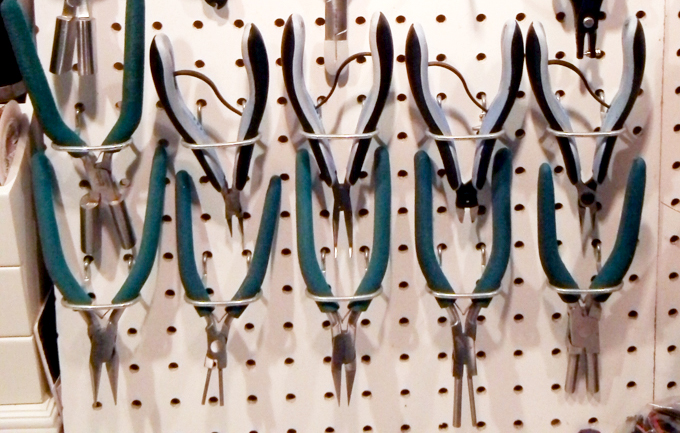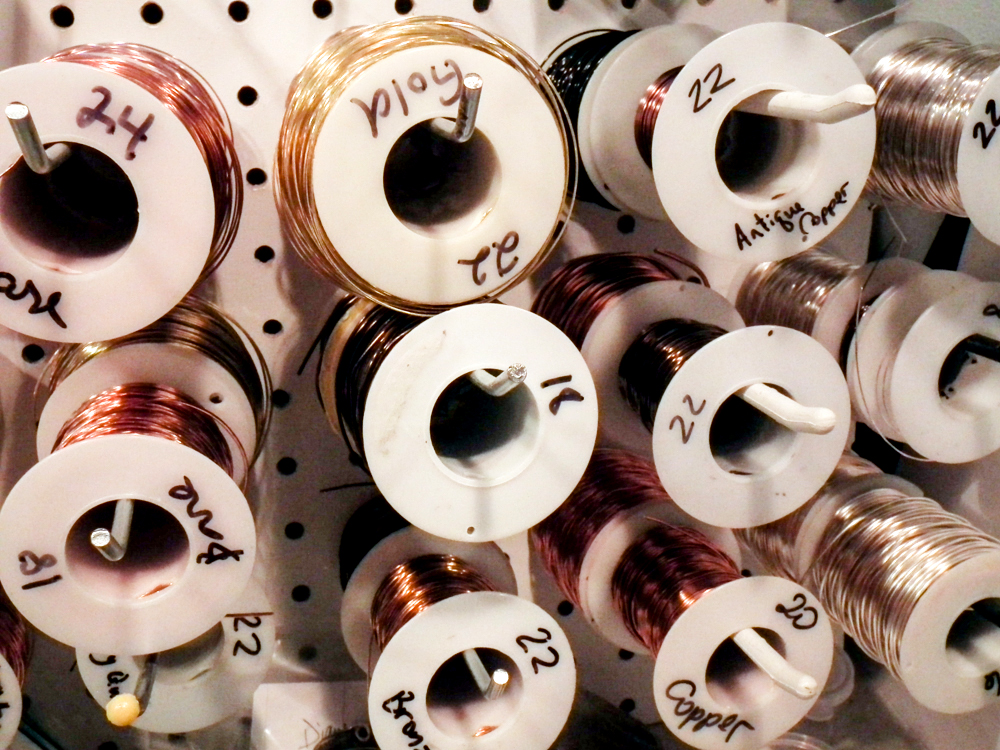 And I've found new uses for stationery organizers: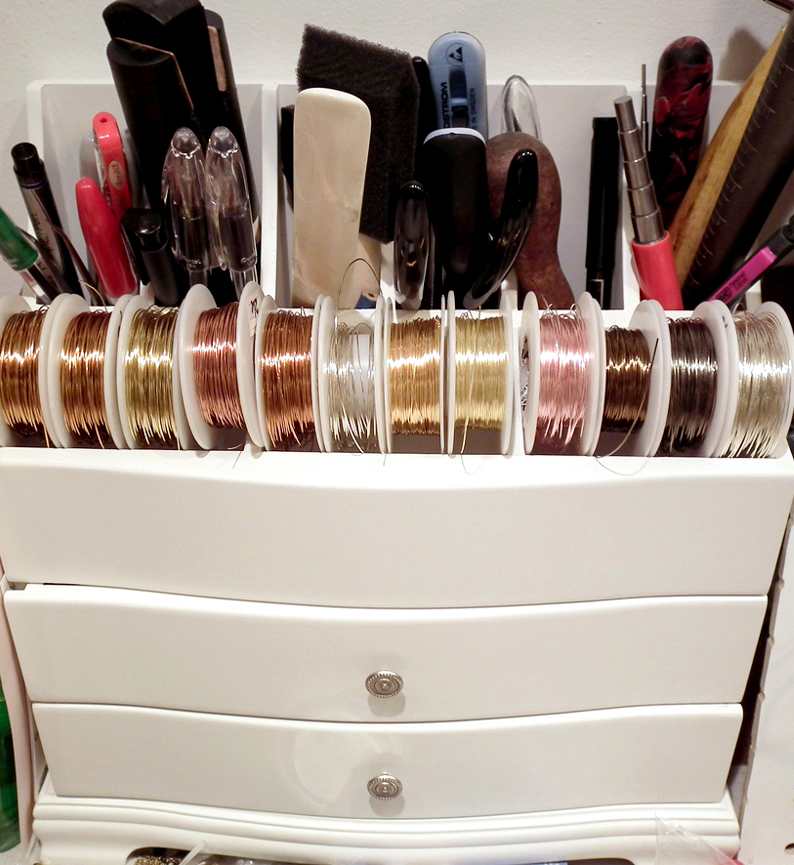 It doesn't really matter what you store your jewelry supplies in or where you keep them as long as it's the right size and you follow the rest of the rules, you'll be fine!
Once everything is in a container, then you can figure out how to stack and group the containers. Which brings us to the next rule…
Rule 2: The supplies and tools you use most often should be stored within reach.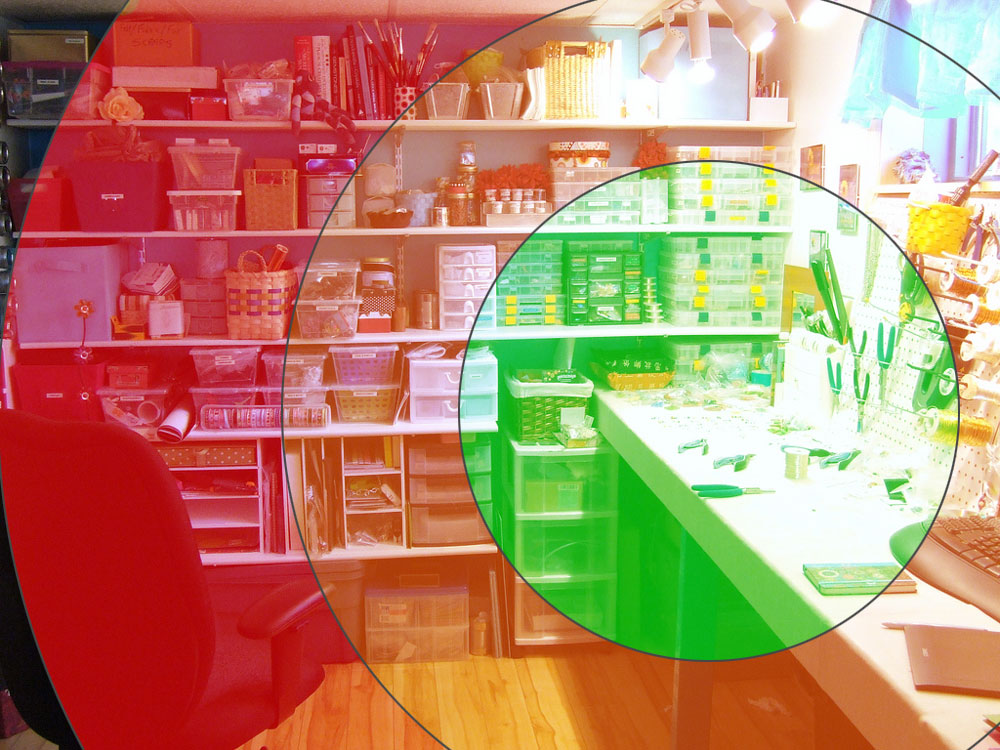 A longer way to say that is that if you use it a lot, store it close to you, but the less often you use a tool or a supply, the further away and harder it should be to get to. You shouldn't have to bend or stretch for anything but the rarest materials.
In the case of my studio pic above, all of my essential tools and most commonly-used materials are in the green circle, surrounding where I sit. Some other materials that get used a bit but not as often are in the orange circle. And the stuff I keep because who throws anything away?! is in the red section. Don't ask me what's in that top left corner. I have no idea (although I could just read the label…).
Rule 3: Label, label, label.

Speaking of labels! I can't recommend this rule enough. Not all of your containers will be see-through, and even the ones that are can sometimes get cluttered and hard to identify. (And yes, I subdivide my watch parts into different types. Don't you?) My label-maker and I have gone through a lot together. It's not a QWERTY keyboard but that doesn't matter — he never lets me down!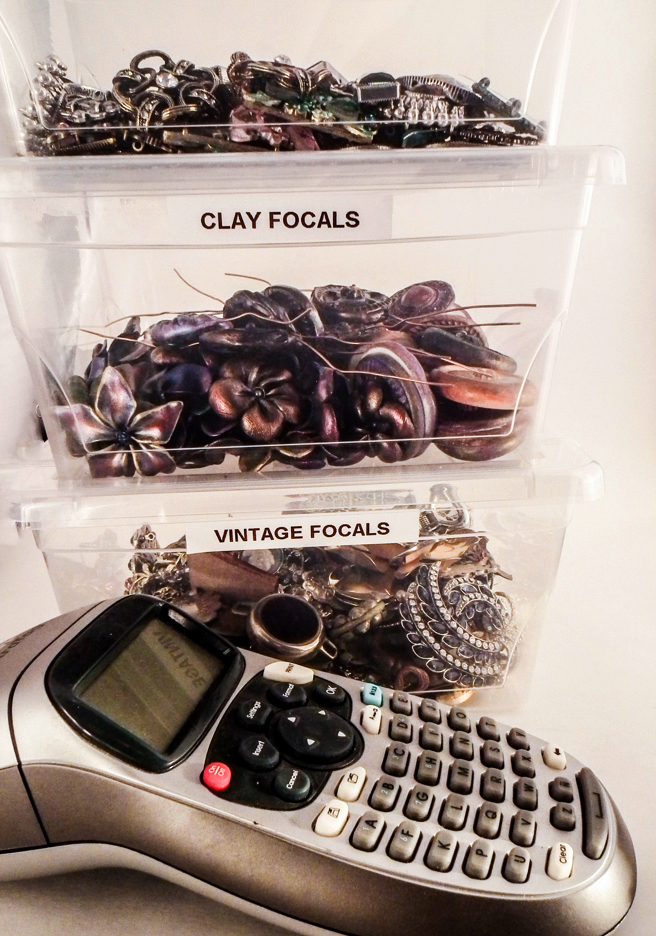 If you don't have a nifty label-maker, use masking tape and a marker or try some pretty washi tape! The ability to identify what's in a box at a glance is going to save you a lot of time. To keep it all neat and tidy, put labels in the same place on the same kind of container, and line up your containers prettily in a row. Speaking of pretty…
Rule 4: Organization should be pretty!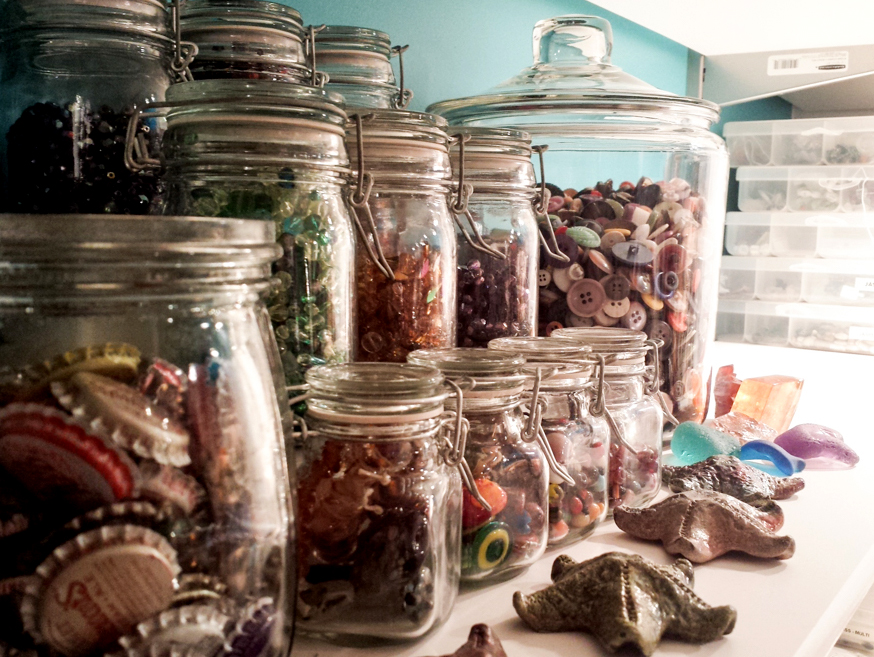 If you're making jewelry, you're likely someone who's very visual. And when you're visual, that means visual clutter can disrupt and distract your creative process. So make sure that your jewelry-making storage is neat, clean, and above all, attractive! This means using glass jars when what you're storing is worth showing off, and making sure your other containers are stacked together. And when you're finished with something, PUT IT AWAY! Yes, that was me yelling. Don't make me show you the mess again!
Follow these rules and you'll find that your jewelry-making storage space is easy to maintain, live in and, most importantly, work in. An orderly space — where you can find everything you need — is conducive to an orderly brain, letting you get back to being productive and having fun!