Creating a piece of jewelry involves making many decisions along the way. You have to choose your colors, your style, the size of your piece, and more. One thing that often gets overlooked, but is incredibly important, is the type of jewelry clasp you decide to use.
There are many options to choose from and some are better suited for certain projects than others.
Here's an easy guide to basic jewelry clasps to help you choose the best fit for your projects!
Spring ring clasp
The spring ring clasp is one of the most common types of clasps you'll see on all kinds of jewelry pieces. As its name suggests, it is a metal ring with a spring mechanism. Just pull back on the small lever and the spring will compress, leaving an opening so you can slide a jump ring or tab inside. Releasing the lever causes the clasp to close automatically, firmly locking the chain in place.
This type of clasp is very versatile and very secure. It can be difficult to fasten this type of clasp on a bracelet one-handed, and it can be hard to manipulate if the ring is particularly small, but overall the spring ring clasp is a great choice for most everyday jewelry if you want something understated and functional.
Lobster clasps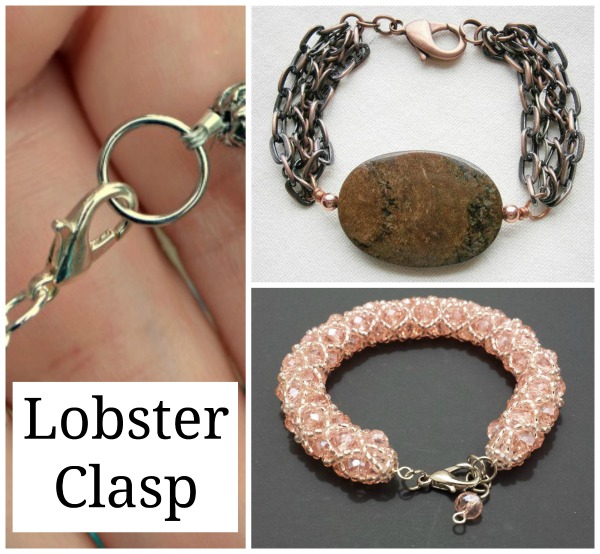 Images via Craftsy members DivineSummer, meena
The lobster clasp, named for its resemblance to a lobster's claw, is a spring-loaded, self-closing clasp style. To open a lobster clasp, simply push down on the lever with your thumb and the bottom section of the "claw" will swing inward. Releasing the lever will close the clasp.
Lobster clasps are available in a variety of sizes and styles, including a swivel style that allows the clasp portion to rotate 360 degrees without disturbing the piece of jewelry at all. This swivel style is ideal for bracelets and anklets since they tend to move around a lot during wear. The lobster clasp is a very popular choice, great for everyday jewelry that's light to medium weight. Heavier pieces are better suited for a sturdier type of clasp.
Barrel clasps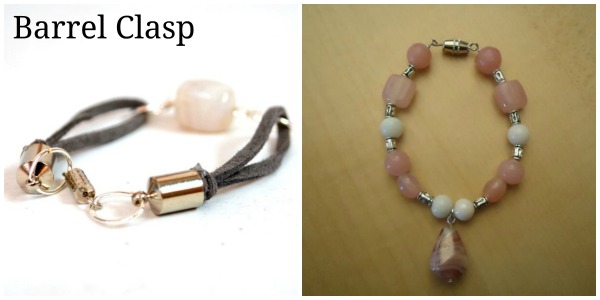 Image via Craftsy member paulasloan
Barrel clasps are made of two metal pieces that screw together to close and look like a barrel. Each part is attached to one end of the piece of jewelry. These clasps are very versatile and come in many different sizes and finishes. Sometimes they're even decorative, but more often they're simply gold or silver and designed to blend in with the finished piece.
The main drawback of a barrel clasp is that it requires two hands to fasten, so it's not a good choice for bracelets unless you plan on having someone else put your jewelry on for you every day. It's also not ideal for individuals who struggle with dexterity.
Toggle clasps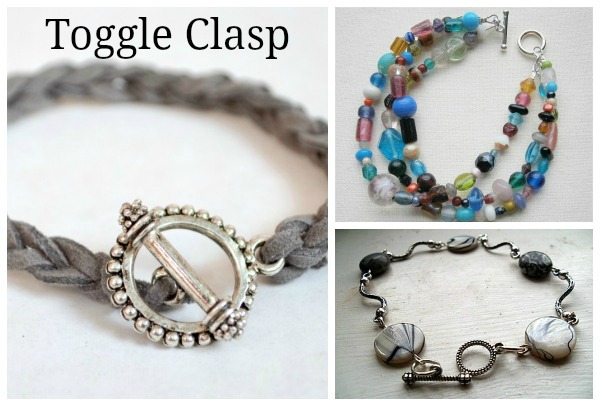 Images via Craftsy members DivineSummer and Victoria7
If you're looking to add a little finesse to your jewelry piece, you might want to consider a toggle clasp. This type of clasp is composed of two very different pieces; one end is a long bar or "T" shape while the other is an open shape, most often a circle. The bar slips through the center of the shape and locks in place. Toggle clasps are available in many sizes and with various amounts of embellishment. More often than not, these clasps are designed to add to the aesthetic design of the piece and are sometimes even used primarily as decorative accents, such as on necklaces where the clasp is purposely put in the front.
Toggle clasps can be used on any type of jewelry, but work best with heavier pieces because the weight of the piece can help ensure that the bar won't slip back out during wear. Be sure when choosing a toggle that the bar is small enough to fit through the corresponding shape but large and thick enough to lock securely in place because the biggest concern with this type of clasp is the fact that it can sometimes come undone.
Magnetic clasps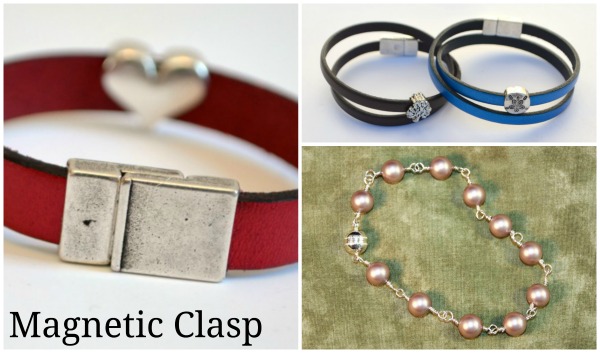 Images via Craftsy member knitamazoo
True to its name, a magnetic clasp is composed of two pieces that contain magnets. These magnets attract one another and snap together, locking the piece of jewelry in place. There is a huge variety of magnetic clasps available in all shapes, sizes, and styles. Some are small, round, and delicate, while others are large and rectangular. Still, others are texturized or accessorized with rhinestones and more.
These clasps are very easy to fasten and work well for all types of jewelry. They are also a particularly good choice for older women or those with limited dexterity. 
S hook clasps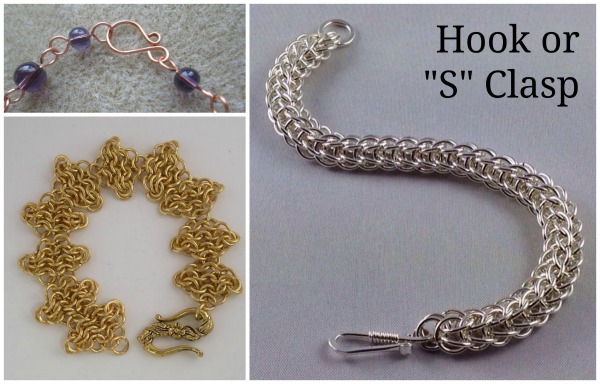 Images via Craftsy members roobyred, MailleCreator, efwild
S hook clasps are one of the oldest types of jewelry clasps in existence. Known for their simple "S" shape, they are designed to attach to one end of a piece of jewelry and slide onto a ring at the other end. S hooks can be very basic or quite ornate and are a pretty, decorative choice.
There are two things to be cautious of with this type of clasp. First, be sure that the hook is tight enough to lock securely onto the ring without slipping back off. Second, be sure that the hook is formed so that it won't catch on clothing or other objects.
Fishhook clasps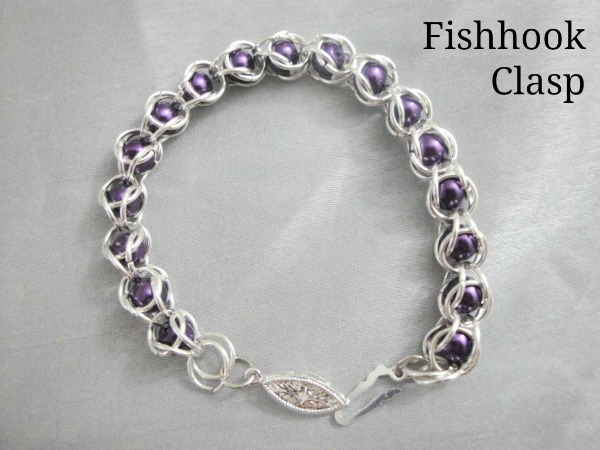 Images via Craftsy member meena
A less popular but quite glamorous option is the fishhook clasp. One end is a metal hook, while the other is an oval-shaped box. The hook fastens into a hidden spot inside the box and sometimes even locks due to a spring mechanism.
This type of clasp can be tricky to do with one hand, so it's more ideal for a necklace than a bracelet. Sometimes these clasps are particularly ornate and even adorned with diamonds, so they can definitely be used both aesthetically and functionally.
Slide lock clasp
Images via Craftsy members maro, Hana Designs
A slide lock clasp is designed particularly for multi-strand necklaces and bracelets. Each side consists of a long tube with rings for attaching strands of chain, wire, thread, or cord. One tube slides inside the other and locks in place. 
See? There are lots of options to consider, and the choice you make can really add to your finished piece!
To summarize, here are the best options for certain types of projects:
Everyday Necklaces: Spring Ring, Lobster, Barrel, Magnetic, Fishhook
Heavy Necklaces: Spring Ring, Lobster, Toggle
Formal Necklaces: Fishhook
Multi-strand Necklaces: Slide Lock
Everyday Bracelets: Lobster (Swivel), Toggle, Magnetic
Multi-strand Bracelets: Slide Lock
Ankle Bracelets: Spring Ring, Lobster (Swivel), Toggle, Magnetic
Projects for Older Women/Limited Dexterity: Magnetic, Slide Lock