Many fabric lines contain a cheater cloth. Have you come across these in your quilting?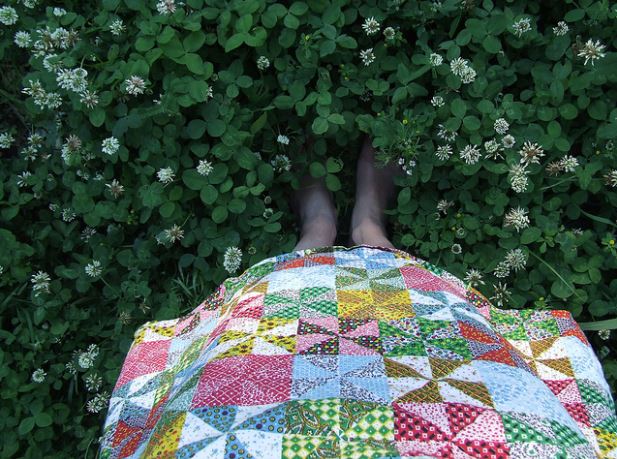 Photo via Knitting Iris
What is cheater cloth?
A cheater cloth is a lovely fabric that appears to be pieced together as a traditional quilt top, but is actually a printed pattern. This solid piece of fabric is a fast and friendly quilting shortcut that allows the quilter to skip the process of cutting and piecing a quilt top together. It's ready to be basted and quilted! There is no need for cutting and piecing with cheater cloth, those steps can be omitted completely.
Cheater cloths have a rich history.
The first imitation fabrics appeared sometime in the 1800s, and they rose in popularity quickly. Many popular patterns that range in difficulty were made into cheater cloth and continue to be printed today. Basic patchwork, log cabins, hexagons and double wedding rings are just a few of the featured patterns.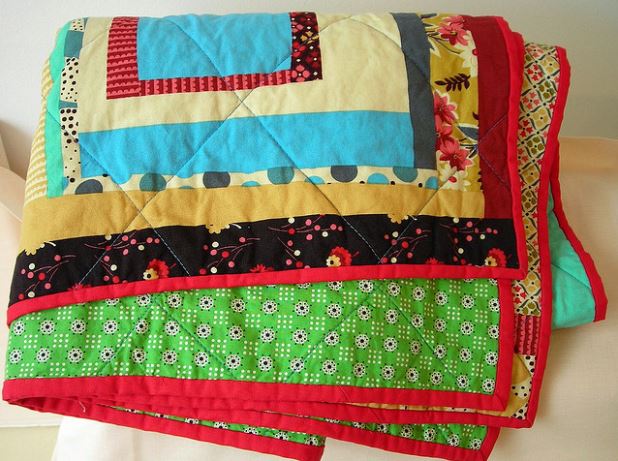 Photo via Loopy Yarn
In today's world of fabric, oftentimes you will find a cheater cloth included with a line of fabric. These prints generally include all of the colors in that particular line as well as some of the designs, which the colors and elements together nicely. When cheater cloth fabrics are part of a quilting cotton fabric line, they usually measure 36" wide, just like the other fabrics. They can also be found in larger widths, like 45" and 90". Those widths are more commonly used when the printed patterns are of the more traditional design.
Cheater cloth can be used in a variety of ways. Here 7 different options:
1. Whole-cloth quilts
Yards of beautiful cheater cloth can make for a beautiful whole-cloth quilt. Once the fabric is pressed and basted with batting and backing, it's ready to be quilted. This can be done by hand or on machine. When a stitch-in-the-ditch style of quilting is used carefully, the quilt top can look like it was actually pieced! Decorative hand quilting and embroidery adds character and transforms the entire look of the quilt.
2. Quilt backing
Imitation fabrics can make beautiful quilt backings. If you don't like to spend extra time piecing a backing, try using a cheater cloth!
3 .Clothing
Many cheater cloths feature long and narrow border prints or illustrations. These can be used to make beautiful clothing, especially skirts and dresses.
4. Pillows
Fussy cut particular designs and panels to make beautiful pillows. Add a bit of quilting by hand or machine to add depth and texture.
6. Home decor
Think wall hangings, place mats, table runners, trivets, oven mitts, doll quilts and more!
6. Charity
Do you like to donate quilts to a specific cause or organization? Quilts made out of cheater cloth fabric are quick, charming projects that will be greatly appreciated.
7. Practice
If you'd like to practice a new quilting design or technique, cheater cloth quilts are the perfect place to do so! You might find it easier to step out of your comfort zone and try something new on a project that hasn't taken you hours to create.
Come back to the Craftsy blog tomorrow for a roundup of Thanksgiving quilt patterns to stitch up for your holiday table!
Do you like to sew and quilt with cheater cloth? What have you created?