Many sewers enjoy both quilting and garment sewing, so why not combine the two and create patchwork clothing? The result is a stunning finished object that's sure to be a topic of discussion.
There are many benefits to this form of art. The sewer gets to enjoy the best of both worlds in a single project! Another plus? This can be a frugal way to sew clothing. Buying yardage of fabric can be rather expensive, but if the necessary material can be pieced together from stash or scraps, there is little or no added expense. Plus, it is fun to wear your favorite fabrics!
Here are 6 inspired patchwork clothing projects to try:
As always, be sure to click on the photos and links for more information.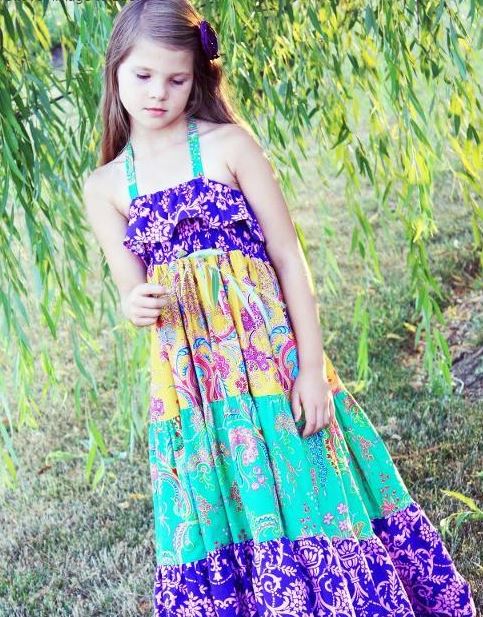 Photo via Cr8KidsCouture
The Cora's Dress pattern is the perfect scrappy dress for those tweens who are hard to sew for. This dress was created for both comfort and style, and the pattern has three lengths included: a shirt, sundress and floor-length maxi. An elastic bodice and shirring make for a versatile dress that can be worn for several years.

Photo via Cr8KidsCouture

Check out Tiffany's Sweetheart Patchwork Dress pattern, also by Cr8KidsCouture. This beautifully designed patchwork dress is has two full layers, making it extra twirly. Use multiple fabrics from the same line for a nice and easy coordinated design, or mix up your scraps for a fun, scrappy look.

Photo via simplethingspatterns
Instead of making a strip quilt, make the Bohemian Skirt pattern with your long strips of fabric! This pattern will show you how to make an easy, comfortable peasant skirt with an elasticized waist. Instructions include options for both frayed or finished versions.

Photo via Wendy Gratz
Not quite ready to commit to patchwork clothing? You should give this pattern a try! The Hot Stuff Patchwork Apron pattern is a quick and easy beginner project that allows you to use up your scraps. Sew up a couple in afternoon for the upcoming holiday season. They make charming gifts for yourself and others.

Photo via Sue Michaels

Patchwork accessories are another fun option! Scarves are a simple wardrobe staple that many love to collect. They really change the look of any outfit! The Sassy Soho Scarf pattern is a sweet little project that helps use up all of those leftover 2 1/2″ strips in your scrap bin. The options are endless with this pattern! Monotone, scrappy, mixed textures — the sky's the limit.


Photo via AllThatPatchwor
Bluprint member AllThatPatchwor shares several beautiful patchwork dresses, including this Bright Patchwork Dress, on her Projects page. An avid quilter, she combines her love of pieced quilts and garment sewing in her masterpieces. Be sure to check out her page to get inspired by more of her work!
If you love sewing your own clothing, why not try one of our garment construction classes? You might also enjoy Quilt-As-You-Go Patchwork Bags with Tara Rebman and our roundup of patchwork and quilted bag patterns to try.
What do you think about patchwork clothing? What have you created? Please share!