Perfectly in season all year round, these buttercream rose topped cupcakes will prettify any dessert table, from a tea party to bridal shower to a wild rose wedding cake spread. If you've ever wondered how to pipe buttercream flowers, let's start with piping a pretty petaled rose right on top of the nearest cupcake. No flower nail needed here!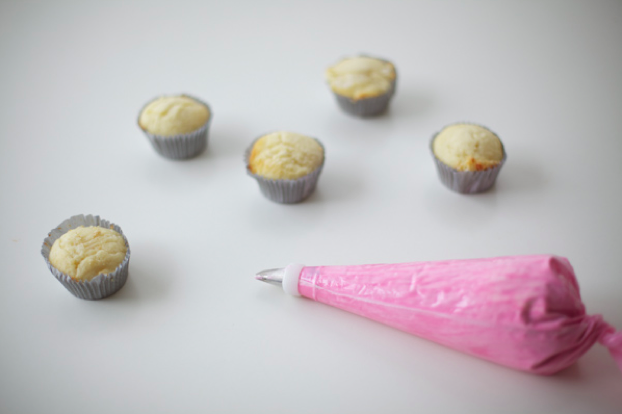 Photos via Lyndsay Sung // Coco Cake Land
What you will need:
Piping buttercream flowers tutorial
A batch of cupcakes in any flavor (we like this recipe)
Cupcake liners – I chose a light silver cupcake liner
A batch of vanilla buttercream
Gel color to tint your buttercream
Piping bag
Rose petal piping tip (I used #104)
Step 1: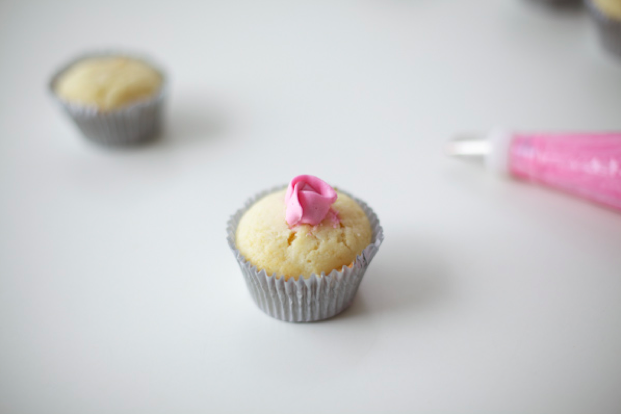 Many cake decorators start by making a cone shape for the center of their rose. Instead, I like to pipe a tightly petaled mini rosette.
Start in the center of your cupcake to make a tight mini rosette. Hold the piping bag so the larger end is touching the center of the cupcake. Squeeze the piping bag and form a rainbow-like motion with the piping bag while turning the cupcake at the same time to create a ribbon rainbow-like shape. Yes, three things at once! If you need more tips on using your piping back, read this!
This is one of those techniques where practice makes perfect — try it a few times to get the hang of it! If you don't like the results, you can scrape off the rose from your cupcake and start again.
Step 2:
Pipe another rainbow, slightly overlapping the last one, going round until you've created a tight rosette.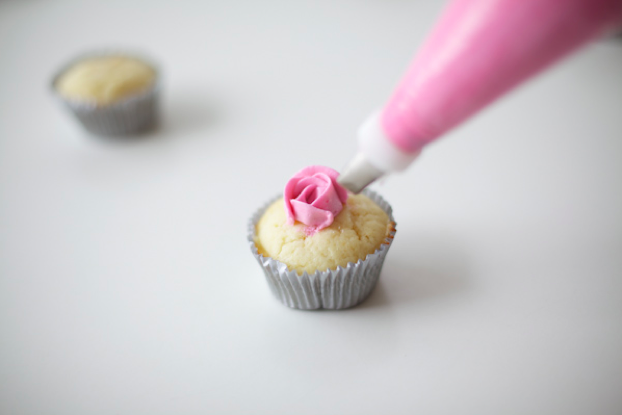 Essentially you are piping more "rainbow" shapes and circling around the center rosette, like the petals of a rose. Pipe more petals around the rosette, creating a second row of petals.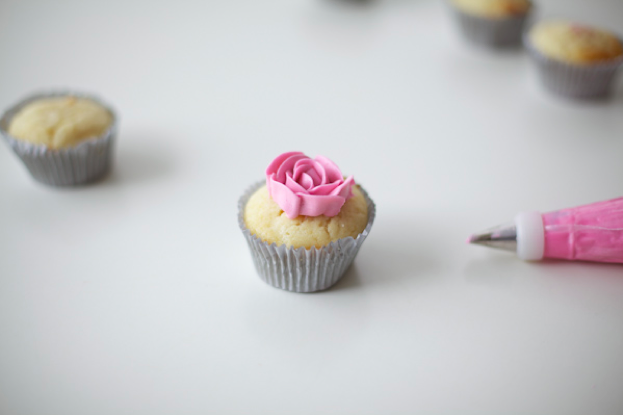 Step 3:
Continue building your rose — pipe another row of "rainbows," building outward.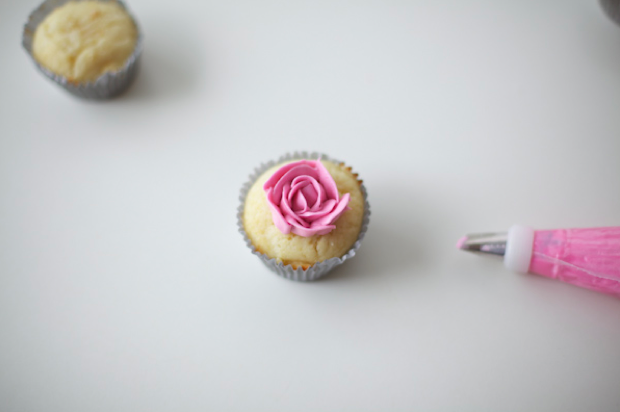 Here's a bird's-eye view of the cupcake thus far. Remember, each petal must overlap slightly to resemble a rose.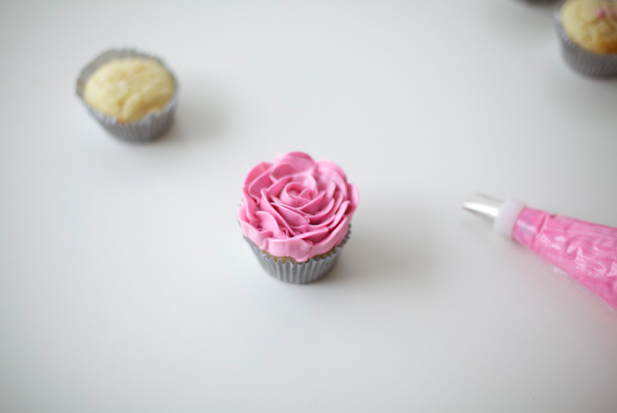 Step 4:
Keep piping round and round until the entire top of the cupcake is covered in pink buttercream petals. You can also make smaller roses with less petals and finish your cupcakes with green buttercream piped leaves if you so desire.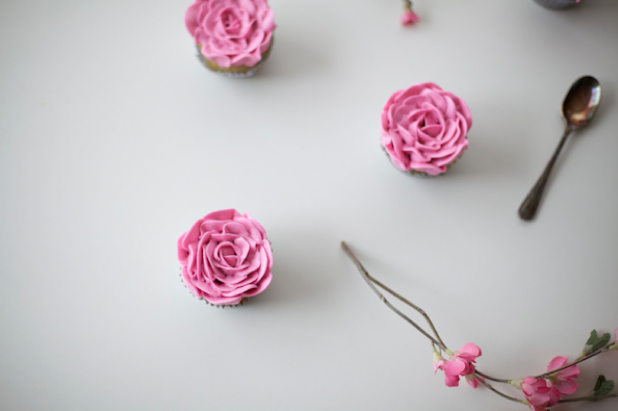 Continue piping the remainder of your cupcakes with the buttercream rose effect.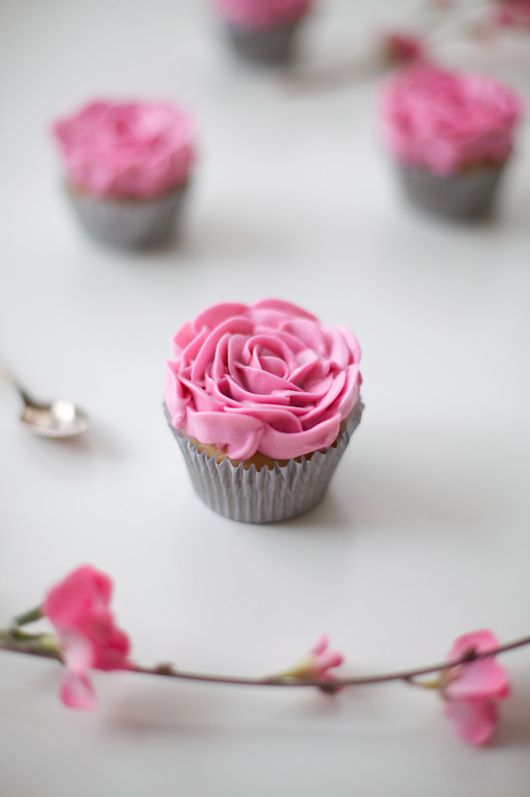 So pretty! Keep on practicing to get the rose look that you like best.
There are so many ways to use buttercream roses! A little inspiration: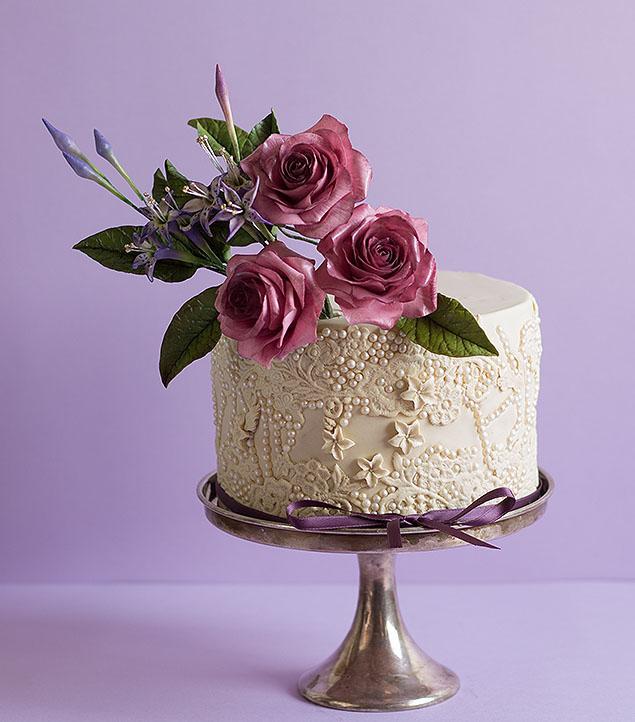 Cake via Craftsy member Modern Lovers
Whimsical sugar rose cake
There's a grownup Alice In Wonderland feel to this pretty, unique little beauty of a cake. Ivory colored fondant dotted with pearls and monochromatic mini flowers with a spectacularly flashy triple threat of classic sugar roses in a burgundy hue and tiny purple lilies to add even more whimsy. The classic gum paste sugar rose is probably the second favorite way in which cake decorators love to create cake roses.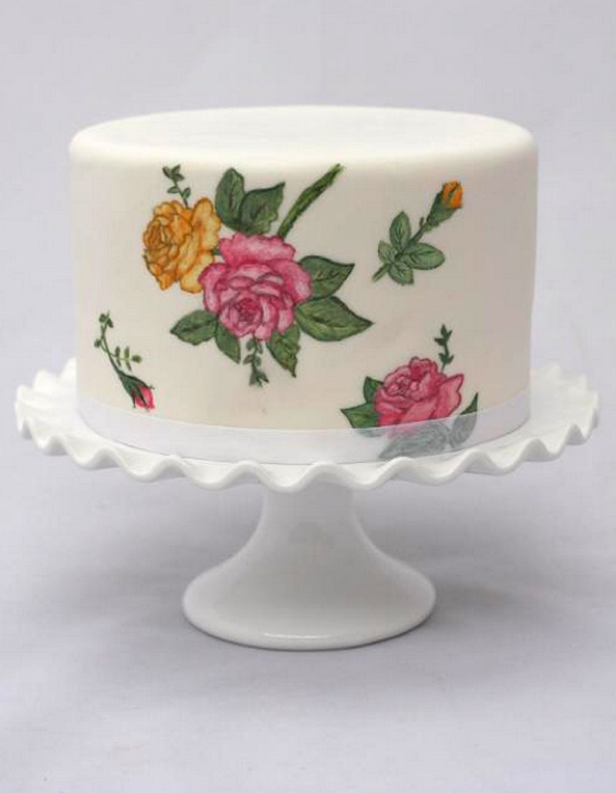 Photo via Craftsy member Bite Me Bakery
Hand-painted rose cake
An increasingly popular technique in cake decorating is the hand-painted cake. Vodka and petal dust or gel color combine to create a painterly medium, perfect for daintily applying to fondant covered cakes. In The Art of Painted Cakes, Kate Sullivan brings new life and breadth to this technique — it's a really fun class for the creative cake maker.
Photo via Craftsy member jantineoe295572
Edible wafer paper rolled roses cake
Sweetly simple and ever so delicate, the edible wafer paper rose is a current and exciting trend in the world of cake and yet another way to apply the beauty of the rose onto your cake designs. Craftsy member Jantine also used a designer paper craft punch and a sheet of edible wafer paper to create the pattern on the top cake tier.