Alice's Adventures in Wonderland was written in 1865 by Lewis Carrol. Since its publication it has become a worldwide phenomenon sprouting into movies, musicals and the dreams of people of all ages. As one of the best examples of literary nonsense, its imagery and characters have become enormously influential in popular culture. Due to its huge popularity, it has become a perfect theme for birthdays and un-birthdays alike. So what better way to celebrate than with whimsical Mad Hatter cakes? We've rounded up the best of the bunch. Let's dive in!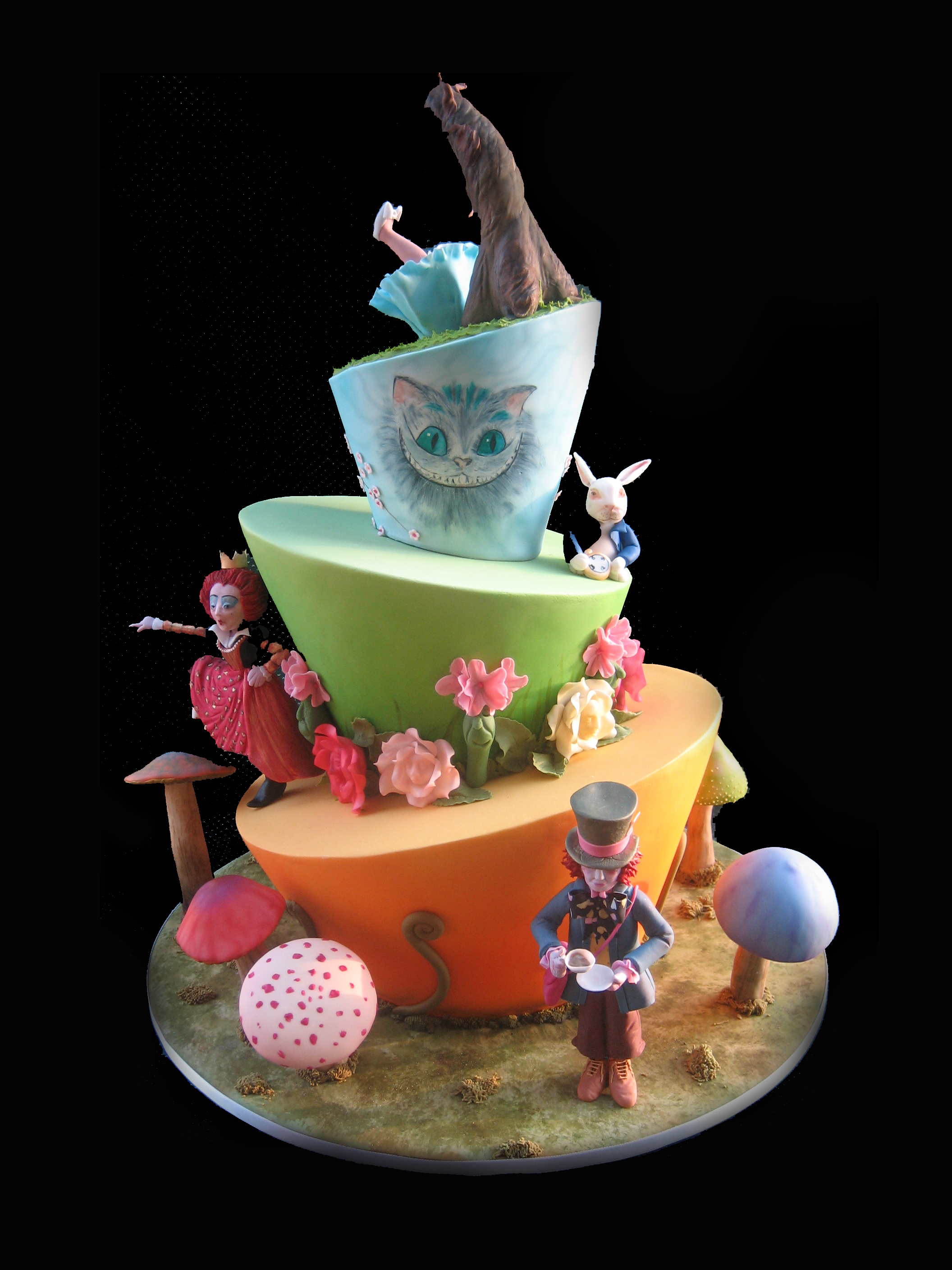 Photo via Anna Maria Cake Design
Mad Hatter cakes, also known as wonky cakes or topsy-turvy cakes, bring out the true feel of the whimsical world of Wonderland in this awesome cake by Anna Marie Cake Design. The hand-sculpted figures of the white rabbit, the Mad Hatter, the talking flowers and the red queen wait expectantly as Alice falls into the rabbit hole above them. You can just imagine the hand-painted Cheshire cat saying, "If you don't know where you are going, any road will take you there" as he disappears into thin air.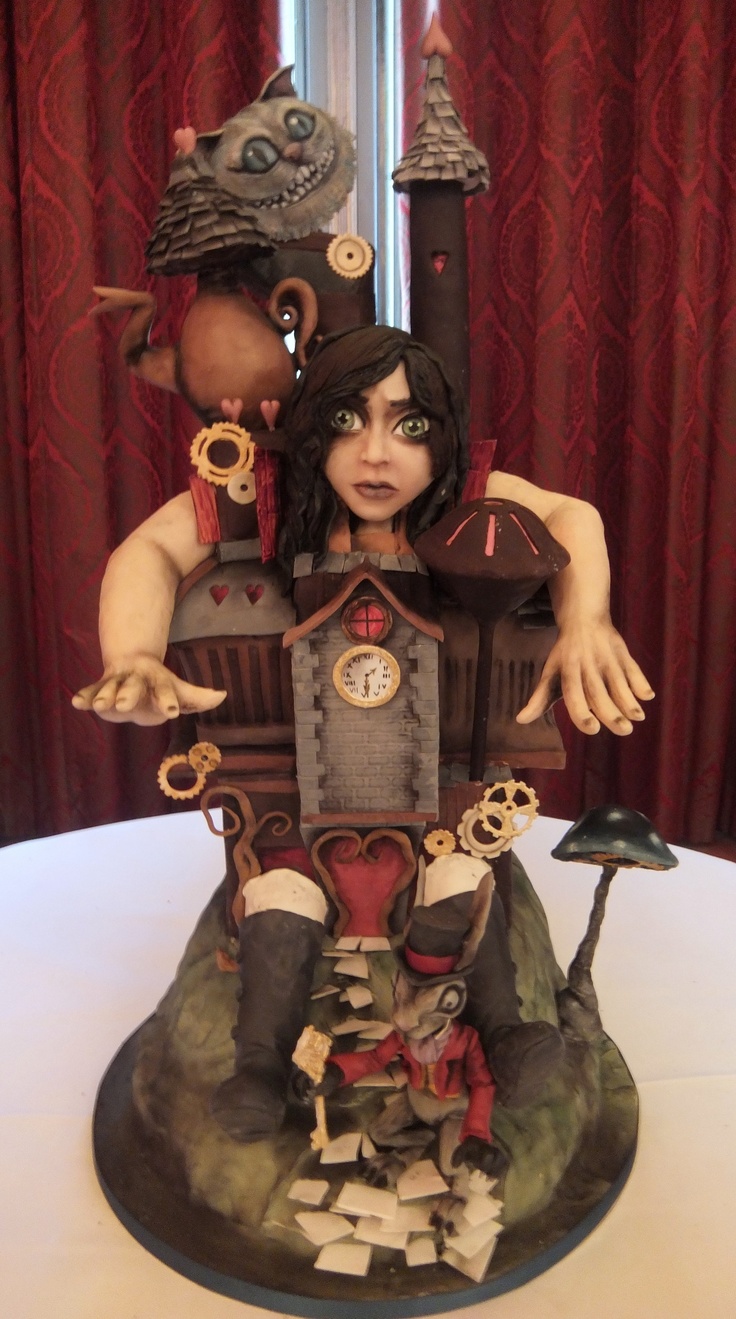 Photo via Sweet As Sugar
Alice in Wonderland is most often depicted in light, flowing pastels, but there can be a darker side to Wonderland and it is represented beautifully in this steampunk-style Wonderland cake by Sweet As Sugar. You can learn the ins and outs of these beautiful airbrush techniques in Lisa Berczel's class The Art of Airbrushing.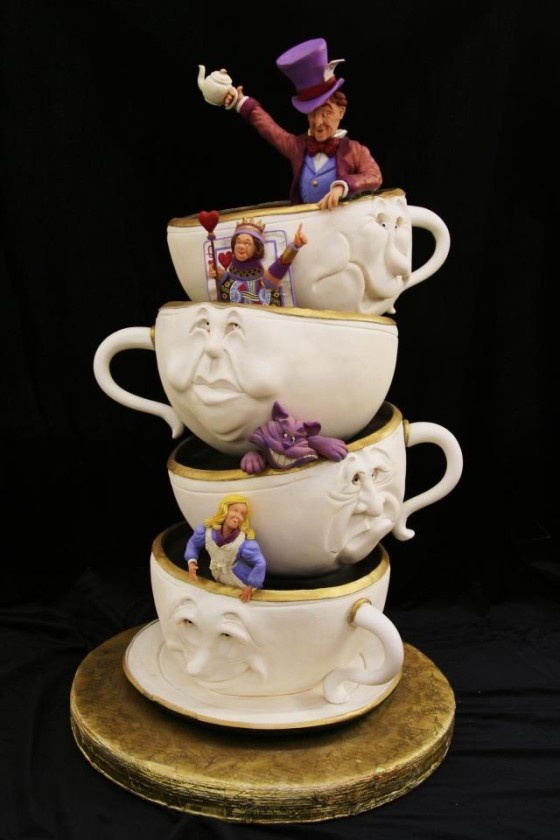 Photo via Mike's Amazing Cakes
Welcome to the Mad Tea Party! This exquisite teetering tea cup design by Mike McCarey, instructor of the Bluprint classes Advanced Cake Sculpting and Classic Car, Timeless Techniques, is full of fun expressions and includes depictions of the characters as they journey through Wonderland. A very merry un-birthday to you!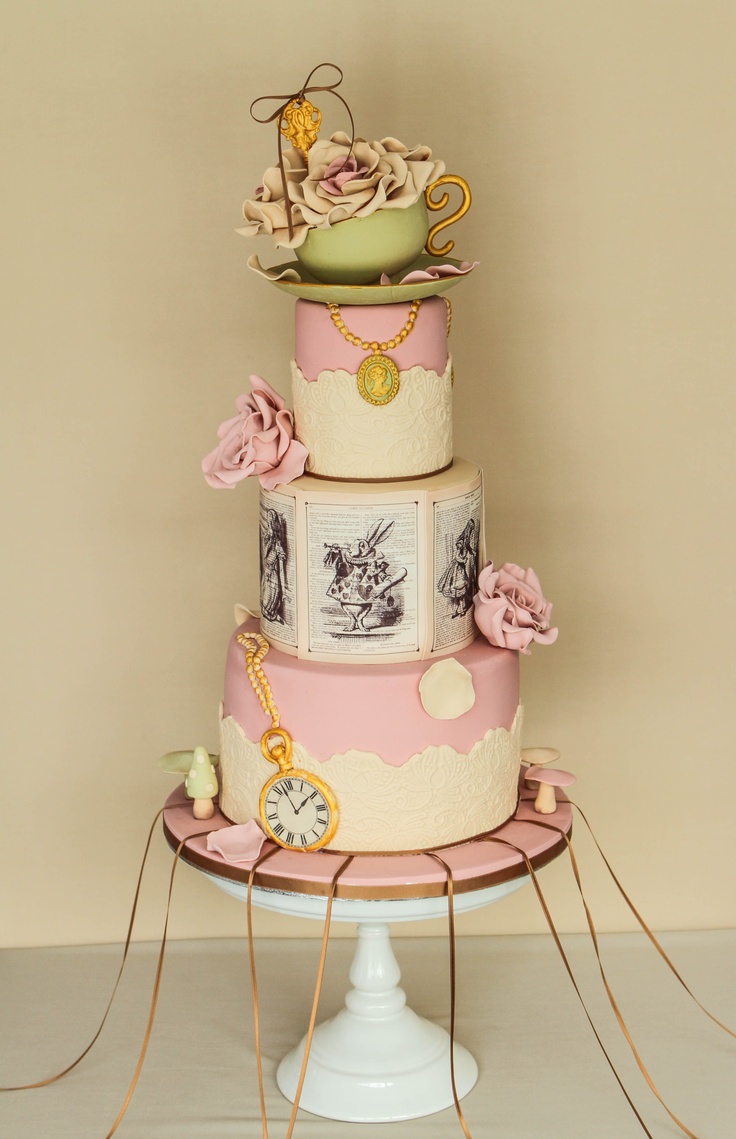 Photo via Alma Pasteles
"I'm late, I'm late for a very important date!" A very important date indeed! This lovely wedding cake by Alma Pasteles personifies the beauty and romance in Alice's imagination. With the dusty pink roses, cream lace and gold details, you feel you have entered a dream world of your own.
Master edible lace techniques with expert Zoe Clark in her Bluprint class Elegant Lace Cakes.

Photo via Cake Design Italian Festival
The stack of books, the painted red roses, the pocket watch, the tea pot and wonky stack of saucers with Alice perched on top and don't get me started on the Cheshire cat! From top to bottom this cake by The Cake Design Italian Festival draws you in and fills you with wonder. As a collaborative project, teams of cake artist came together to create this incredible work of art.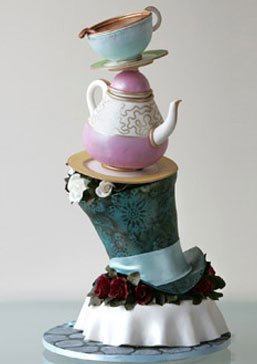 Photo via The People's Cake
With a tip of the hat, almost spilling the tea, The People's Cake balances precariously producing the illusion that the tea cup will slip off and crash to the floor. The hand-painted details and rich colors coupled with the clean white and deep red roses balance this cake perfectly.
[box type="shadow"]Learn how to make your own gravity-defying Alice in Wonderland cakes like the ones seen here in the Bluprint course Topsy-Turvy Cake Construction with Richard Ruskell. Mad hatter not included.[/box]
Which techniques would you like to learn from these wondrous cakes?