An eggnog latte is one of my favorite seasonal drinks to treat myself with when I'm out doing some holiday shopping. You can find them at Starbucks, but many of my local coffee shops serve up a similar drink.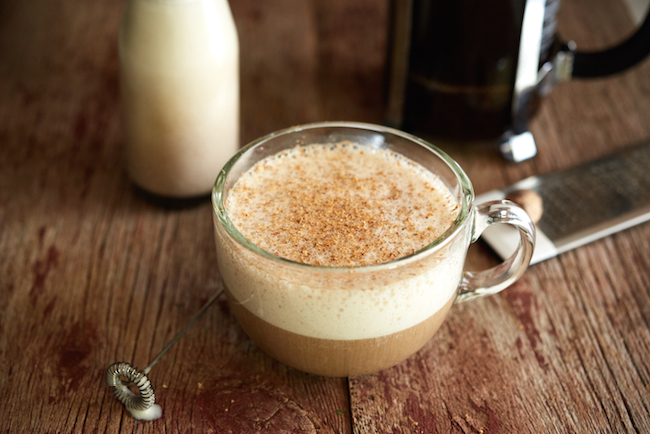 Of course, there is no reason why you can't whip up a homemade version of this popular coffee drink to enjoy while you're entertaining or sitting by the fire on a cold winter evening — no running out to the coffee shop required!
Recreate a seasonal coffee shop classic with this deliciously warm recipe for eggnog lattes!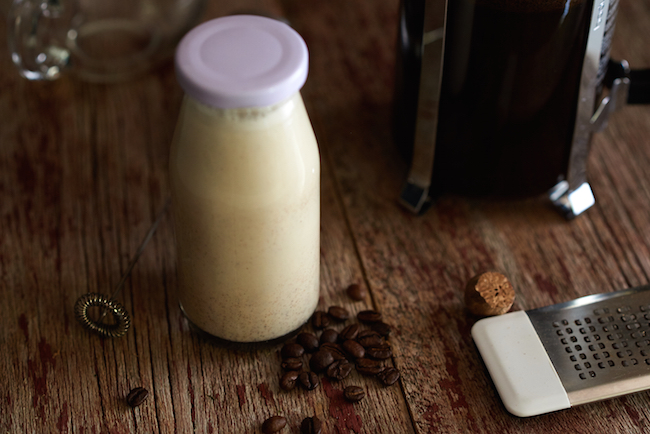 An eggnog latte starts with eggnog. You can use a homemade eggnog, but be sure that you are using a recipe that calls for cooked eggs, not a more "traditional" raw egg recipe. The eggnog is going to be heated up to make your latte, and you don't want to take any chances that your egg is going to scramble as you prepare you drink!
I generally start my eggnog lattes with store-bought eggnog because it is so convenient. Plus, the thick, creamy consistency makes a great base for a latte. If you have a carton of your favorite brand on hand, you'll be able to easily make eggnog lattes for a crowd when you're entertaining!
Steaming the milk
To make your latte, you are going to need to steam your eggnog. At a coffee shop, they use the steam wand of an espresso machine to froth up their 'nog, but if you don't have one at home, you still have a couple of options that will give your drink the same foamy consistency.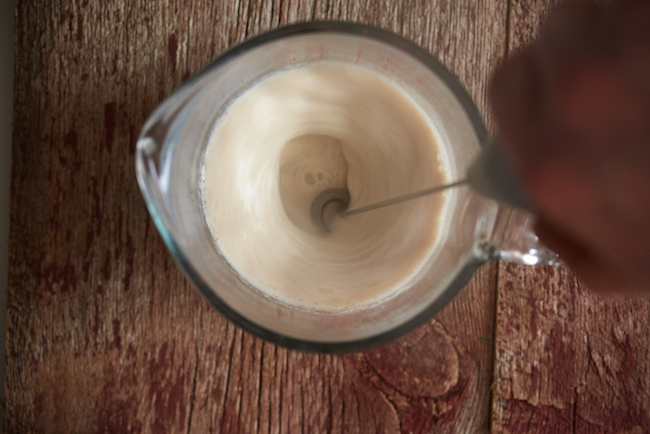 The simplest option is to use a very small whisk to vigorously froth your milk. You can place the whisk directly into your mug and roll the handle back and forth between the palms of your hands to aerate it.
Another option is to pick up a battery operated handheld whisking tool and use that instead. I have an Aerolatte and it does an excellent job of creating volume and foam in just under a minute, though there are other brands that work in a similar fashion. The battery-operated whisk is the better choice for especially thick eggnogs because it will really add a lot of volume to them
No matter which option you choose, you are going to get a drink that has a much better consistency than you would if you simply poured eggnog straight into your coffee.
Adding the coffee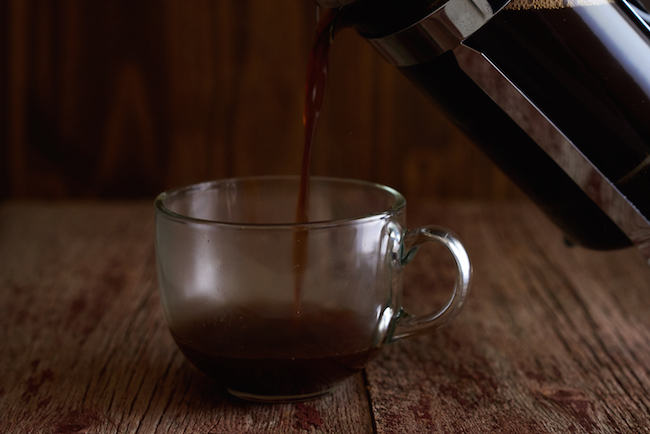 Once you have your milk "steamed," you just need to add coffee to it. All eggnogs are sweetened to some degree, so you probably won't need to add any sugar to your latte to balance out the flavor of the coffee.
I recommend using double strength brewed coffee for this drink. With stronger coffee, you'll get an effect that is similar to espresso in the coffee house-version of the drink and it won't water down the flavor of the eggnog too much. If you do have an espresso machine, of course, you can simply use espresso instead of coffee. I top my homemade eggnog lattes off with a dusting of nutmeg, just as I would finish off a glass of homemade eggnog, and pair it with a plate of holiday cookies or cake!
Eggnog Latte Recipe
Yield: 1 serving
Ingredients
6 ounces eggnog
4 ounces strong coffee
Pinch freshly ground nutmeg
Step 1:
Steam eggnog with an espresso machine, or heat in a microwave-safe mug and vigorously froth with a whisk until eggnog is very foamy, 1-2 minutes.
Step 2:
Pour steamed eggnog over hot, strong coffee in a large mug. Top with a pinch of nutmeg.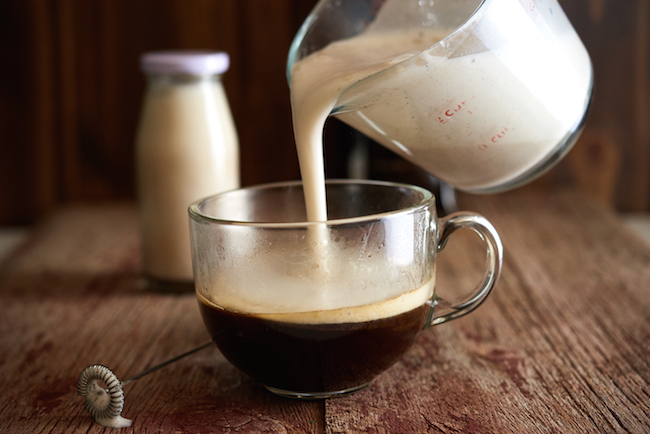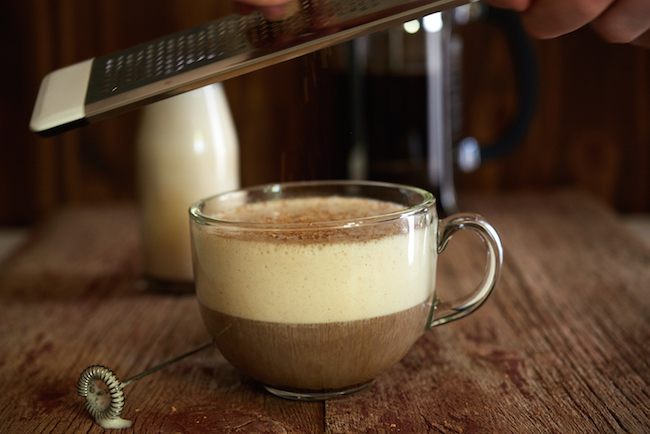 More Favorite Holiday Recipes
Indulge your sweet tooth this holiday season with classic and innovative holiday recipes, from gingerbread cookies to eggnog lattes and more.Download for FREE »