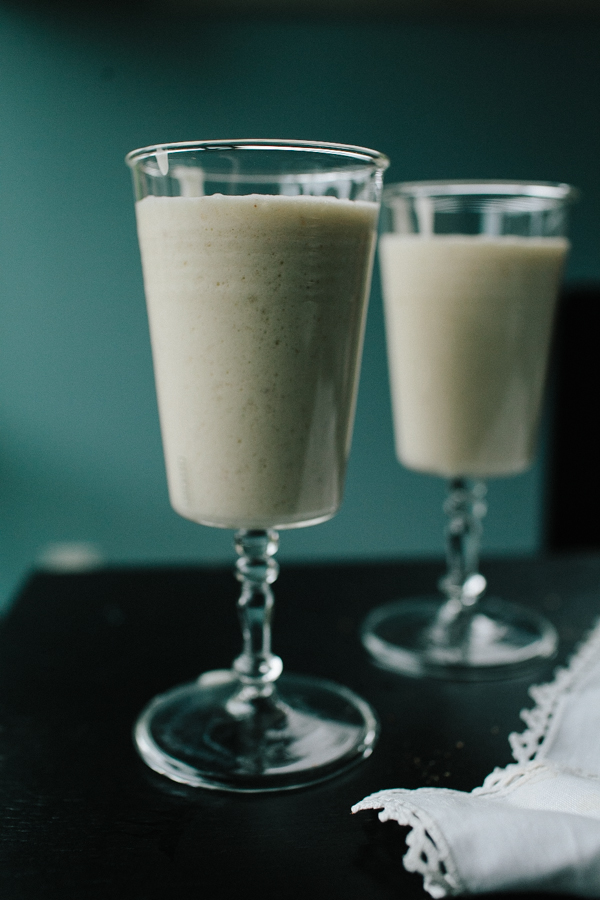 Spiked eggnog is the creamy, rich, boozy drink you can only enjoy one time a year, so you've gotta do it right. This recipe showcases the classic flavors — mixed with a good amount of bourbon — to keep you feelin' festive all season long.
Homemade Spiked Eggnog
Yield: about 1 pint
Ingredients
2 eggs
3½ tablespoons granulated sugar, divided
10 ounces whole milk
6 ounces heavy cream
1 teaspoon nutmeg, plus more for garnish
½ teaspoon cinnamon (optional)
2 ounces bourbon (more or less, to taste)
1 cinnamon stick (optional)
Good to Know: Traditionally, homemade eggnog is made with uncooked eggs. But drinking a cocktail of raw eggs can raise food safety concerns. If you want to make sure your eggnog is 100 percent safe to drink, pasteurize your eggs first following the process below this recipe.
Instructions
1. In a small saucepan, combine the milk, cream, nutmeg and cinnamon. Heat until it just comes to a simmer.
2. While the milk and cream are heating, separate the eggs. Add the yolks and 3 tablespoons of sugar to a medium bowl. Whisk until the eggs lighten in color.
3. Remove the milk and cream mixture from the heat and gradually pour about ⅓ of it into to the egg yolk mixture. Whisk continuously.
4. Pour everything back into the saucepan and cook over medium-low heat until the mixture has thickened slightly and begins to simmer.
5. Stir in the bourbon, then remove from heat and place the mixture in the fridge until cool.
6. Add the egg whites to the bowl of a stand mixer fitted with a whisk attachment. Whisk the whites and the remaining ½ tablespoon of sugar until soft peaks form.
7. Fold the egg whites into the chilled eggnog base until well incorporated.
Garnish with nutmeg and a cinnamon stick. This recipe can easily be doubled, and you can store leftovers in the refrigerator for up to two days.
---
Pasteurizing Your Eggs
To make raw eggs safe for eating, they must be hot enough to kill any bacteria, but not so hot that they cook. To do this, place the eggs in a saucepan with enough water to submerge them. Over medium heat, monitor the temperature (using a thermometer) until the water is a steady 140 F for 2-3 minutes. Remove from heat, remove the eggs from the water and let cool. Now you're ready to separate the eggs and make (safe) eggnog!